We announce Nerikore 2020!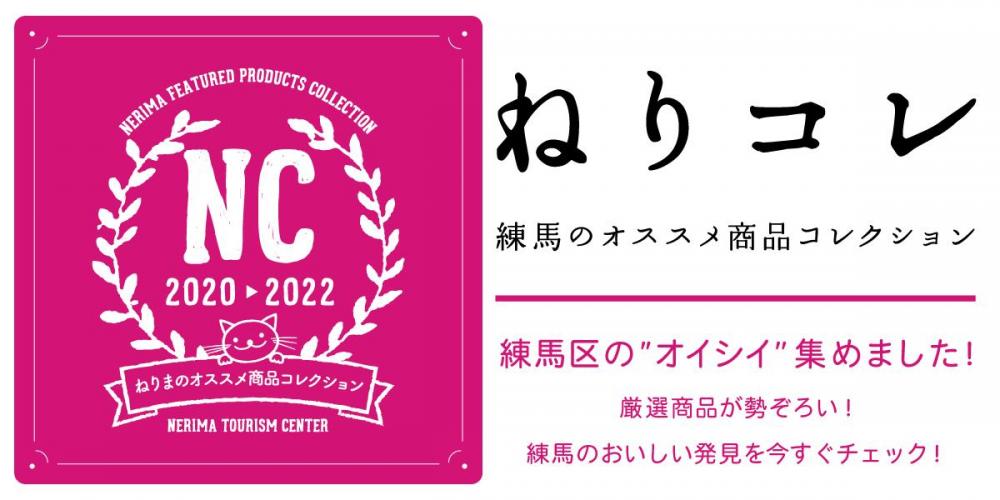 Sorry to have kept you waiting! Nerikore 2020 was decided.
With Nerikore 2020, we authorize 97 products of souvenir section (food and goods) 72 product, menu section (menu of restaurant) 25 product in total.
The Nerikore, =nerimano recommended product collection
We authorize Nerikore after vote of professional and inhabitants of a ward playing an active part in distribution, various fields including art including Chinami Hamauchi (hamauchichinami) of dishes researcher fairly as possible.
He/she lives in Nerima-ku, and we select carefully, and commuting places product to "want you to eat if you come to Nerima" which "it seems to be Nerima" from commuted everybody to everybody come to to play!
As for the details of products and sale store, please see special page (https://www.nerimakanko.jp/nerikore/) and Nerikore 2020 booklet (going to issue in the middle of June).

Nerikore was chosen in this way
1 application (self-recommendation, recommendation by others)
 ① Being product contributing to improvement in recognition, image of Nerima-ku
 ② Starting sale in Nerima-ku, and passing more than one year
 ③ There is Nerima-ku store or main office
 We raised the best recommended products of store in condition in this.
2 examination
 We performed fair examination from various professional eyes with taste or quality, usability of all products.
 [judge introduction]
  Kae Terawaki     Food producer/chef
  Kentaro Makino    Matsuya Ginza cake charge buyer
  Yuji Akimoto     Mayor of Tokyo art University University Museum director/Nerima Art Museum
  Chinami Hamauchi     Dishes researcher
  Boojil (boo gill) artist/illustrator
  Mayuko Kimura    Writer
  Tetsuya Saito     PR planner/area producer
  ※Title is all thing as of examination committee January, 2020.
 In addition, by inhabitant of a ward vote, we measured attachment degree of inhabitants of a ward.
 We accepted vote other than event carried out in ward on our homepage.
 [inhabitant of a ward vote schedule]
  The 42nd Nerima festival    October 20, 2019
  World city agriculture summit from November 29, 2019 to December 1
              ※Vote reception desk only on December 1
  Web vote       From October 11, 2019 to November 30

Until the one for home and present which mind covers a little, menu of secret well-known store, please find favorite article and shop, goods by all means!