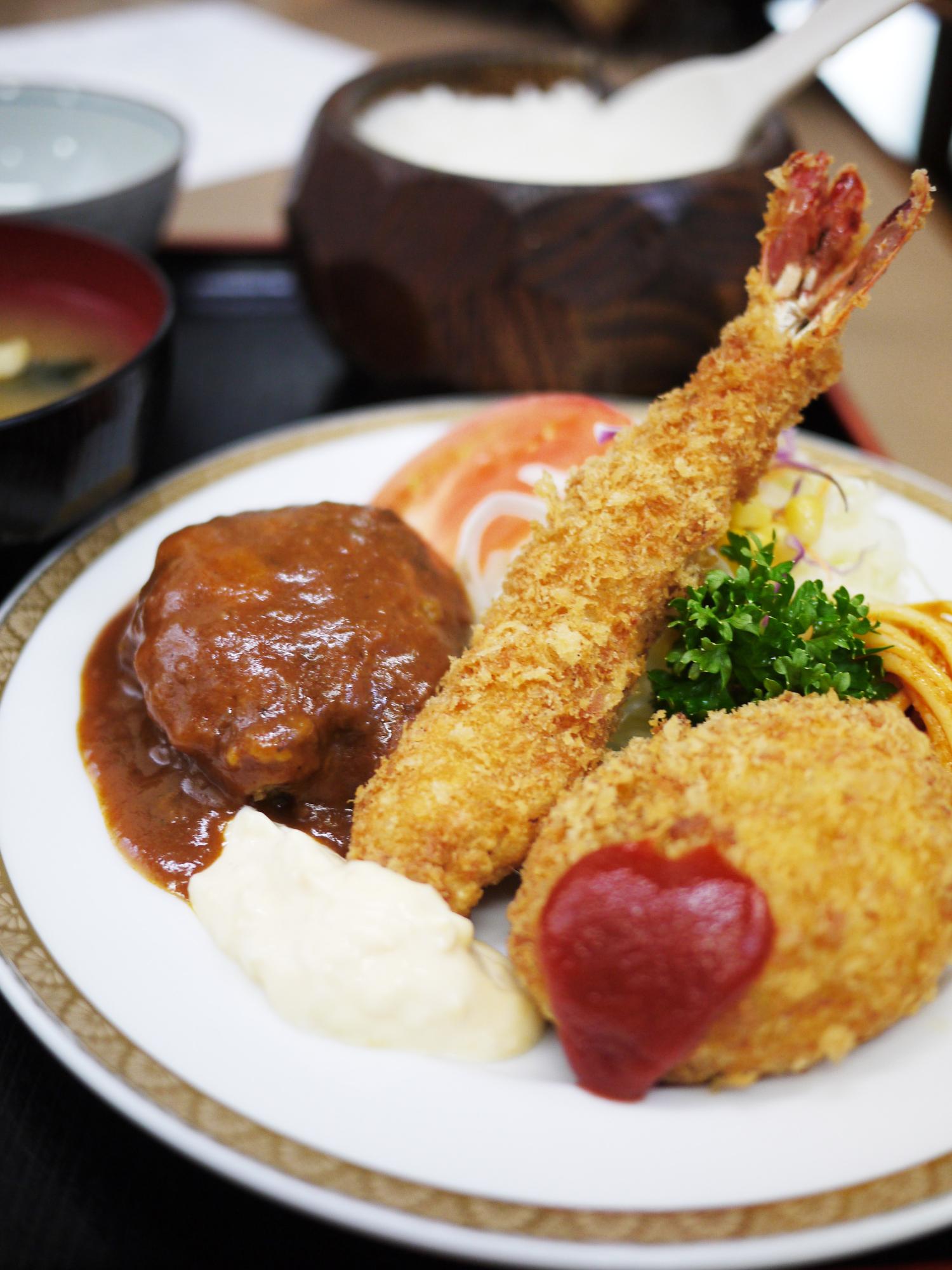 |

Nerima tourism center
Gourmet
Experience
All the around noon is full. Four selections of Ekoda noted product shops loved for many years by student of Ekoda!
---
Town Ekoda of student. "Is cheap, and, in the restaurant, there is much quantity" simply because there are many students, but basics. Of monster who is proud of popularity for several decades while new deep-discount chain stores increase year by year, and the cost performance competition intensifies there is still shop in Ekoda. Why do you not get tired this time for all dozens of years either? You know, we introduce 4 stores of careful selection. University alumni who are going to go for school festival! There is still that shop. And it is still full at around noon; ...

Diner @ enthusiasts bower (we ask in this way) which is the oldest in Ekoda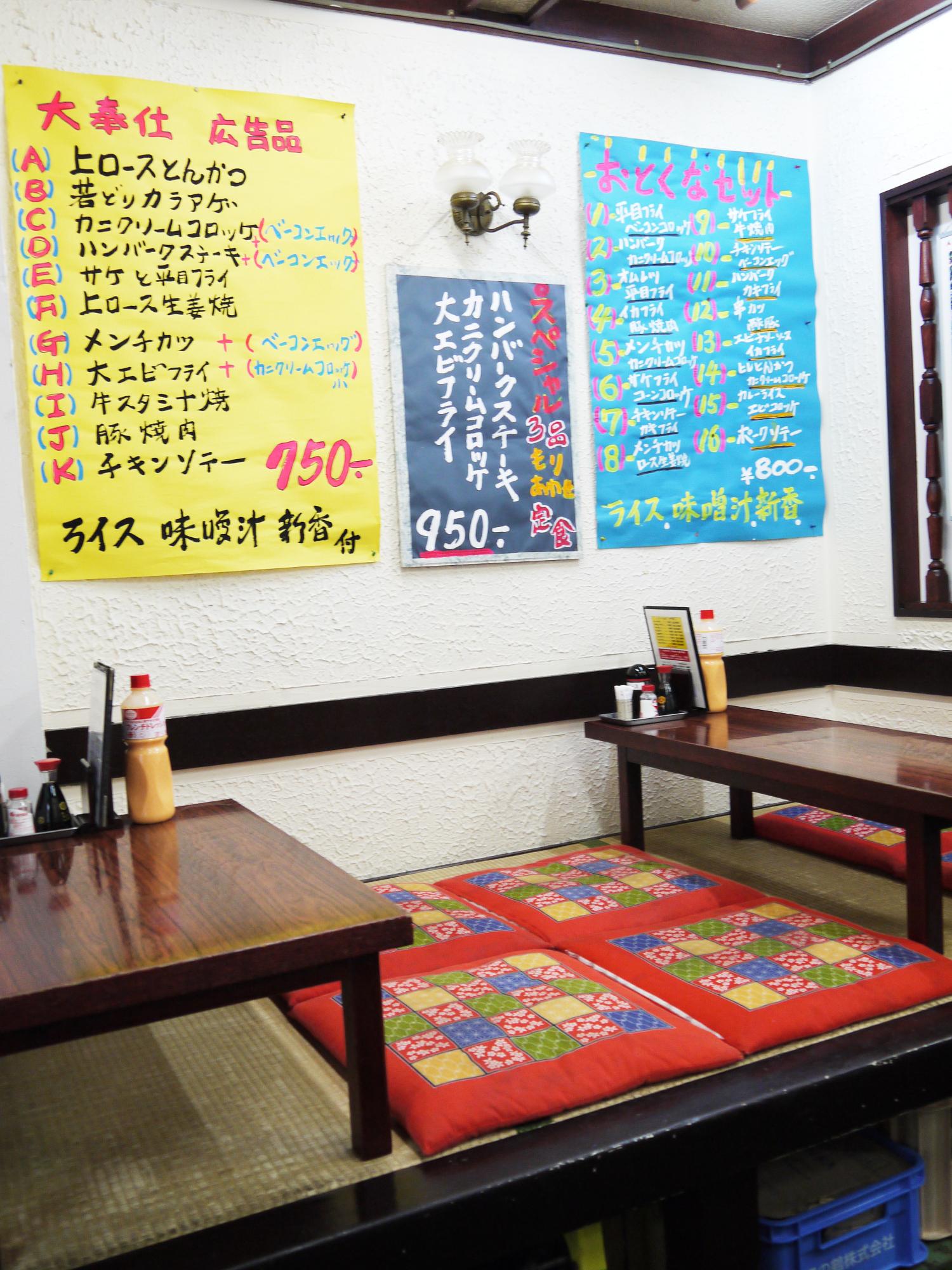 When here does not enter in noted product shop of Ekoda, we surely get yelled at from university alumnus. There were rumors such as founding in net in 1933, but after confirming, grandmother for the third generation that was the current storekeeper seemed to open founding as ramen shop in place same as now in 1946 (Showa 21).
The third generation of the current storekeeper. We did chef at super famous hotel until we inherited this. Therefore taste, quality develop surely while keeping taste of father. As we protect teaching of hotel to use good material without regret, and to provide delicious thing, it is serious for shop, but is glad for visitor♪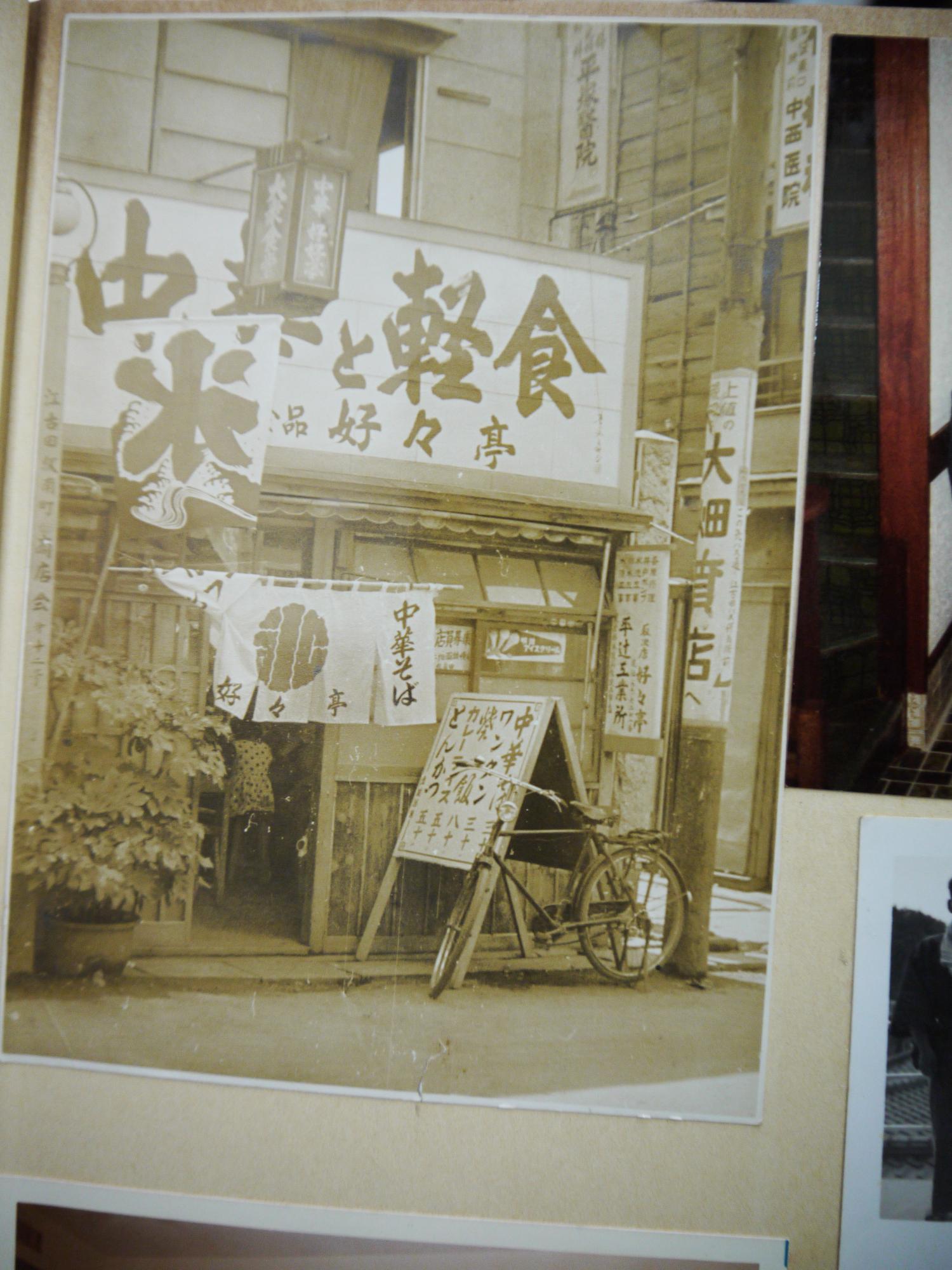 Photograph at the time is this! Most visitors were student and professors in old days. We give to student now and are full of longtime regular customers.
When photograph at the time looks hard and sees reputation, does menu have curry and rice? As the current storekeeper has not eaten, we do not seem to know whether it is taste same as the present curry and rice.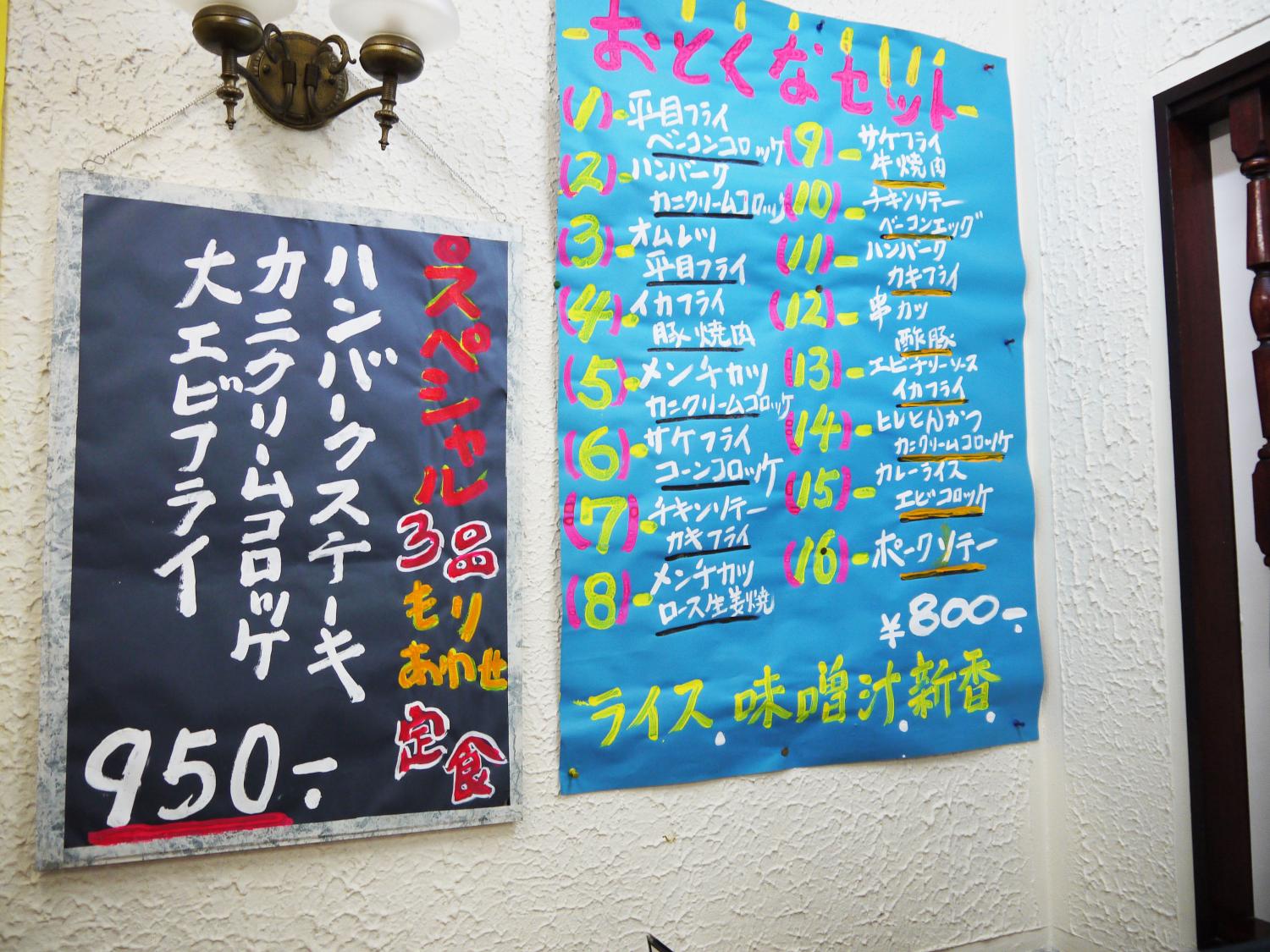 Set meal which satisfies desire for two meals with one meal that many menus and main X main let you serve as for the characteristic of ko々tei. We do not usually eat pork fried on a skewer and sweet and sour pork at a time.
This wants to eat anything, but regular customer usually fits in into menu which asked for once, the same thing order shizutsukerutoiukotodesu (laugh).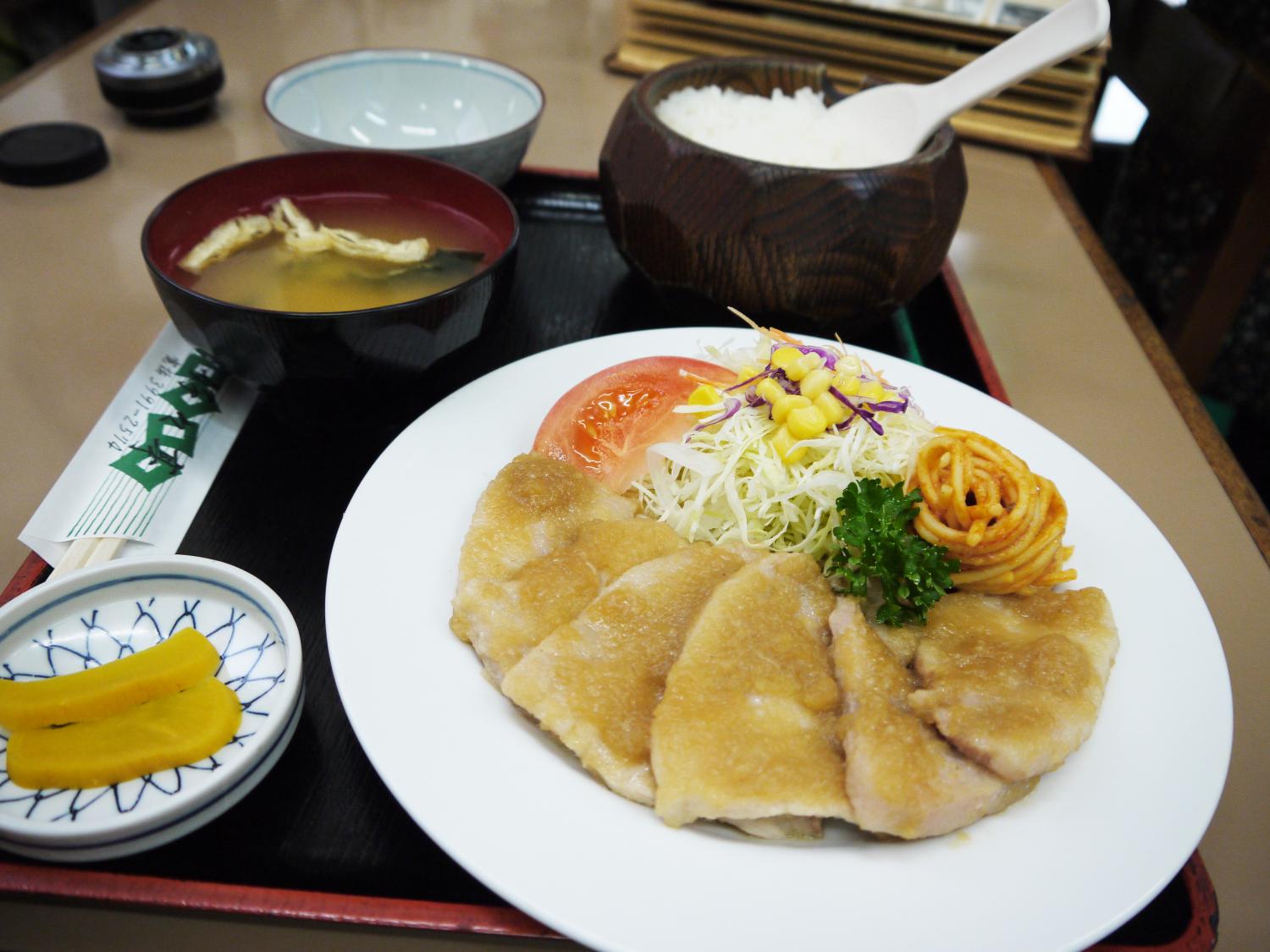 ★Person knowing orders this★
Cheap, delicious popular menu! Ginger-flavored fried foods set meal/750 yen (tax-included)
There is thickness approximately 3mm and eats and meets, and there are ginger-flavored fried foods using domestic pork loin and is soft besides. As for the specialite de la maison sause, a large quantity of onions which we lose and took down enter soy sauce-based ginger sause. Oh, yes, rice which ohitsuni enters is this gourd. There is 2.5 cups of common rice.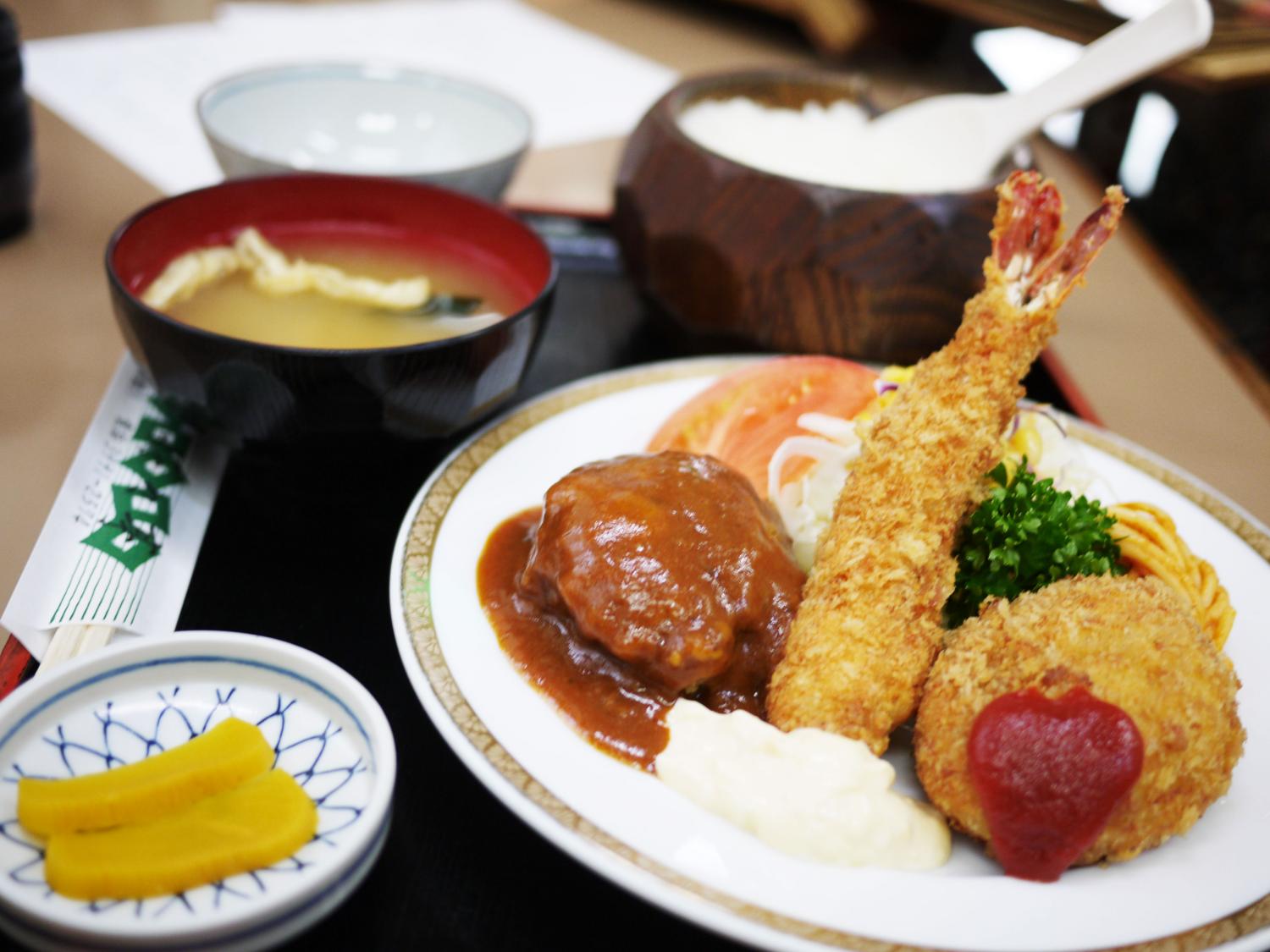 ★Person knowing orders this★
Three of popularity for a spell of prosperity! Special set/950 yen (tax-included)
Set of 750 yen (tax-included) oriented to cost performance is popular, but person knowing seems to go on this menu without question. Prawns of fried prawn select carefully, and they use big thing. As we mix crab innards and the body of crab, we can eat crab cream croquette that taste of crab keeps strong, hamburg of heavy demiglace sauce and all popularity menus at a time.
We ate me, fried prawn with so big prawns for the first time. Impression.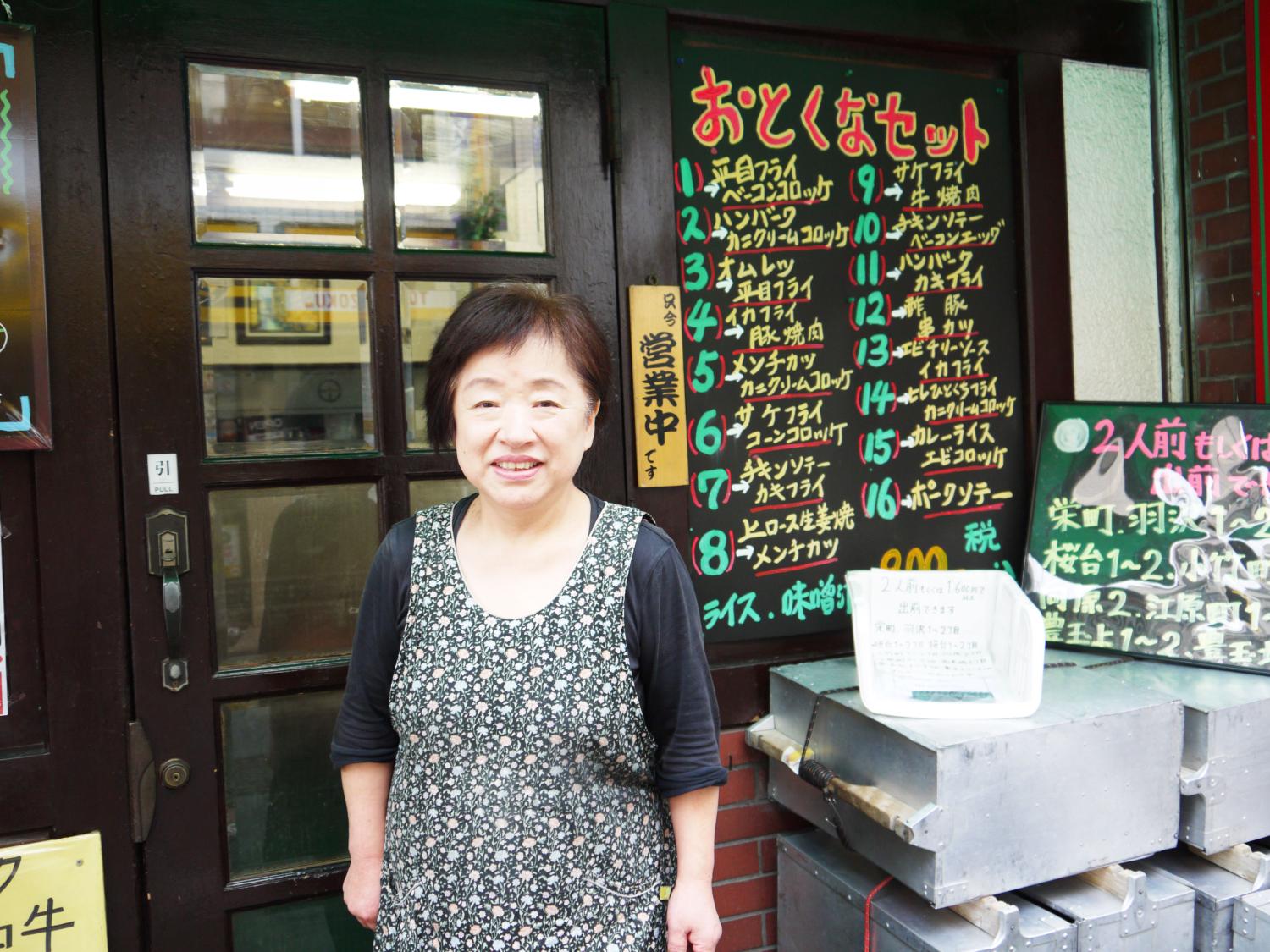 (additional information)
We rebuilt in 1980 (Showa 55) and became the present shop which was diner. Proprietress nokesaesan acting from those days, it is still done work regularly!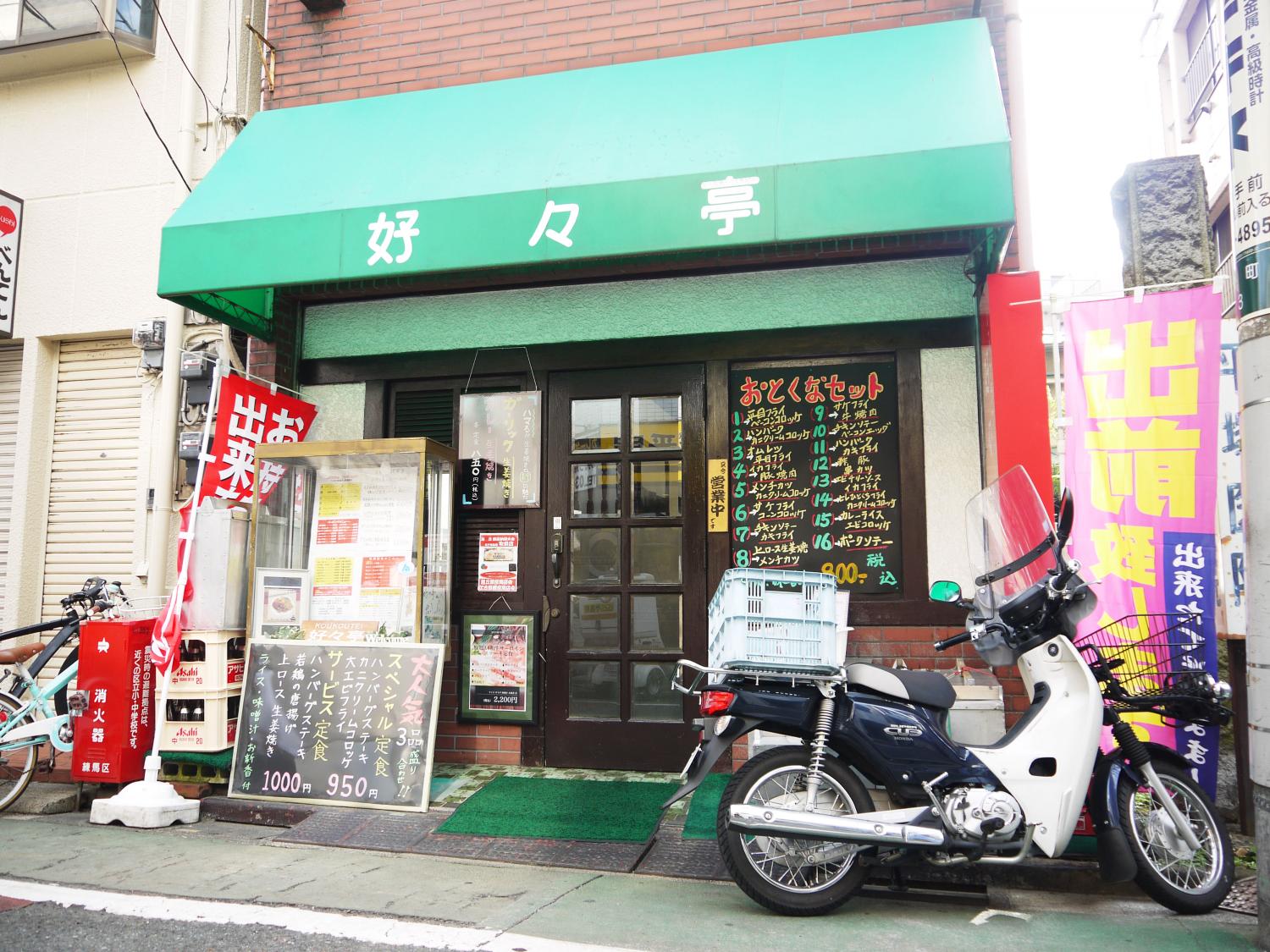 Restaurant enthusiasts bower
3-9, Sakaecho, Nerima-ku
TEL: 03-3991-2574
Business hours: From 11:00 a.m. to 2:00 p.m., from 5:00 p.m. to 8:00 p.m.
Regular holiday: The day before of special day that carries events in its trail
@ DRINK&FOODS MELL (drink & fuzumeru) which is beyond level of cafe from those days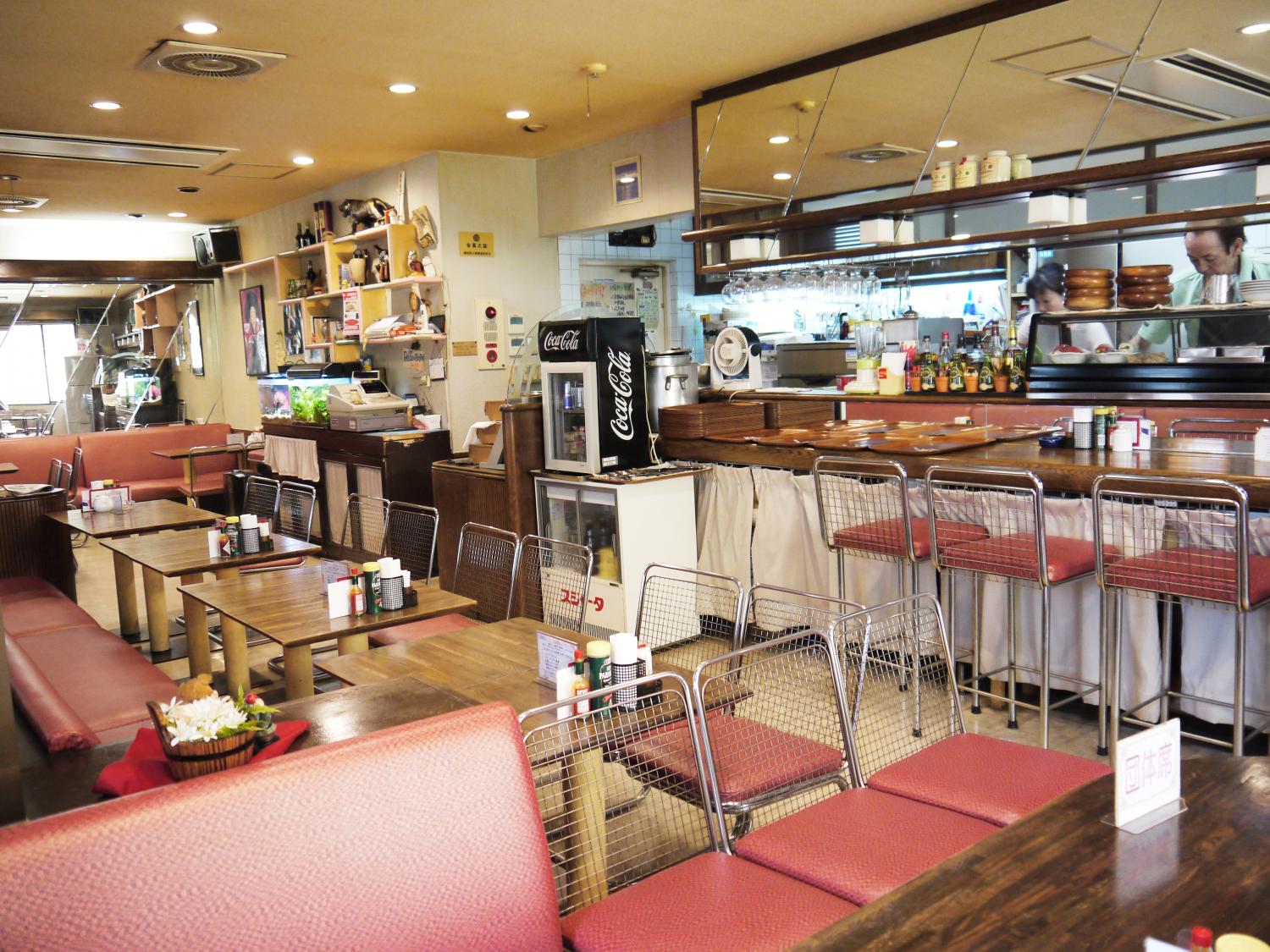 Showcase that classic food sample of store is displayed at founding in 1983 (Showa 58) is mark. Student living in Ekoda introduced that here liked the first before stylish shop of Ekoda.
Art, students of all Musashino Academia Musicae go on Musashi University, day from the old days. And there are considerably many regular customers going for many years from school days.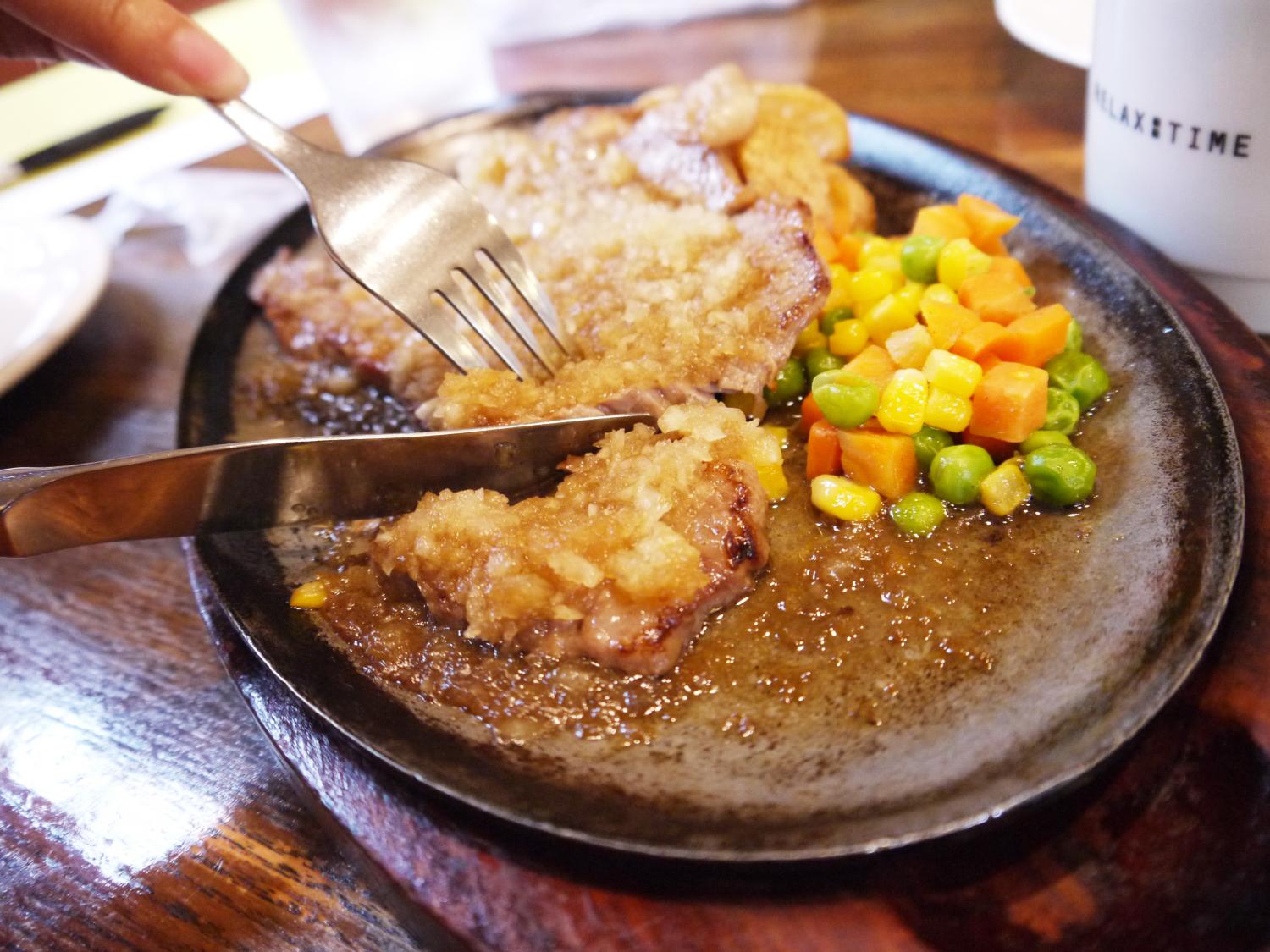 ★Person knowing orders this★
Shop sign menyumerusuteki/950 yen (tax-included) not to change from those days
We purchase tender beef loin with lump meat of 8 kilos and seem to be able to provide with this amount of money because we cut in shop.
The same secret Japanese style sauce added red wine to plentiful onion with ginger and garlic, secret ingredient for 35 years. We move steak which we baked to burning hot iron plate and have been carried.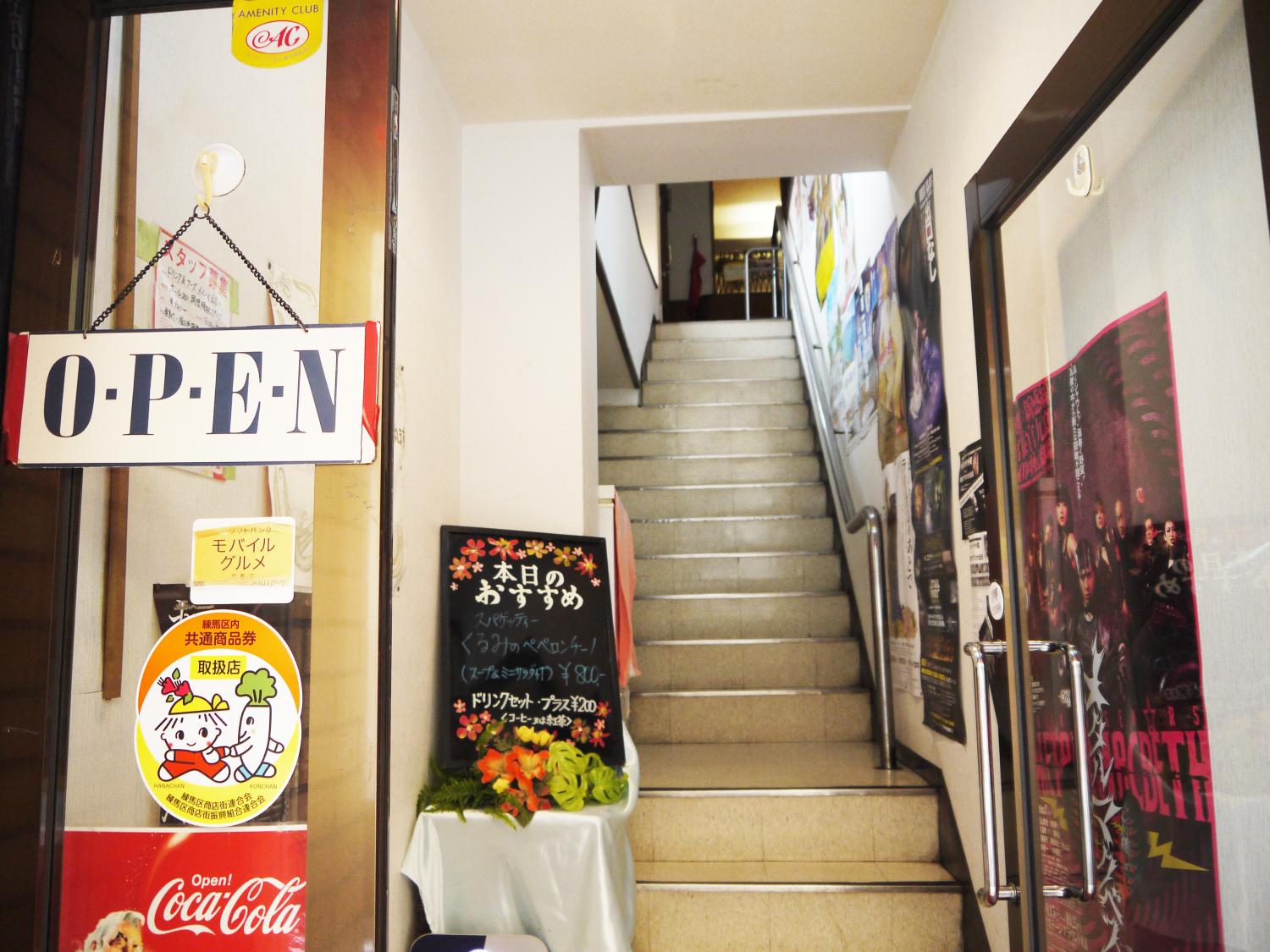 Today's recommendation is written on entrance. If thing which manager recommends is delicious surely, as for the lunchtime, there seem to be many regular customers ordering today's recommendation by all means.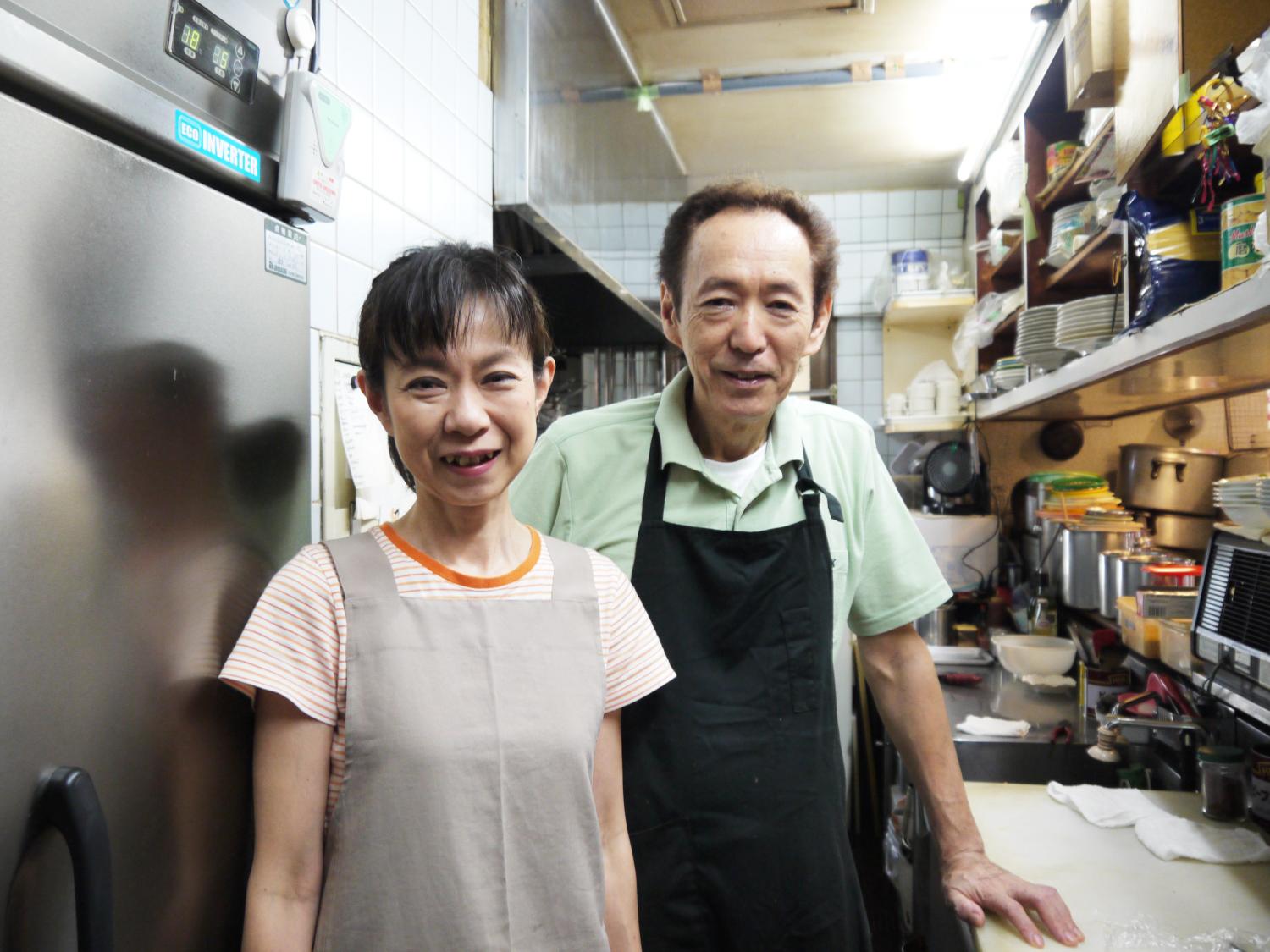 (additional information)
We seem to be persistent, but regular customer praises highly if cooking that manager gives is certain. In fact, originally manager did chef. We seem to have possibilities to provide Japanese dishes by party menus to regular customer.
In addition, both the current storekeeper and wife worked from opening those days, and encounter seemed to get married in Mel!
DRINK&FOODS MELL (Mel)
1-76-11, Asahigaoka, Nerima-ku Abe Building 2F
TEL: 03-3950-6652
Business hours: From 11:00 a.m. to 10:30 p.m. (L.O 10:00 p.m.)
Lunchtime: Until 2:30 p.m. on weekdays
Regular holiday: On Sunday

Kitchen @ mahotsukainodeshi of Musashino Academia Musicae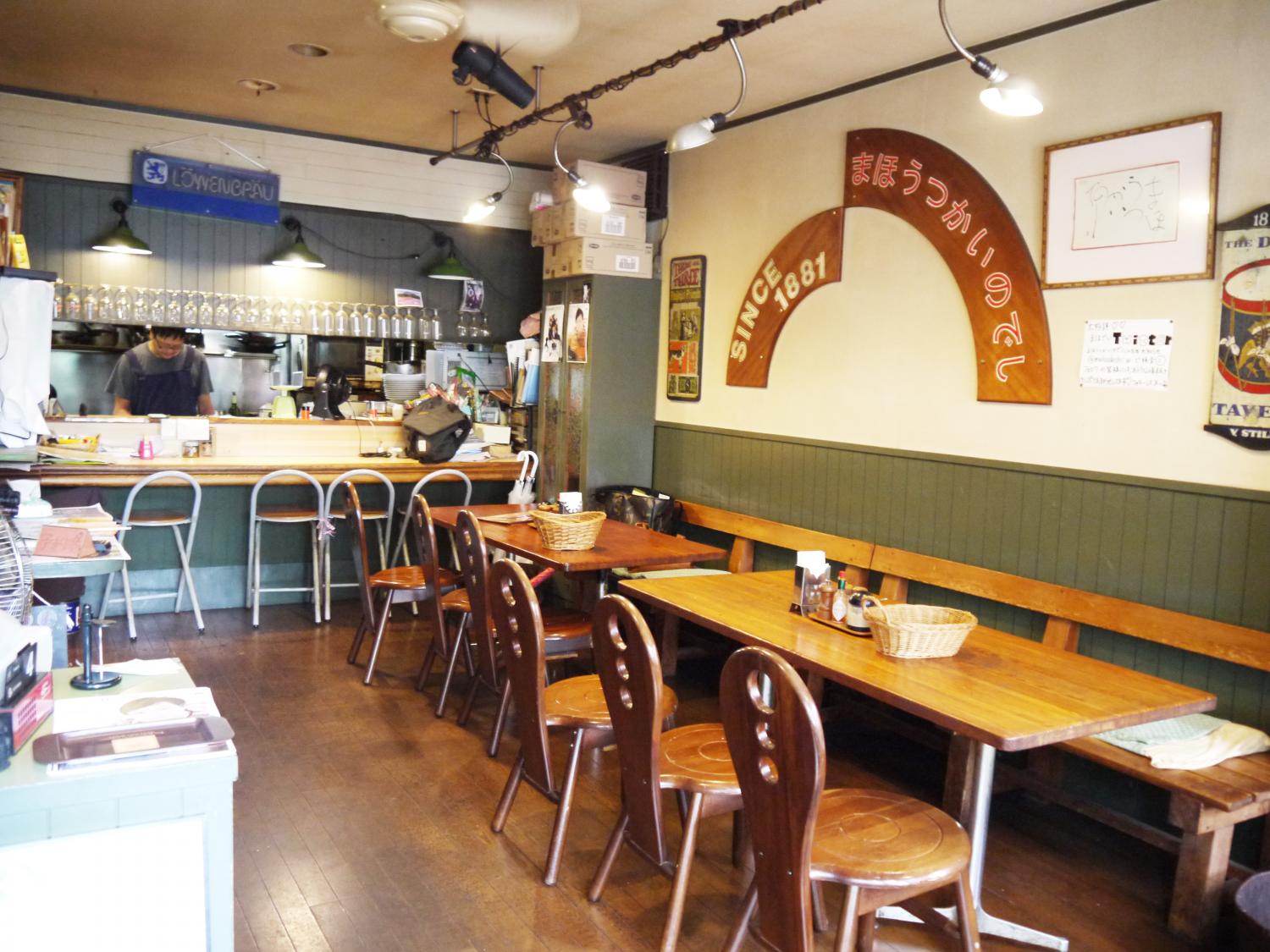 Founding is 1981 (Showa 56). We were a person that it was like pioneer of original pasta which was still several houses in Japan at that time. As popular name "mahodeshi", a lot of teachers and students of Music College come from those days.
In the shop, we can enjoy meal with structure based on tree such as log house in 2 floors.…If think of this, shop same as the first floor of neighboring building "oz" in the second floor. Interesting structure that kitchen leads to inside.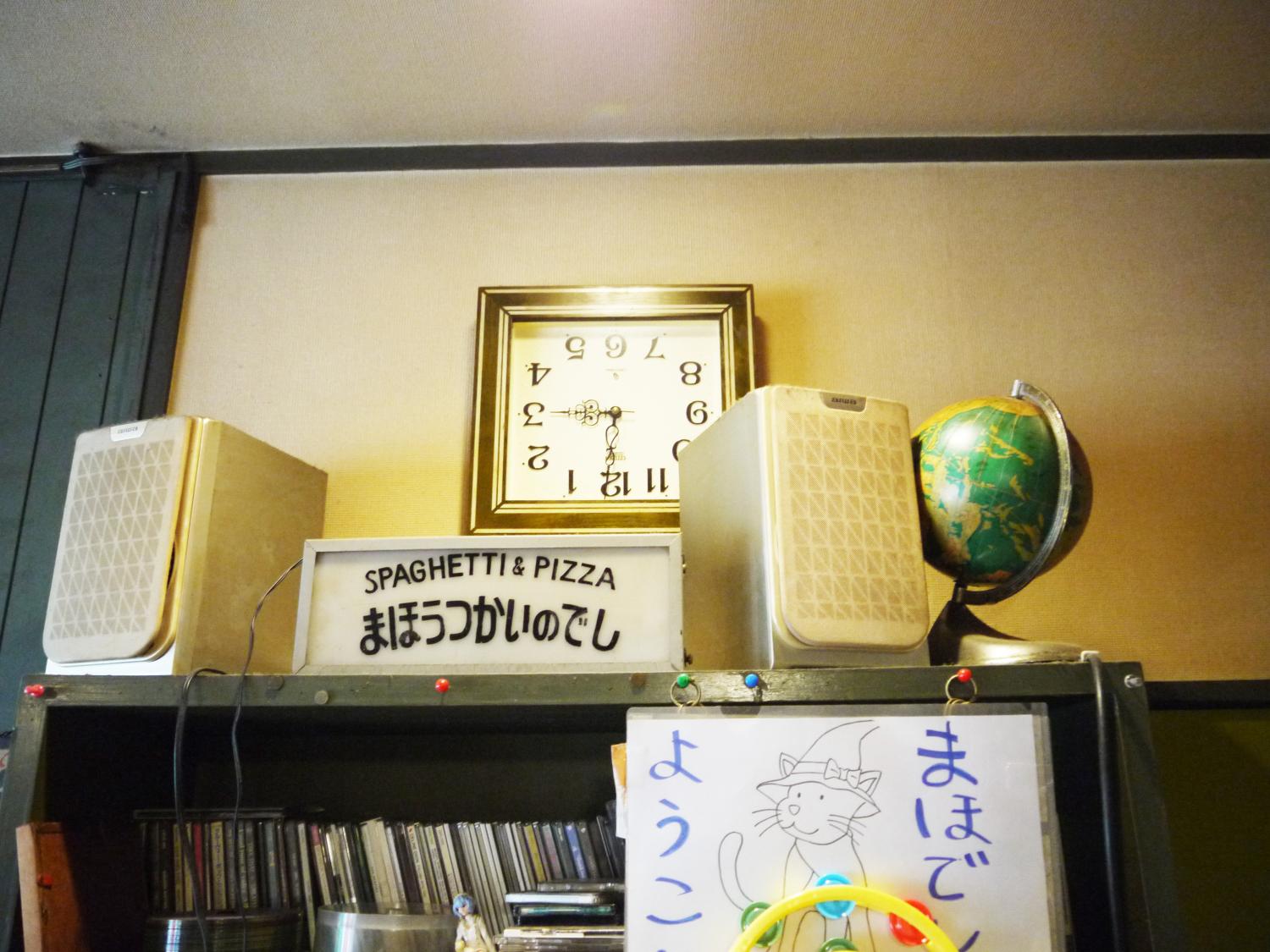 Signboard (whether from 1881?which was written as "since1881 mahotsukainodeshi" in shop We are surprised in this for a moment, but this seems to be age that pasta came to Japan. Clock which fairy wears upside down at nimahodeshiha founding) and storekeeper reason, midnight 100 years later is in good health from those days.
Shop where there is mysterious atmosphere is somewhat inner.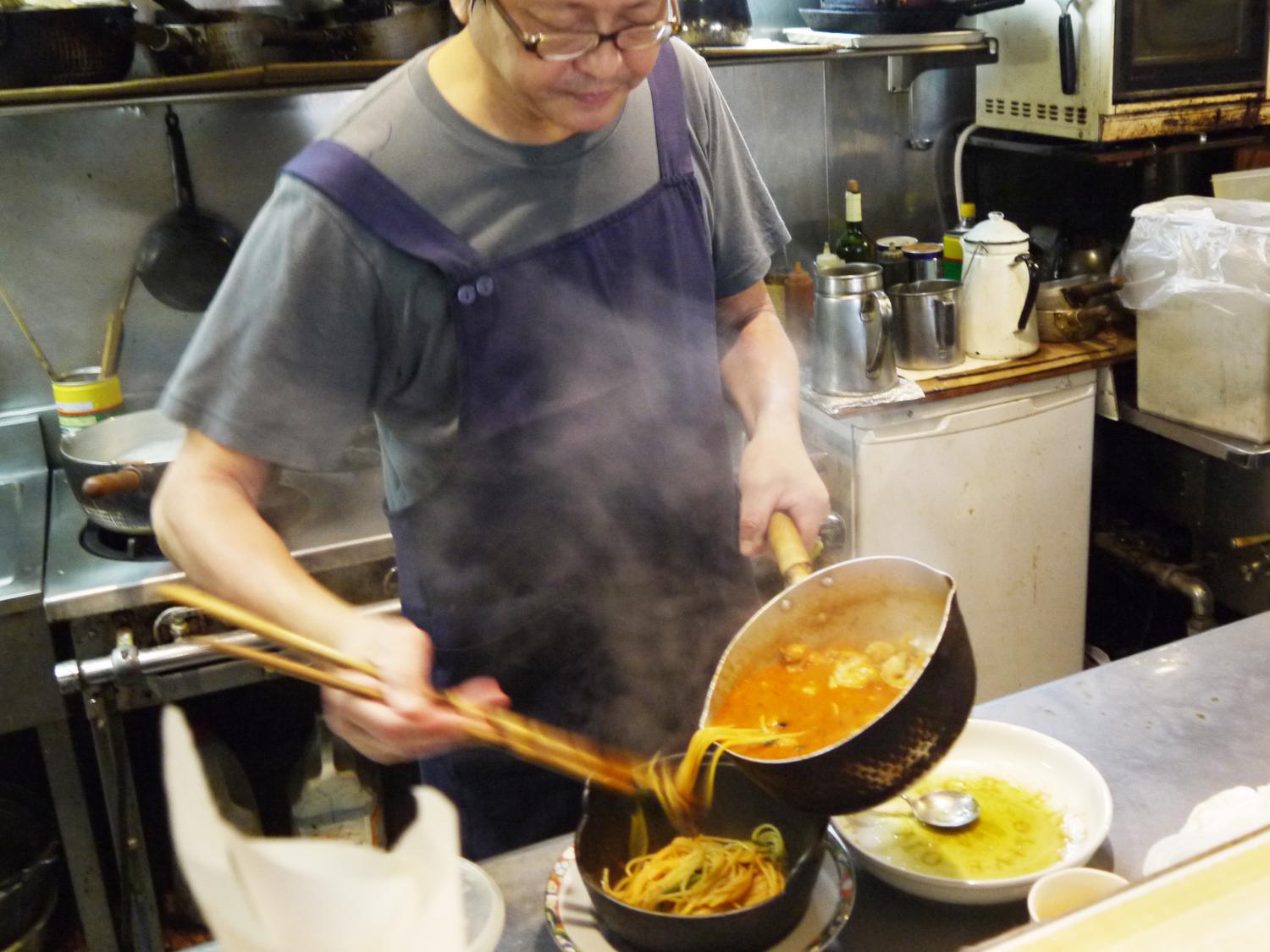 To be frank, ... that the choice of menu to publish was considerably at a loss. Lye of "tears of spirit of mountain" all naming is too strong for "beefcake" "white lovers" "Dracula homicide".
2 menus of the youngest careful selection that we were also troubled with are this! Any menu does not use salt and uses discerning thing. As there is trade secret, we cannot say! Please hear directly. Would you tell?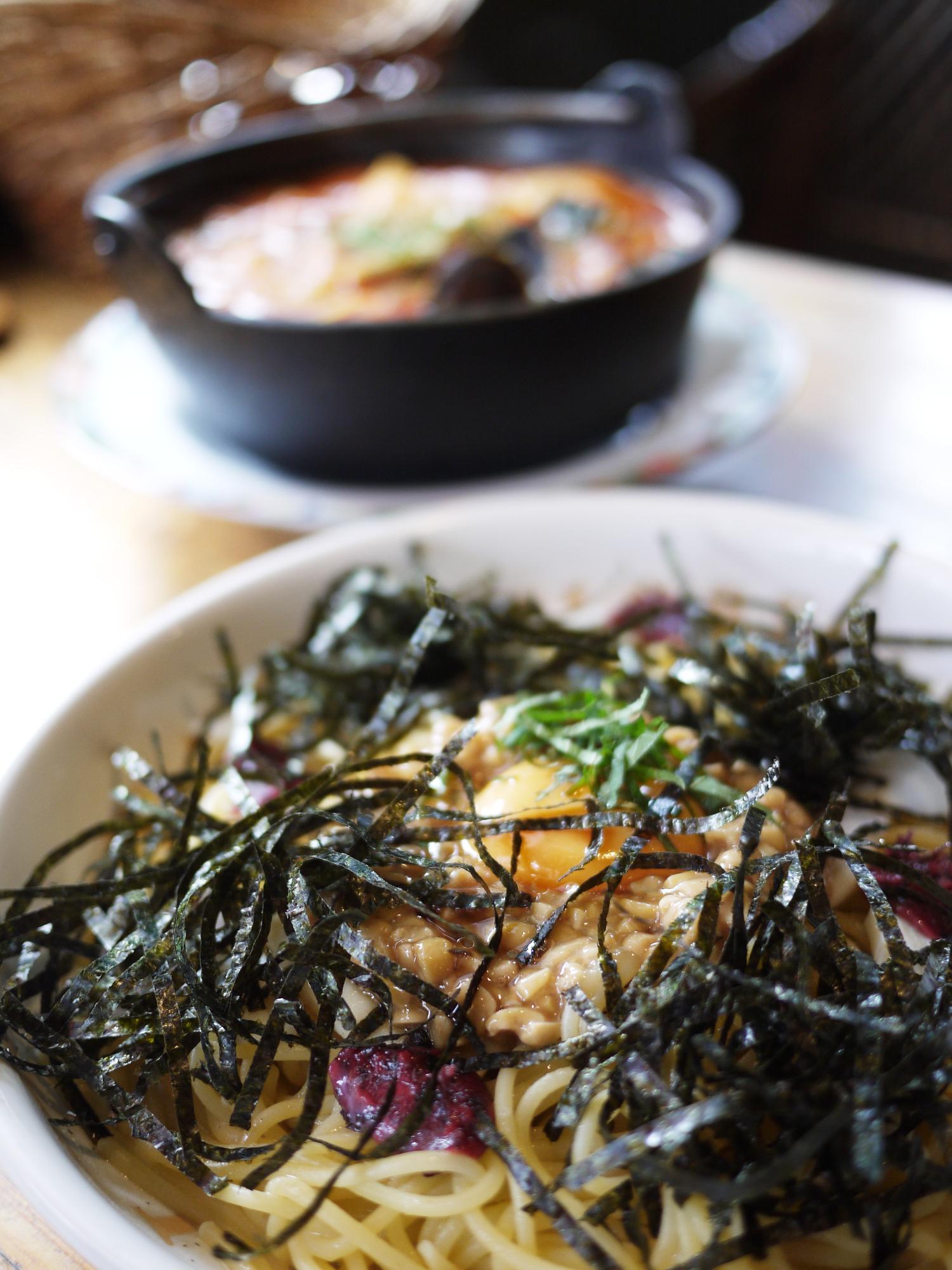 ★Person knowing orders this★
Moon/980 yen (tax-included) of fantasy that everybody falls into
"mahodeshito if we say this!" and menu that there are many repeaters so as to say. One article that expressed cloud with seaweed and natto with Mangetsu in egg yolk. We thought that we make at home for a moment and measure up, but cannot reappear.
Simple accent that it is rich inside, and acidity of plum has good. A certain actress falls into this for school days, and it is said that we continued eating….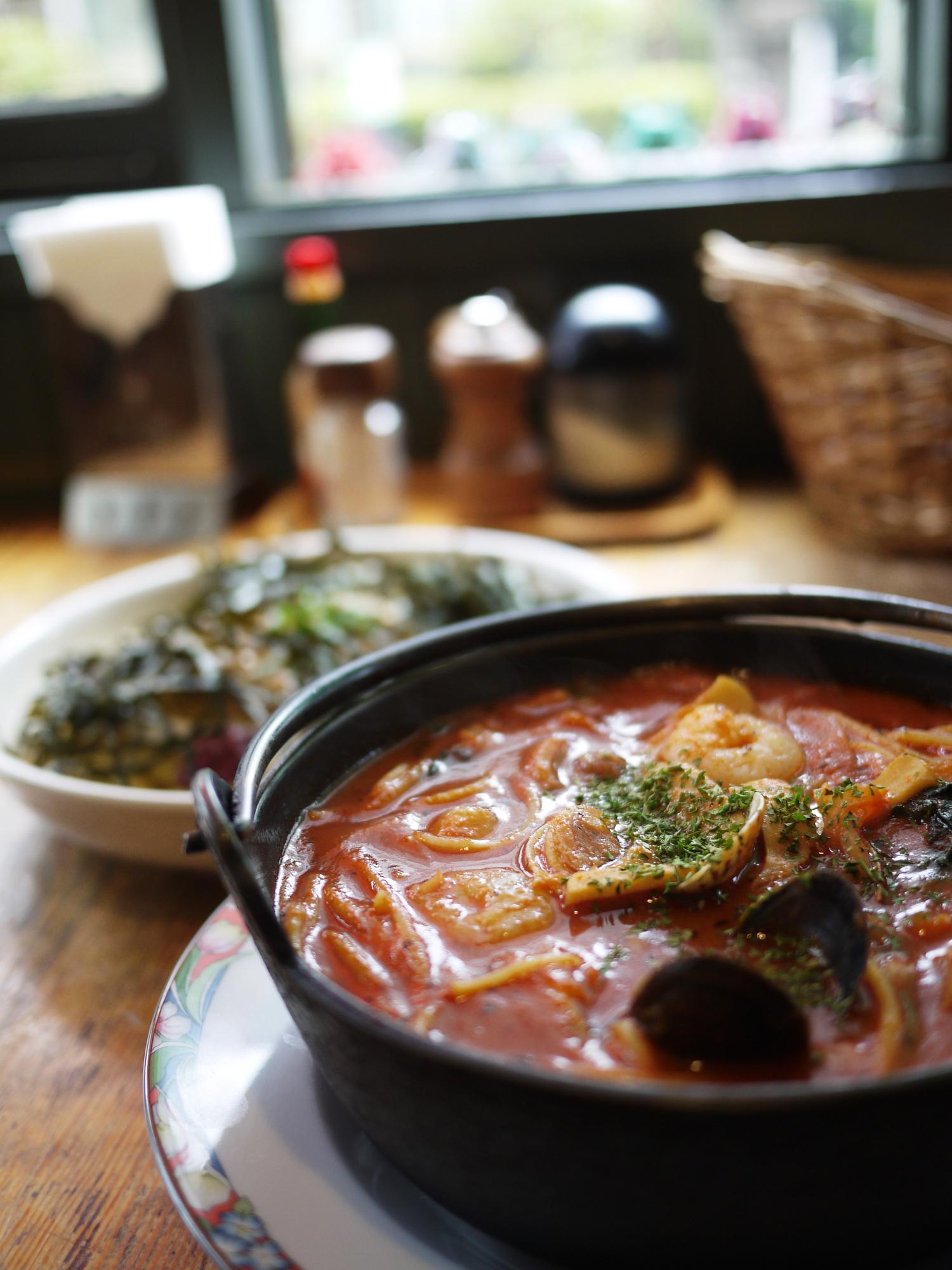 ★Person knowing orders this★
Immovable popular menu "Italian buffet" 1,030 yen (tax-included)
Tomato-based soup spa that entered iron pan. Fishery products including prawns and squid, clams and mussels are plentiful. As we come out in burning hot iron pan, it does not readily become cold.
This…If it is, downtown area, it is 1,800 yen level (personal opinion). It was tasteful with sense of quality like it.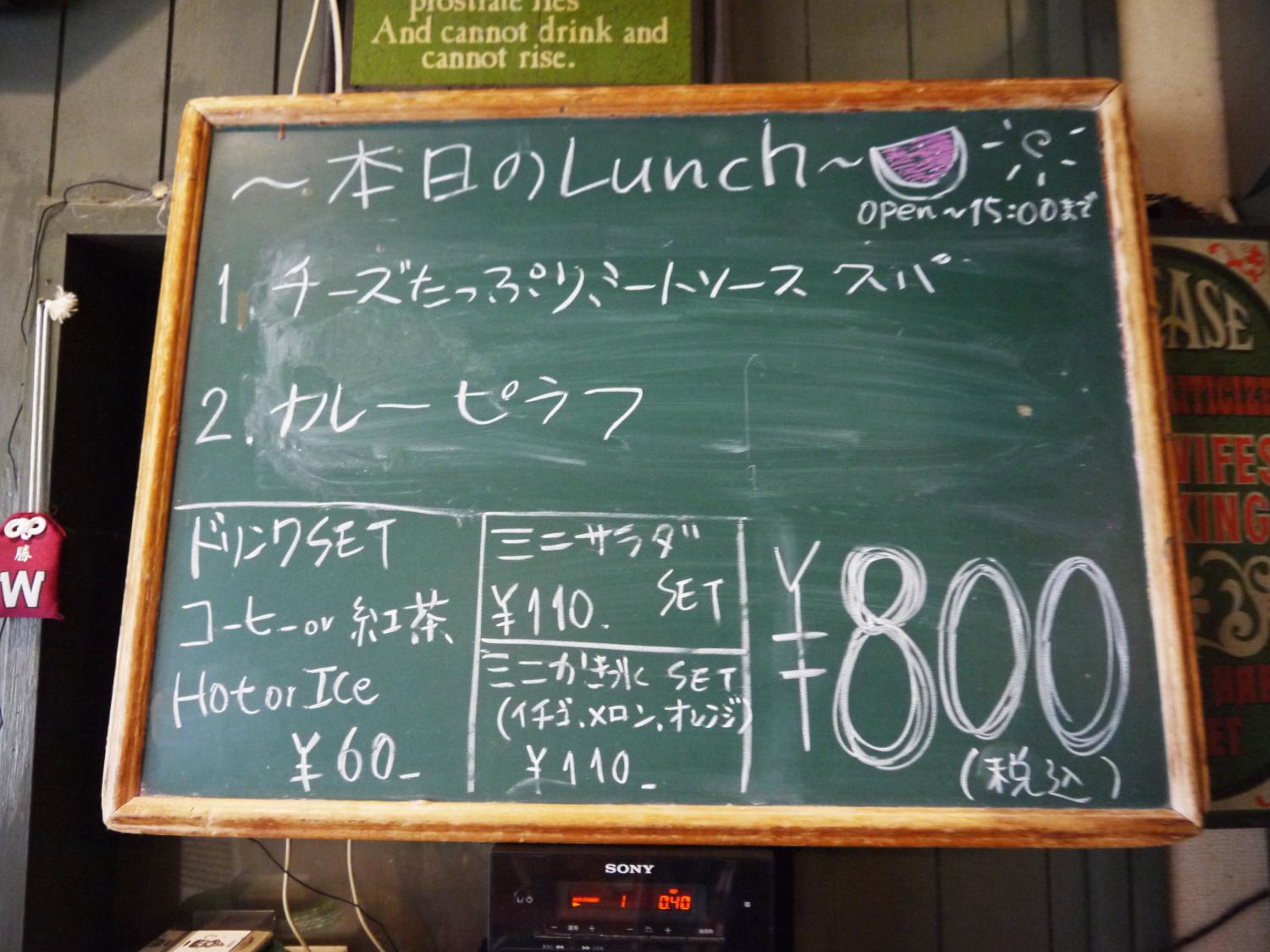 (additional information)
Today's menu is 800 yen! Even if change every day, and soak drink; +60 yen! Oh? Is it not slightly too cheap?
Furthermore, quantity of pasta is available, too. Regular is 120 g and quite rather much setting. Ultra large is +330 yen at 240 g in double one!
Pro-physical education party boys gather; ...

mahotsukainodeshi Ekoda store
1-3-1, Hazawa, Nerima-ku
TEL 03-3994-9631
Business hours:
Weekdays: From 11:30 a.m. to 9:00 p.m. (L.O 8:20 p.m.)
On Saturday: From 11:30 a.m. to 8:30 p.m. (L.O 8:00 p.m.)
Sundays and holidays: From 12:00 p.m. to 8:00 p.m. (L.O 7:30 p.m.)
Regular holiday: No fixed holiday
Homepage: http://mahodeshi.web.fc2.com
In Ekoda, as for the cake, cost performance is the best! @ Andersen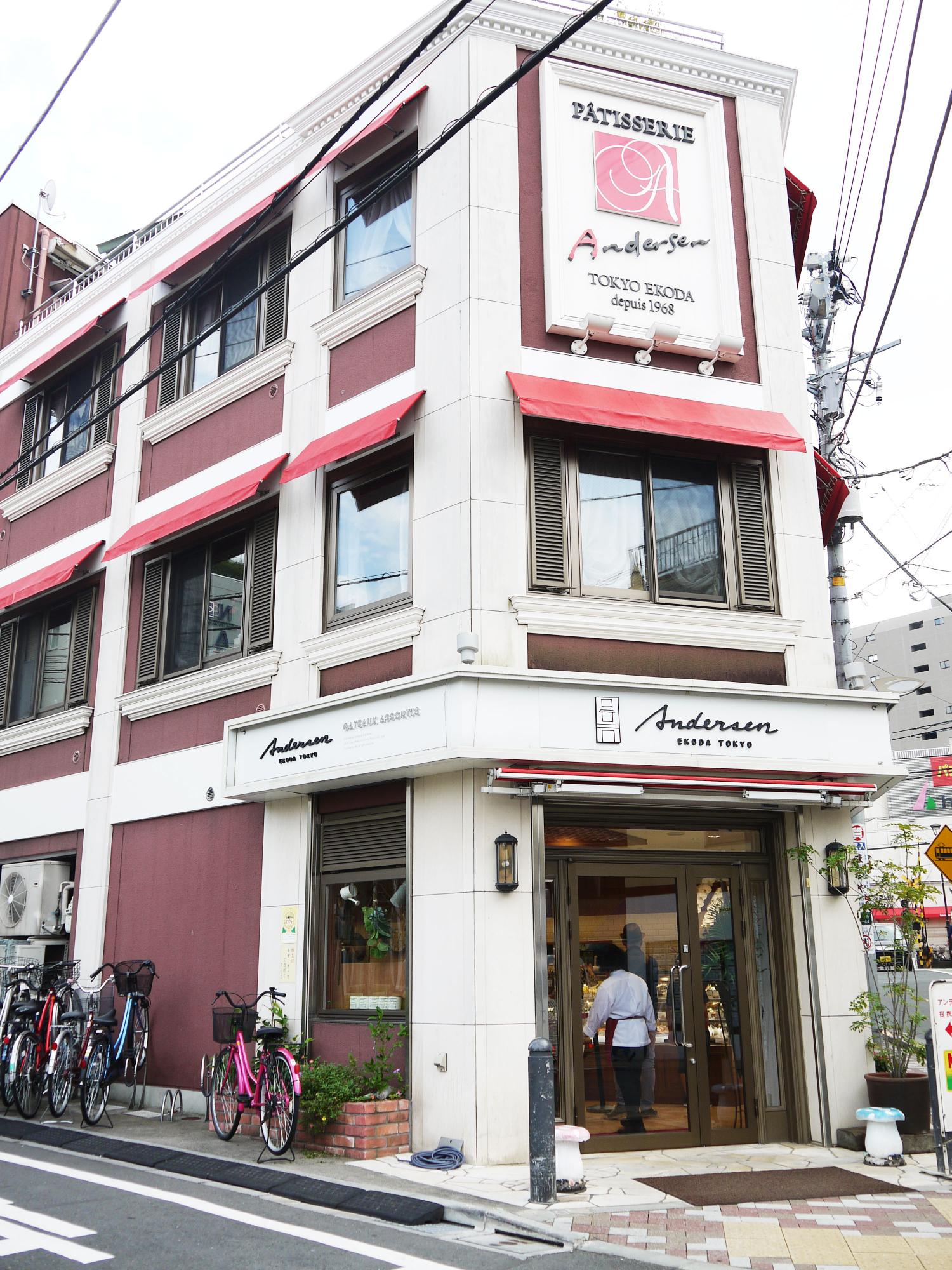 [extra]
How about sweets to present of Ekoda?
In Ekoda, even as for the cake, it is played cost performance. Founding is 1968 (Showa 43). Patisserie in just in front of of day art. Originally it seemed to be one small showcase, small shop of 4 tsubos, but it was the second generation now, and, in the shop, it was to size of approximately 10 times.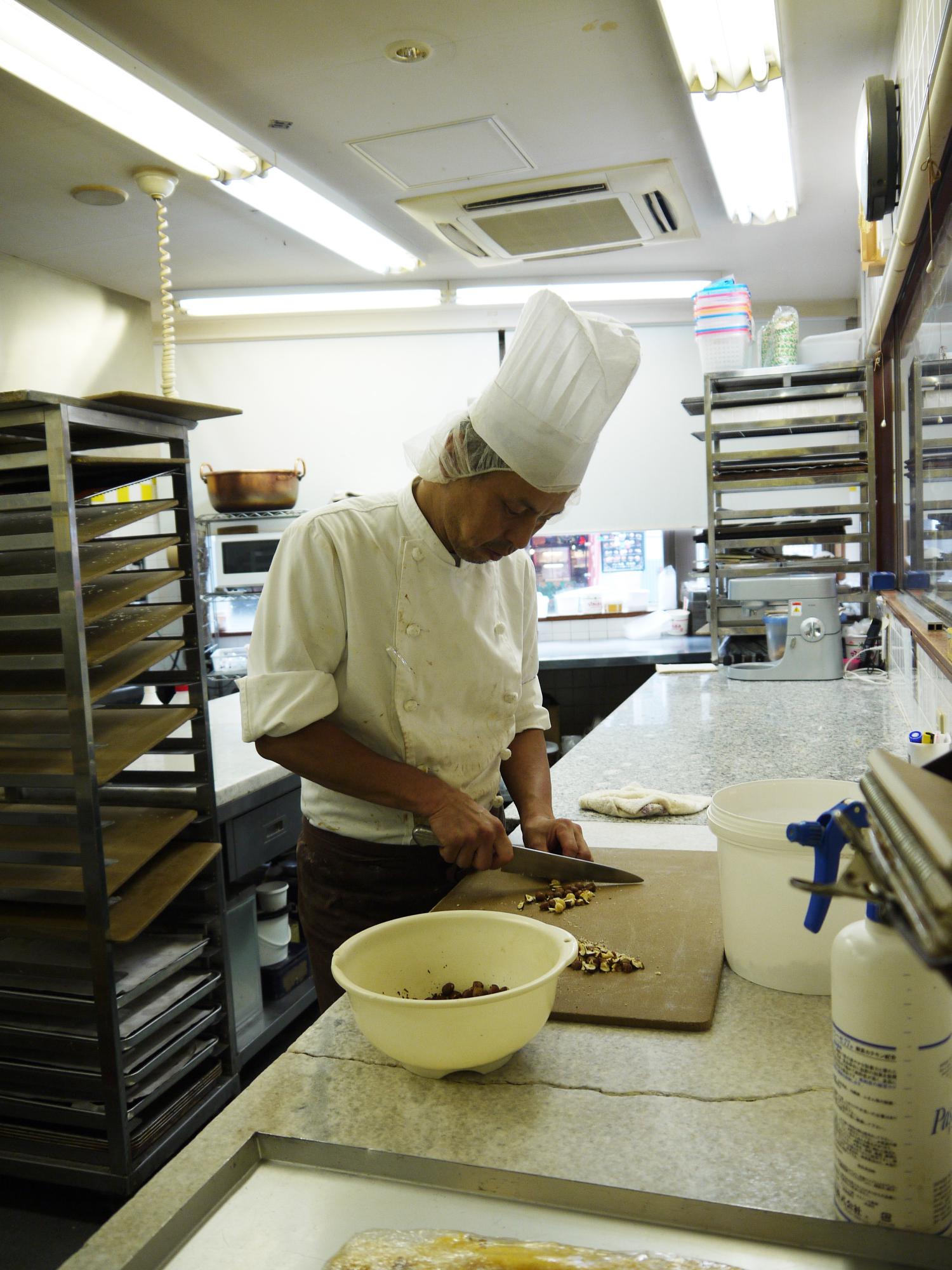 Though one cake considerably has a big one, 383 yen (tax-included) and amount of money are reasonable shortcake and Mont Blanc.
We seemed to be so that girl student of art and Music College buys well on day from those days, and which we sometimes bought in those days seems to come.
With passage of times, taste and appearance develop, too, but is big; and as cheap iha those days! Thing that is the same as the old days for regular customer is nice, but seems to be quite serious for shop. As it makes cake in shop, it is first selling that provides fresh one.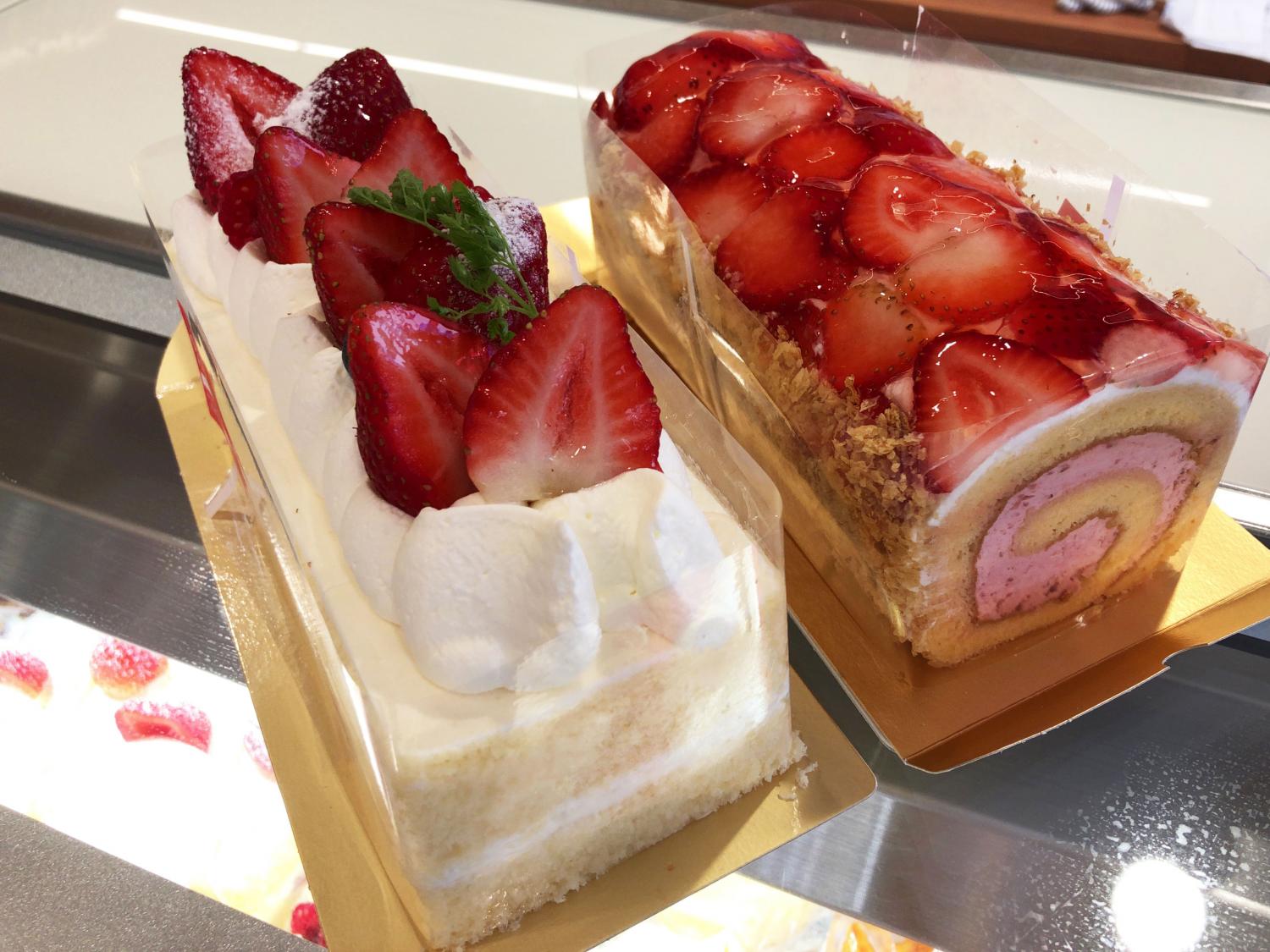 ★Person knowing orders this★
Corner short (fresh cream ganache)/1,350 yen (tax-included), strawberry roll/1,404 yen (tax-included) 
Student seems to have birthday cake carrying plate on the top at the age of birthday of friend.
I see. Size, appearance do not take close together much more than we buy cake of hall though it is cheap.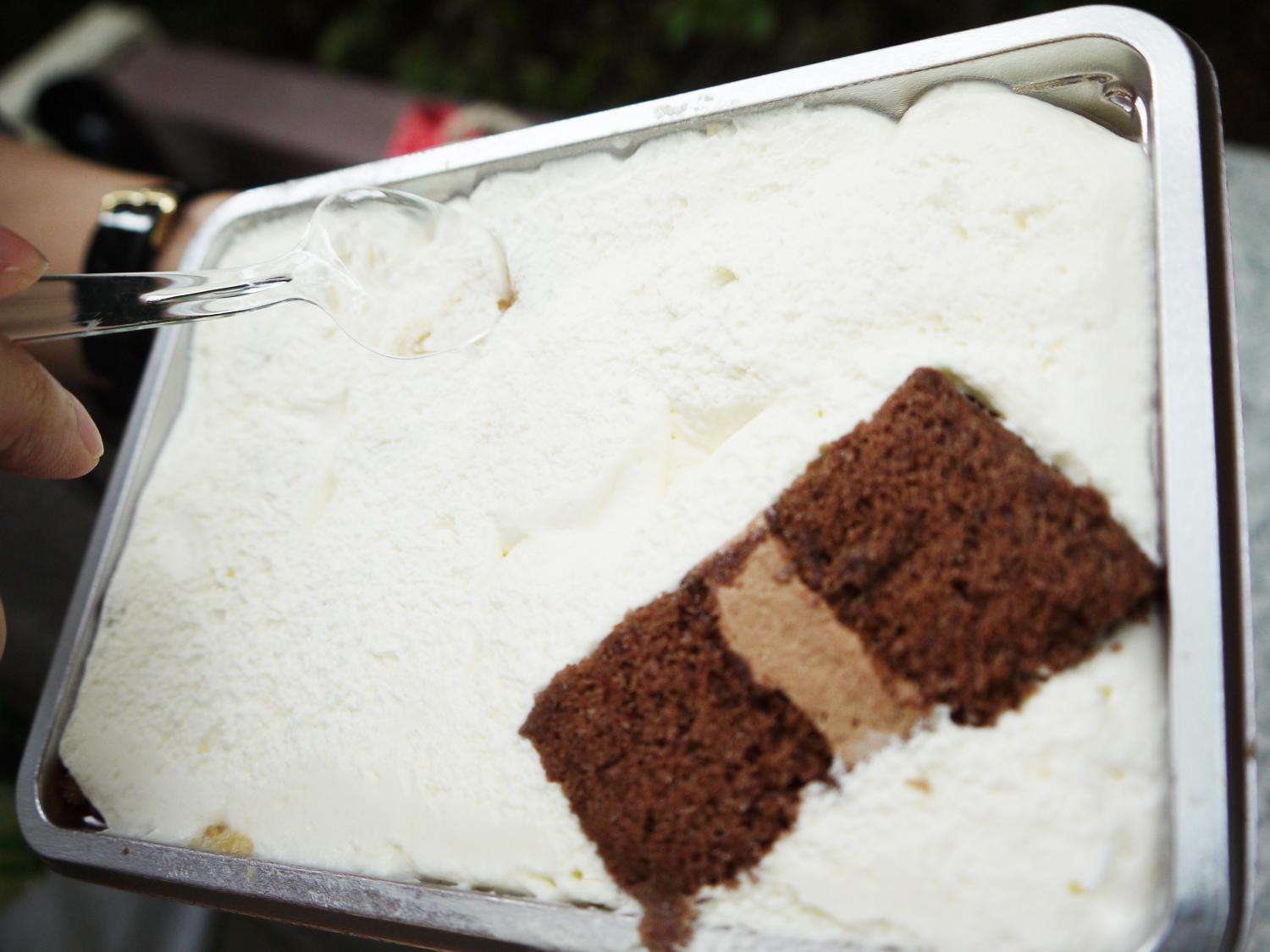 ★Person knowing orders this★
Corner lunch/500 yen (tax-included)
If taste is good, we do not mind visually! In called this "corner lunch 420 yen!"
Corner that remains by all means in making cake. We spread scrap of sponge cake and swiss roll all over lunch box closely and are sweets lunch which we covered up with plentiful fresh cream on the top.
Taste is the same even if we say corner! Surely advantageous!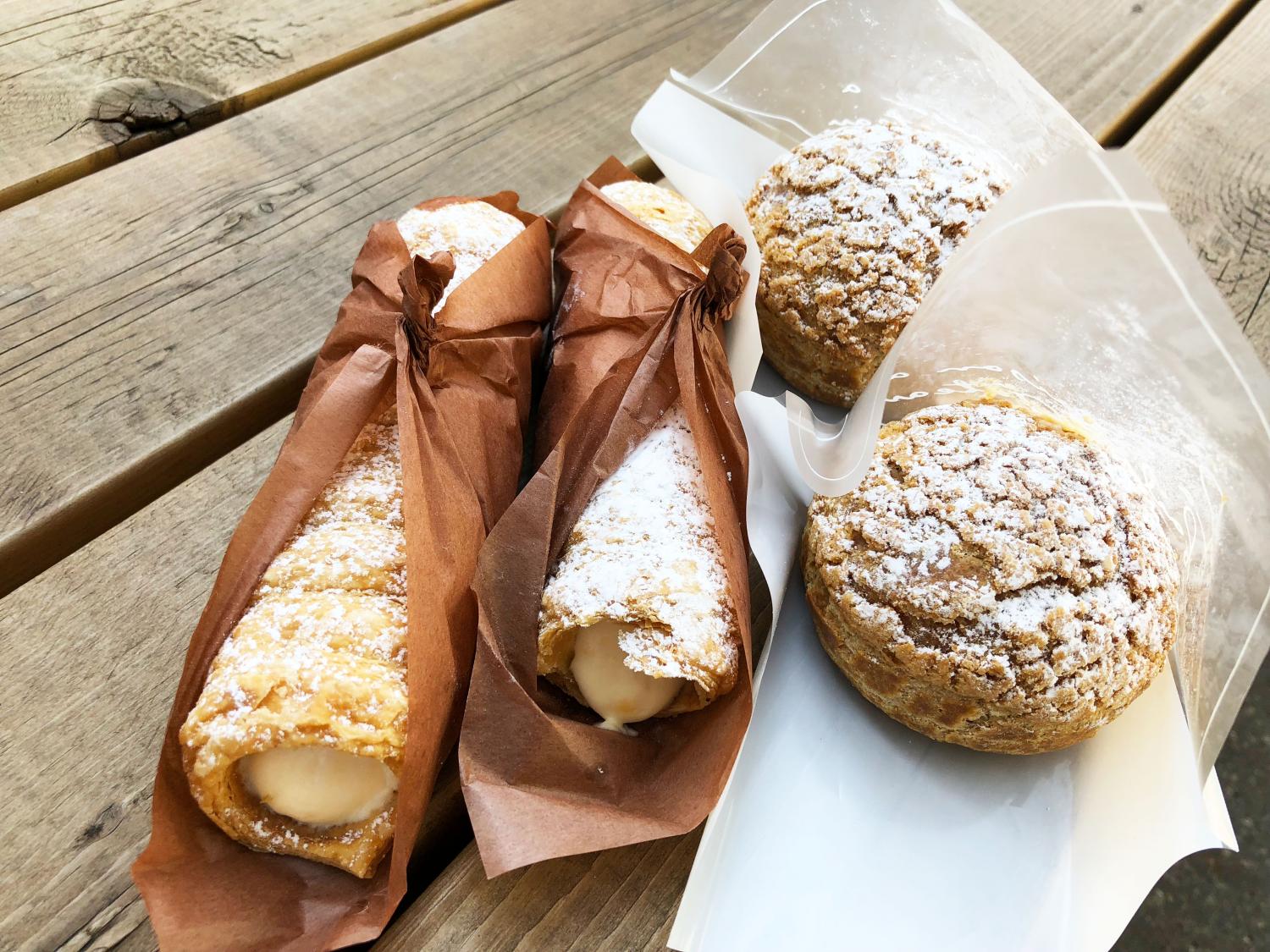 ★Person knowing orders this★
sakusakukorone/151 yen (tax-included), Ekoda person fried cream puff/162 yen (tax-included)
System brand-new in both skin. Present popularity NO.1!  It is cheaper than convenience store sweets!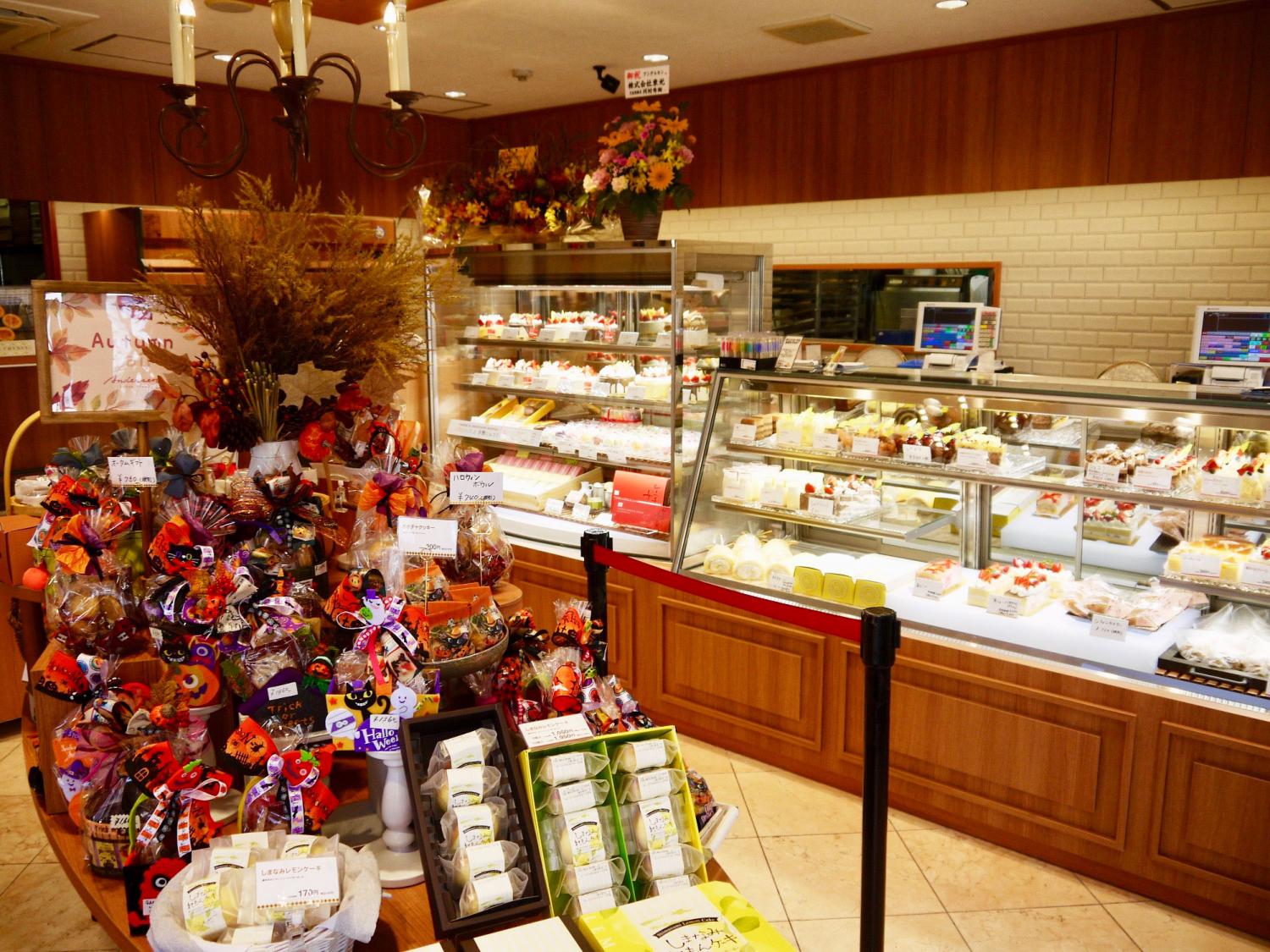 It is reopened in September, 2018!
The shop after renewal two showcases of cake. As for one, decoration cake is for exclusive use.
Corner of baked confectionery grew big!
Andersen (Andersen)
2-44-2, Asahigaoka, Nerima-ku
TEL 03-3972-4505
Business hours: From 9:30 a.m. to 8:00 p.m.
Regular holiday: No fixed holiday (we will do business on January 1)
http://www.andersen-ekoda.jp