---
Hometown, I (writer N) who came back to Nerima who spent about 20 years approximately one and a half years ago.
When we come to think that it is, "we came back to Nerima with much effort, and there should be favorite spot where one depuratto can come close to and shop which we want to recommend to friend in hometown" and find time, we take a walk here and there.
We take a walk aimlessly this time around around Nerima-Kasugacho Station of Oedo Line and Heiwadai Station of Yurakucho Line ♪ We discover that some Circular Route 8 en alley spots whether "there was shop so far in this place" when we go hating increase☆ 
It was me of timid person who could not readily set foot, but gave up in shop to be worried about saying it was saying "we will reclaim hometown newly!" in old shop saying "you can enter alone"!
*Place of shop written to upper handwriting map is just indication.
The body is heart mohokkori, too ♪ "Soup multi-joy" that selectable soup is nice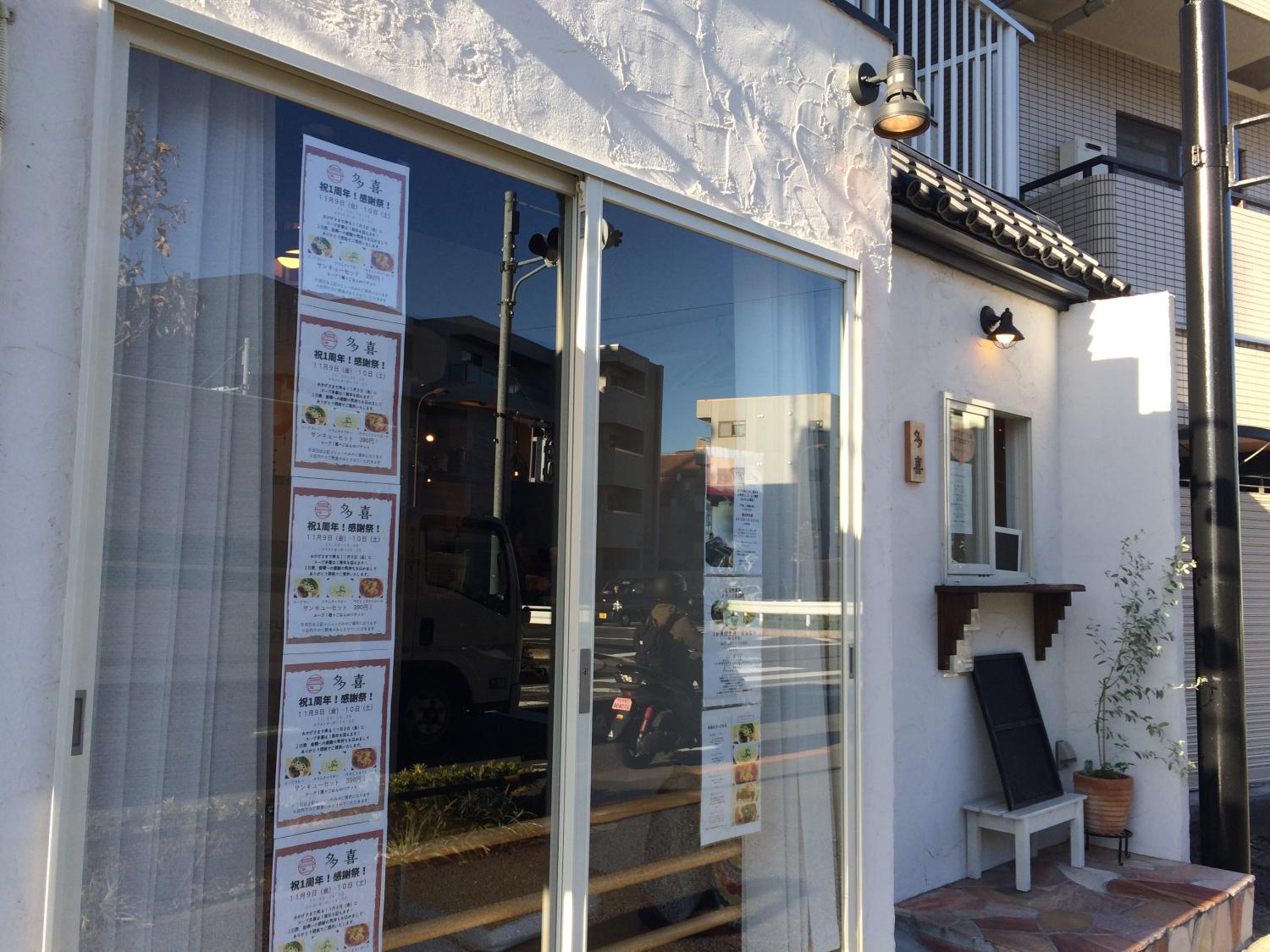 When we go out the Exit A2 of Nerima-Kasugacho Station and advance to the left, we discover pretty shop of white wall something or other.
It is on blackboard put outside with "shop of selectable soup". Soup person is rare around here! Besides, takeout seems to be made and is nice shop for soup enthusiast.
Staff smiles from horizontal small window of door. We are, and it is entered the smile iza!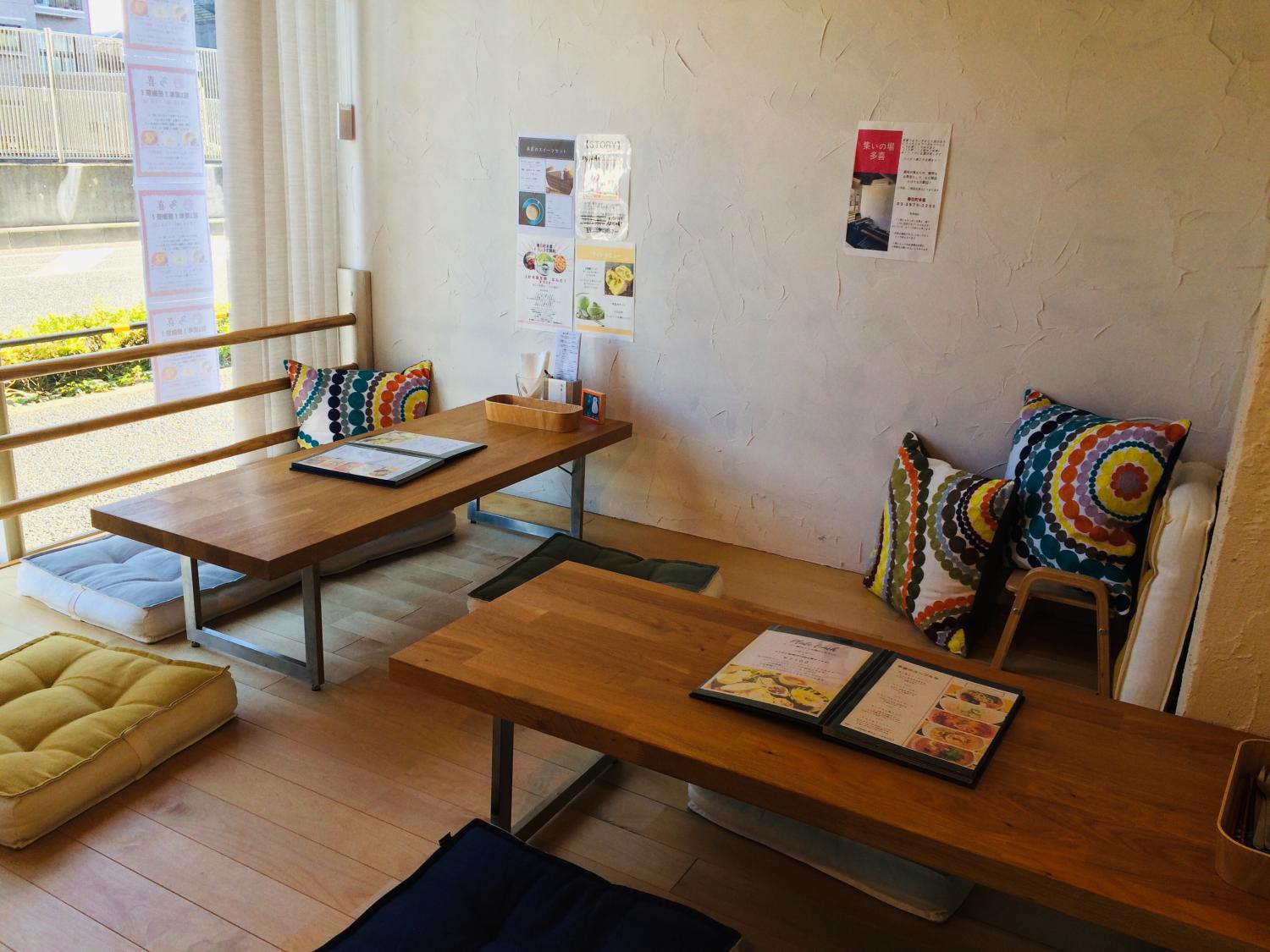 Thing, two seats of seats at a table that rose six seats of counters and small are in shop, and "there are many people using seat of small rise as for moms with small child."
As I was "one", we take seat on counter.
Selectable soup can choose by hunger condition including "multi-joy set" (tax-included 880 yen) (there are rice, bread, one of the drinks each) that one kind of "single set" (tax-included 680 yen) and soup become two kinds when we read menu promptly. That there are regular five kinds soup, and two kinds of those change by season.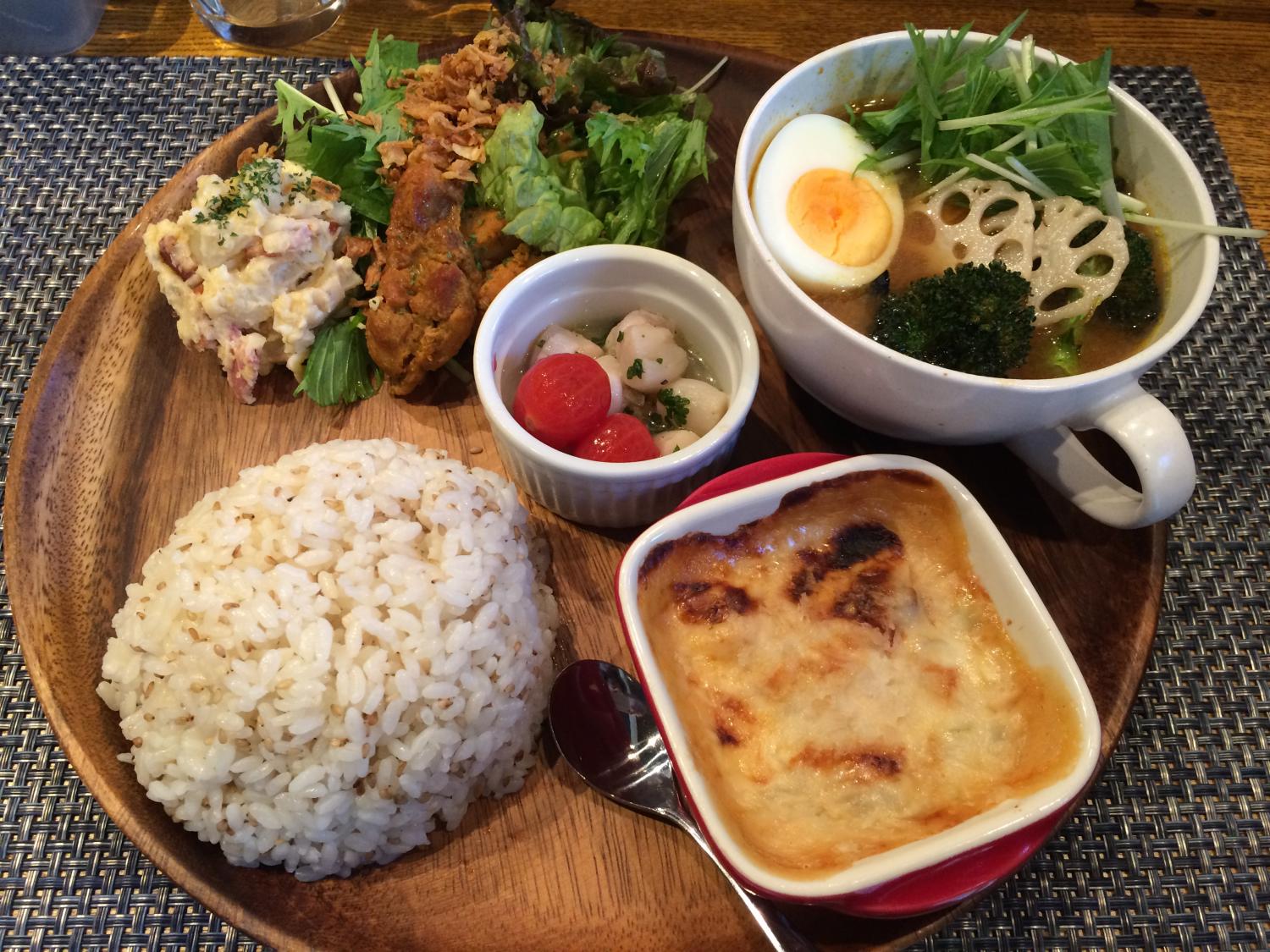 Photograph: "Plate lunch" (tax-included 1.100 yen)
I choose soup curry with "plate lunch" of popularity that salad and mini-gratin, side dish got on one kind of favorite soup hard! (rice or bread can choose staple food)
A lot of seasonal vegetables including turnip and pumpkin enter soup curry of gentle taste, and nutrition is produced so good, too.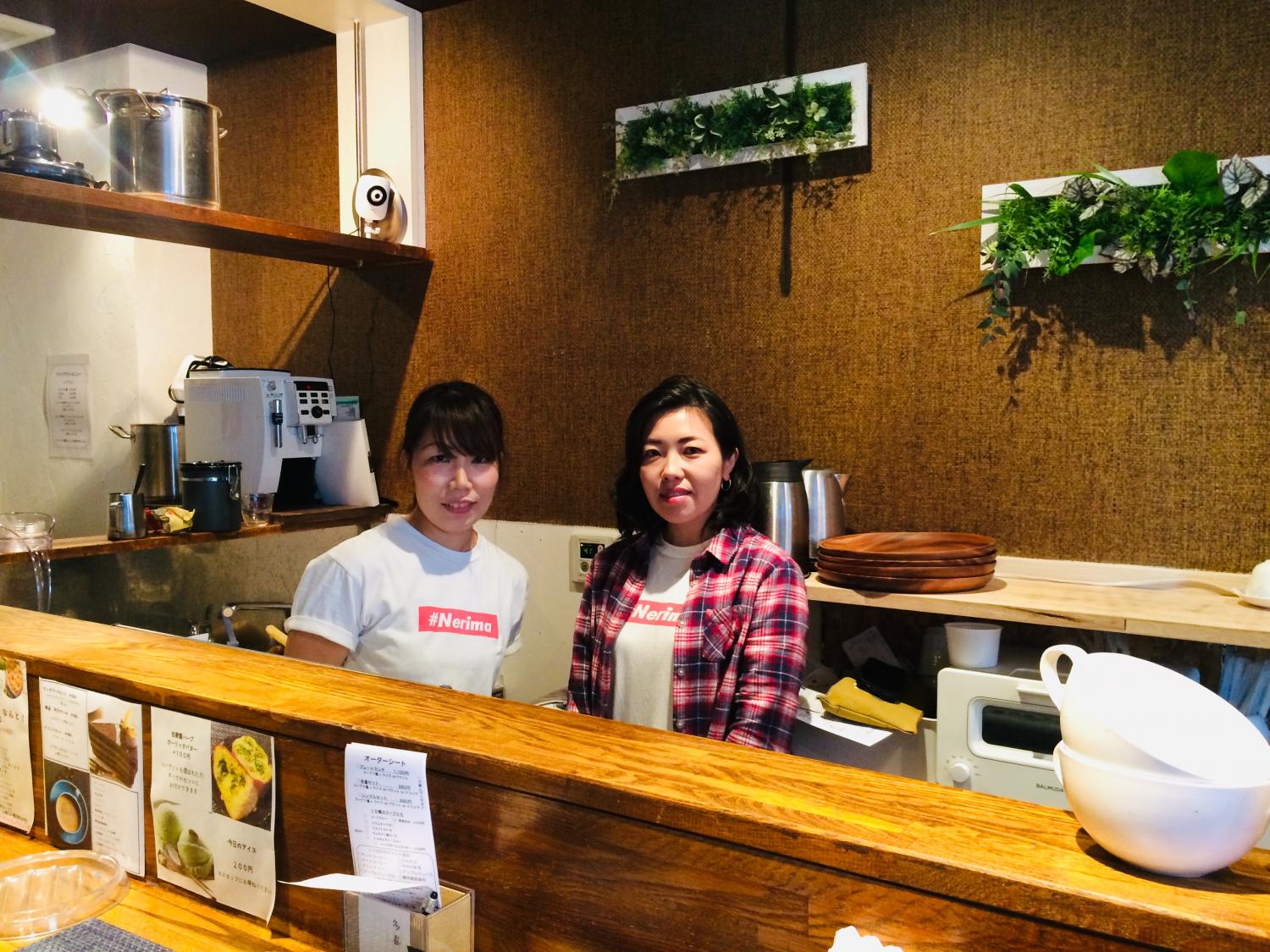 Photograph: Staff in charge of cooking and waiting on customers
Manager of "soup multi-joy" is from Kasugacho. We opened on November 9 of last year saying "we wanted to make place of community which had you gather if natural to local people".
Saying as "drinks such as homemade ginger ale are recommended, please come only by tea!"; manager.
It was said and has found shop around here as we thought that there should be one shop which could go for lunch♪

3-34-21, Kasugacho, Nerima-ku estate peer the first floor of Kashima (in the entrance, the Circular Route 8 is along)
TEL: 03-3970-3355
https://www.donnto.com/%E5%BA%97%E8%88%97%E7%B4%B9%E4%BB%8B-%E3%83%A1%E3%83%8B%E3%83%A5%E3%83%BC/%E6%98%A5%E6%97%A5%E7%94%BA%E5%A4%9A%E5%96%9C-%E3%83%A1%E3%83%8B%E3%83%A5%E3%83%BC/
Business hours: From 11:30 a.m. to 2:30 p.m. (as for the last order until 2:00 p.m.)
Regular holiday: Water, Sunday New Year holidays: From December 29 to January 6 rest
It is not only Daikanyama and Nakameguro! Good baker "bakery fujita" in Nerima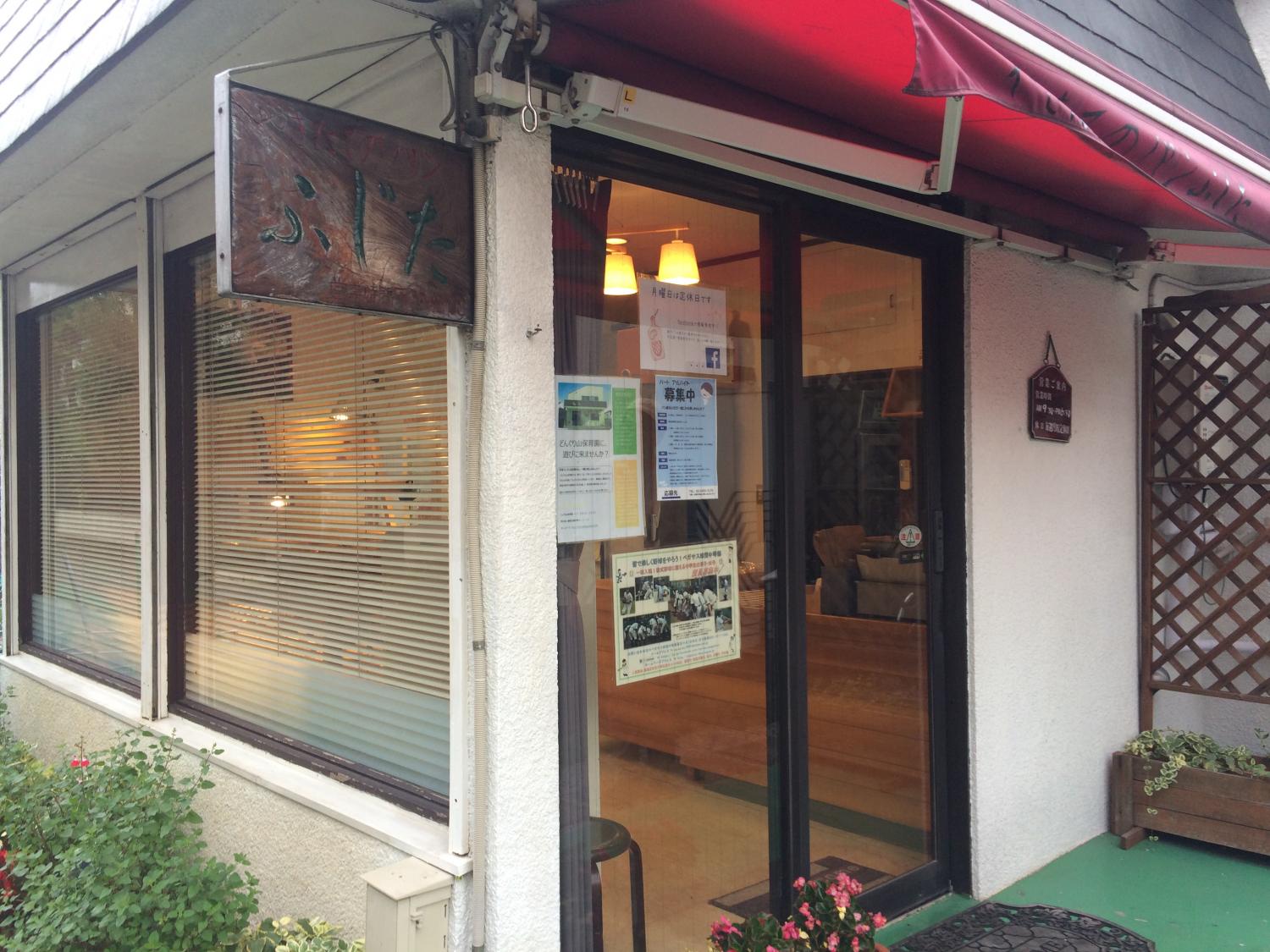 Just advanced to the Heiwadai area for "soup multi-joy", and passed Seven-Eleven, and turned left at corner of second rank of rakugo storyteller, and advanced a little; it is "bakery fujita" that is on the right.
It will be approximately 30 years ago now that first father drops out of a company and began shop.
We are impressed by taste of German bread, and, other than pumpanikkeru using rye Sawa - kind, Campagne of use of natural yeast, cream bread and about 30 kinds of bread including bean-jam bun line up.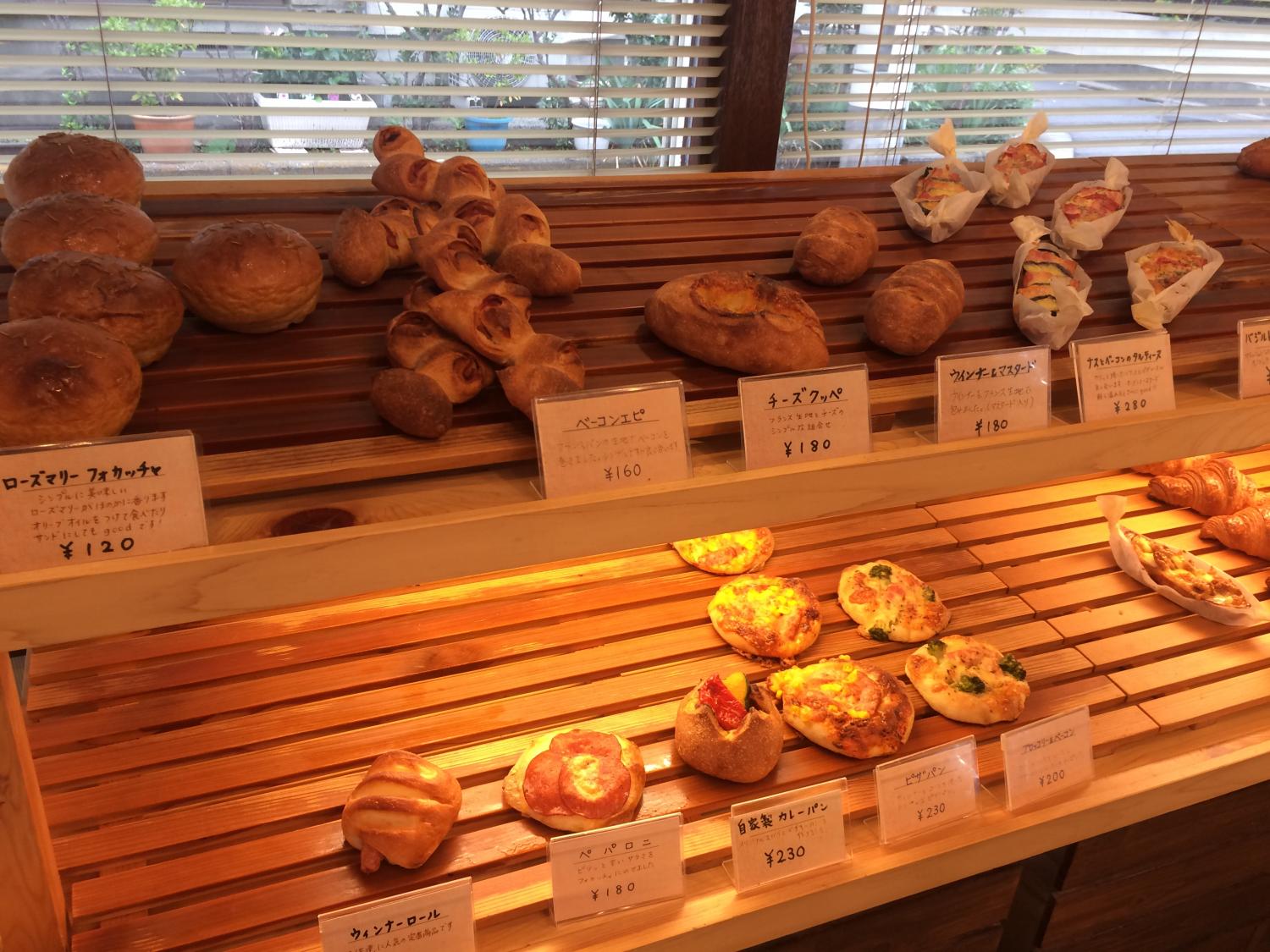 Photograph: Bread which becomes snacks from meal system forms a line
 
It seems to be focaccia of soft texture that put tarutinu and olive oil which marketable goods carry ingredients such as cheese or bacon on board on the baguette and baked in the dough. He/she slices bread and Campagne in favorite thickness. Around 10:00 to keep type of bread is aim eye!
Under the training of "stollen" to eat little by little by Christmas on day when we heard from coverage (1.300 yen including 650 yen including small size tax, large size tax). Wisteria smartweed is popular product every year, too.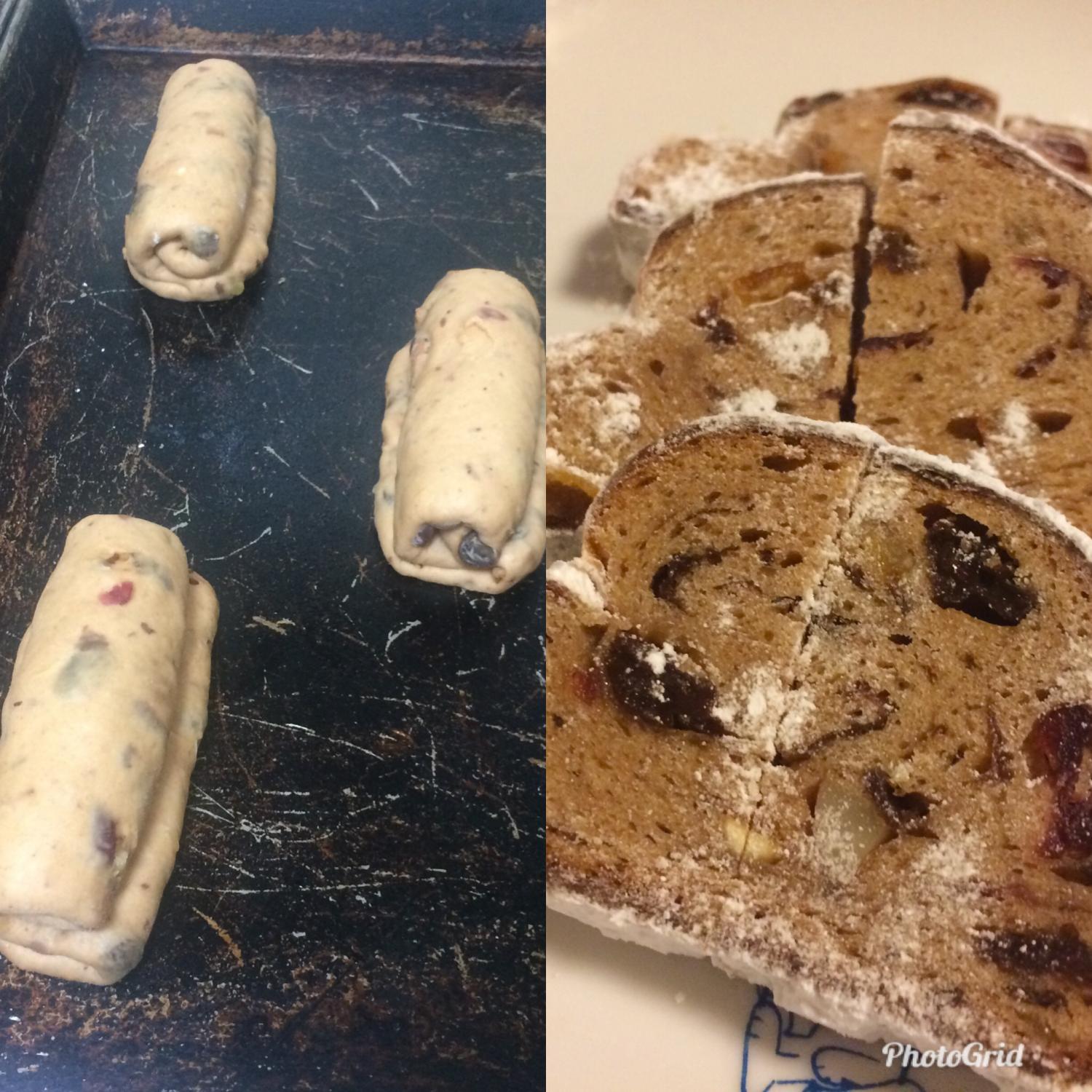 Photograph: Section that the right sliced finished stollen before the left molding, and baking
It turns out that it contains dried fruit and nuts from section that we sliced thinly severely when we taste prototype of stollen.
It is powder sugar that begins to go and can eat with sweetness that is not lengthy generally without getting tired. 
In sons from manager, Yasuo Fujita of the second generation
"Reservation of stollen being until Christmas in usual, but please trying which we were worried about on seeing this article as we accept reservation this year until December 30 by all means."
It is one article to want you to taste by all means at this opportunity☆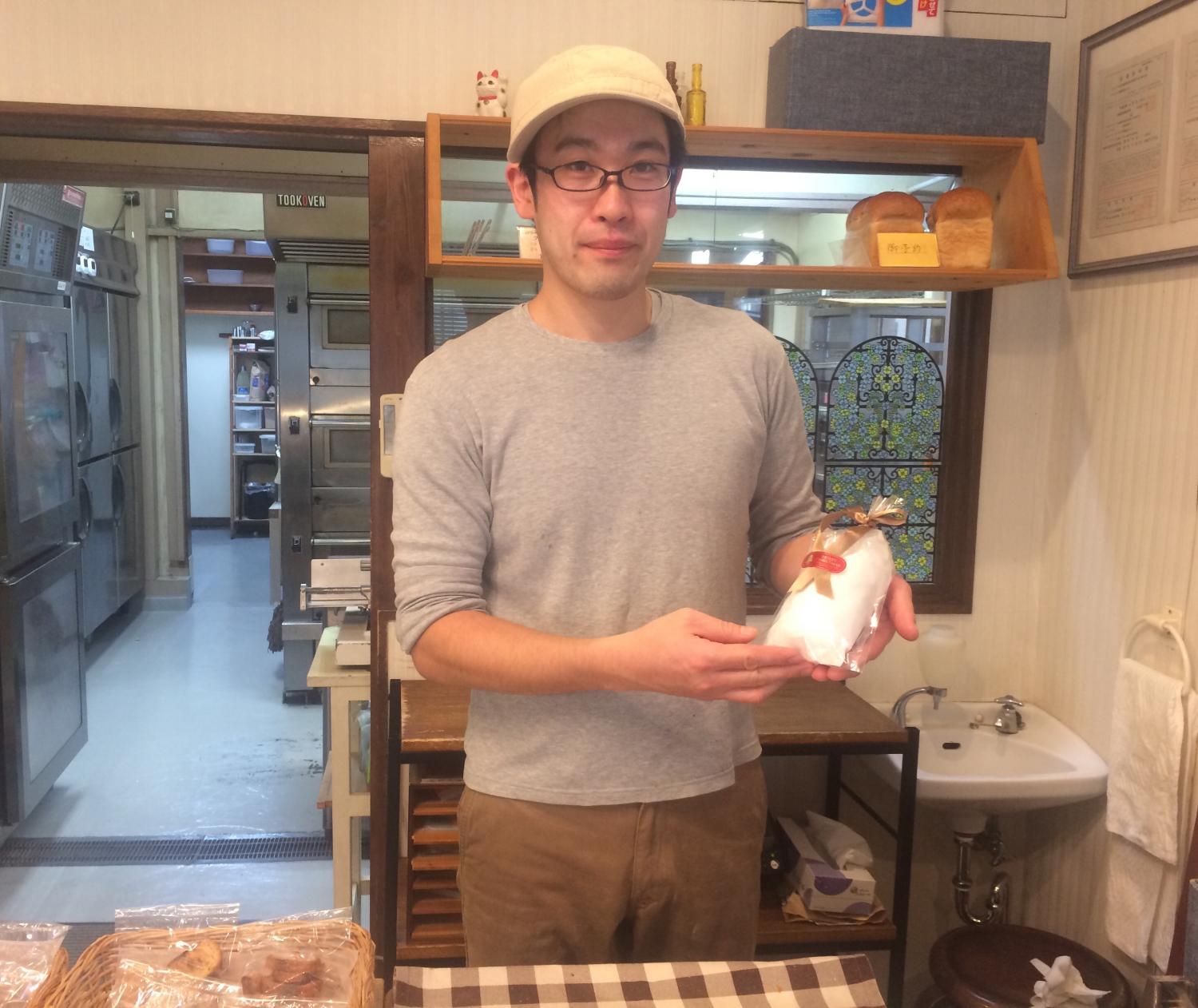 Photograph: Yasuo Fujita of manager
It is past 3:00 p.m. of weekdays that we heard from coverage. When neighboring person comes to buy for food with "by bicycle in" tomorrow morning and comes so that girl of primary schoolchild buys sweet roll one, visitor comes one after another.
Bread which thought of Fujita to "want to make thing that oneself eats and thinks to be delicious" stayed is loved more than generation and seems to melt into in daily life of local people.

4-1-16, Kasugacho, Nerima-ku
TEL: 03-3999-3170 (possible reservation over telephone)
https://fujitapan.jimdo.com/
Business hours: From 9:30 a.m. to 6:30 p.m.
Regular holiday: It is year-end and New Year on Monday: We take a rest for from December 31 to January 7 (plan. For more details, please confirm on HP, Facebook of shop)

On special day ☆ Hideaway restaurant "Lito rukka" (ritorukka) of Kasugacho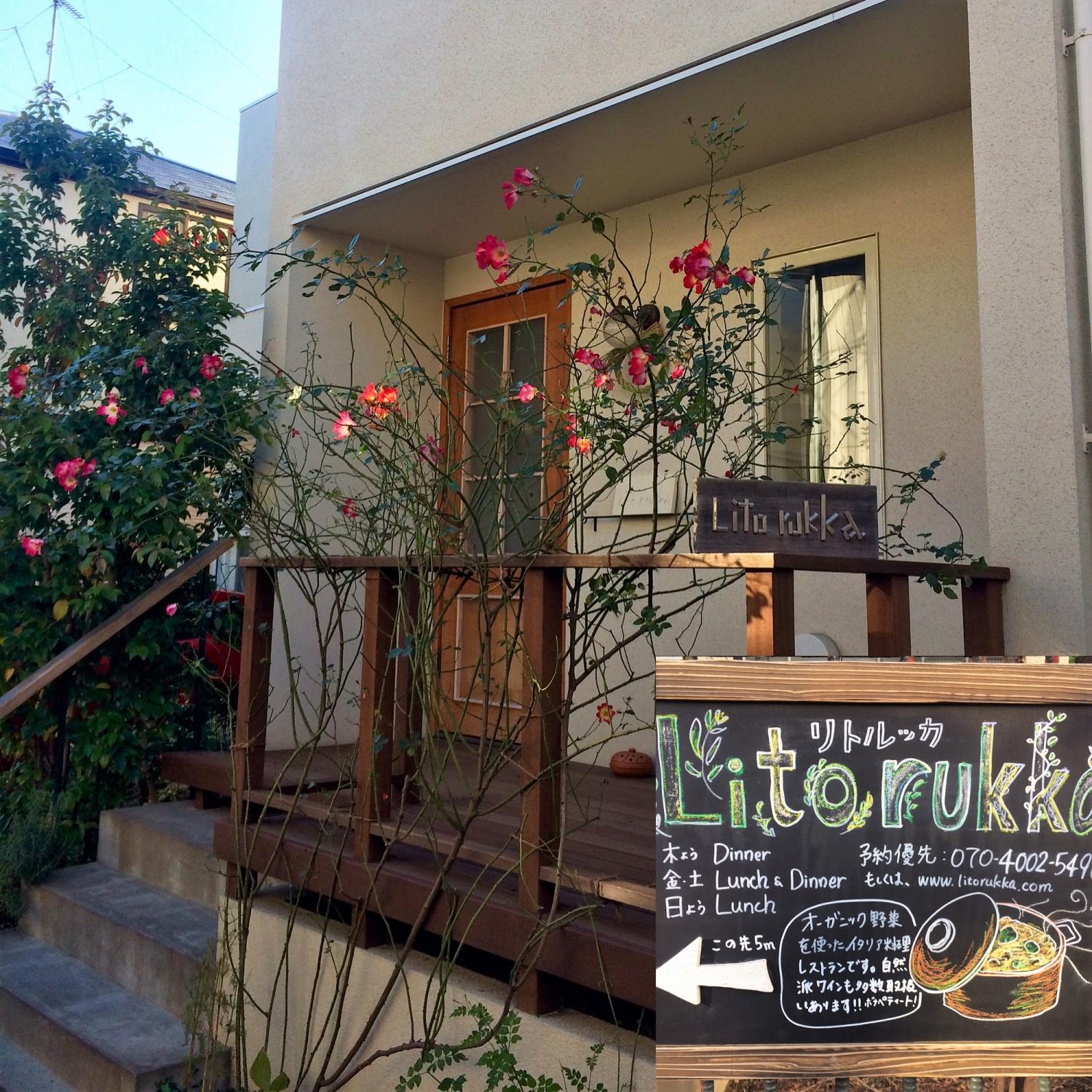 We found "Italian food of organic vegetables" and signboard written when we walked residential area where we entered at way with pool of Nerima east Elementary School on way close to another Heiwadai Station.
"Wonderful shop which did not come to quiet residential area!" was attracted for to girl by interesting menu and reserved lunch course of "one" decisively☆ 
When, on the day of the reservation, stand some other time in front of shop, single house common visually. That was natural, too, and, in shop "Lito rukka" (ritorukka) of this, Matsuura of owner seemed to open corner of home as restaurant in 2017.
Inoue and Arimura that what we welcomed saying "what can I do for you?" acquired study with two people in Italy, and it was chef of newly this shop in October in this year. Ingredients to use for menu can have healthy dishes which used arriving organic vegetables for main from parents' house, Hakuba-mura, Nagano of Arimura.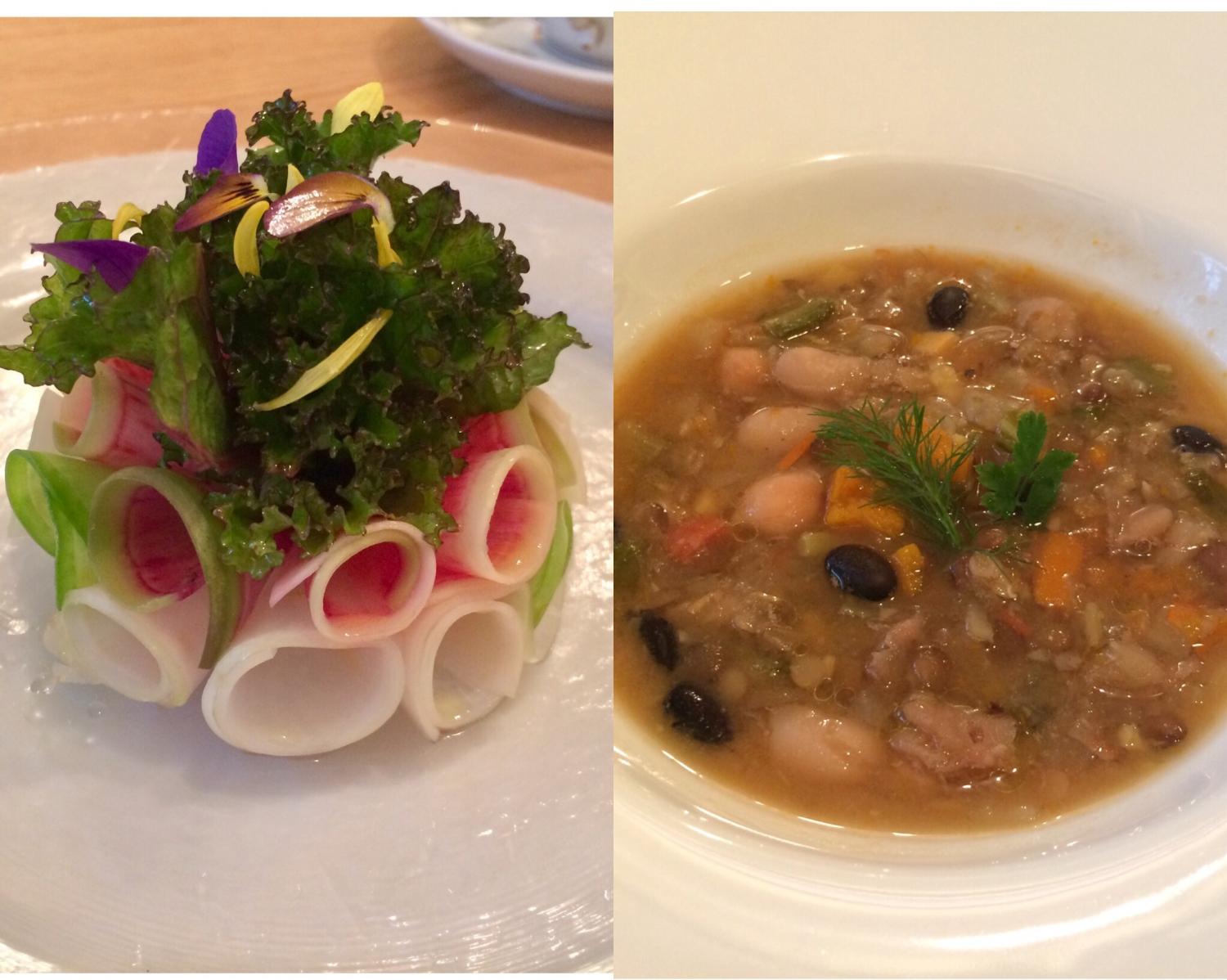 Photograph: The left "carpaccio salad style of appetizer of daikon" the right "in various ways minestrone of beans"
Only as for the dishes which taste of vegetables can taste by various recipes including minestrone which it begins to appetizer which served two kinds of daikon like rose with lunch course which we ordered this time, and beans such as gram or drying broad beans entered rumblingly.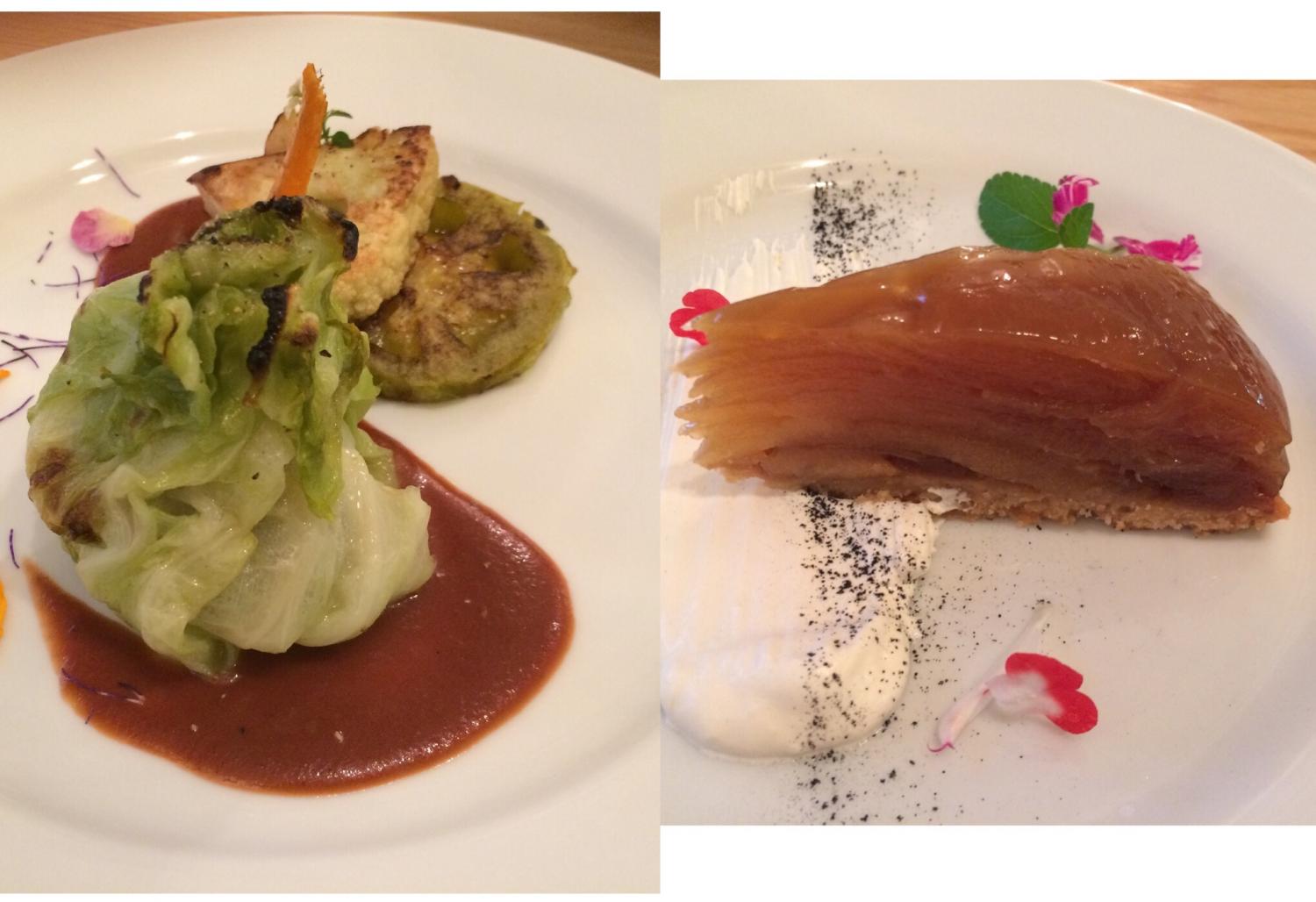 Photograph: The left "cabbage roll fond de veau sauce (+500 yen), the right stuffed with cereals" "tart Tatung Co."
Selectable main chooses cabbage roll which surrounded cereals such as Deccan grass or foxtail millet in substitution for meat from four kinds (we add 500 yen to price of course).
As, as for the fond de veau sauce using texture of sticky cereals and material of the sum including white miso to secret ingredient, I do not think with animalism raw materials nonuse; is rich; and is satisfaction very much!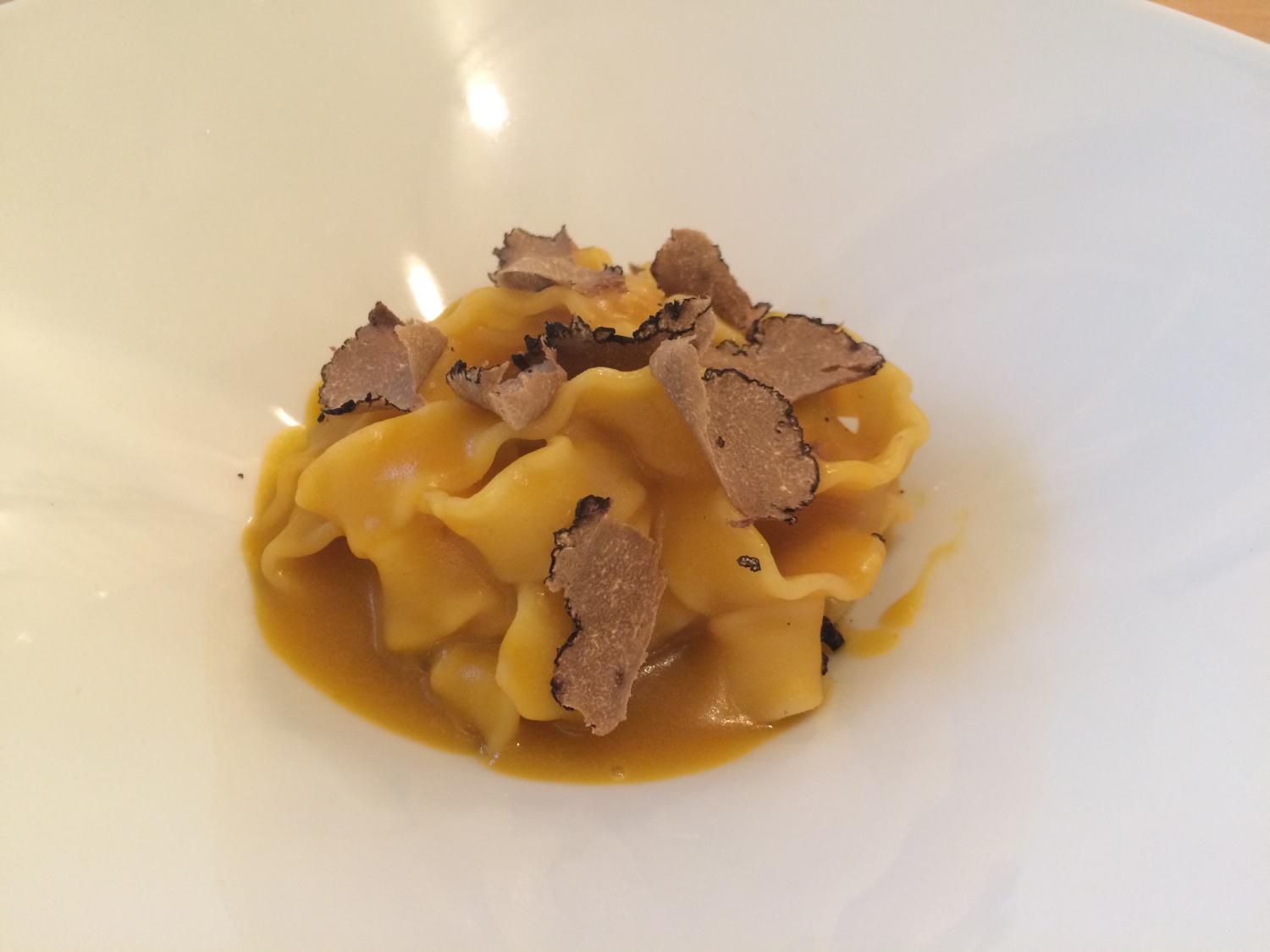 Photograph: supesharite "Kokonoe chestnut and Spaghetti of black truffle" of this winter (+1.000 yen)
As for the pasta (one article in selectable main) called push, sweet, heavy sauce of pumpkin called "Kokonoe chestnut" well picks quarrel with ribbon-formed pasta called mafarudine on this winter 1 of chef, and match with flavor of mellow black truffle exquisitely; and the whole of mouth is luxury ...☆
Homemade bread and coffee or tea are included in these dishes (there is change in contents of menu by season and the stocking).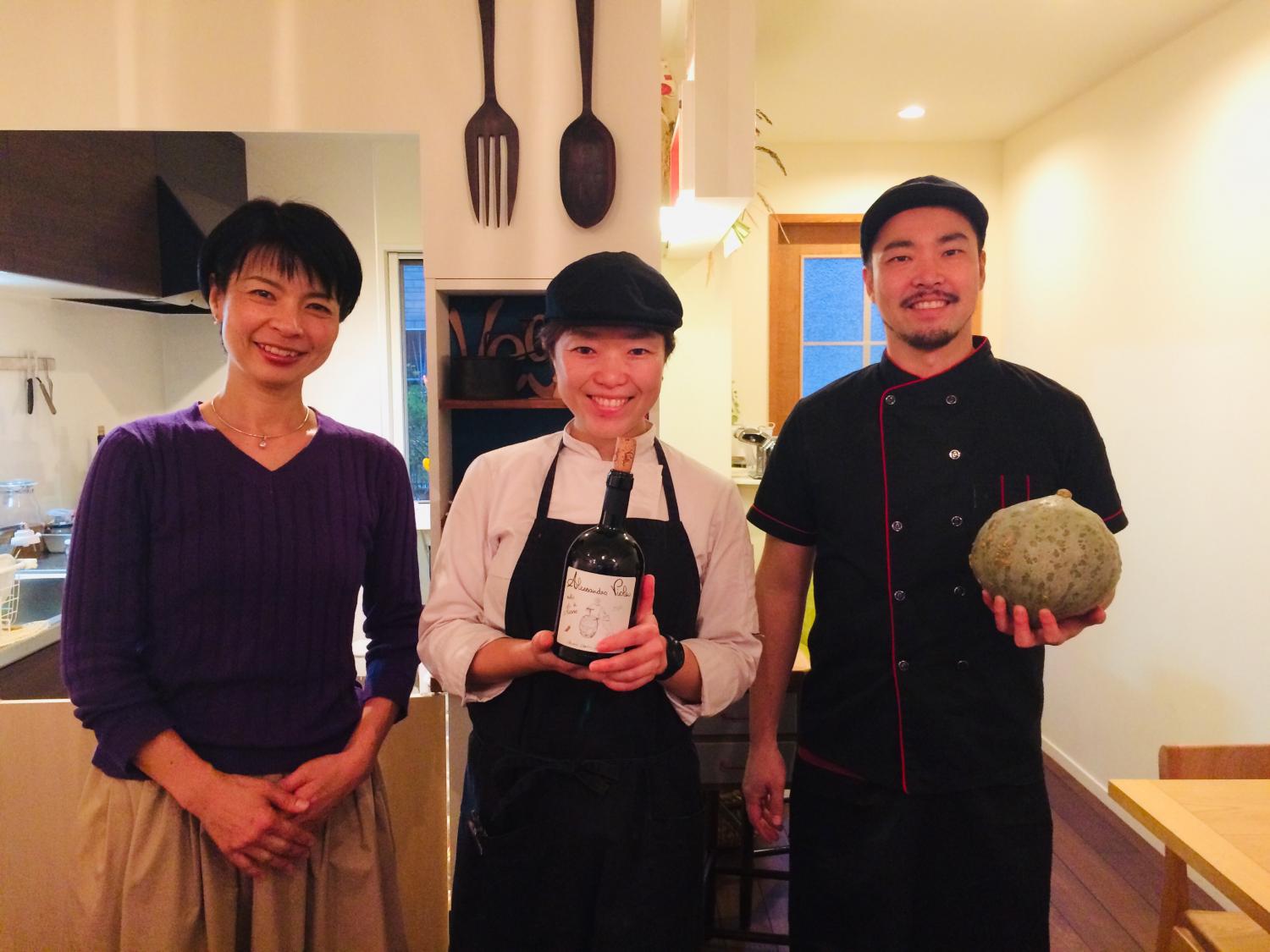 Photograph: From the left, it is Matsuura of owner, Inoue, Arimoto of chef
As we seem to use seasonal vegetables at that time for menu, this wants to conquer with the four season!
Saying "please try in nature which is what have natural wine letting ferment by power, and is vinosity by all means"; Inoue of chef.
Being open from Thursday to Sunday (on Thursday on dinner, Sunday only as for the lunch). It was such a shop which wanted to spend slightly deluxe time with friend acquaintance, somebody important including family in occasional reward.
Lunch course 2.800 yen lunch full-course meal 5.500 yen
Dinner full-course meal 5.500 yen (coffee or tea is included for +300 yen)
*This rate is all the price exclusive of tax

4-27-10-5, Hayamiya, Nerima-ku
TEL: 070-4002-5496 (it requires reservation other than lunch course)
https://www.litorukka.com/
Business hours: Lunch: From 11:30 a.m. to 2:00 p.m. (we do business only on Friday, Saturday and Sunday)
Dinner: From 5:30 p.m. to 9:00 p.m. (we do business only on Thursday, Friday and Saturday)
Regular holiday: Moon - Wednesday, New Year holidays: December 29 and 30 and January 1 rest
*On December 31, we do business for from 2 to 6 on January (please confirm in detail in HP)

We are sometimes relaxed in big bathtub ☆ "yu - poppo"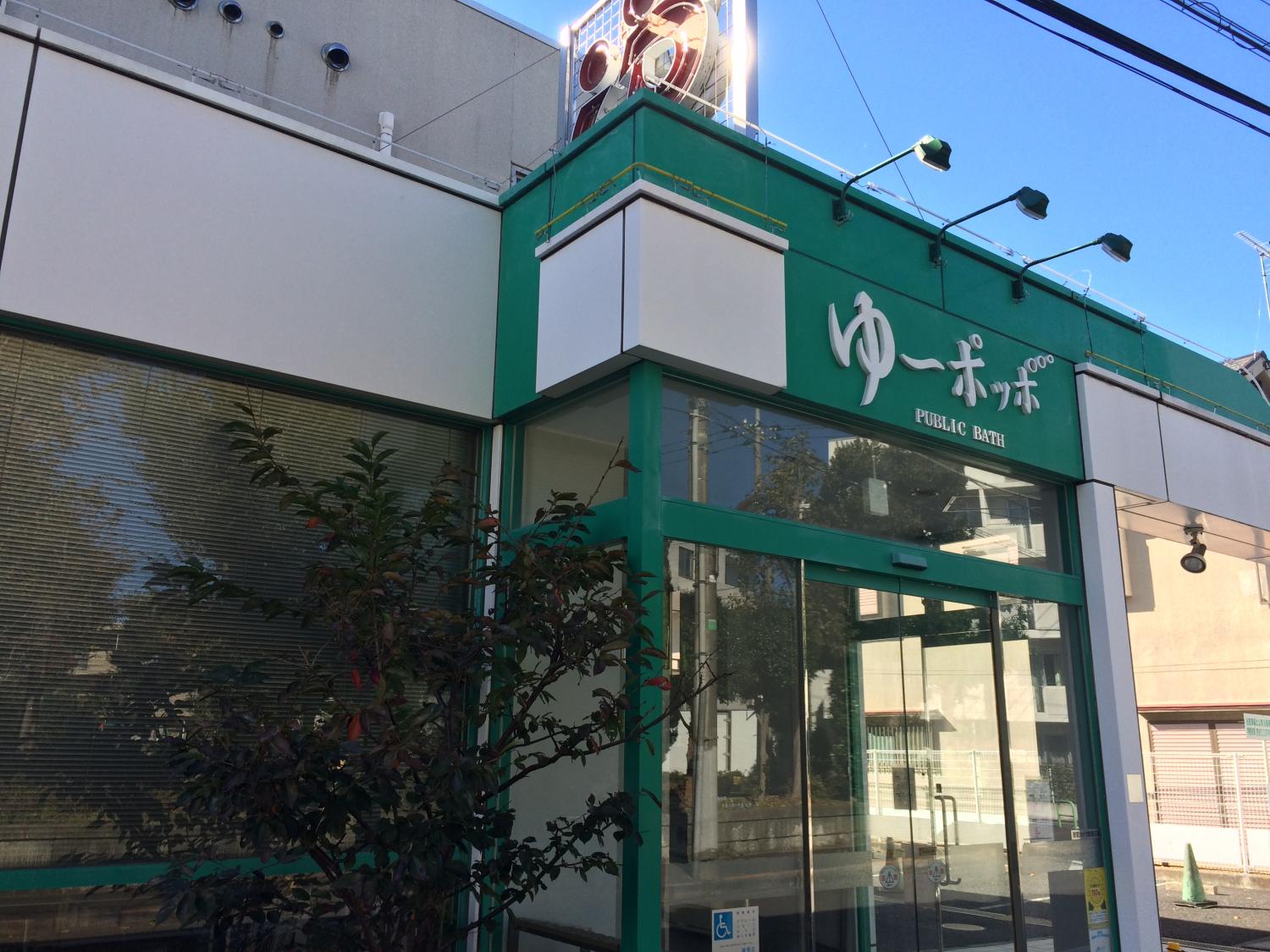 We extended a trip to the Heiwadai area when stomach was met. In going ahead through the Circular Route 8 a little more if we come to Heiwadai Station. We saw green signboard when we went straight on on way of with life. It is like public bath somehow here.
We are opened in 1954 at this place and are open with Isao Kobayashi and wife of master, son now. Pretty store's name called "yu - poppo" "thought that the name that seemed to have children get close was good" and seemed to touch.
Speaking of public bath, is there much use of elderly person? Thing, we thought of this, but "there are many one-room apartments in this neighborhood, and young woman comes a lot according to Kobayashi when it is at night."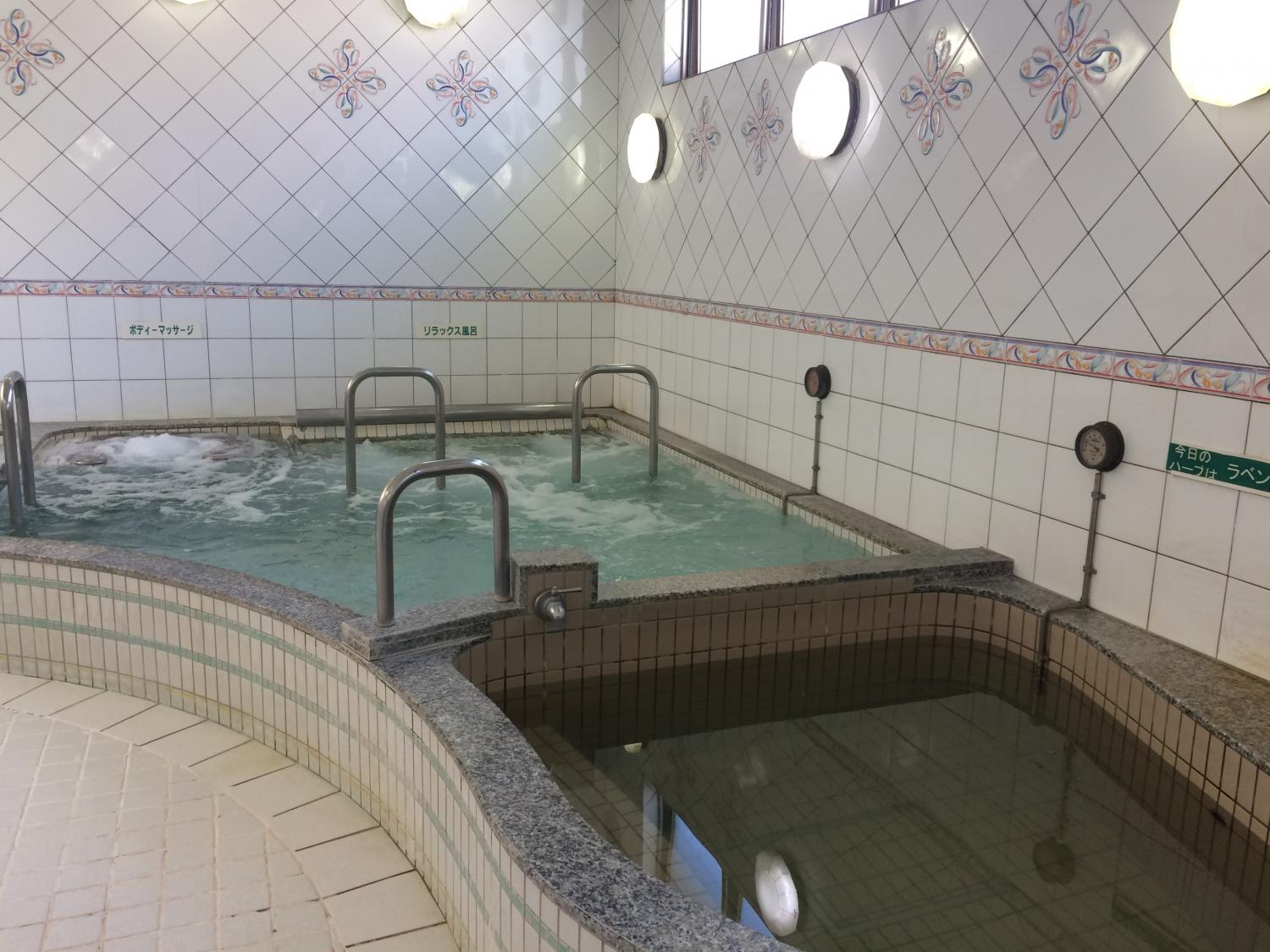 After the coverage, we waited for 3:00 p.m. of business hours and had I mohito bath.
Clean washing space seems to clean every day after hours for about two hours (thank you for your work!)
When is immersed in spacious bathtub, open feeling unlike modular bath of house! It is slightly small, but there is outdoor bath, and, other than herb hot water such as lavender or rosemary, there seems to be every day in rotation on day when star is seen depending on weather☆
Temperature of hot water is slightly rather hot with 42-3 degrees Celsius, way back is body gapokkapoka, too♪
Saying "even 1-2 times come to public bath in month, and is saying is glad if have relax"; Kobayashi.
Is public bath to be able to enjoy in less than one coin good?♪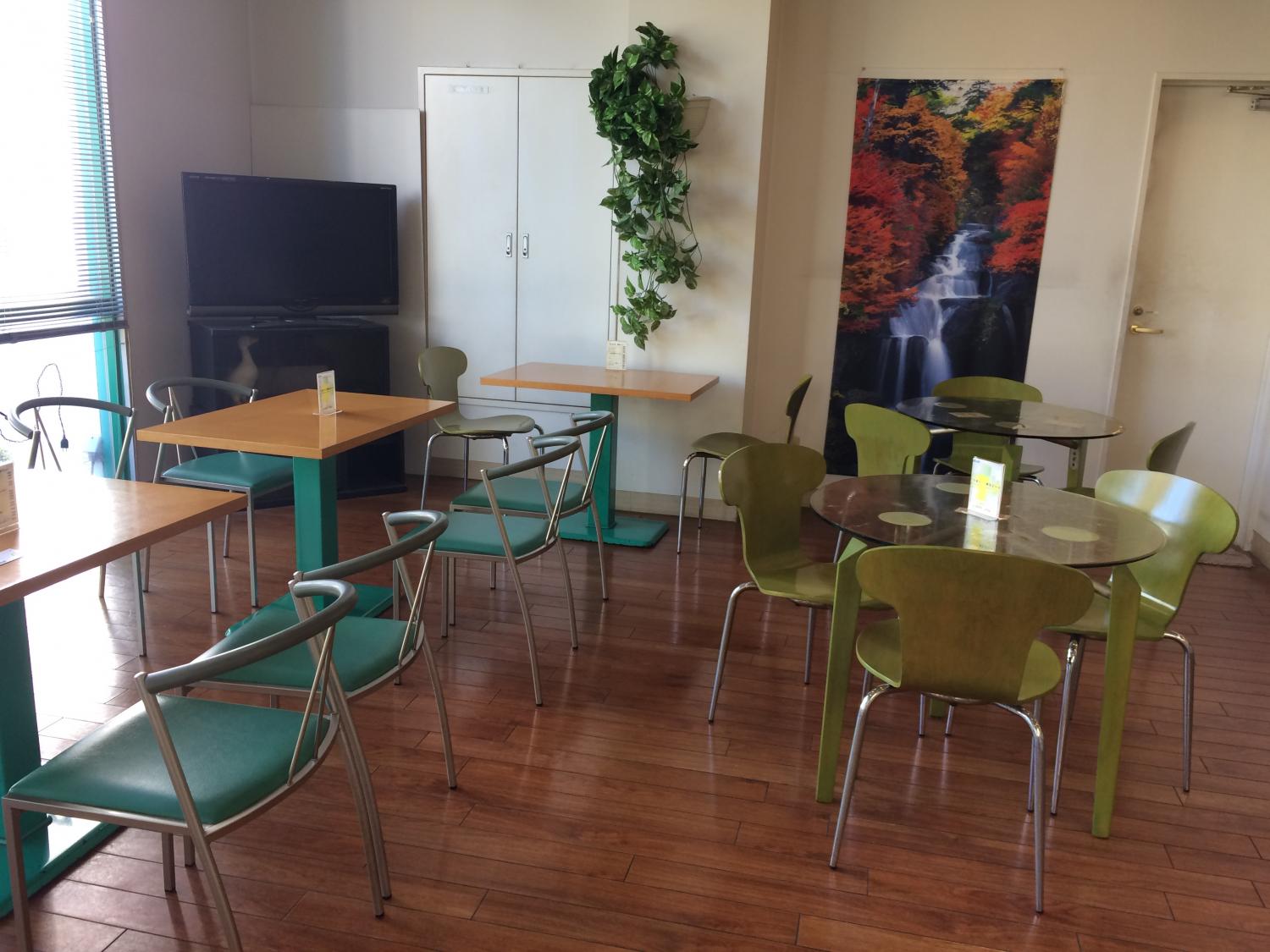 Photograph: Extensive lounge
There is wide lounge space beside reception desk and can order beer and cream soda (each 300 yen). Nice service to "cost price for regular customer looking forward to one cup of the bath up rather low"♪ 
In addition, it supports barrier-free in the hall without step at the time of remodeling of 1998. There is bath wheelchair, and bathing is possible if with person of person of assistance.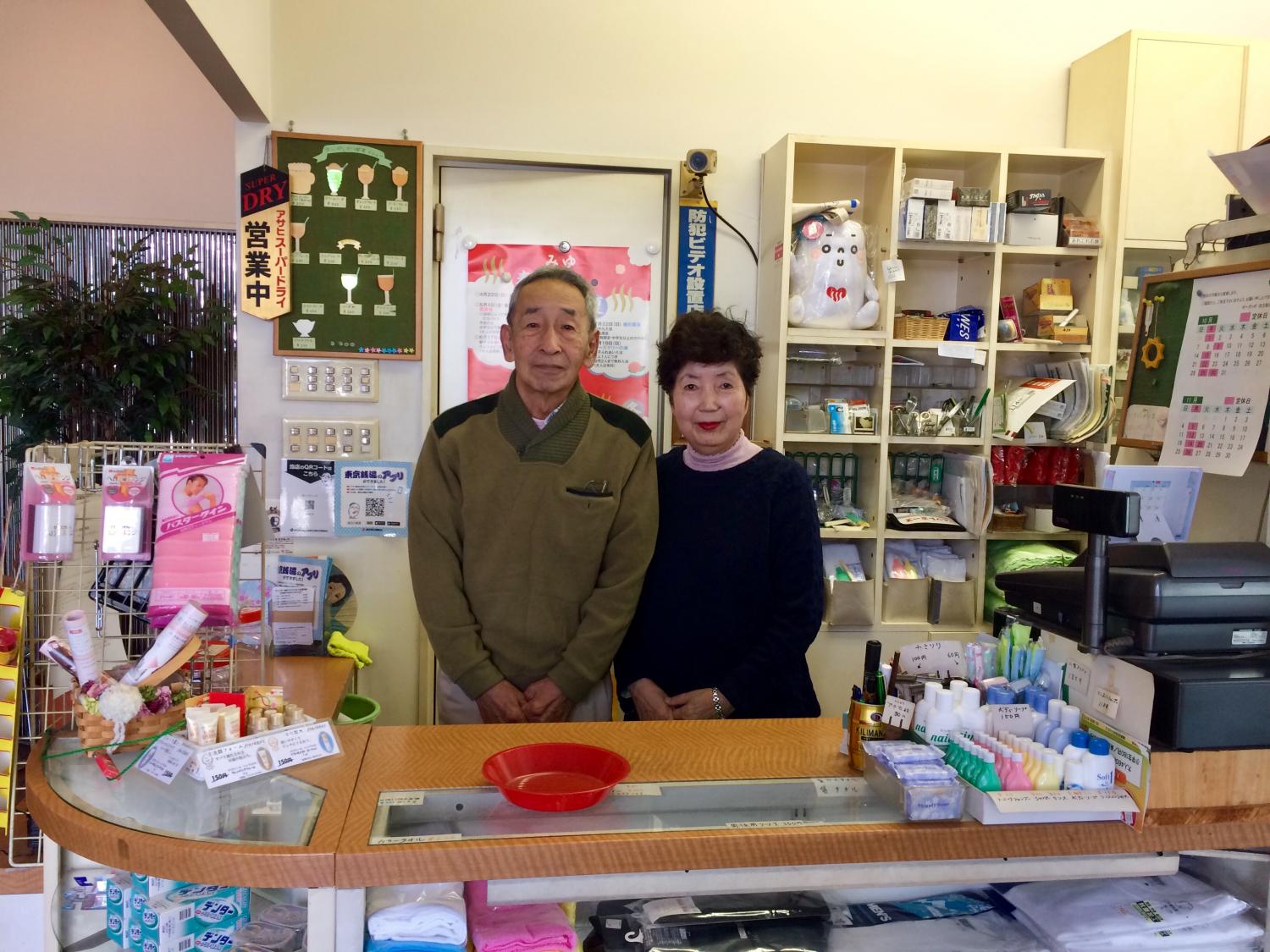 Photograph: Kobayashi and wife of the master
In addition, annual "morning bath" will get encouraging information to be open for from 7:00 a.m. to 12:00 (plan) of January 2 next year in the New Year. We seem to be able to stand in line before opening, but seem to relatively comb around 11:00 every year. At the beginning of new age, we invite that we start by taking a morning bath of public bath feeling!
Bathing charges adult: 460 yen (with sauna: 800 yen) primary schoolchild: 180 yen infant: 80 yen
Empty hands set: +200 yen

6-4-13, Kitamachi, Nerima-ku
TEL: 03-3933-3564
http://www.yu-pop.jp/
Business hours: From 3:00 p.m. to 0:00 a.m.
Regular holiday: It is year-end and New Year on Monday (in the case of holiday the next day): January 1

Walk can discover "something wonderful"!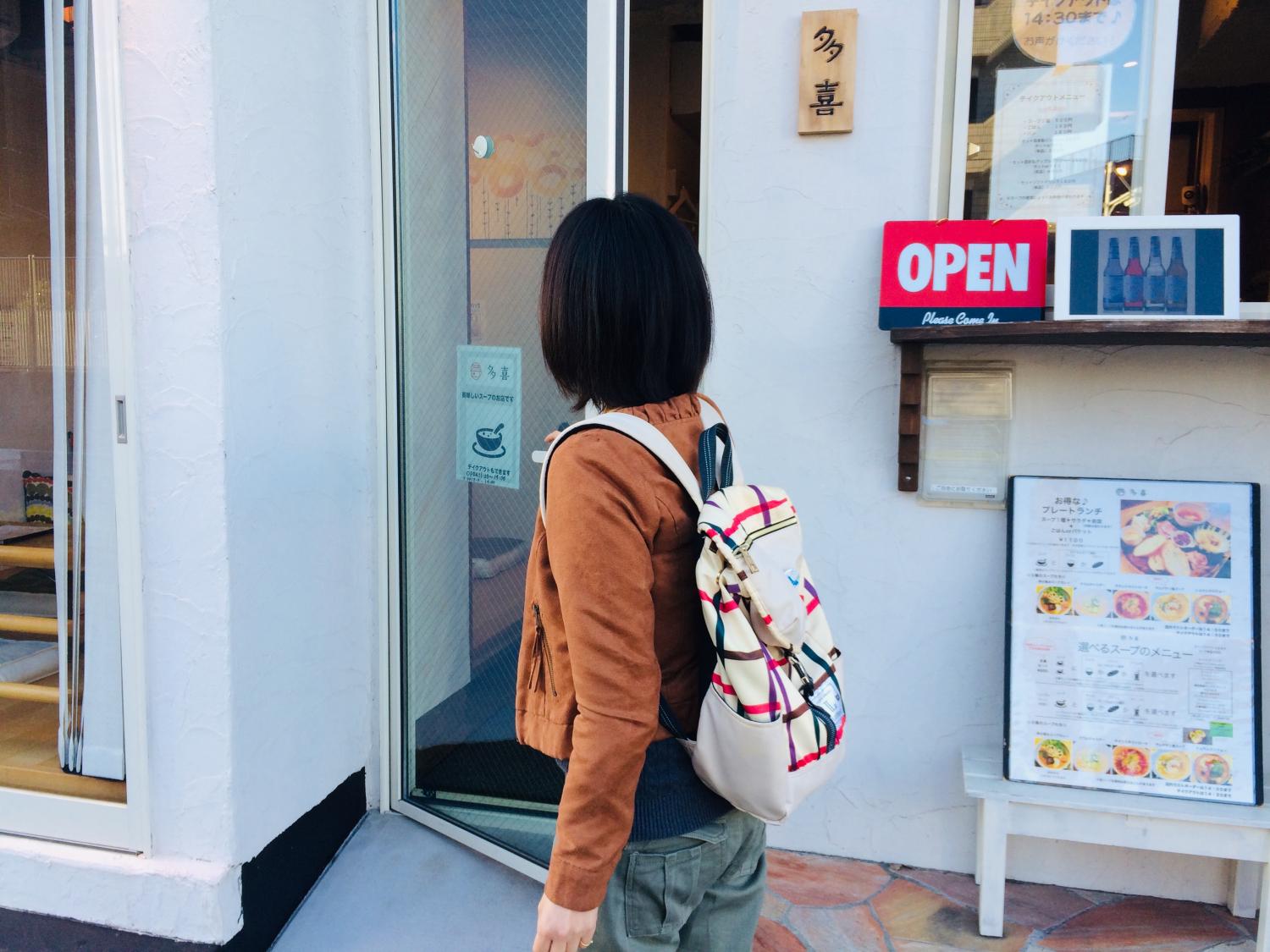 Delicious thing and wonderful experience were waiting there when we opened curious shop door in the middle of walk decisively!
When it is more interesting town, we realize Nerima.
Cold becomes gradually severe, and it becomes slightly troublesome to go out, how about going out to always enter way different a little, and to look for "wonderful shop" from now on? (do not forget cold protection measures on this occasion!)