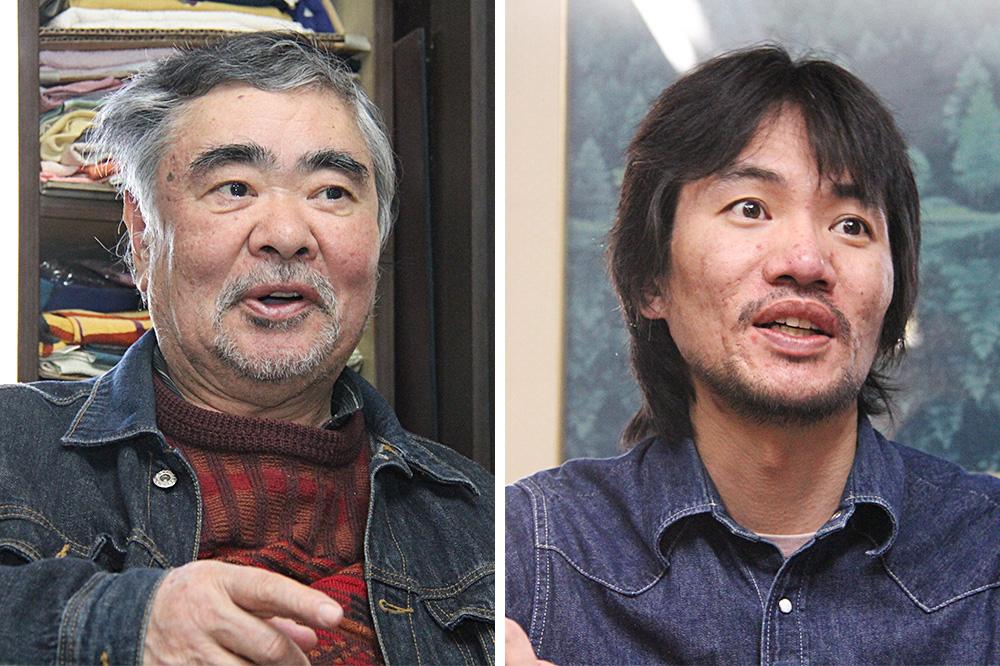 |

Nerima tourism center
Nerima's person
Nerima's person #124 13, Hagiwara (art watches of the night iron boss), Hikaru Hagiwara (art watches of the night Representative Director Tetsu)
---
Profile/hagiwaraichizo 1946 Saku-shi, Nagano birth. After graduating from high school in 1964, and having learned at bookkeeping school, we enter studio of "affinity dyeing" of Toyotamaminami that is the present location. It is taken office as president to "art watches of the night iron" for the third generation in the changing of a name, the same year in 1994 by "affinity dyeing". As it often colored work of Japanese painter into furoshiki in particular in those days to have named "art." From 2016 to chairperson (boss). Walk is daily work. Shakujii Park that colored leaves are particularly beautiful in the favorite place.
Glaring 1982 Toyotamaminami, Nerima-ku was born in Hagiwara. 2008 Osaka Univ. of Arts university graduate, 2012 art watches of the night iron entering a company. We study in Kyoto for three years from 2014 and come back in 2016 and take office as president for the fourth generation. The 2018 Nerima-ku folkcraft meeting enrollment. Feeling walk course that goes round House of south storehouse, Nakamurabashi, Nerima Station from Gakuden Park when we want to switch, and returns to Gakuden Bridge is favorite.

Do you know that there is furoshiki studio of yuzen hand dyeing to remain in quiet residential area of Toyotamaminami alone in 23 wards of Tokyo? It is iron in art watches of the night in business for 113 years having been continued since the Meiji era. We asked Hikarus story for 13, Hagiwara, the fourth generation for the third generation.
Work of Japanese painter to furoshiki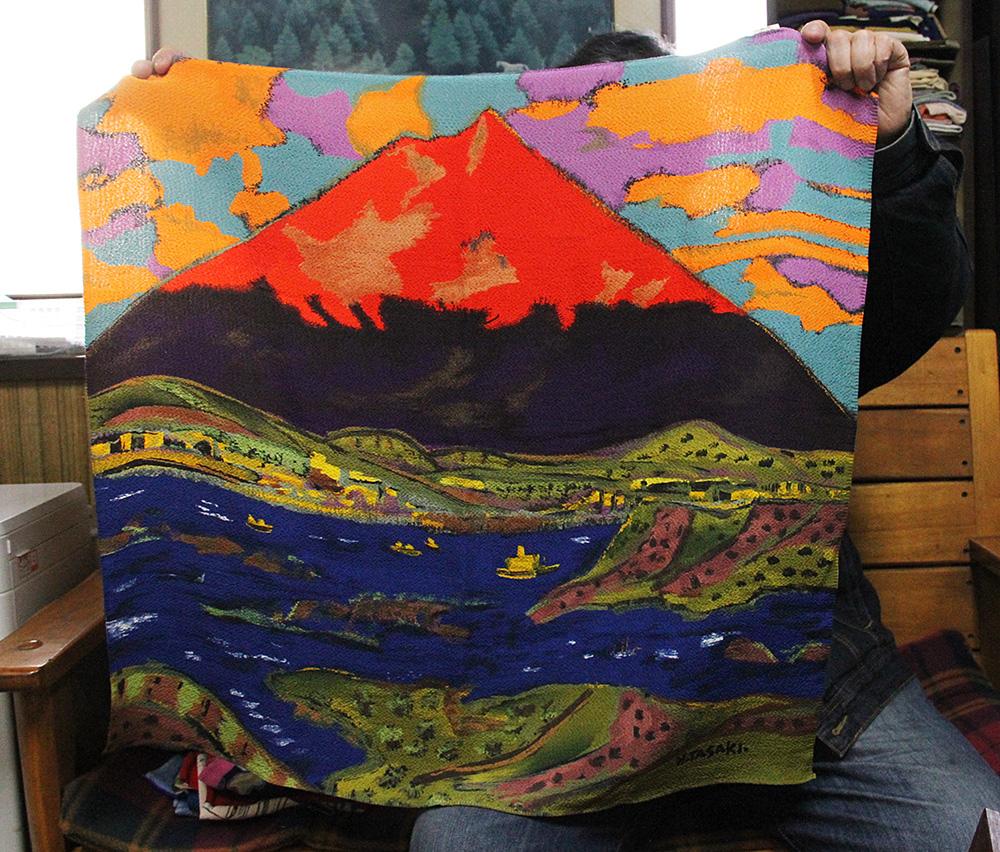 <photograph> Furoshiki with Hiroshi Tasaki assistant no picture as design
As the etymology of furoshiki was carpet to use in bathroom, there are nado various opinions. Furoshiki spread after it was the Edo era when cotton spread to the people at large.
"Silk furoshiki has dark auspicious occasion and accessories when we give a present, implication of luxury and, unlike furoshiki of cotton of errand, usually gathers the best of dyeing technology. As for design is said to be "iitoko collecting" of kimono, needing as for the collector"
On "the dough, how long can you drop good picture drawn on paper without breaking? You should print by ink-jet if you say at accuracy. But we think that there are atmosphere of picture not to be able to give, color development of color with copy"
In the first place cloth for furoshiki (pure silk fabrics crepe) is length and breadth yore in the texture (texture of cloth) softly in comparison with kimono; though put together if let's be, seem to have a hard time. Meanwhile, we raise paper pattern more than well 40 pieces and, depending on design, seem to have possibilities to dye.
"For example, with when we let you do yellow from one and blue to point at blue from yellow "color same which even in the point" We may think of this, but it is dark, and conditions are different. It is feelings, and here is interesting place of dyeing"
When show with many works which dealt with until now, I do not think that furoshiki was able to be dyed, is right "art". To introduce on homepage (http://www.japan-somemono.net/), Saneatsu Mushanokouji, Hiroshi Tasaki assistant Shinsui Ito…Writer who is famous in this in a row. We received request as receipt of a decoration memory such as their Order of Cultures and made picture of writer furoshiki.
As for the furoshiki of yokozuna and Kabuki actor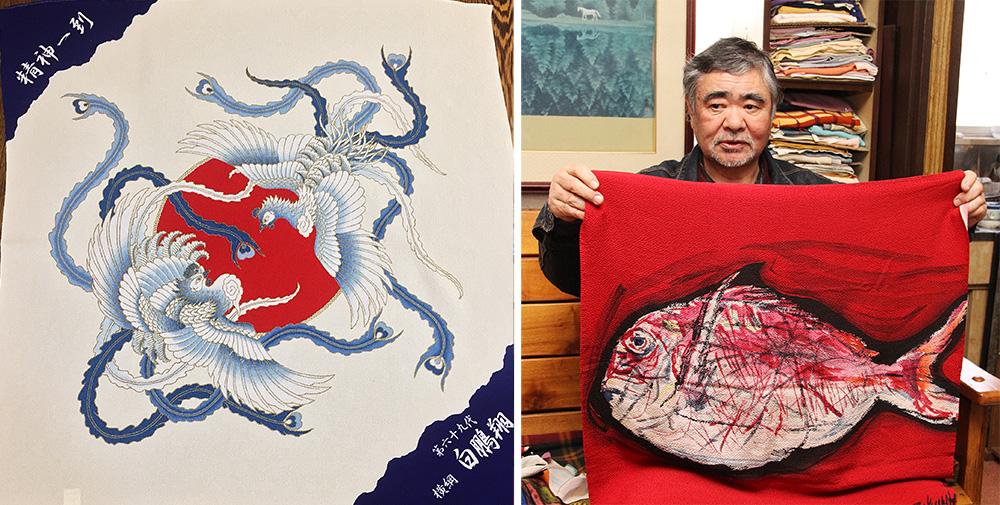 <photograph> Furoshiki (the right) which we copied until force of picture of commemorative furoshiki (the left)/Takeshi Hayashi when Hakuho became yokozuna
Including cushion which former yokozuna, sage known as "giant, Taiho, omelet" used vogue word of Showa for, we dealt with furoshikis as present of wedding ceremony of former ozeki, extraordinary man. When Hakuho became yokozuna regularly, there was request of furoshiki and seemed to dye design same as commemorative "ornamental apron" to furoshiki.
3 handles produced furoshiki which we put lacquer work for in performance to commemorate at the succession of the master's name at the same time for pro-descendant three generations of Somegoro Ichikawa for Matsumoto Koshiro, the eighth generation for Matsumoto Hakuo (we will eat), the tenth generation for the second generation of Kabuki actor recently. Then of early summer wave gold dust to dough with raincoat look on mask while is hot; that worked, and the whole of studio became full of gold dust.
If "(laugh) which I entered the making of sample and the spot, but direct all to take a break 1 times in 30 minutes, and has escaped" and Ichizo say, "tried hard not to run out of concentration in heat. Hikaru smiles wryly saying that is really unforgettable work.
Wife of Ichizo, teru child, "thank you, have opportunity to watch Kabuki at front good seat…He/she talked with "very joyfully. It is different from the other, and thought to remain in heart seems to be.
Toyotamaminami that was countryside in old days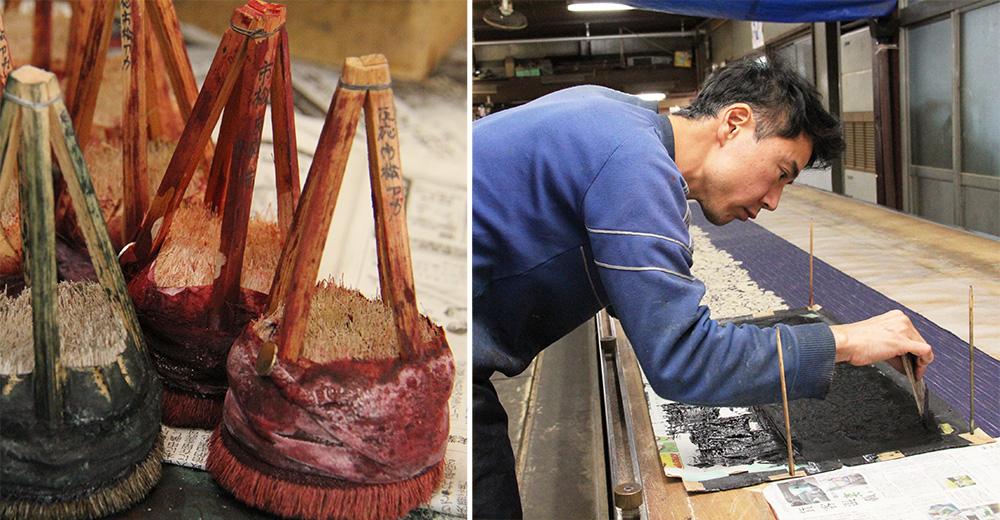 <photograph> Craftsman who drains using brush (the left)/paper pattern had a good use of, and puts shading off (the right)
Toyotamaminami with house and studio is residential area now, but Ichizo looks back when we moved saying "wheat field spread".
First generation, Jiro Tetsu founded iron independently in Oshima (Koto-ku) in 1910 (Meiji 43) in art watches of the night when we followed the cause. We specialized in kimono of koshasen at the time of founding, but we adopted technique of Yuzen process that second generation, Ichiro used paste for and increased sales of furoshiki section newly. Studio is reduced to ashes by such an arrowhead, the Great Kanto Earthquake of 1923. We move to Hongo (current Yayoicho, Nakano-ku). Afterwards, encounter the war in the Pacific War, in 1948 to agricultural affairs (Nakano-ku). Furthermore, we were forced to move by river construction to prevent the flooding of wonder original Terakawa and moved in in year of the Tokyo Olympics in 1964.
Each thought and determination to inherit from generation to generation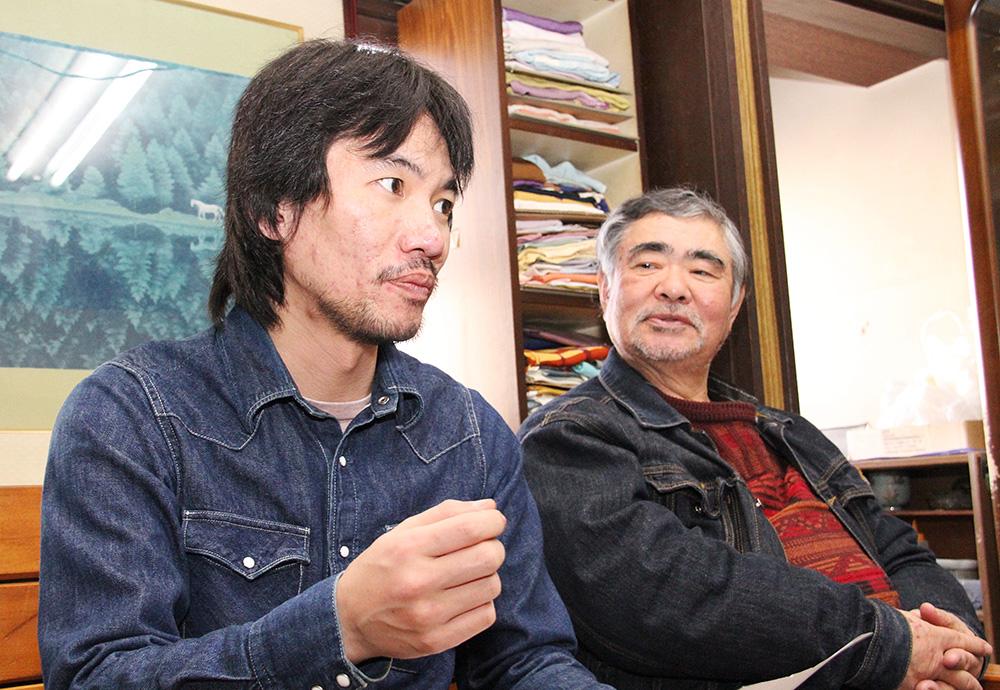 <photograph> Third generation Ichizo (the right) who is reliable, and watches figure which Hikaru (the left) talks about for the fourth generation
It was business with history, would it not have resistance to succeed?
At first, we hear story from Ichizo of father who is the third generation. We look back saying "river construction of wonder original Terakawa was fatal". Move of studio is talk of the time that there was in timing when you graduate from high school.
"I was the third son, but flower said to the eldest son, "we do not inherit business" not craftsman skin. The second son wrote for collection of works of elementary school, "will dye in the future following the next of father", but escaped when graduated from iza University because "went abroad if was when leave to Ichizo afterward"; (laugh)
In being chosen to Ichizo in this way, and entering new studio of Toyotamaminami with graduation from high school.
"Father thinks that I seem to have wanted, and person whom we can leave new studio to was pleased with both one and two, too. Okay, we were taught work by craftsman for first around one month when we began to work, but came to get difficult color-matching immediately. It was a series of trouble and failure, but it might have been good that that was hatched"
When Hikaru of the fourth generation that was son of Ichizo inherited, would you feel what kind of? What took office as return, president after study of three years in Kyoto in 2016 at the age of 34. When Hikaru chose words for a while, also, Ichizo confided of complicated chest at the time as manager as father.
When "there was proposal from the person when "we want to go to Kyoto for study", you should go if you want to go. We came home and we inherited or did not inherit or we thought that the person should decide in its own right and sent out. As it turned out that we had a hard time, it was not able to be said, "we want you to inherit" absolutely
As "there were various kinds of there, let implication last; is Hikaru called" (laugh), but expression is bright now that readiness was already fixed.
Furoshiki dyer who became only "with" 23 wards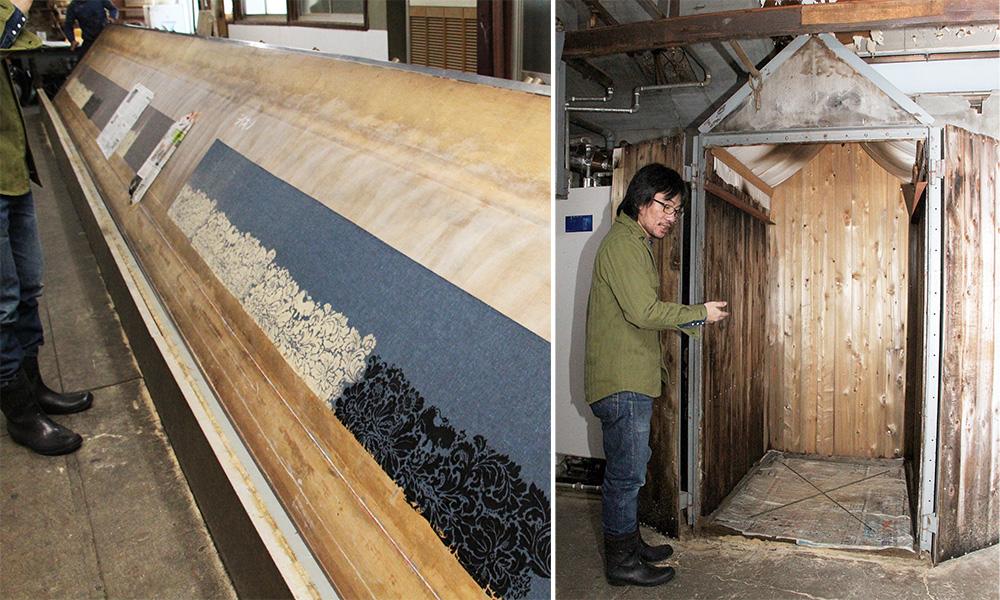 <photograph> Four-clad hand-operated turntable of 13m in length. Steamed box (the right) to fix/color to change to the following aspect by manual operation when one work is over (the left)
Paper pattern yuzen is made with such a process.
●Design, paper pattern manufacture
・Design
・We make paper pattern based on design
●Dyeing
・Color alignment of dye
・We complete white cloth to fulling board and repeat colors using paper pattern (it drains and puts shading off)
・We add color to the entirety with squeegee
●We wash and dry
・We tear off cloth from fulling board, and it is sultry
・We drop paste by washing in water
・Dewatering, drying
Finally we cut and hang edge sewing machine and deliver if we check resulting in. In the case of special order product, it takes 2 months before delivery of goods from about one and a half months.
It is all manual labor, great labor and time. There seemed to be the postwar golden age at time when lived with craftsman of "product can play a game in two baseball teams", and held employee, but is five now. For 12, 13 years, what kind of reason would it be that was able to survive iron in art watches of the night that became the only yuzen hand dyeing furoshiki dyer in 23 wards? "It is presumptuous to say with own mouth…Ichizo said "in this way after having prefaced.
"We put shading off while using paper pattern and, anyway, did thing near freehand drawing until today when "it was said, and let's make thing". Not mass production, we did it carefully steadily and had you admit that it was studio with a little non-rise (defective article, person hard to deal with). When only here must not finish, we think that this is because wholesale dealer added pressure"
In addition, it is improvement of tool that Hikaru points out. For example, work top called "fulling board" has length 6m50cm, weight 40 kg or more 1m in width or more. The old days need hard labor that we carry out this fulling board into outside alone to dry cloth, and it is said that craftsman hurt waist. We manufactured four hand-operated turntables where Ichizo moved to current place and could set these four fulling boards immediately. Furthermore, steamed box such as private room sauna which is stainless steel-clad manufactures. It may be nature of superior craftsman that makes tool to be easy to do work. There seems to have been big implication for it to continue until today that burden of work was largely reduced.
We challenge overseas development and the new field daringly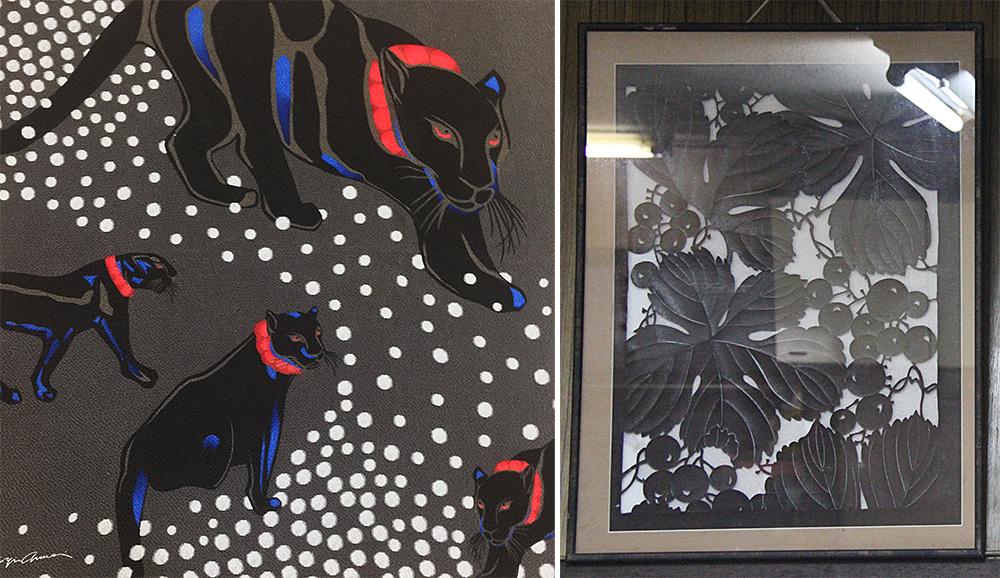 <photograph> Furoshiki which we were asked by Armani. Paper pattern (the right) which design was novel (the left), and was expressed to/grape and leaf vein lively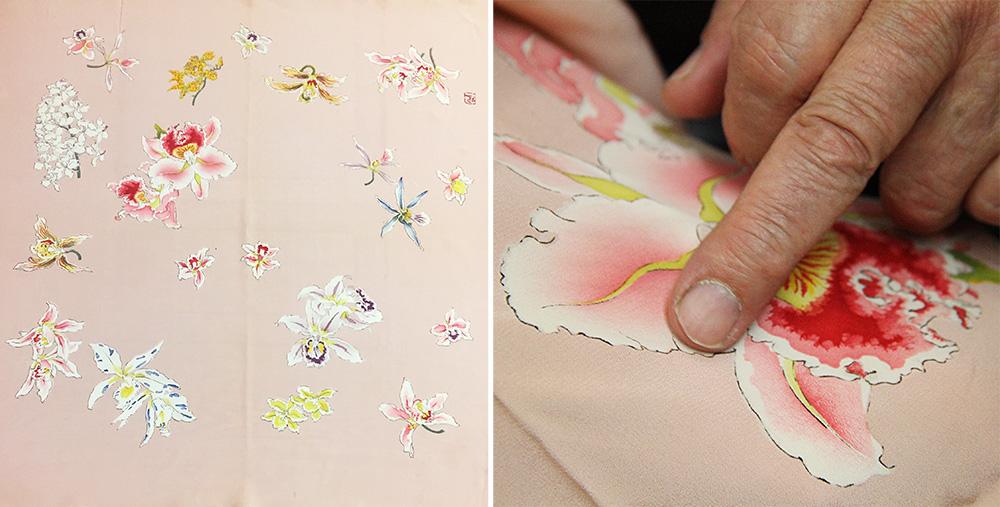 <photograph> As for one piece of favorite furoshiki of Ichizo, feelings of work (the left)/shading off of Riichiro Kawashima "orchid" were very delicate (the right)
Say that ask two about motto in chorus; and "do not be pressed by work. He/she replied, chase work.
According to words, Hikaru challenge dyeing of the new field without being confined to furoshiki. Furoshiki asked by Armani, dress suit using Mino Japanese paper for overseas fashion show, T-shirt of famous brand, lining dyeing, Japanese towel of jeans…. For "these past several years, cases getting order except furoshiki increase from place unfolding abroad". As Ichizo "leaves a word to all's president" joyfully
It was furoshiki in the future and asked Hikaru about iron in art watches of the night.
"Furoshiki is only one piece of cloth if we open. But we do and can use for bag conveniently in the fukusanishitaritosamazamana scene unless we wrap thing in absolutely convenient thing if there is one piece. Furoshiki will be thing which continues staying before life from now on. We are glad if we do this work for a long time. We want to leave traditional good hand dyeing"
Through interview, Ichizo felt in very loving bond that Hikaru appointed Ichizo as in Hikaru each other.
Collaboration furoshiki, completion with Nerima tourism center are imminent!
Finally special topic! Nerima tourism center asks and is having you produce "Nerima original furoshiki" now.
"We want to put good traditional pattern used with kimono and furoshiki and "form" like Nerima-ku together. Hikaru recited thought to production when he could know that such a company was in Nerima to inhabitants of a ward saying we are glad.
Sale plans the end of March at industry, sightseeing information corner and Shakujii tourist information center in the Nerima Station north exit immediate Coconeri3 floor. Japanese petticoat (about 68cm *68cm) of cotton that size is the most convenient. 200 pieces of limitation. It will be a pleasure very now!
Art watches of the night iron homepage
http://www.japan-somemono.net/
Coverage day: January 23, 2019
List of Nerima's person: https://www.nerimakanko.jp/review/nerimabito/