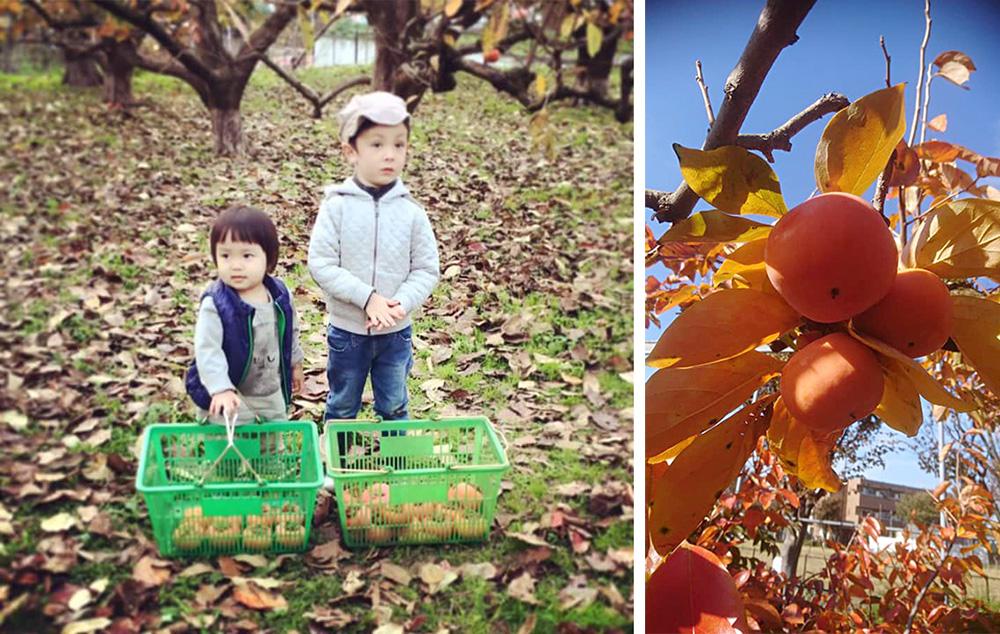 |

Nerima tourism center
Column
... which knew that "oyster knob collecting" was possible in Oizumi? We eat fruit in Nerima-ku and buy and ☆ Do not miss season
---
"Bell rings if we eat persimmon...Is it not I gamachinerima e, Horyu-ji Temple? Okay, fruit tree harvested most in Nerima-ku is oyster. Nerima is the first place even if we see in Tokyo's 23 wards (September, 2017 material). "Huh, do you not taste oyster in ward in you, this autumn when you did not know ...?" We heard story in so*en (of measuring up act) which performed knob collecting.
It is well-established orchard with history of 60 years in Oizumi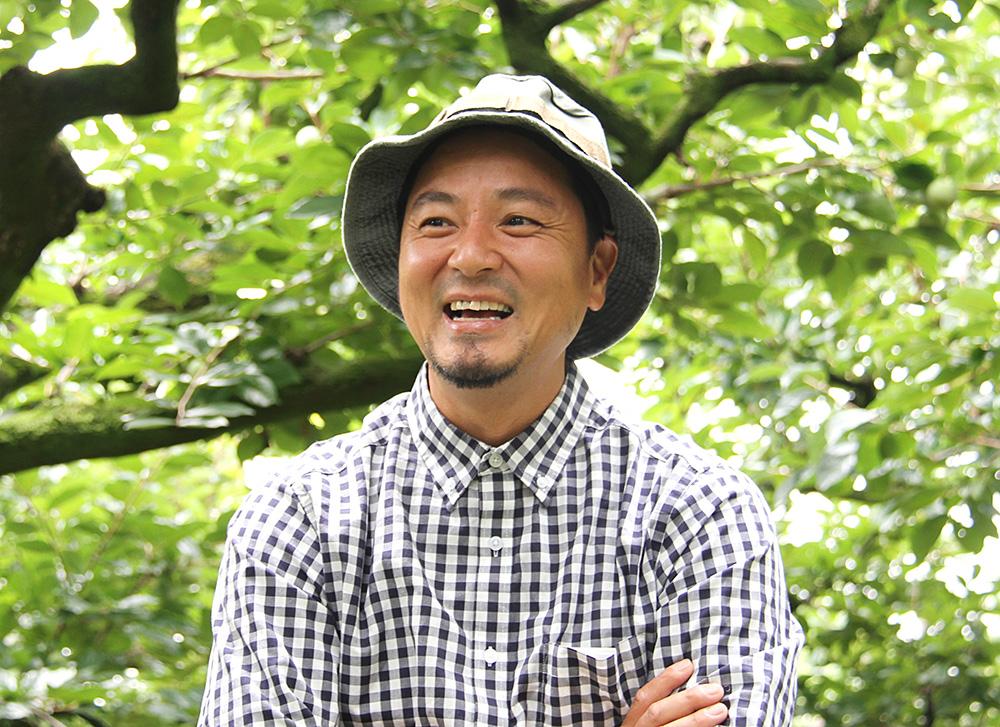 <photograph> Koichi Shono of so*en
so*en in Nerima-ku Oizumi remained farmers from generation to generation in this ground and began oyster cultivation from the 30, Showa generation. We are letting still delicious oyster grow on old thing in higher than most for age of a tree 60 years now while there is tree of 180 oysters. It is Koichi Shono (Koichi of measuring up) of the 14th generation that protects orchard.
It "was ten years ago that I did shuno, but we came for bridegroom and were surprised when "there is so delicious oyster". Father-in-law (Ginichi Shono) of the thirteenth generation has been eager in study of oyster in particular, and he entirely says that he ate so far, different.
Generally, sold things calculate in time for distribution, and they are harvested before becoming ripe. As we can let tree grow until we ripen fully in the case of knob collecting and selling directly to the consumer, sugar contents increase and can just taste fresh taste. We are excited to be able to harvest such oysters in hometown!
Of oyster picking is OK empty-handed casually!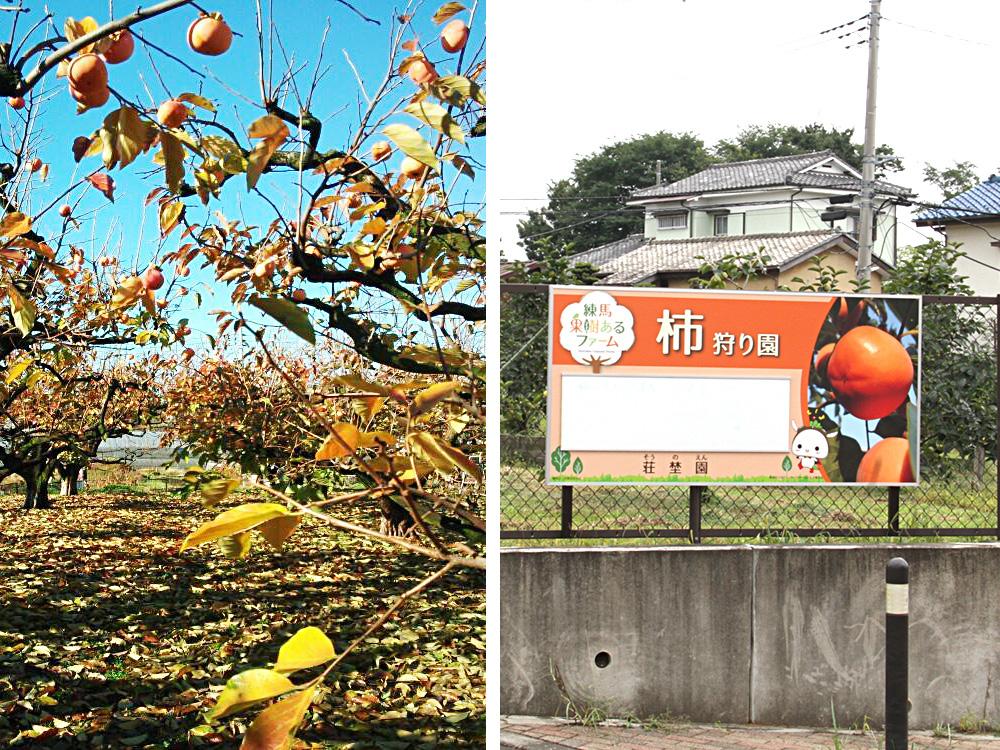 <photograph> When oyster knob collecting comes to be possible, guide goes for reputation
Picking sells by measure as much as we took in plan in the beginning of December from November 1.
"There are many families, too, but relatively has free weekdays on the weekend. Please come empty-handed because you lend basket and scissors"
Please tell how to distinguish oysters ready to be eaten.
"There is not green part, and thing that rind of a fruit turns red well is ready to be eaten. There is sweetness that we did well if it turns red even if obstinate. Of course we like hard soft rakaihao…"
[so*en]
Address: Nerima-ku Oizumi 1-50 telephone: 03-3923-7700/no appointment necessary
Opening of the park: As for every/, it is sunset from/12:00 on day for from November to the beginning of December
Admission charges: Unnecessary (we buy thing that we picked. 1kg600 Japanese yen. Possible shipment national from direct sale place)
Parking lot: Do, restroom: There is, rest station: There is, rainy weather: It is closed,
Access: "Maple mountain bus stop" getting off is about 4 minutes on foot from the Seibu Ikebukuro Line "Oizumi-Gakuen Station" north exit in Seibu bus Wakoshi Station south exit line. Or "1, Oizumimachi bus stop" getting off is about 3 minutes on foot from Toei Oedo Line "Hikarigaoka Station" Exit A1 in green bus Hoya Station bank
*We disseminate information on Facebook.
https://www.facebook.com/%E8%8D%98%E5%9F%9C%E5%9C%92-%E3%81%9D%E3%81%86%E3%81%AE%E3%81%88%E3%82%93-966509270028048/
Individual oyster is various! Let's be used to taste oneself preference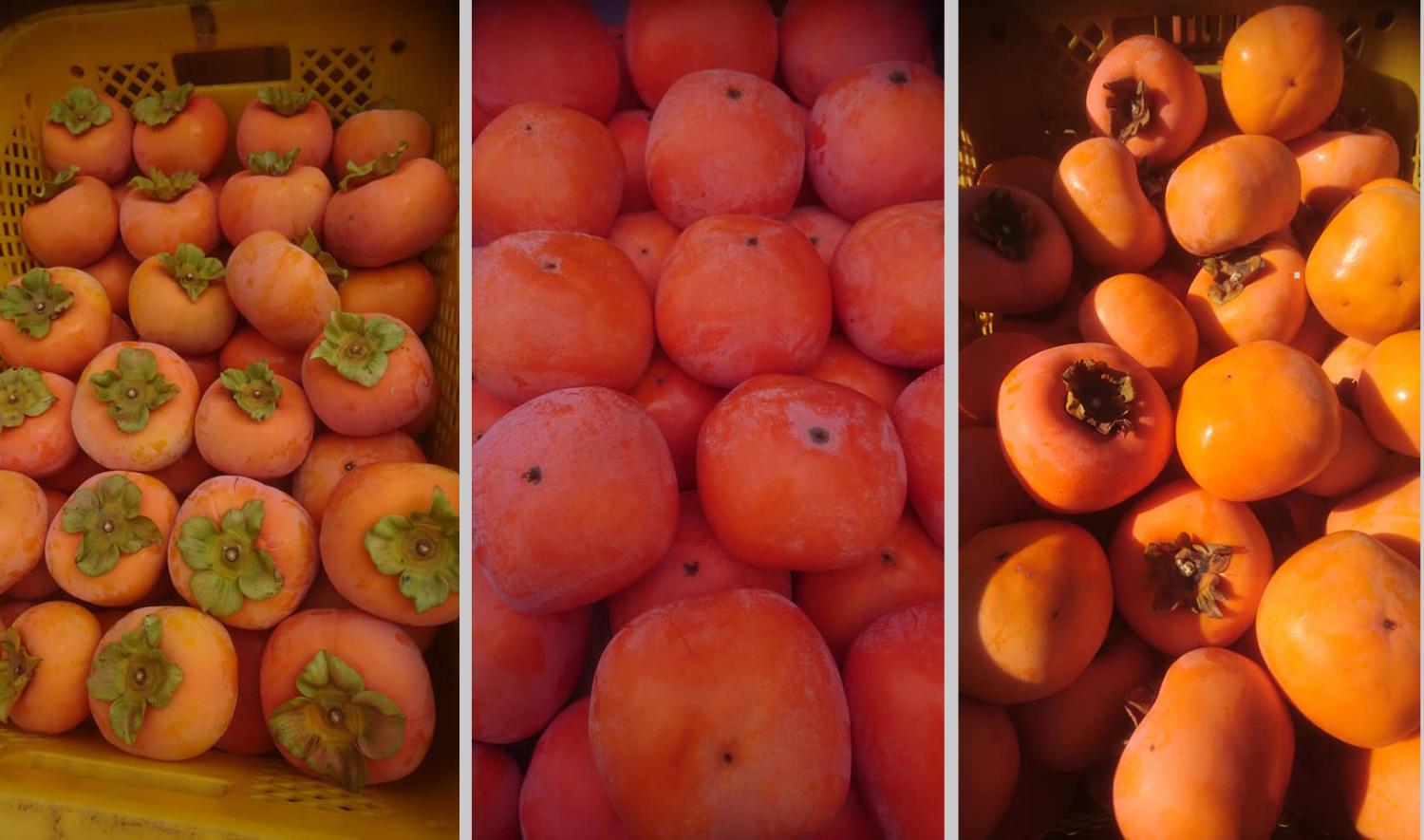 <photograph> It is Jiro, Tokyo rouge, the Tokyo Imperial Palace from the left
In so*en, we cook 12 kinds of oysters in total.
・Jiro (jirou)
・Affluence (fuyuu)
・Tokyo rouge (toukyobeni)
・The Tokyo Imperial Palace (we ask)
・Large autumn (we learn sea bream)
・Early autumn (we learn so)
・Another name of the seventh lunar month (shinsyu)
・Your autumn (we come and learn)
・Full of positives (yoho)
・100 monme (hyakume)
・Nishimura premature delivery (nishimurawase)
・The temple belonging to the Zen sect-maru (zenjimaru)
Sale time varies according to kinds, but is available in direct sale place of the orchard side.
It "is affluence (fuyuu) with Jiro (jirou) who is popular in oyster with two kinds that can do knob collecting. We think to be familiar persimmon to everybody because it is kind sold well"
Jiro persimmon is cultivated a lot mainly in Kanto. Harder, but, as for some flesh, taste seems to deepen in square form visually so as to chew if we chew. Fuyu persimmon is cultivated a lot mainly in Kansai and is form with roundness visually. The feature is that flesh is soft, and a lot of fruit juice is sweet.
It "is large autumn that we can eat even person not to like oyster. There is texture such as pear and apple, and sweetness strongly feels as it is juicy. As black sinew is easy to enter skin, it is not good too much visually, but that is fully-ripe seal. The Tokyo Imperial Palace came out of selective breeding of agricultural experimental station of Tokyo. We are brisk, and there is sweetness, too and is popular along with large autumn"
When as we can purchase four kinds in direct sale place, we compare by eating? There is pleasure to be used to taste oneself preference, and to purchase!
When gain is over, work begins for the next year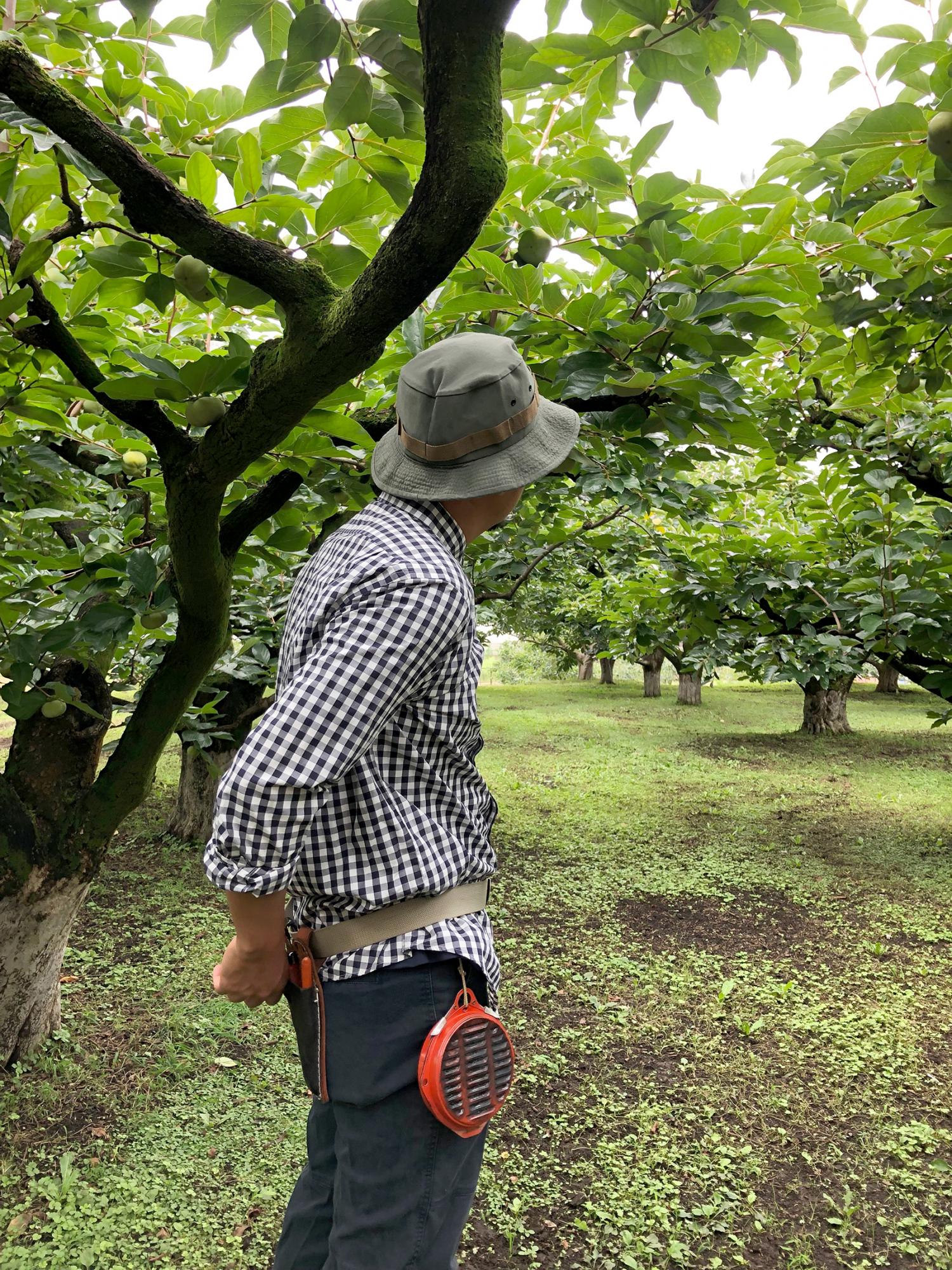 <photograph> Shono who performs administration of farm single-handed
In around December when finish picking fruit as persimmon is deciduous tree completely to fallen leaves…. Care and upbringing begin in there steadily again for one year.
"We choose branch bearing fruit next in the depth of winters and do the pruning (the pruning). We wind up fertilizer from March through April and sterilize. We say knob bud (tekirai) in one where bud appears in if it becomes about time when of Golden Week and thin out extra buds. When flower blooms, and it is early summer really; is further work of fruit picking (tekika). We thin out extra fruits to cook oyster of good quality. In that way we reach gain of November"
Farm products are things which labor and time depends on. How is the result of this year?
As it "was slow to become hot in summer, there is lack of sunshine and is small ball slightly at present. Only weather is helpless even if we work hard in various ways. We feel that it is profundity of agriculture including that"
We want to taste persimmon which Shono pours love for one year and brought up by all means. In addition, we seem to cultivate fig, lemon, mandarin orange, shaddock as well as oyster in so*en.
Oyster was used for bread of hardware system!
We put together at crop time and can enjoy oyster by seasonally limited products and menu in restaurant in ward. We introduce part! As you are carried out in various shops, please look for everybody.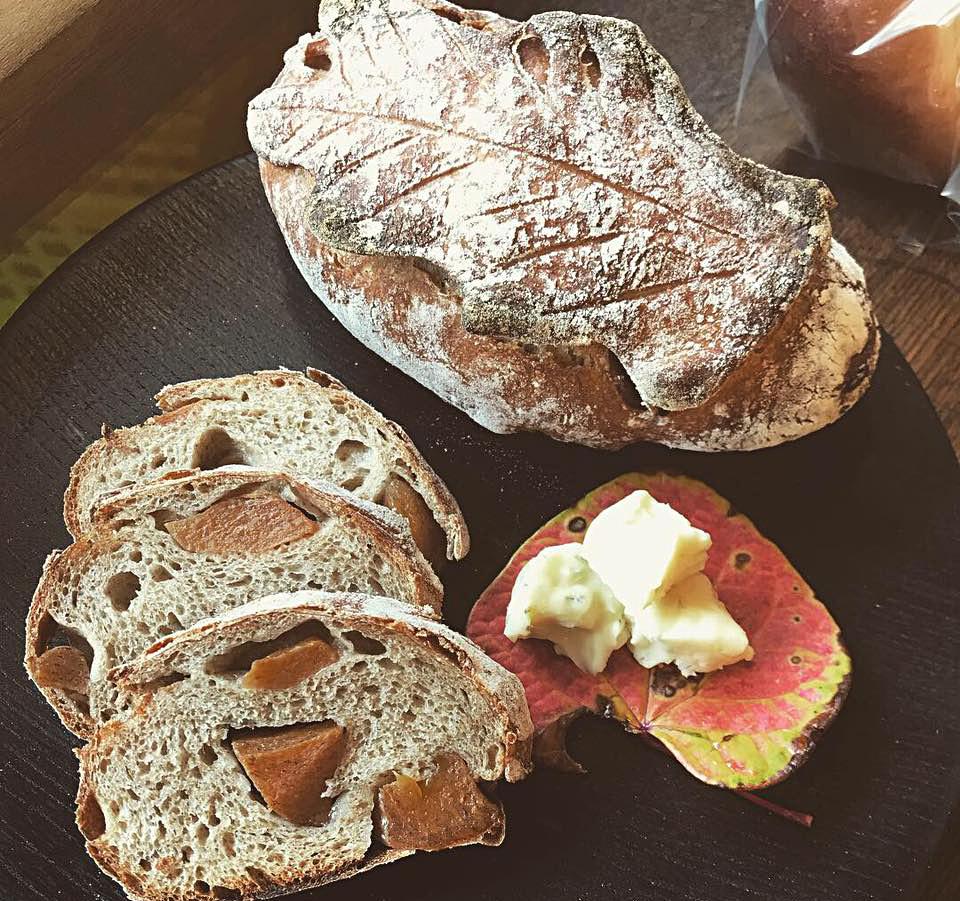 <photograph> Bread "SONO" of oyster sold in 2018 Boulangerie bèe
●Bread of oyster, bread of shaddock peel, bread of basil
We sold rye bread "SONO" which it was fragrant in cinnamon and clove, and there was and did Jiro of so*en and kneaded last year. Only to bread of oyster, it is groundbreaking (laugh).
It "is recommended to match with salty cheese. It is seasonally limited and is going to sell "SONO" this year. In addition, there are various kinds of bread using basil using bread with shaddock (pummelo) of so*en as peel and basil of Shiraishi farm. There is wheat flour which we use every day from wheat which is farm products. Therefore feeling to want to support farmers is strong. Materials of bread are particular about fruit, and they sell local vegetables local vegetables at errand, store"
Boulangerie bèe (buranjieribe)
3-16-32, Higashioizumi, Nerima-ku the first floor of kopobonuru
https://www.facebook.com/bbwanon/
http://oizumi.gr.jp/boulangeriebee/
Lemon reaching season will be from Nerima from now on! Seasonal fruit to sweets♪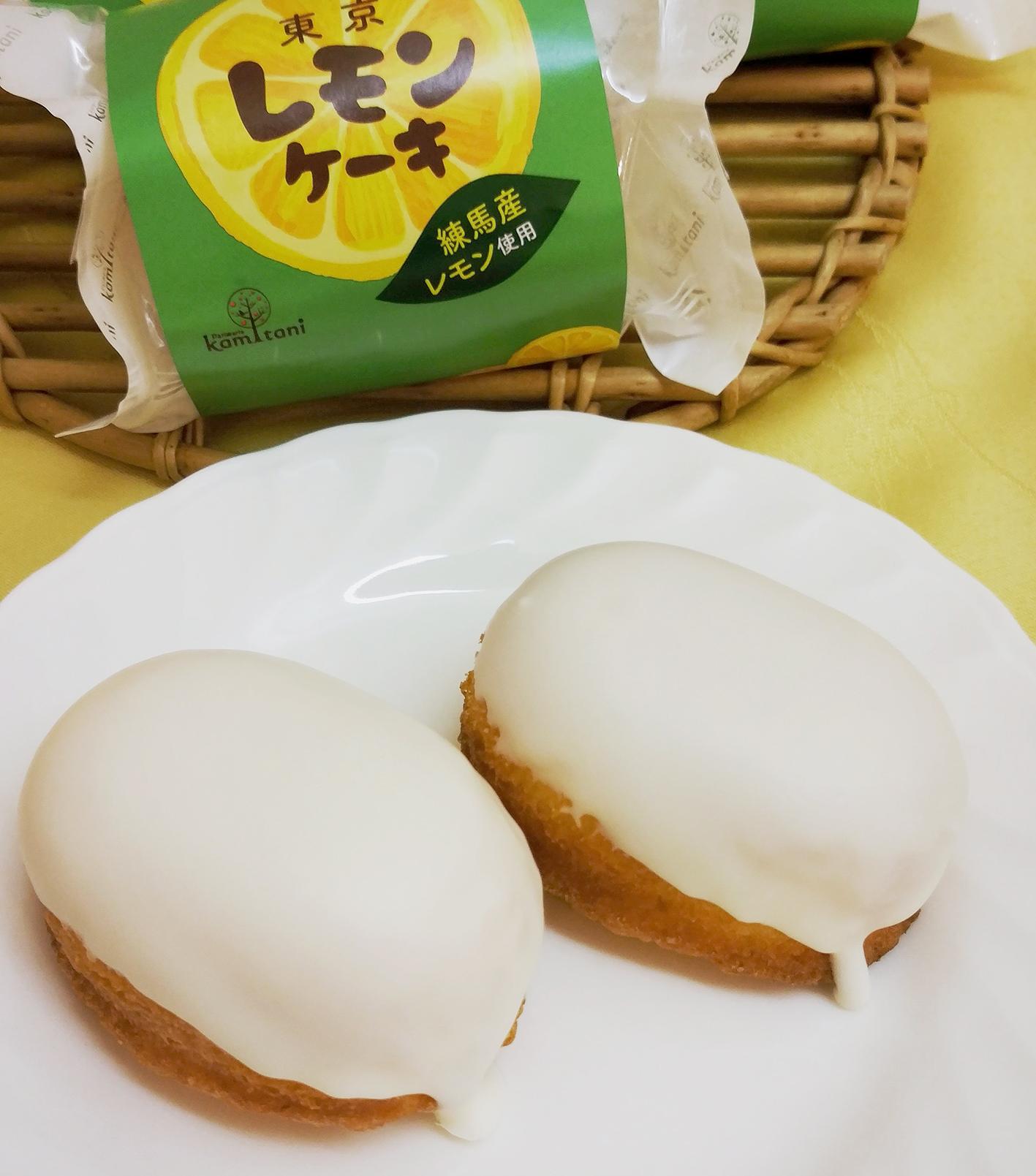 <photograph> One "Tokyo lemon cake" 240 yen (tax-included) Patisserie KAMITANI
●Lemon cake, sweets using fruit every season
We are going to sell sweets using oyster of so*en. Besides, it is pleased with souvenir, and "Tokyo lemon cake" using Mayer lemon of so*en is quite popular (whole year sale).
It "was surprised at Oizumi lemon the release of "Tokyo lemon cake" very much at first by ⁉ and customer of being produced. Flavor does not change even if we use Mayer lemon for baked confectionery and is taste that is refreshing with spicy flavor and kind acidity with moisture. We take in lemon, blueberry, amateur Natsu, fig, sweet potato, grape, farm products including honey from Nerima positively in our restaurant and make products"
Patisserie KAMITANI (patisserie Cami Tani)
4-27-40, Higashioizumi, Nerima-ku
http://kamitani.cart.fc2.com/
https://www.facebook.com/cake.kamitani/
We ask professional! Hint of recipe using oyster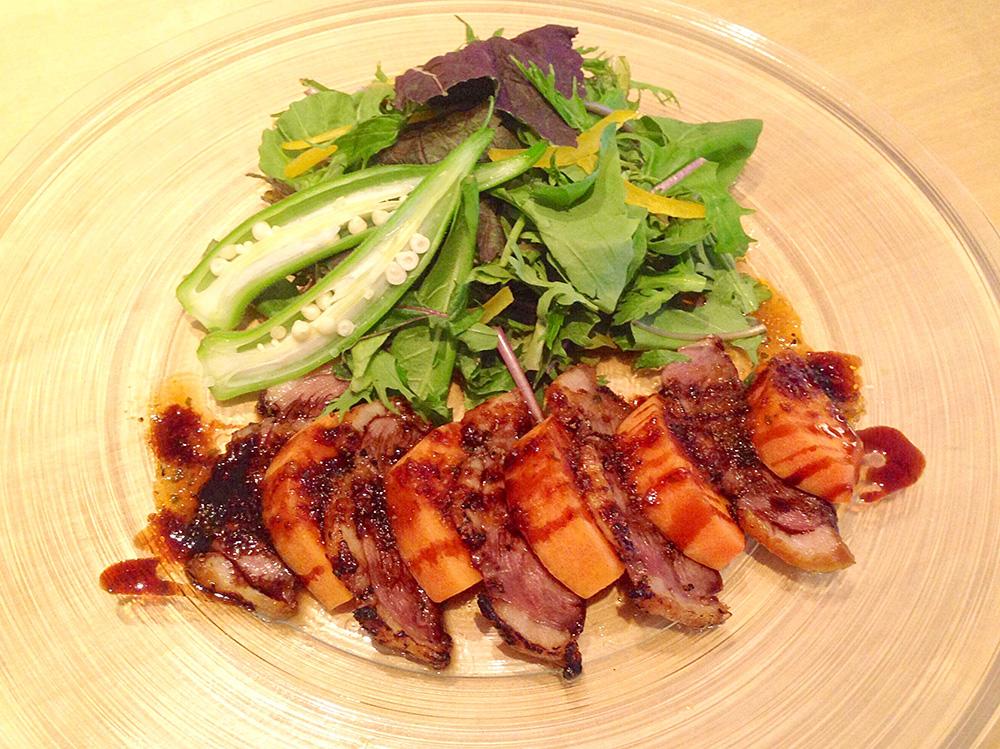 <photograph> "Salad - homemade persimmon vinegar persimmon and duck roast dressing ..." Chinese Tapas hachi
"Salad - homemade persimmon vinegar persimmon and duck roast dressing -"
As we post information of producer of vegetables which we use on that day on blackboard in shop with Chinese restaurant "Chinese tapa eight", we feel hometown farmhouse close more.
As for "vegetables and the fruit using in our restaurant, most are from Nerima. As for the seasonal fresh vegetables, both taste and nutrition are perfect scores! As, at harvest of persimmons time, plan limited menu this year; in fun. We think oyster to just often eat, but are delicious even if we roast and fry lightly"
●Chinese Tapas hachi (Chinese tapa eight)
1-1-9, Oizumigakuencho, Nerima-ku second pearl the first floor of the apartment house
https://www.facebook.com/chinesetapashachi/
In closeness more in "farm which is Nerima fruit tree" by agriculture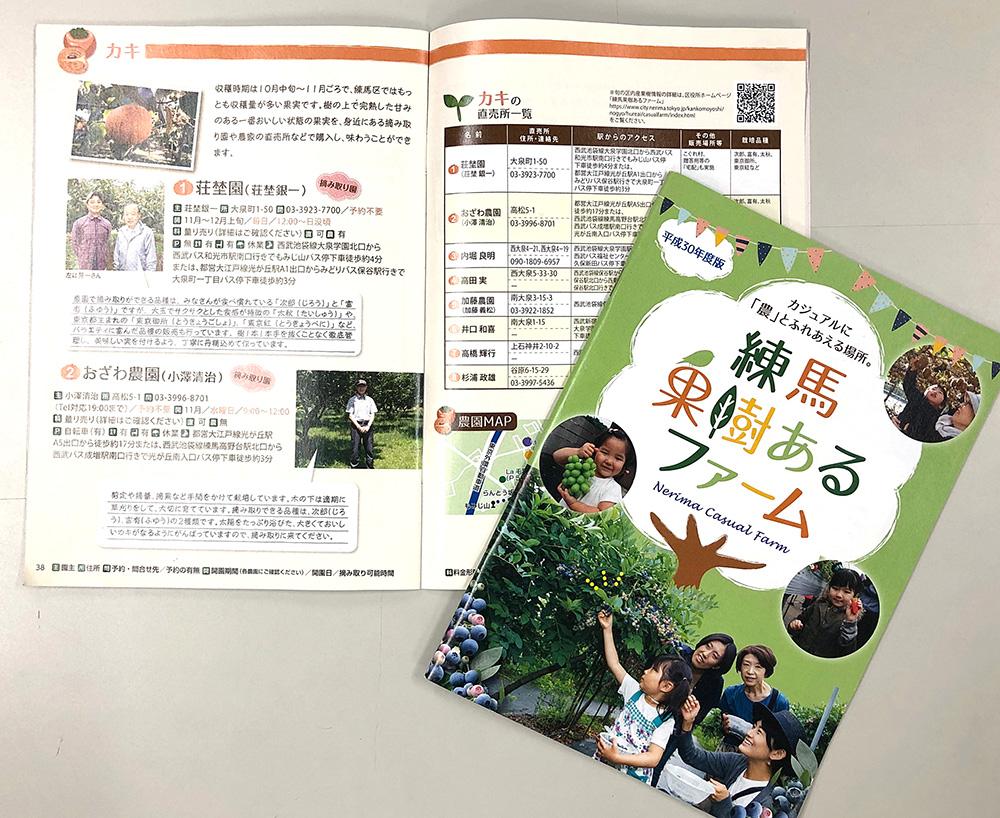 <photograph> We pick, and information of garden and direct sale place, artefact and store loads "a certain Nerima fruit tree farm" to full capacity!
We introduced oyster to the leading role by this special feature, but many fruit trees are produced in Nerima-ku every season. You have brochure in your hand and go to knob collecting and direct sale place, and do you not enjoy seasonal taste?♪
Main distribution place of booklet: Inhabitant of a ward office (except Nerima), industry, sightseeing information corner (Nerima 1-17-1 coknead rethe third floor), Shakujii tourist information center (3-23-8, Shakujiimachi), urban agriculture section (the ninth floor of the ward office central government office building)
●A certain Nerima fruit tree farm
https://www.city.nerima.tokyo.jp/kankomoyoshi/nogyo/hureai/casualfarm/index.html
https://www.city.nerima.tokyo.jp/kankomoyoshi/nogyo/hureai/casualfarm/index.files/H30sassi.pdf