#001 "Uchida dried bonito shop" storekeeper


Shoichi Uchida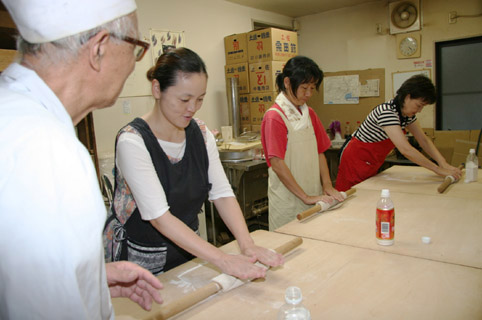 State of "making soba daily classroom." He/she tells from how to get soup stock of soba soup.
Boy ten years, clerk ten years, independent 30 years!

 We choose this work, and how much is it already? It is this word to have come out to question called this suddenly.
"Boy ten years, clerk ten years, independent 30 years." Talk about careers 50 years or more fluently, is right Uchida itself.
 Uchida to be the first opportunity when what entered study by the advice of uncle who worked for dried bonito shop in Nihonbashi when we were troubled with workplace after commercial high school graduation advances to on this way. Acquire experience as clerk after the independence of uncle, for noren in keoshitemorai, 1970 to Kitamachi, Nerima-ku. After having held dried bonito shop according to hustle at mall, we move to Asahicho in 1998. That is current Uchida dried bonito shop.

 "It has been already this way person sinew half a century. As dried bonito is material necessary for Japanese dishes, we will think that it does not become outdated from now on. There is pride taking one end of "food culture in Japan" on in this sense. Of course with still wholesale of dried bonito continues retail, too just feelings called specialty store"
 Uchida carrying through the principle of one article of one store in this is characteristic!


---
It wants to report delicious soba

 It needs reservations, and "making soba daily classroom is open in Uchida dried bonito shop every Sunday, too". It is slightly different from this classroom, others. Of course, at first, it begins with how to get soup stock of soba soup first to tell how to shoot soba. As for the dried bonito becoming basics of soup stock, both type and how to shave vary by use.
 Uchida to "have to be delicious as for delicious shikutemone, soup only in the side". Of how to get, side of soup stock boil, and tell beginner including addition and subtraction carefully. As even if money is strange even if memorizing is bad, it is possible deliciously properly finally; relief! It is sampling and take-out nice plan with.
 "Not being able to boil cutlet Processed Aconite Root shakily too much" "cutlet Processed Aconite Root…""Cutlet Processed Aconite Root…".
 Story may not run out if we let you talk about dried bonito (laugh).
---

We admire business and love family,
We admire this town

 It was "Hikarigaoka Park!" and immediate answer when we asked favorite place in Nerima. This park which reproduced grove of miscellaneous trees of Musashino is the immediate very front of shop. He/she seems to let feeling that is in totally deep forest if we walk aimlessly do.
 It is a time of important refreshment of Uchida that we pass people who walk their walking and dog. The owner of a noodle shop that recommending is near Nanzoin-dori St. of the other of Uchida loving this ground deeply "come (Nakamura 2-5-11). Powder homemade let alone side. When, without distinction between zaru-soba, Mori soba, is the orthodox school which declared all "bamboo steamer"; official guarantee of Uchida. As is expected, as expected of specialist in soup stock, eye to see shop is reliable, too.
 "We admire business and love family and admire this town…It is watched by Uchida saying lightly, loving family without being embarrassed with "and is quite better and quite better!
(October 1, 2006 update)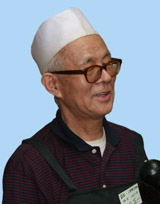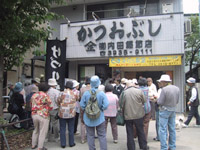 The storefront full of live broadcasting of TBS radio
Profile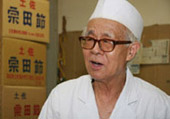 Shoichi Uchida
75 years old born in Nihonbashiningyocho, downtown area! Enter the world of dried bonito at 18 years old, and hold shop in Nerima; and 30 years. It is severe, but is loved with "uncle" from the circumference if Uchida, job to say resemble "this way person sinew 50 years!" literally. Hobby is karaoke. We sing Saburo Kitajima and Hideo Murata emotionally very much if we grasp microphone. We show "good taste" without losing to dried bonito.