#003 "Hikarigaoka Walker" manager


Mitsuo Kihara, Mio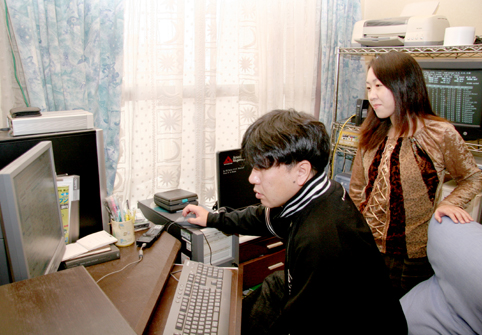 Enjoy as participant while planning…
If we notice,
The Hikarigaoka Walker tenth anniversary!

 Kihara couple raises local community site "
Hikarigaoka Walker
", and continue administration, management, and is what this year; the tenth anniversary! As though the eldest son was born in what led to setup and moved in to Hikarigaoka, friend was not in area by working together, too.
 "Those days are the times called 2% of Japanese net users. Mitsuo whom at last 10,000 hits look back toward in one year of thing which makes bulletin board with own work, and started. Current Hikarigaoka Walker grows up in active local site clearing 10,000 hits in two days. Is it that the making of friend and information exchange, people in how far including corner that we sell and buy are taken care of and were helped? Enrollment thinks that it is not averageness about 3,500 people, that last….
 "We come over without overambitiousness and feel good that it lasted ten years. Hikarigaoka Walker is not volunteer for business either, and while we are undertakers, we enjoy as participant, and Mio laughs following Mitsuo saying it is saying "it seems to be so and has become lifework". Make time omission; two of natural posture.
 Male user was the center at first, but bulletin board of child care is the most lively with housewife power now. As for Mio checking many times a day, and sometimes turning around in the part of arbitration of excessive remark. Because of the profession, Mitsuo does systems construction to be good at; exquisite three-legged race! We understand that it is site that has been brought up with soundness immediately just to read guidelines to "the first person".
---
Net & rial,
Neighborly relations to begin in off-line meeting
While coping in the times,
System continues changing, too
 As for Hikarigaoka Walker, in what we use despite net, people in Nerima-ku, Itabashi-ku are often found. The making of friend and information exchange of neighborhood had been purposes, and off-line meeting performed a person's real acquaintance with people frequently carefully, too. "Net with a view of face"…In this of maximum of Hikarigaoka Walker seem to be attractive.
 We reflect user needs and the times from original bulletin board-style and take in blog and change to registration system from full opening and consider cell-phone correspondence, and "SNS Hikarigaoka hixi*net" starts from May, 2006. Current enrolment is community 50 in about 250 people.
 "We seem to do mini-off each. Saying there is person who got married through Hikarigaoka Walker, and deep human being drama is born; Mitsuo. Couple says that it is sometimes difficult, but, after all, acquaintance with people is the most fun in chorus.
Saying  as "two servers and uninterruptive power supply which received from user for business use always operate, is saying house is warm even in winter"; Mio. Old and new servers equal rack of wall surface. All the administration is couples, too and bear both line and machine parts. We are impressed whether it is area site that individual performs free of charge so as to hear if we hear. Ten staff plays tennis, and each manager is supporting activities such as baseball, basketball now.
---
Hobby spreads through site, too.
We love pleasant thing,
People gather in pleasant place!


 When ask place you like in Nerima; Mitsuo
"Near Hikarigaoka Park is property from house. And shop (laugh) with Hoppe. There is "Nerima Hoppe tour" in community of SNS and goes to drink together in shop where lantern of Hoppe hangs from. Hormone bower, gussan, thickness, Kawana…"
Store's name continues more and more.
 Favorite place of Mio?
"After all, expression turns into Hikarigaoka Park every season, too, and walk is fun, too. Relaxation that it is transient we like book of history, and to go to Hikarigaoka library. We may not appear for days from Hikarigaoka when we notice as I am near the workplace"
 Common hobby of couple is music. It is dance classic band "OFAS(Old Funk All Stars)" that Hikarigaoka Walker recruits members and formed, and, as for vocal, Mio, Mitsuo is in charge of keyboard and performs 2-3 times of lives in year. This is cool again! Body seems to be ridden on good music of powerful vocal and paste without permission. Couple loving to be fun is always natural posture. We are invited to such open pleasure, and people gather more and more around.
(December 1, 2006 update)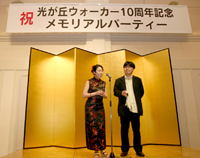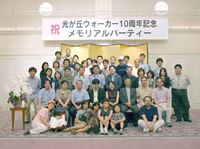 Memory in July, 2006 of the tenth anniversary. Party was held.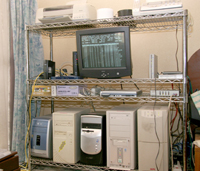 Smile of Mio softens people brightly.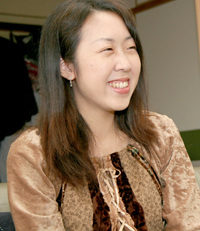 Old and new servers which form a line in home one room. One for exclusive use of site dedicates to SNS, and one operates.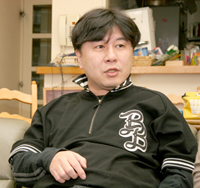 Overtime work, work including holiday attendance are hard…Tough!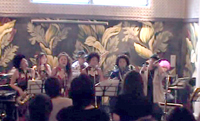 The live concert in OFAS (Old Funk All Stars).
Profile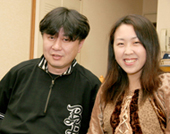 Mitsuo Kihara, Mio
Mitsuo is from Kumamoto and is strong in both system and liquor by software company duty? Mio is from Fuchu-shi, and part of insurance against loss desk work works. Couple moves to Hikarigaoka after the marriage from Magome, Ota-ku for environment that is good for child care in 1994. Family of 4 where son of junior high student and primary schoolchild is. Manager and vice-manager who started "Hikarigaoka Walker" in 1996.

Hikarigaoka Walker
http://www.hikarigaoka.jp/