#004 Yoichi Watanabe, Hiromi Ogawa, Mayumi Kawana


Drum group, perverse person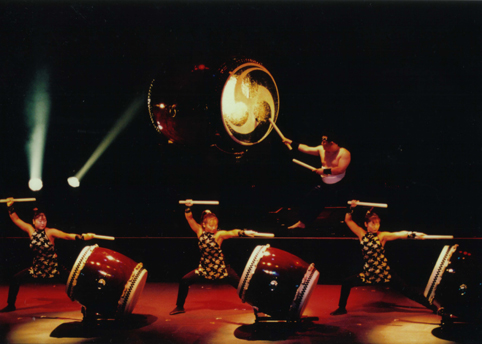 Drum group perverse person is the 20th anniversary
Hold commemorative concert, full thanks.

 "Drum group perverse person" who enlarges place of achievement all over the world based in Nerima. On December 19, 2006, concert in Nerima Cultural Center azalea hall of the 20th anniversary heard "sound of soul".

 Venue is the crowdedness reward. When look at seat; foreigner as for in many places and man and the woman both children and adults…It is the class of very wide visitors.
 Venue which curtain opens, and subsides. Large drum by Representative Watanabe of perverse person tears quietness slowly calmly. It is drawn gugutto as if mind was made a grab at although we thought that one drum can produce sound of various expressions and it is shed tears without impression being able to remain in the body and comes out. It floats how you say drum performance of perverse person when words lose to express. We feel joy in what was able to sense such a concert bodily.


---

Representative Watanabe who met drum
Boyhood when we were guided by exercise

 We heard story from Representative Watanabe and Ogawa, Kawana later in office of Takanodai of perverse person. We change when we crawl with expression that we did, and sacralization on the stage is calm. We met drum, and how would it be become professional?

 Representative Watanabe "I am familiar with festival and ding-dong street band by the Asakusa breeding. We moved in to Takanodai at the age of 10 years old and thought that it was place that was quiet only in the fields, but Bon festival dance was lively. What sound has become excellent kutene, captive when we beat drum to uncle of black kite which made tower"
 The drum life that was one heart impassiveness of Representative Watanabe began from here.
 Episode of the junior high school era. If we go out to night Shakujii Park alone and copy body into the surface of the water of pond by moonlight and "be, and way of stick mawashi gives ... tsu!" and tens of thousands of times of loud voices to drumstick substitute and practices…We seemed to have been guided.
 "Father has drum of " our son in the police! Came to pick up "magnificently; (laugh).
 Shakujii Park seems to be memorable place that was idle in the days of child almost every day for Representative Watanabe.


---

Two high school girls who was lowbrow feeling,
We start perverse person

 To young lady school escalator-type as for Ogawa, Kawana by examination. It is encounter of fate that close two people performed since the days of junior high student to do drum by school festival of high school student to learn from Sukeroku drum which representative of Watanabe belonged to in those days! Sparta where it was only teacher telling them who went for learning with lowbrow paste kindly, but only representative of Watanabe is great. Therefore we seem to have been awakened to splendor of drum.

When "we graduated, we saw only drum and Mr. Watanabe". Beans are destroyed, and blood is stained, and there is callus…Exercise that is repeated many times. "We have never intended to have what to want to stop drum". Lively words fly flatly. It was 27-year-old time Representative Watanabe that we started "drum group perverse person" with Ogawa, Kawana.


---

We give a performance in 40 several countries of the world based in Nerima
As we use up all energy,
We cannot call for an encore

 Saying "I meet kidene which people like, person bumping into each other seriously seriously"; representative of Watanabe. Spread the sum drum in response to appointment of first bunkakoryushi in Brazil, Australia, the United States, Europe from Agency for Cultural Affairs as well as performance; is worked.

 When "words tell drum for days seriously though they do not go, we just cry with students on day to return. Did lacrimal gland become weak recently?"
 We were able to hear warmhearted humanity of Representative Watanabe from embarrassed smile.

 We use up all of power having all the members in performance. Surplus energy that at last it meets encore very much that the last greetings breathe on the stage does not seem to remain. Still applause not to stop sounding even if curtain goes down sounds through venue forever.


(December 28, 2006 update)
*As you will show drum free, please let know if there are, group providing practice field with soundproofing in Nerima-ku.
Drum group perverse person Tel.03-3904-1745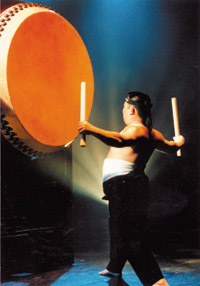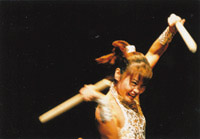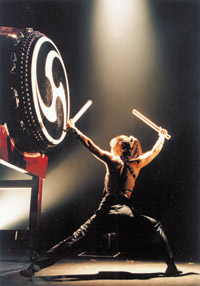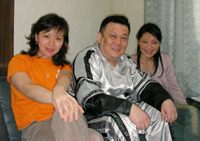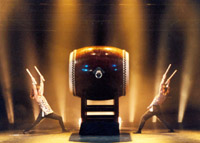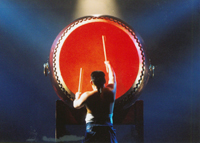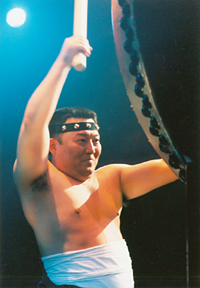 Profile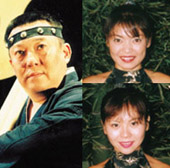 Drum group, perverse person
Yoichi Watanabe (the photograph left)
The perverse person sponsorship. We are living in Nerima-ku. We are charmed than 10 years old by tray drum and we become a disciple of the first sum drum pro group "Sukeroku drum" of Japan in 1976 and work for ten years. In 1986, we found perverse person. We perform session with domestic and foreign artists and go around each places of the whole country by composition instruction of the original sum drum, and various music continues working. In 2003, we are appointed from Agency for Cultural Affairs by bunkakoryushi and spread the sum drum abroad.
Hiromi Ogawa (photograph top right corner)
Mayumi Kawana (the photograph lower right)
Ogawa belongs to Kojimachi musical accompaniment society from the 5-year-old time and acquires festival music. Kawana belongs to Shinjuku 100 hand drum society including tray drum at the age of primary schoolchild. Two people become a disciple of Sukeroku drum during acquaintance, high school attendance at school in Otsuma junior high school High School. Sum drum glue - pu "Miyabi Aya" is formed by old school. We participate in raising an army of drum group perverse person with graduation in junior college and begin professional activity in earnest.

Drum group perverse person
http://amanojaku.info/