#006 Edo tree engravers


Shoun Suzuki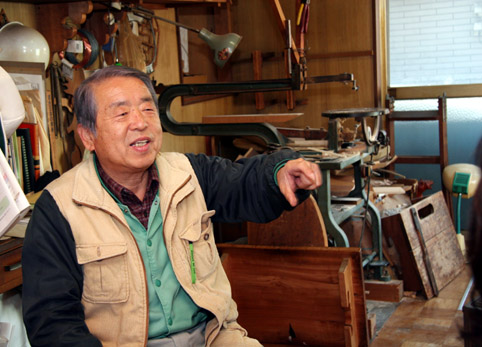 By change of the times
From building sculpture to art sculpture.
We visit workshop!


 There is workshop of Shoun Suzuki of Edo tree engraver and home in residential area of Oizumi-machi. Frame or figurehead are given glory to to showcase facing the street and feel that warmth of hand-carving is about to talk about something. Suzuki painted big signboard of nursing home with lacquer when we visited workshop, and reached puberty and was doing. "We use zelkova, but this is very hard and is tree lasting a long time. But saying carve with seared chisel while it posts dene, water very much to carve; as for Suzuki saying that is with kind smile is at all which friendly feeling can have.
 It was Suzuki who played an active part in order from joiner with construction of ranma sculpture mainly, but orders of ranma which was luxury after the bubble seem to have largely decreased before. Factor big as for houses which lifestyle changes, and do not form Japanese-style room having increased. "There is no help for it because it is passage of times. By order from general person, demand changed to art sculpture such as family coat of arms and figurehead now"
 Chisel and chisel that whetstones of having many kinds formed a line on woodwork sewing machine, shelf, and the point of a sword was polished beside work top neatly by the depths of workshop in a row. There are around 150 in all, and there seems to be thing which we continue using for more than 30 years among them. We use tool which adjusted to hand skillfully, and Suzuki lets various designs and pictures rise to fragrant wood of high quality. Various factors including composition and artistic taste are demanded as well as occupation called tree engraver, technique carving. As for perseverance and the concentration to sit down, and to continue also carving most of the day…. Suzuki heard opportunity that entered this world.

In hand job…For this way ray 50 years,
The study era is moon rest two days,
It was salary 1,000 yen!


 It is 1958, this way ray 50 years that Suzuki entered the world of tree sculpture! In "hand "was live-in to uncle (Mr. Akira Sato month) who ran tree sculpture with graduation from junior high school in Ikebukuro in thing by job", and trained itself for ten years. This world, half or more are relationship relations. On holiday 2 times in month, salary was 1,000 yen at first. As was treated as craftsman when stood four years, became free, and went to part-time high school at time; right in the way of Chisato from one step. We can acquire the skill by experience only by effort of person carving person carving and accumulation of time.
 "We had you mediate regular customer two from teacher at the time of independence, but the times would be good, too. Work entered more and more and did not have thanks time to take service. It had a series of vigil at the end of the year"
 We move to Oizumi-machi and get married with independence. When "young person wants to do it, we go and sometimes come, but pupil does not take because it is the times when it is difficult to live a life by this job. We do polite work as far as body moves and want to continue from now on as Mr. and Mrs. us should be able to eat. It is younger person (laugh) in this world"
 It is strong way of life that craftsman decides own retirement age by oneself.
---
When we were able to encounter work that oneself did accidentally,
The greatest joy comes

 Where are resident of Oizumi-machi, favorite place of Suzuki more than 40 years?
"After all, Shakujii Park has much green, too. We looked at cherry blossoms at night in old days while doing baseball oyattetene, night game. We were beautiful. Trace, our Shimizuyama Ikoinomori in the back. Here there is stock of the only dogtooth violet in 23 wards brag"
Photograph of flower of dogtooth violet which we greatly prolonged was displayed on wall.
 When we do this work and ask that we were glad
As "person of ordering is joiner, as for the work of building sculpture including ranma, it is not revealed where it was delivered to. Door of passing house opens and feels joy to find own thing which we carved accidentally, and to be excellent. As it is revealed immediately if we see even if own work is made how many years"
 It is tree sculpture blown on with change of the times for severe wind, but will be that works which Suzuki carved heartily harmonize in each life and breathe for a long time.
(March 2, 2007 update)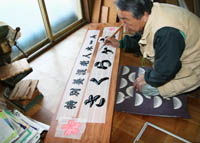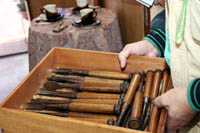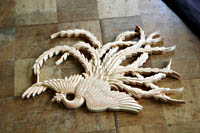 Tree of Chinese phoenix sculpture.
It took 4 or 5 days just to carve.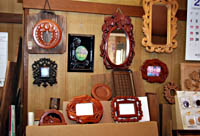 We know characteristic of tree and read grain of wood and talk with tree, and exclusive work is completed in the world.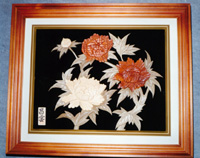 We make use of natural color to have of tree and express flower.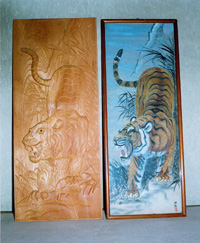 We raise tree sculpture from picture There can be thing.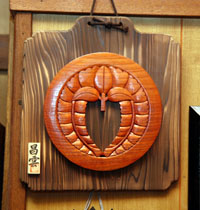 Family coat of arms of Suzuki.
Profile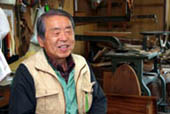 Shoun Suzuki
It was born in 1942. The real name is Yasuo Suzuki. In 1958, we graduate from junior high school and are apprenticed to Mr. Akira Sato month immediately and study as live-in position for ten years. We become independent in Oizumi-machi, Nerima-ku in 1967. Japanese federation of wooden sculpture, Edo tree sculpture member, arts and crafts sculpture, the building decoration public. Member of Nerima-ku folkcraft society.