#007 JTB publishings


Kazuko Chiba, Yukako Suezawa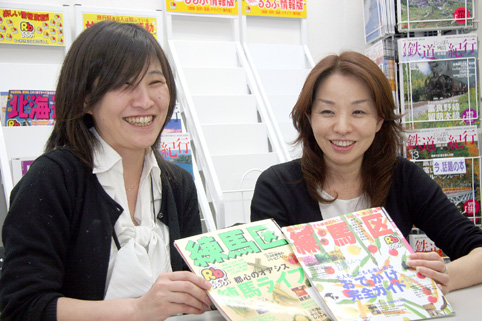 Even Nerima-ku residence is not working.
But,
As ... temo has a lot on Nerima-ku
Nerima's person!

 New publication of
"rurubu Nerima-ku"
expectation was issued on March 23, 2007. Bright cover of feeling that fresh vegetables dance. We just do page lightly and want to go out! Want to eat! In active feeling called this. Scenery and food, photographs of person are used many, and pleasure power and information overflow from the space and seem to be able to discover Nerima-ku not to know yet. We visited Section Manager Yukako Sawa advertising after Kazuko Chiba, project manager of JTB publishing, advertisement business section #1 and sales department engaged in such "rurubu Nerima-ku" to the full.
 Authority of Nerima considerable by accumulation that last time, Chiba who was in charge this time walks around the ward throughout and saw and heard! How does sightseeing of Nerima-ku judging from professional eye to deal with national tour guide book come out?…Curious place.
 When "there was inquiry of guidebook making from Nerima-ku business and industry sightseeing section in June, 2002, is it sightseeing in Nerima-ku? It is fact that had many voices to be impossible in the company. We have heard mutter, "I want guidebook of Tokyo that people in Tokyo bought" of people in bookstore in those days as I did bookstore rotation in sales department. When there should be such a guidebook which there was not at opportunity to know almost none of the hometowns by company and roundtrip of house myself, and to know either, we thought. It is big that Nerima-ku business and industry sightseeing section talked about good point of Nerima hard above all. A lot of a certain venerable Shinto shrine is in theme park with ranch with much farmland and is population good at 700,000, this? We came to think of this. It does not have to hold origin, sightseeing of naming of "rurubu" in taking a high-handed attitude to have taken the no end of a word that "sees, and eats, and is idle". This Nerima-ku where three beats gathered is excellent sightseeing spot"
 The talk tone of Chiba listens attentively with lightness happily.
---
We cut van in 23 wards
Reaction that "rurubu Nerima-ku" is more than expected!

 "rurubu Nerima-ku" issues in this way in November, 2003. There was with the 23 wards's first tour guide book that issuance company worked together with administration and attracted at all attention and was taken up in each media. We asked Suezawa from situation of sales department including circulation.
 "After all, we printed at the time of version last time while seeing state in feel state how long you were popular. If notice, repeat reprint, and largely surpass target value; and Part 60000! There was not stock at all, too. We printed Part 44000 from the first edition from these results in large quantities this time, but data with sales that, thank you, are brisk appear. Koto-ku, Suginami-ku, guidebook with title of words and cities name in Tokyo including Minato-ku were issued one after another during several years, and a lot of inquiries from other wards and cities exceeded ten after "rurubu Nerima-ku" was issued. Influence of "rurubu Nerima-ku" was considerably big
In this, it is Suezawa of smile.
 We asked Chiba about contents of new publication.
 "We are powerful than last issue this time and come to increase by 16 pages. But contents are not hash-up of merely data. It was editing policy that we targeted toward Nerima-ku residence by last issue. Feeling that park introduction is like this as data information multiply. People in outside of a ward are conscious this time let alone the ward, too and edit. Even park introduction digs down so that it is said that we can play in this way in this park if there is small child. When you eat on seeing wonderful scenery and play, have me feel story. In addition, we lay emphasis on agriculture experience and animation. As all the editorial staffs change, viewpoints should be different, too. If person you have can prepare last issue two by all means, too…Hey, it is advertising-like? " (laugh)
 This cheerful energy of Chiba appears in space between the lines.
---
Nerima-ku can do local production for local consumption
Luxurious sightseeing spot
In town which many people visit
We want you to become
 Chiba replied that we visited favorite place in Nerima-ku quickly.
"We like the whole area of Hikarigaoka art museum. Place that art museum is good here, but there is noodle shop using old folk house, and there is discerning garden, and is elegant at all, and is deluxe. Meat of Miyamoto farm was very delicious afterward. We will go together Suezawa!"
 "Be with ... i where bank came to by all means. With me, drill which, in fact, went to Toshimaen yes in Nerima-ku before year, we know nothing…"
 "We will be about to leave jaa, brag "rurubu Nerima-ku" to one hand (laugh). We met various people in ward through this work, and strong person of local love thought that much. We are desperate for increasing repeaters at local sightseeing spot, but green that Nerima-ku finishes transportation expenses cheaply because of the downtown area and can go if we like when it is how many degrees is rich, and local production for local consumption is deluxe sightseeing spot which it is possible for. It having slightly few signboards we walk the ward, and to have been interested. We think that we have station and road increase reputation in "○○ park →" or one which does not need to be excellent. We hope that many people come to Nerima-ku to play!"
(April 5, 2007 update)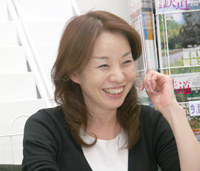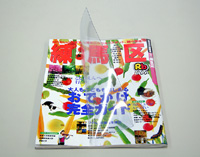 It is for exclusive use of "rurubu Nerima-ku" in bookstore association
He/she made preservation cover.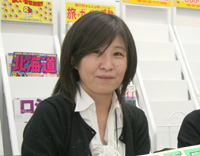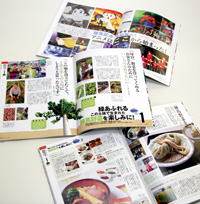 Information is varied, too,
There is special feature of agriculture and animation, too
Gourmet is fulfilling, too.
Profile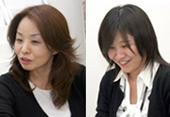 Kazuko Chiba, Yukako Suezawa
Kazuko Chiba (the photograph left)
JTB publishing 
Advertising department advertisement business section #1 
Project manager
It lights up the ward from setup of "rurubu Nerima-ku" to every corner, and walk, interesting thing let you be, and thing does not overlook! Mind to say this. Crying child visits "nerima older sister" falling silent here.

Yukako Suezawa (the photograph right)
JTB publishing 
Sales department advertising section manager
We fix print run of "rurubu Nerima-ku" and bookstore is sales department which is engaged earnestly in sales promotion when we negotiate and works hard for public relations of sales increase every day. Thin arm of Suezawa costs sales.