#008 20th kaiterihime Festival, terihimeyaku


Yuko Murata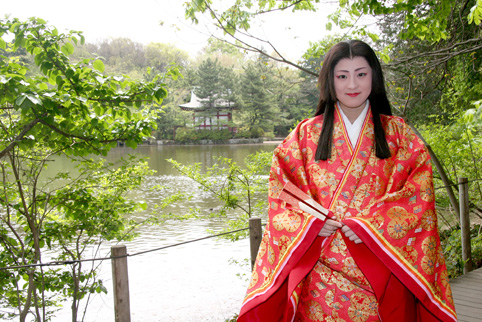 When the part of terihime was decided
We want to dream…
Support of family contributes
It is "
terihime festival
" carried out at metropolitan Shakujii Park and the outskirts in the latter half of April, but is held this year every year on Sunday, May 13. As the play vent, "Shakujii-jo Castle, walk rally that ho asked for the ground related to terihime" was held on Sunday, April 15. We take photograph and watch state while walking near terihime together and…We interviewed Yuko Murata of the part of the 20th daiterihime, afterwards.
 It is fine on that day! terihime which wore apparel in the body walks the garden of beautiful Shakujii Park of the fresh green. We asked from the staff in charge of apparel, but seem to be heavy at all as embroidery enters the entire surface as for this speculation. terihime where figure which has Ougi in the physical center without letting you feel such a thing, and walks posture well slowly is beautiful. Course of walk rally Shakujii Park bandstand - zelkova open space - three treasures Teraike ... lord mound, princess mound - Itsukushima Shrine floating; see; monument of the temple - Shakujii ruins of a castle. From person who strolled in the garden let alone person who participated by chance "beautiful -!" "On the day it takes encouragement, we are looking forward to!". terihime shook hands with easy smile brightly and we waved hand and met. She looked good with kimono very much, and dignified Yuko just became high school student this year.
When "it was decided on the part of the 20th memorable daiterihime, it was really like a dream. At the time of public audition of February, family came to venue for support and said that we were tense more than me (laugh). But we think that we were able to concentrate on performance simply because there was support of family and thank"
 Hurdle is higher in audition of this year than usual, and there are free exercises in addition to self-PR, and see "that Yuko learned by composite learning of junior high school; is announcement in noh dance". We performed with braid, hakama look well, and momentary smile that the part of terihime was decided on right shined!
---
We love to contact people
With people much by terihime Festival
We want to touch


 There seemed to be photography for terihime festival poster in three people of Yasuo Tanabe and part of wife of a nobleman, Yumiko Kokonoe couple and Yuko of the part of lord, singer the other day. "After all, Tanabe and Kuju had aura and thought that it was great. As actress or small child having a crush on like me, will be with nursery staff in the future, or contact with child; seem to think that should be able to work.
 It almost reaches terihime Festival public performance, does Yuko aim at what kind of terihime? "We want to become easy terihime completely with smile that everybody can feel loving. As you love to contact people and want to touch with many people, please call out casually. The day is long in coming and is a pleasure! It is a matter of course that is careful most, but takes care of ourselves. We keep in mind not to get sick"
 When favorite place asks slightly in Nerima-ku; "nature likes full Shakujii Park. As house of grandparents is near, there is memory that came in families with lunch at noon since childhood. Trace is prolonged row of cherry blossom trees of Oizumigakuen-dori St. People and terihime who went every day in one near to house, but were beautiful at all this year which nature loves! It is happy, and, on the day of the terihime Festival, please make all with the smile again.
(May 1, 2007 update)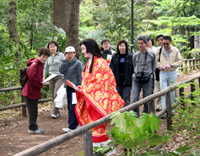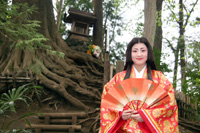 In front of princess mound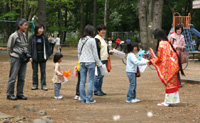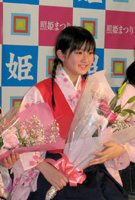 It is talk on stage
(in the left terihimeyaku, Itsuko Yahagi of last year)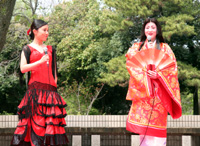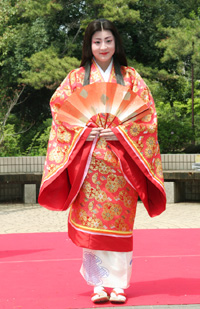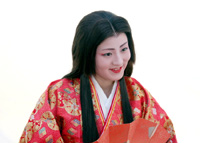 Profile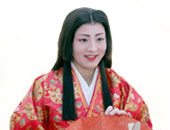 Yuko Murata
Yuko who became in the first year of high school than April. We are living in Oizumigakuencho. It sparkled in the 20th daiterihimeyaku this year. We love to contact people and are graceful Japanese woman who is interested in traditional arts!

The terihime Festival executive committee secretariat
TEL.5946-3630
Homepage