#009 mezzo-soprano singers


Iwao deep water truth (iwabuchimari)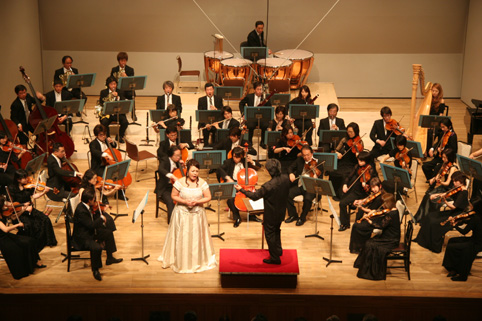 Big stage first after returning home
We sing in full IMA hall

 Gesture gesture is big, and eye is vivid probably because have experience of studying in Italy, and Mari of characteristic pronunciation. The neighborhood becomes bright strangely just to talk a little. Person with such an overflowing aura.
 As memory of the 20th anniversary of Hikarigaoka IMA hall, "dream of Tokyo City Philharmonic Orchestra concert you or << costarring of orchestra and dream >> that lost strength" was held on Sunday, May 20. Three musicians living in hometown chosen by audition play with full orchestra! Mari acted as chicken in that.
 Mari who appeared on stage dresses white dress of decollete well, and there is even personality with beauty. Music is Mascagni: << kavareria rusutikana >> as "know mom" ... Shocking contents that woman called santuttsua which knew immorality of fiance confesses hard heart to mother of fiance. We sang in a loud voice carefully while expressing change of feelings as anxiety of woman from pains, jealousy and anger, despair to wish. Excited full IMA hall in invited guests and was wonderful concert.
In expression that Mari who finished performance when "we slept early yesterday when we took a lot of sleep as it was good for the vocal cords, but several degrees had woken up in the early morning after we went back as it was the first big stage" was relaxed in dressing room.
---
Special ability to play the piano while dozing off!
We convert to song which we liked in graduate school

 There is career of Mari with graduation in piano department of the university via elementary and junior high school, high school attached to Kunitachi Music College.
"Father continued until 20 years old by pianist choice, but there is past that we gave up by circumstances of house. I begin to learn piano from father from 5 years old and get yelled at when I do not practice. We were strict. Teacher was accompanied after one year and was able to decide everyday experience, exercise in house with at least three hours"
 What we wanted to stop? "We were honest and have wanted to stop several times. But be tainted with fluffy atmosphere peculiar to music school if you enter junior high school. (laugh) which special ability that finger moved even when dozing off as it came out when we did not practice to self-employed father and played the piano has acquired"
 It be recommended to teacher of personalized lesson at the age of junior high student that Mari absorbed in such a piano touched the world of song. As well as technique to play the piano, it is said that we learned song to do musicality and power of expression more wealthily. When good voice came out, we were praised, and there was person who recommended conversion of song from teacher. But it is piano department all the time to university that Mari chose. "I was only child and wanted to meet expectation of father. We were able to see only aim that was a graduate from piano department"
 Mari who has fallen in the second interview of lecturer of music classroom by job hunting of university. What played song in all-Japan student music competition at the same time, and was chosen in ten people in the final contest at turning point. Since "it was small, surely…We liked song. Environment of Mari begins to greatly move from there that entered the world of song at graduate school.
---
It is ji teruyona for and a sense of unity of the audience
We want to build up the stage

 Mari raised in Doshida-born Doshida, favorite place said Hikarigaoka Park where there was a lot of greenery, but, in fact, they have passed as going way of lesson. We are referable, but have days of music pickles that body was weak, and there does not seem to be even experience of walk let alone mud play. As for the lesson, father changed completely from young lady life called drop-off and pickup, and overseas single life began suddenly.
 We study in Italy Genoa as member of Agency for Cultural Affairs artist overseas dispatch training for four years from December, 2002. nainaizukume where how to get on buses which have not cooked their own meals not to be able to make words into either does not know either. Carefree brightness of Mari who "power comes out somehow, and came to be able to talk with owner in around three months when driven" will know even the world.
 There is serialization called "Genoa diary" in
monthly Kacce
of town magazine from August, 2004 issue to March, 2005 issue, and photograph of smile is belonging to, and state to call out to people touching in daily life, and to spend well is spelled.
 Well, the future prospects of Mari? "It moves into action to base in Japan, but will go in Genoa as the stage of all curtain appearance is fixed at this August in part of Gypsy azuchiena of torovatore. As for the song, as for both plus and the minus, it is greatly acted on mentality. We lost dearest father in this January, but voice did not really come out at time when we nursed. The stage became fun with feeling to appreciate that we could sing than before a lot now. When we are doing music, we seem to be with father and seem to be protected. We want to build up the stage which can have a sense of unity with the audience through song"
 Way of music derived from father spreads out from Mari endlessly again.
(June 4, 2007 update)
Rehearsal scenery of << costarring of orchestra and dream >>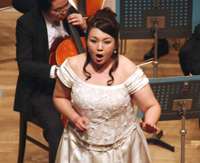 Song and power of expression of "nerima, Eco's tile fair" Mari are "Bravo! "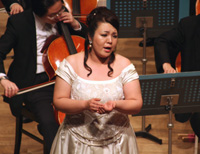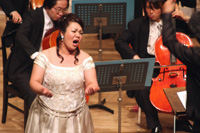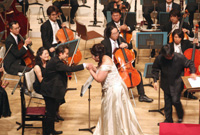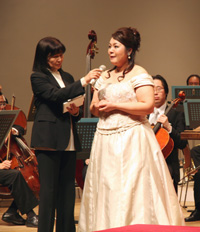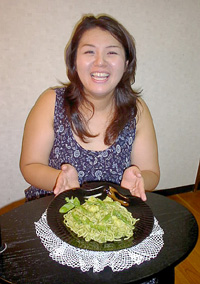 Of specialty of Genoa We cooked genovese! Than "Genoa diary"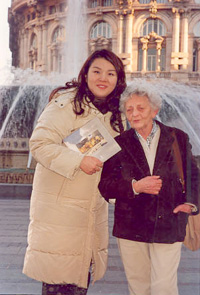 Get to know Julia of professional camera woman accidentally, I received signature from collection of photographs. Than "Genoa diary"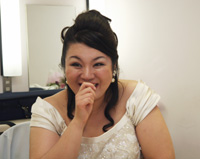 Bright smile that we project personality on!
Profile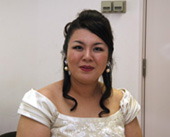 Iwao deep water truth (iwabuchimari)
Mari who was born and raised in Doshida, Nerima-ku. Kunitachi Music College piano department graduation, university's academy opera course completion. New National Theatre opera training institute first completion. We return home in Genoa in Italy at studying abroad, the end of 2006 for four years. We are instructing song now. Member of second society.