#010 Nerikore society's chairperson


Yuzo Saito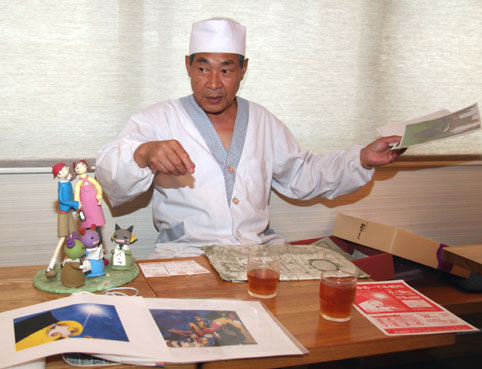 Nerikore product birth,
From relationship and flash with people


 Saito of the "moon temple acting as product associated with Nerima, the chairperson of Nerikore society full of gokakoshi, sweetness cafes" storekeeper. We had, taking this occasion, you appear this year as there was offer of "Nerikore" product from July 1 to 31st.
 Saito flashes on seeing kaleyard at the time of walk, and "cabbage native monaka" which we created is chosen as nerimano perfect gem 21 and is further enrolled in Nerikore. Besides, all four articles including "the Star Festival chigaya horse steamed bun" associated with manners and customs of the Star Festival that "we work out, and true child steamed bun" reaches in ward that imitated character of animation festival held in Oizumi are registered with Nerikore.
"Products are created through relationship and flash with people and, as a result, be chosen as Nerikore. We think that it was lucky. Appearance is fun, too, and discerning taste is good for material, too! He/she seems to come to be popular among children, and to buy well with "Nerikore noomanjuokudasai".
Japanese sweets people art!
Beloved mind

 Of building where the rich moon temple is close to from the Oizumi-Gakuen Station north exit is on the third floor. Space of the sum that gravel and red rug were spread when we got nervous by elevator. The depths become space of sweetness cafe, but shelf of opposite side of showcase of Japanese sweets is interesting!
 Work equals rack partitioned off crowdedly and is totally like mini-gallery. Folk crafts of Nerima-ku and animation-related articles and artist, work of much including poet are decorated. Poster and flyer or free paper are placed in shop, too and are like antenna shop of local coherence.
 As for Saito, "brag, this are good? We feel, it is interesting and emphasize work on behalf of artist (laugh). It rises and is full of service mind, and soft smile says feeling even if, surprisingly, we say, and a person's ring spreads.
 Saito adds to way 50 years, the arm of Japanese sweets; and full of curiosity, bring about the in sequence latest Japanese sweets by action as soon as flashed. In wider friends and acquaintances, there are a lot of things which receive request saying "we want you to make such a thing". Without remaining in Japanese sweets to finish working out character, and to make, rakugan of cherry blossoms such as grilled gong using egg of ostrich.
---
We like walking in nature,
10,000 steps of 1st!
"We take good care of glance to walk to see on foot that is not bicycle without by kidene, car which walk likes" Saito who likes great walk so that it is said that 10,000 steps walk a day.
 After asking such Saito favorite place in Nerima-ku, the name of Makino memory garden was mentioned immediately. "We did delivery you have by kana that I was still the time of junior high student, help of business. Mr. Makino has met the person and student in people who loved rice cake. Dr. Tomitarou Makino who was botanist who is globally famous is 50 years after the death this year.
 "Shakujii Park, three treasures Teraike are good afterward. When we take a walk, we see person describing painting well. There was person who described good painting and has bought the oil painting unintentionally, it is astonishment slightly! But the lightness is Saito.
 "Anyway, connection with people is important. Saito to be glad that people are pleased. When people could be gentle as there was such a feeling to bass without regretting trouble, we thought heartily.
(July 2, 2007 update)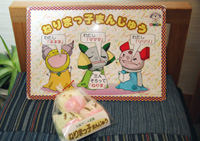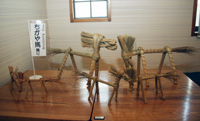 "chigaya housing" which is given glory to in the days of the Star Festival in shop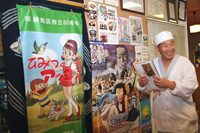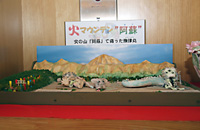 "Mount Aso" which worked out, and was made with material of Japanese sweets called drill. We are surprised at size.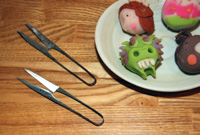 Using these scissors, We work out and form drill skillfully.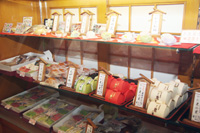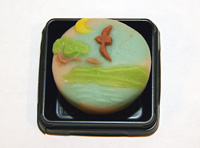 Chicken, pine, pond were expressed wonderfully; work out; "three treasures Teraike" of drill. Color is beautiful, too, It is totally like work of art.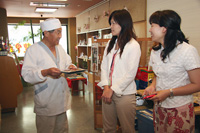 Profile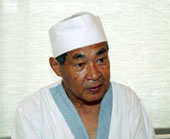 Yuzo Saito
The second generation storekeeper of the moon temple full of gokakoshi, sweetness cafes. The chairperson of Nerikore society Higashioizumi quotient Sakae meeting's chairperson serves from June, too. We love Nerima and love people! And we love walk and sometimes walk to Kichijoji (!) Saito called this. Contrary to activity full of vitality, we are attracted naturally by meeting isurutosonohonwarishita personality.