#012 days tele bereza


Eriko Arakawa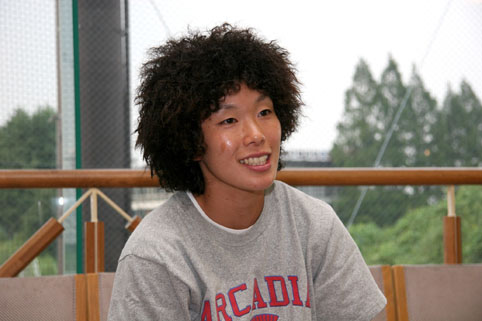 We kick ball since the age of nursery school!
We kick ball if we have time!


 "The FIFA girl World Cup" is held in China for from 10 to 30 on September. Eriko Arakawa of NTV bereza chosen by Nadeshiko Japan (female representative from Japan) is born and raised in Nerima and is living in Nerima now. We interviewed for disposition of local cheering party.
 Arakawa who appeared in Verdy clubhouse which overlooked scenery of YOMIURI LAND over there of ground was refreshing smile that I did not think that we practiced under the hot weather in midsummer until just a while ago.
 Arakawa having begun soccer since what nursery school.
As "second eldest brother played soccer, we kicked ball together at mall. When it is the second grader to have officially entered team. We entered the Nakamura small and the Toyotama sports Boy Scouts (the current Nakamura sports Boy Scouts) of Toyotama small combination"
 As for Arakawa, tempo tells that we went out as time for dinner is late even if exercise of soccer is over and comes home when shop is crowded to kick ball again in clear beautiful voice well.
In "mall, hit ball on wall straight even at night. Though it is wall of other house when we think now" (laugh) 
 We kick ball if there are any time! We liked soccer very much.
 When we ask opportunity that entered bereza,
"We heard that girl could not enter soccer club of junior high school and we received selection of Yomiuri menina and joined. Thereafter we go by exercise here"
 Here to ground next to YOMIURI LAND? It is distance to feel that even adult is far….
"Yes, we passed exercise when school was over since junior high student. And we were promoted to bereza when we were in the third year of high school"
 You thought that there were many painful things while we came to world, here of sports, have you wanted to stop?
"There was 1:00 period. Was it time of around 19 years old?…. We do not remember one which was young whether it was not fun or reason well"
 It was teammate in such a case that saved feeling of Arakawa.
"Sakai came to stay in house well. We often went for sauna of public bath nearby and while Sakai cried, it was said and said thing. As it is small sauna, aunty not to know who was there hears our story, and be filled with tears to aunty when it is when "there is not such a good friend"…. By words of Sakai, let's do our best what it is! It became feeling to say this"
---
Cancer is popular person in Nerima!
We want to spread the women's soccer World Cup more
 Arakawa has been introduced at the time of Nerima azalea Festival before on stage.
It "is Sango in goal keepers of Nadeshiko Japan that went on stage with me. When we often came to house to play and were just hit to representative of the Athens Olympics of just 2,004 years, we had you call out from Hiramatsu" ("person of I n" storekeeper, store's chairperson, azalea Festival member of the executive committee)
It is Arakawa of popular person in hometown. Two-pole banner of support was advocated in arch of mall in those days.
 When we ask origin of cancer of nickname,
"The parents' house gave ramen shop to teammate, and ganso, ganso were called first, and it was to cancer that "ancestor Sapporo" when we said"
 It is unique to have been from store's name. Recommendation of shop?
"After all, Sapporo ramen and gyoza are popular. It is miso Western ramen that likes me"
>
 Is worried about time without game how spend time, but ...
Ordinary. We work at cash register in Nerima store of Seiyu from 10:00 a.m. to 2:00 p.m. for three days a week. And we eat in house and come to this place (Verdy ground) for exercise. After practicing to neighborhood at 9:00 from half past 6, and coming home after 11:00 p.m.; dinner. As mother makes in various ways, we eat meal in shop"
In Nerima neighborhood, we may meet Arakawa.
"Place favorite in Nerima…King or kana of hot water and bath of Hikarigaoka Park going by, dog walking or garden more. We go to neighborhood noton camp to eat" and
Even if carry big signboard called Japanese female representative on the back, even as for the bar head, Arakawa is natural posture forever boom. You were aloof from worldly matters and were cool.
 Finally we asked about ambition and enthusiasm for the World Cup of September.
It "is not known very much that women's soccer includes World Cup. We think that various Olympics playing a game are greatly often taken up. We leave grade that is even slightly better than four years ago in this World Cup and want to have know that there is World Cup for women's soccer"
 BEIJING OLYMPIC is held in World Cup and August, 2008. Please do your best from Arakawa, everybody, this of Nadeshiko Japan. We support!
(August 30, 2007 update)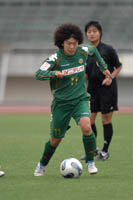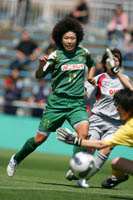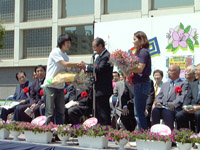 "Nerima azalea Festival" Mayor Shimura and Arakawa, the right shaking hands are Sango for 2,004 years. This; just after that Arakawa We transform ourselves into bar head boom!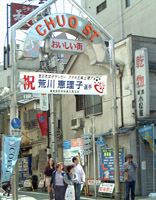 Two-pole banner in celebration of Athens Olympics participation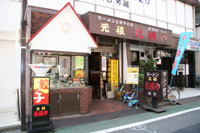 Here "ancestor Sapporo" Ekimaechuuo, Nerima mall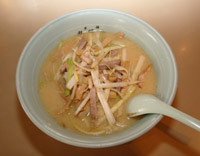 Favorite "Western ramen" of Arakawa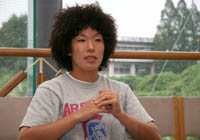 Profile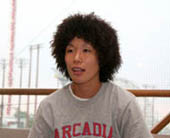 Eriko Arakawa
NTV bereza FW 
October, 1979 student 
Athens Olympics participation of 2004. We are chosen in this year by Nadeshiko Japan and get the BEIJING OLYMPIC participation right. It is chosen as dianthus all-star game and is playing an active part in supporter vote as leading player of women's soccer world in Japan. The parents' house ramen shop "ancestor Sapporo" of Ekimaechuuo, Nerima Street mall.

NTV bereza official site
http://beleza.ameblo.jp/