#Member of 014 Nerima-ku cultural properties protection promotion


Yoshinori Suzuki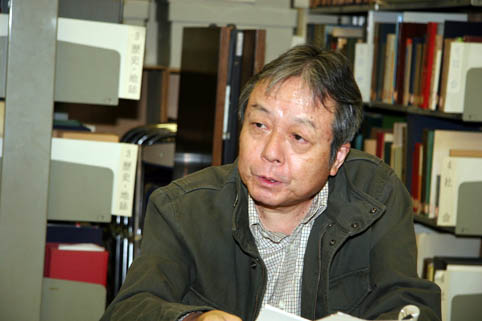 We are full of the pressure
We reverse ourselves from weekly reporter! 
 From November 3 to 11th, it is held a lot event to release country and Tokyo-designated cultural assets intensively in whole Tokyo as "Tokyo cultural assets week 2007". Therefore we asked member of Nerima-ku cultural properties protection promotion that worked when we wanted more people to see wonderful cultural assets of Nerima, Yoshinori Suzuki.
 Suzuki who invited us to back by calm demeanor in enormous historical materials of native district reference library in Shakujii library is reporter capability of the cause synthesis weekly!
 From "relationship that shogi liked, we reported on shogi-related article by general weekly mainly and were in charge of serialization. Yoshiharu Habu six crown beats Koji Tanigawa Osho by the 45th Osho match seventh game of 1996, and unforgettable one is still one station which accomplished seven unreached crown perfection conquest. I went to Yamaguchi, too and reported with Kunio Naito 9-dan on the board side. Because the deadline was the next morning, we stayed up all night and finished writing desperately. It is very deeply impressive in this sense"
---
We are pitched with all efforts by "my town rediscovery"
 It is said that it is from 2005 that Suzuki who is full of such pressure came to be engaged in cultural properties protection activity of ward.
 "It is that it is entrusted in 2004 by Board of Education. Cultural assets exhibition business hosted by Tokyo has two pillars. As for one, public business, another pillar are plan business. It is going to be performed from October 1 to November 31, and visiting ruins of Shakujii-jo Castle and excavation panel exhibition are main in Nerima-ku"
 In that role of Suzuki? 
 "I guide course that started from bookends temple of hometown, Sekimachikita by historic spot walk titled "my town rediscovery" on November 8. We planned twice a year in autumn, but visiting historic spots always has new discovery in spring"
 Surprisingly, this tour seems to be carried out by volunteer from plan to administration.
From "course definite decision to distribution material manufacture, we do all by oneself. As it is no good for there to be mistake about materials, we receive check of curator. Prior to conduct, we make a preliminary inspection of two or three times of courses"
 Of wonderful sense if let's be able to enter, just thank for participating side, will it be tough?
 It "is done work taking one year in spring because it is autumn plan if it takes 4-5 months each time. As we worry about poor physical condition and traffic accident of participants anytime, carefulness to consider accident to have you please last is important"
 What will move Suzuki so much?
 "There was life of people who followed without a break in Nerima where we were living in now. Accumulation of small working…We think that it is to sense message to modern people of guide we investigate history of general public, and to find. And when it may be our duty to tell that to the next generation"
 It is difficult to have young generation interest in the origin of their livings.
 "Participation applicant of historic spot walk surely has predominantly much old and middle age. But student may ask a question eagerly inside. It was self-praise, but even lecture when we got qualification of curator by "62 writing practice" in the summer of last year had you interest in folk and cultural assets in generation young how in future and was told that it was important whether you gathered people
---
We bring up child in hometown,
We bring up history
 Suzuki lives in Sekicho, Nerima-ku, and it is a little less than 40 years.
 At the time when "we went, Senkawa water supply which flowed through home side was suitable amusement place of my children in dried foss. When that knew that flow revived by clear stream revival business of Tokyo in March, 1989, we were glad. We were interested in place where we lived in in various ways and checked life of neighboring masonry and trees by mountain bike. I brought up three children in this ground"
 Place most favorite in Nerima?
 "Of course it was immediate answer saying it is Senkawa water supply!" (laugh). We put the four seasons of Senkawa water supply in digital camera and make postcard of handmade article, and there is considerable thing for attachment to the ground. That inhabitant of a ward farm began with 1996 in Sekicho, too. Finally it is a word.
"This can say that it is considerably high in (laugh), level of historic spot walk of Nerima-ku with confidence not self-praise. If even snow becomes meeting even if volunteer of 40 is rainy, we rush. Of plan this gratuitous act support. Form may change with the times, but wants to tell everybody about splendor of cultural assets from now on"
 We look forward to historic spot walk that Suzuki and others "brought up", participating.
(November 1, 2007 update)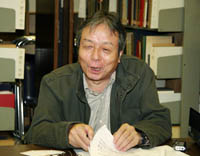 One of the advertisements to be several kinds,
With General Athletic Field
Do bell and is programed stage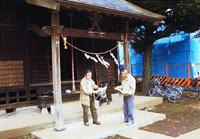 As member of cultural properties protection promotion
Charge area regularly
We go around (Takeshita Inari Shrine)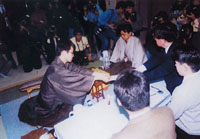 We attended by coverage by the Hanyu seven crown achievement (February 13, 1996, Toyoura-cho, Yamaguchi)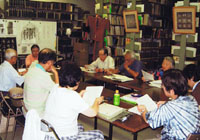 Meeting scene of "historic spot walk"
(native district reference library)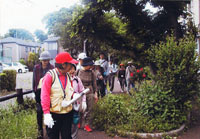 Scene of "historic spot walk"
(the spring of 2007, Senkawa water supply)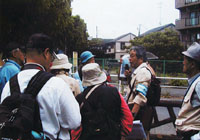 By "historic spot walk" with microphone Suzuki who comments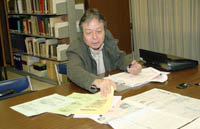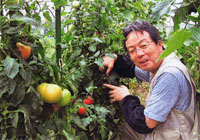 It is harvested tomato at inhabitant of a ward farm.
Joyful smile!
Profile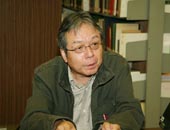 Yoshinori Suzuki
We are from Fukushima for 1,944 years.
Member of Nerima-ku cultural properties protection promotion. It is freelance journalist after experiencing general weekly reporter.
We acquire qualification of museum curator in 2006.
There is "information convenience book" (Kodansha dictionary station May, 1999) in book.
Hobby is shogi and home farm.