#015 Nihon Univ. art department design chairmen, professor illuminations contest judge


Atsushi Kuwabara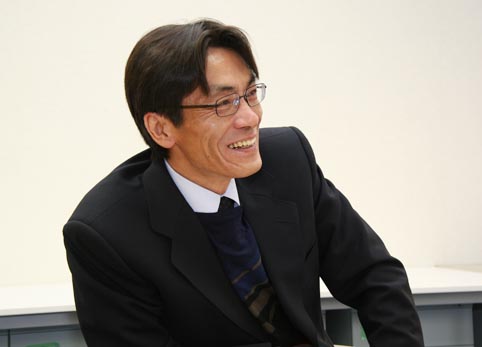 We color house coloring town!
Illuminations contest 2007
Begin
 Roadside tree be displayed by colorful illuminations...It is Christmas soon. Open call for participants of "illuminations contest 2007" is carried out in Nerima-ku from November 12 to December 10 following last year. We had Mr. Atsushi Kuwabara of Nihon Univ. art department design subject to act as the judge appear.
 It is the second-year event in this year, is there much number of the application?
"We think that there is considerably many. At first, it is photograph examination and goes to see the real thing as narrowing, the second examination for the first for two days. Four judges went by one car last year, but were serious by the last examination in rain"
Illuminations that remained in impression in particular?
As for "the illuminations of the highest award, design sense was fantastic with part of part, group of house. Sense to design the whole scenery by total not what added illumination to tree of entrance was just exceptional. We put flower in window with it is Europe including Switzerland, and it is always done, "we decorate beautifully in house and town" that we bury electric wire of town underground, but sense that still "decorates everyday life beautifully" is not brought up in Japan. It is heartwarming that the public who does not learn all the more design concentrates invention to color house and garden, window in each, and mind warms"
 What do you expect in in contest of this year?
"Overwhelming sense more than know-how and technique that gorgeous illuminations increase year by year, but "will be beautiful from now on if they do it this way"...Place that wants originality. For example, is house and garden, but in each width is deep. A feeling of depth, three-dimensional impression further loosen by coloring that by illuminations; ritsu ttekuruyona....
It is illumination of bamboo in Tokyo midtown of Roppongi to have thought that it is good recently. It was simple thing which just let unicolor electric bulb which was not showy coil itself round bamboo, but whenever bamboo bent by wind, delicate expression appeared, and "sum" of bamboo and "yo" of light blended wonderfully. Even if stand toward you, do not think; nyu tteikitakunaruyona...Night darkness deletes daily life, and illuminations let non-daily life appear...Such another world thinks to be attractive of illuminations"
---
Play ground that child is excited at!
 As soon as had thing, and was soft, and was Mr. Kuwabara of impression that was akumade Stai Risch, but asked about playground equipment of child, eyes with kirakira! Do talk about to forget heart of boy?
When "it was third grader of day art, we knew the leading person, Mr. Mitsuru Senda of environmental design and were apprenticed with graduation. Only in this in what paid the attention to play environment of child in those days. Thereafter, for 25 years, we worked on design of play environment of child absorbedly"
 We withdraw from Environment Design Inst. of Master Senda now, and it is days when it is design subject of day art and is busy with instruction of student as professor, but the world says only to the world that it is necessary to think about play environment of child more seriously.
"Of course, not to make any accident, you must secure safety of playground equipment. But we are worried about viewpoint to protect child being talked about only from situation of adult recently. We take away fence of park to save "to play" safely and just forbid that we enter river, and ability for danger evasion that child should wear is not brought up...Hey"
 We give power running kindergartens in neighborhood of art handmade playground equipment of unique students who invented on day while initiating students into know-how made with playground equipment utilized technical knowledge and seem to have you actually use.
If "the quality such as idea power, imagination, communicative competence grows up, we think design to have a meaning to learn at university. Therefore we are drenched with sweat with children in students learning design and let you play. Free idea and imagination that are not technical are necessary"
---
We want to feel human scale
 Favorite place in Nerima-ku appealing to sensitivity of Mr. Kuwabara with, "of course, Shakujii Park."
"We say human scale by our words, but there are trees, and there is waterside, and time should drift relaxedly"
 Symbiosis with nature and town and person...Please invent playground equipment which children are excited at again at place where gentleness is felt!
 Finally we had you tell Mr. Kuwabara recommended restaurant.
 What put up at the very beginning "gen*rin" of Chinese food. As for the information to be shop going to the moon several times, but to make a reservation on Sunday on popular shop reason Saturday. The store specializing in curry "coriander eaves of natural foods are favorites, too". It is near Fujimidai Station with both shops and is official guarantee that it is reasonable and is very delicious.
(December 3, 2007 update)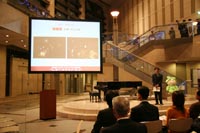 Illuminations contest 2006
Comment scenery in commendation ceremony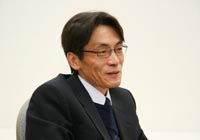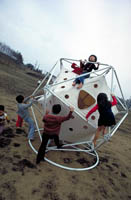 Graduation production COSMOS
(shooting Mitsumasa Fujitsuka)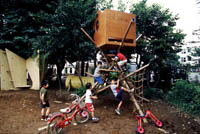 "Power running kindergarten garden improvement
House 1 of the power running kindergarten air
(cooperation power running kindergarten)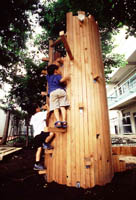 Power running kindergarten garden improvement
House 2 of the power running kindergarten air
(cooperation power running kindergarten)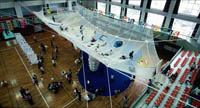 Playground equipment work example
Himi-shi breath breath building large size net playground equipment
(design at the time of drawing office duty)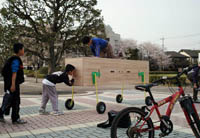 Research and development movement-type playground equipment ACCHI, COCCHI of playground equipment
Profile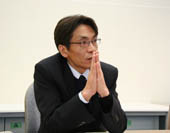 Atsushi Kuwabara
We are from 1952, Joetsu-shi, Niigata. Nihon Univ. art department design chairman, professor.
Nihon Univ. art department art subject graduation. A lot of study, articles about play environment of child. Nerima illuminations contest judge.