#017 background artists


Morio Nakajima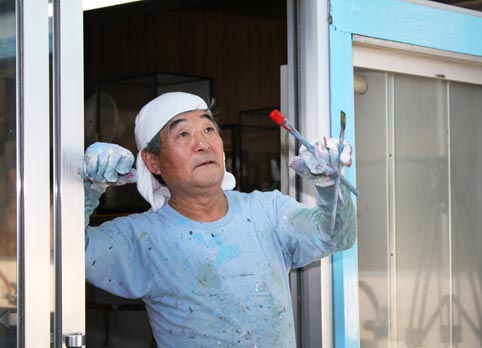 If fear dies ladder,
We cannot draw background image
 Is public bath which continues being loved by people, but the numbers decrease, and craftsman of background image (paint picture) still traces course of decrease, too, now in Japan only as for three! Besides, all three of them are living in Tokyo. We visited one of background artists, the job spot of Morio Nakajima this time. Today's workshop is public bath "hot water of rock" in Tokiwadai, Itabashi-ku.

 We make scaffold quickly and we produce after 9:00 a.m. and start! It is just one Teshi that acts as assistant and is Tanaka Mizuki of active graduate student.
 Nakajima who goes up ladder which is more expensive than your height suddenly, and possesses wall. It is appearance that rock climber totally sticks to perpendicular rock face. Is that you are not scared -?
If "ladder becomes scary, this work is over"
It was immediate answer slashingly!


---
It is Fuji one brightly widely!
Three major theories of background image
 Outline including ridgeline of the sky and mountain lets paint soak into towel to provide bold roller errand, manner of handling a brush that is delicate to branch of pine, soft feel of a material and depth of cloud; and stamp-type...Nakajima who manages tool in this at will. And superb view appears on wall of light blue painting all over of one side in a moment.... It is completed magnificently red Fuji of men's bath after 12:00 p.m.! Red of the morning sun shines in Mount Fuji and is dynamic work.
 When some theories are to background image of public bath; Nakajima.
"It is wide to squid at bathhouse and is important whether it makes look bright. Large place is larger, and small place attains depth in rivers. Then, we seemed to take open-air bath and feel carefree"
 In addition, it is rule that does not describe painting same as men's bath in ladies' bath.
If "there are datte, Mount Fuji two, it is strange. Therefore accent such as making calm scenery of watersides in ladies' bath if we draw Mount Fuji in men's bath is need. We must devise one piece of attractive composition altogether nevertheless"
 How long does it take to be an expert to here? 
If "there are ten years, we become able to usually describe. But does it take 3 years to become able to paint with the sky to an adult?"
It is long way. Tanaka does the best (laugh) and!
---
The study era comfortable for people,
We draw fresco if asked
 Nakajima who worked originally in manufacturing facility of rubber parts in Mukoujima, Sumida-ku. Public bath which left Fukushima of hometown for Tokyo, and was contained accidentally soon was a chance to step into the world of background image.
"It is year when we had the Tokyo Olympics unforgettably in 1964. As Fukushima did not have public bath, is Mount Fuji on wall! Be surprised. Oneself wants to describe, too! What we jumped into in this teacher is late Kikuo Maruyama. It is another background artist playing an active part regularly, person who is uncle of Kiyoto Maruyama.
"We were blessed with people. Originally we liked describing painting and have never thought that I hated"
 Joe Odagiri and Kirin Kiki lead movie "Tokyo Tower Okan and I and sometimes oton" in recently local Kitamachi, Nerima-ku bathhouse publicly at memory event on wall of bathhouse about Tokyo Tower is so.
Nakajima who points at red Fuji of completion ascidian ascidian that it seemed to windowpane on "conch shell, inverted image of Mt.Fuji!" and turn stand the next moment who said that it was, "even fresco drew anything not only bath if asked and goes anywhere".
"Time when natural light enters is good"
Look to look at your work from far away was full of satisfaction kindly.
 Favorite place of such Nakajima?
"After all, it is Shakujii Park. We went for sketching well and are walk spot where waterside and green beautiful park are fun other than illustrator.
 And hobby...Smart deinasena "variety hall" acts as organizer of variety hall opened in hometown Kitamachi once in two months.
"Ad lib-like fun is in variety hall. There is good"
 It is obstinate, and blow plays forever forever! We sincerely pray for handwork of background image Meister Nakajima, the succession of general public culture.
(February 1, 2008 update)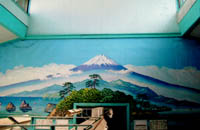 Background image before complete change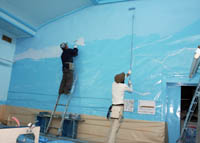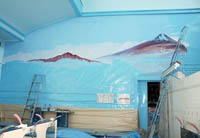 Begin to describe; from background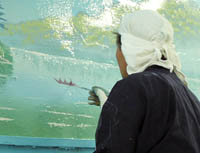 We describe, and small part is crowded with brushes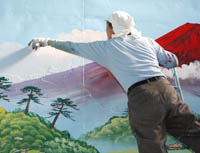 Cloud uses towel like stamp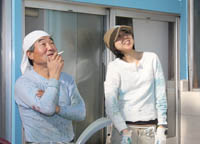 "We advance at a good pace"
With Tanaka Mizuki of pupil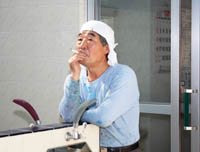 Even if we seem to take a rest,
From wall surface which eye draws
We do not leave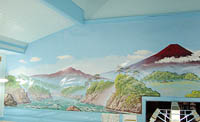 Background image "red Fuji" of men's bath is completed!
Profile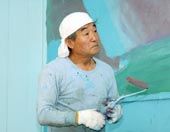 Morio Nakajima
We are from Fukushima for 1,945 years. We go to Tokyo in 1964 and study under late Kikuo Maruyama of background artist soon. We devise roller errand for the first time and contribute to shortening in time for background image production. While, along with Kiyoto Maruyama, Toshimitsu Hayakawa, we play an active part in wide field as one of background artists on behalf of Japan while background artists decrease with decrease in public bath. We are living in Kitamachi, Nerima-ku