#019


Riko Kawaguchi, Keitaro Shino, Kazuyo Igarashi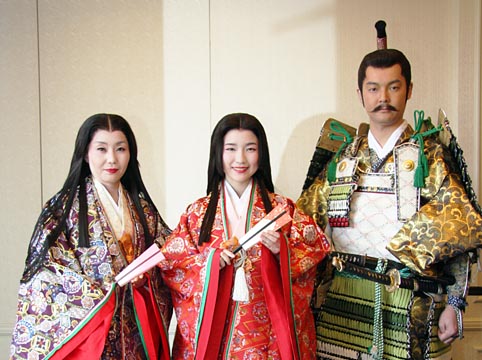 "terihime festival" to be carried out every year in spring
We introduce the real face of three leading role


 "terihime festival" that one of the two major festivals of Nerima is held in spring. It is performed this year on Sunday of April 27. Ahead of festival, terihime, Yasushi Toyoshima passed, and general audition determined role of wife of a nobleman the other day. Please appeared to three people chosen this time and approached each real face.
 It is just taking picture of poster day for advertising on that day. We wore gorgeous clothes for the first time, and feeling has been increasing for festival early.
 At first, from Riko Kawaguchi of terihimeyaku. Transparent white skin is very impressive, and figure which we sit down and talk about is like princess. Impression when it was chosen? Kawaguchi who replies, "we are glad obediently" refreshingly when we ask this. We are in the second year of high school from April. What kind of high school life do you usually live?
"We like English by study of school. Club activities belong to performance department. We have played the leading role, but do not do it with historical drama very much until now. As there is Japanese dance by terihime Festival, we make use of dance that we learned in class of school and want to try hard"
 We are used to acting indeed. Even drama club. Tempo was good for this question and answered with smile. Is it way of aim suha actress after this? This omoi breath saying "want to advance to Faculty of Pharmaceutical Sciences in the future"; flatly. terihime of this year with brightness many in graceful image. Promising. 
 Next passes through Yasushi Toyoshima; Keitaro Shino of position. It is usually real estate-related office worker done work. We passed through Thailand, and position was chosen by general open call for participants only after making the 21st. Joy is much more on playing the memorable founder. A word that we finish shooting,
"We asked rumor, but armor was surely heavy. Heaviness depended on shoulder heavily, and it was quite hard to support"
 Shino is height of 184cm. It is nice guy who seems to be discernibly faithful.
"It was tall since childhood. We played volleyball for school days. In fact, we participate in terihime Festival twice until now. We worked as musical performance with instruments warrior with warrior head last year three years ago. Does general offer not have Thailand so far as we pass, and celebrity acted as position? We thought of this. However, we knew that we decided by open call for participants this time and received audition to do by all means, and to see naraba"
 We passed through brave Thailand which saved Shino, mustache, and no look was suitability very.  
 Finally, it is Kazuyo Igarashi of the part of wife of a nobleman. It is a word with with moisture calm atmosphere.
Since "coming-of-age ceremony in wearing kimono. When you wore clothes some time ago and finished shooting and must let you succeed whatever it takes on that day, we felt responsibility pressingly"
 What would native motive that we worked out, and Igarashi called true child applied for back room be?
"I am raised in Shakujii-born Miharadai. It was Shakujii that father launched business. In a sense there is feeling that had this Nerima raise. Father already died, but we thought when we finished 7 anniversaries of death safely, and my feeling was completed to participate in "terihime festival" that we gave Nerima-ku and reached this application
 For coverage, it is Igarashi of appearance with pink suit appropriate for spring. The top of company where the real face leads a large number of employees. Okay, it is woman president. We let you do place to feel dignified strength in easy atmosphere, but are big back room.
---
From three people who were born and raised in Nerima
Recommended spot in ward?
 People who love Nerima where chosen three people were born and raised deeply. It is true "Nerima's person" definitely. Therefore he/she gave "Shakujii Park" with one consent when we heard about place of memory in Nerima-ku, recommended spot.
Saying "school is busier, and was not able to go, but love what get on boat of Shakujii pond above all recently"; Kawaguchi.
"There is a lot of nature here while being in city. Around Shakujii Park, three treasures Teraike, we played in the days of child well. In addition, even excursion of elementary school comes and is place that became a part of life in one's childhood. Saying, in the outskirts of Shakujii-Koen Station, development advances year by year, but only this park wants to leave carefully as place of recreation and relaxation for inhabitant of a ward; as for saying is; Igarashi.
Shino told good old scenic place after having prefaced by saying, "of course Shakujii Park is good place" saying "there is place that had already liked one".
It "is high Inari Park that house has been near, and played well. It is along the Shakujii River of the Hikawadai area, but cherry blossoms are places of very beautiful memory. It occasionally still comes"
 Shakujii Park is favorite recommended spot, everybody. When one step sets foot in this place, the urban noise is incredible and feels that time goes by slowly. Shakujii Park to be able to enjoy seasonal taste. We do "terihime Festival" on the stage of this place and are held.
 Finally we publicize from Kawaguchi of terihimeyaku saying "please come to right or wrong play as you will acquire exercise hard until this day". Acting everybody fixes physical condition, and please face fancy place.
(April 1, 2008 update)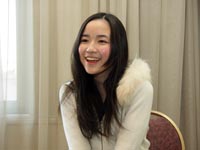 terihimeyaku, Riko Kawaguchi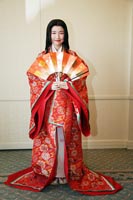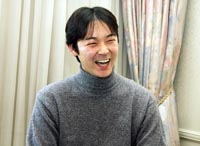 Yasushi Toyoshima passes; position, Keitaro Shino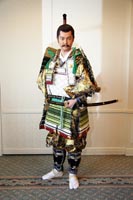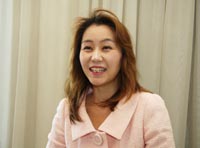 Part of wife of a nobleman, Kazuyo Igarashi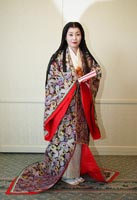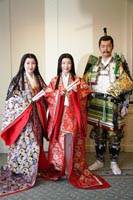 Profile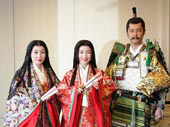 Riko Kawaguchi, Keitaro Shino, Kazuyo Igarashi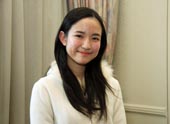 Riko Kawaguchi
It is chosen as terihimeyaku of the 21st generation. Recorder performance by audition was wonderful, too. We are living in eleventh grader, Kotake-machi from April. We belong to drama club by club activities of school.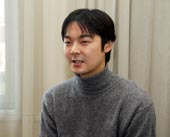 Keitaro Shino
We pass and are chosen Yasushi Toyoshima born in 1975 as position by general open call for participants for the first time. Resident office worker in ward.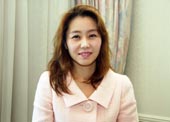 Kazuyo Igarashi
We are born in Shakujii. The president of company which spends busy days so as to say that it is on 2nd in month on Miharadai residence, holiday.