#023 "Azumino Chihiro Museum" director


Takeshi Matsumoto (waiting cause Takeshi)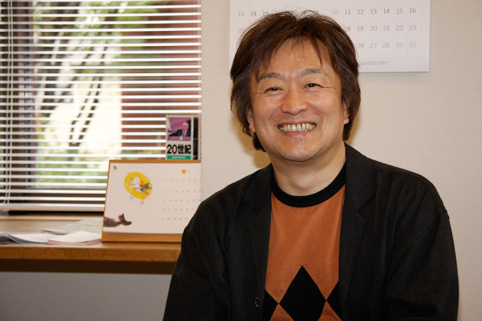 Beginning of Chihiro Museum
With doorbell and slippers
 Picture book painter Chihiro Iwasaki who gave a full-length portrait of expression and the touch of children by embrace than observation with light color of picture in watercolors. After the death of Chihiro, it is Chihiro art museum in Shimoshakujii, Nerima-ku that we remodel home and atelier saying "can come to see painting anytime", and we were established. It was only son who often appeared for painting of Chihiro this time and heard story to Takeshi Matsumoto who was Director Azumino Chihiro Museum. 
 "We said that we wanted to see picture and opened posthumous work exhibition at art gallery of Ginza after mother died as it was a lot. That creates a sensation that we do not expect. Then it is opportunity of establishment that we thought to have you watch painting with home half as art museum"
 Chihiro Museum opens in 1977. There is administration on orbit at first, or Matsumoto says that we were worried.
 "We wanted to have sense to have you come to house to play casually because it was art museum which served as home. Therefore sound with willie with doorbell, style (laugh) to have enter with slippers. It was taken up a lot in media probably because it was rare, and customers increased, too"
 Afterwards, art museum which repeated the enlargement, and became like maze was in taste, but was rebuilt six years ago because it supported earthquake-resistance strength and barrier-free.
 "We did not get a hint even if we look at any flooring, but are this when we looked at scrap woods of whiskey factory of the United States! We thought. We did not modernize all and wanted to use thing on the accumulation of human history"
 Chihiro Museum that feelings of Matsumoto breathed. We continue being loved as picture of Chihiro and space with warmth by person of generation wide even now beyond the 30th anniversary.
---
Mother Chihiro, painter Chihiro,
We were taught lot
 What kind of mother would Chihiro who was too famous as painter be usually?
 "It was very sweet mother (laugh). There is not memory that it was scolded aloud what was beaten. When mother was in atelier, my amusement place was atelier, too. She had not been told to become model, but mother always described me with sketchbook if she noticed"
 It was extremely about nature that Matsumoto brought up under the influence of such Chihiro wanted to be way of art.
 In "high school days, we considerably created poster of masterpiece. If when is enthusiastic, and show mother, is when "may leave to second-rate painter"; basari. We thought that we would never become painter (laugh). But we were often taught by mother. When I who have begun to be interested in movie and drama play talk of movie which watched proudly, "that Sheen know really well in this way". This person is interesting in spite of being mother! We talked about this a lot and came to go out. Though late teens is normally how many years apart from parent…"
 Work having been about to have Matsumoto for the first time by Chihiro in the days of junior.
 When "we regard sentence as constitution of picture book called "children in the war" which we did against a backdrop of the Vietnam War. We were glad that we had a feeling that it was treated for one portion. However, we suffered from real form from plan that we thought desperately and gave more than half a year before it was. We described again even after proofsheets exited and were valuable mother's experience to know strictness for work"
 These first parent and child collaboration has become posthumous work of Chihiro.
 About charm of picture of Chihiro,
"We think that it is picture created from place where it is not simple observation. It is revealed only to people whom sense called "we describe and divide "power that baby sucks the breast" child of ten months and 1-year-old child" holds child in its arm and brought up. We think that mother had self-confidence that man cannot describe painting like oneself" in
---
At any age "place to be able to return"
 When visit favorite place, answer called three treasures Teraike to Shakujii Park.
 In the days of "child, we caught haya, kuchiboso, surf fish of pond using tool called cell bottle or four network. In amusement place, we went all the time as place for dating in high school days"
 We seemed to be able to see Mount Fuji and Chichibu Mountains if we strolled in neighborhood of house as it was only field.
 It "being glad to go to art museum while mother with child says that it is, "we have come again". This is because it is "own place" for the person that comes many times. It becomes place that is important for child sometime soon. Chance when it knows various sense of values to meet culture for the child era. Child who had a delightful experience in art museum becomes adult and comes back by all means"
 For words of Matsumoto who wished that we wanted to become "place to be able to return" of local person, gentleness to people rose in the same way as picture of Chihiro.
(August 1, 2008 update)
Girl 1971 of red chest expectation pants
"Chihiro and world picture book painters
―Secret - of technique"
We are displaying until September 28.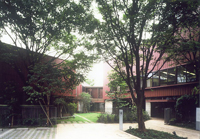 We enter at Shin-ome Kaido in alley,
In residential area
There is "Chihiro Museum, Tokyo".
(shooting: Atsushi Nakagawa Rei)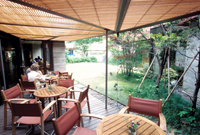 In cafe drink
We can enjoy light meal.
(shooting: Atsushi Nakagawa Rei)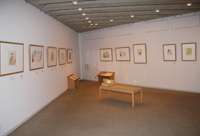 Exhibition room 1. In hall with three exhibition rooms
Multipurpose display hall, library room,
Room of child,
There is museum shop.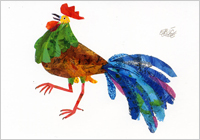 Of January, 2007
Rick Carl (the United States)
"Cock" 1985
In Chihiro Museum of Chihiro Iwasaki
Other than work of 175 29 countries of the world
As for about 16,600 points of works by painter
It stores.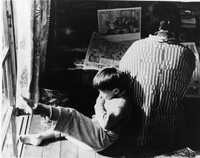 Of Chihiro and boyhood
Takeshi Matsumoto.
In home atelier.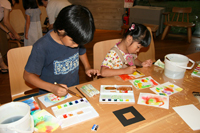 From August, 2008 to September 7
On every Sunday, child workshop is held. We make book and doll and dance together and…. Please make a reservation if you would like to participate (first-come-first-served basis).
03-3995-0612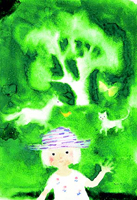 Green fantasy 1972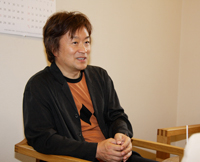 We draw thing work 9,500 points or more,
We died of cancer at the age of 55 years old
Chihiro.
"We were still young. More pictures
We would want to describe"
Words of Matsumoto who murmured this
It was impressive.
Profile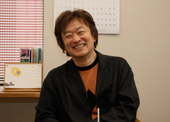 Takeshi Matsumoto (waiting cause Takeshi)
It was born in 1951. Tokyo University of the Arts art department art subject graduation. We are brought up in Shimoshakujii, Nerima-ku from 1-year-old time. We establish "Chihiro Museum, Tokyo" becoming art museum specialized in the world's first picture book in 1977. We establish "Azumino Chihiro Museum" in 1997 and take office as director. We are living in Kitaazumi-gun, Nagano now.