#025 Musashino Academia Musicae's professor


Etsuro Sano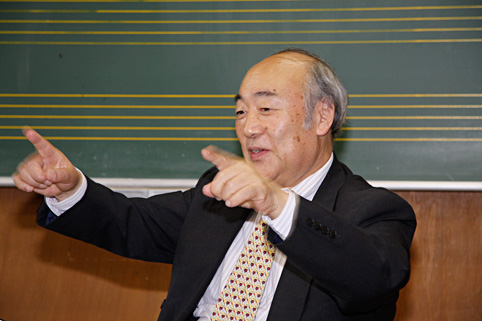 With area and classical music
As go-between
 We are loved by local person, and, for eight years, Ekoda Station north exit store society "family concert" is held this year on Friday, October 3. Place is Ekoda funeral hall. Place surrounded in solemn atmosphere usually transforms itself into hall to be able to enjoy regardless of any people regardless of age or sex only on this day. We watched story to Mr. Etsuro Sano made an effort for in preparation for concert that approached a few days later while we took birch this time in Musashino Academia Musicae.
 "Ekoda funeral hall colonized as venue, but the second floor of public bath called Asama hot water was just venue at first for 2,001 years when we began in for regional activation. Rakugo society of Musashi University performed variety hall by school festival before here, too. Afterwards, thought on the university side to want you to feel more classical music close and thought of store fair which we wanted to utilize in regional activation as there was excellent ceremony hall called funeral hall with much effort were connected, and it was in the current venue from 2003. Thereafter we take birch, but associate with me as charge"
---
We learn from Ekoda and tell in Ekoda
 Of course it is student of Musashino Academia Musicae that plays. Large and small concerts and schedule list of extension course that Musashino Academia Musicae planned is buried closely, and more than 120 times a year! Thing held in hall in Iruma campus and Ekoda campus of Music College is almost held in concert hall where Tokyo opera city, Suntory hall are up to professional standard as for the main periodical concerts. Study every day to acquire high performance technology, and receive practical examination and audition of each age; and in public performance seem to become strong while getting a lot of experience.
Saying  when "fix the eyes on own future, and do not do without big small saini relations of concert with strong spiritual strength carefully, is saying burden comes to oneself"; Mr. Sano. "But, in family concert, we play including popular music. Students who that has security called local Ekoda, and play are relaxed and seem to enjoy"
We turn idea and seem to please this year if there is, and there is opera that there is rarely opportunity to listen in good old melody! 
 In Musashino Academia Musicae, two pillars "study of music art" and "human being formation" were founded by name of Musashino music school as education policy in 1929. You are graduate of our university, too. Specialty asked about opportunity when we chose way of music as Mr. Sano to be flute.
 "Environment learning music in the postwar confusion period was not regulated well, but be charmed by sound of flute in the days of junior high student…We improve technique by "self-education and we can come across good teacher later and seem to continue up to the present day. You go round being instructed student this time, and is it laying upon?
 "Student does music parade (costume parade) and can excite street of around Ekoda Station with autumn Muses Festival (school festival) every year. Excuse me, do you say costume play? It was teacher who smiled wryly how is it thing as student?but look to turn to student was easy for strictly.
---

Performance is similar to sports?
 We spare time and, during such a busy days, seem to be practiced toward recital of your flute chamber music. We do not forget activity as one artist while being leader. Fantastic!
 When "exercise is not enough, even I am tense (laugh). But public performance does not know what there is even if we practice so much. First-class track-and-field athlete dropped baton by BEIJING OLYMPIC, and gymnast would fall from rings. Fear not to know what happens momentarily may be similar to sports"
 However, it is Mr. Sano modest forever saying "I am just member of university".
 We are born in Shizuoka, and Mr. Sano "brought up on seeing Fuji" is when "Ekoda is the second hometown". Favorite place "Mt.Fuji-shaped mound" of Asama Shrine. We like place feeling heaviness of history and seem to take a trip to various parts of Japan. In addition, bird sings in spring, and cicada chirps in summer…Oasis full of nature of, Nerima was cited in "row of trees of Senkawa-dori St.". It was poetic select only by teacher who knew everything about Ekoda (laugh).
(October 1, 2008 update)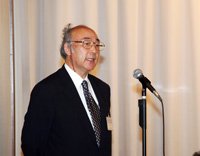 Before family concert start,
Mr. Sano who comments on music and musical instrument
(2007)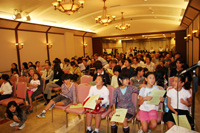 Wide age groups gathered.
Wait impatiently for performance,
Children restlessly (2007)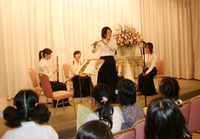 Student is relaxed on that day
We can play (2007)
As for mother with baby
Friendliness to be able to go for asking is attractive!
 Finally it is all the members of venue
We sang. (2007)
When it comes to student,
As for nature and the expression soft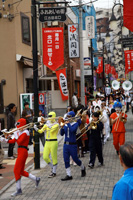 Fun of school festival, music parade.
There being dignity even if we make costume play
As Music College is raw? (laugh) (2007)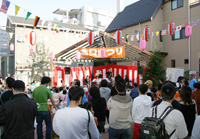 It was performed in green tract of land along Academy of Music street
"The north exit festival." As for this with mall
Tie-up plan! (2007)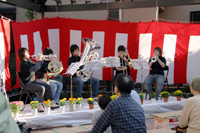 We established corrugated cardboard to beer case
Impromptu chair. Still it is wonderful
Concert venue! (2007)
Profile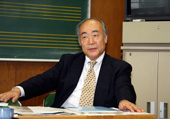 Etsuro Sano
We are from 1946, Shizuoka. Musashino Academia Musicae graduation, the non-degree graduate program completion (specialty flute). Musashino Academia Musicae's professor, performance part advisor (regional alliances business charge), association of Nihon Flute permanent post director (scientific study manager).
We release LP, CD in "Tokyo flute ensemble academy" and contribute to the spread of flute ensemble for many years. In addition, in chamber music group to preside over by oneself, we work on performance regularly.
※It is scheduled in Tokyo opera city recital hall << recital & flute chamber music >> this year on Thursday, October 23.