#026 decoy-like stores society's chairperson


Seiichi Ogawa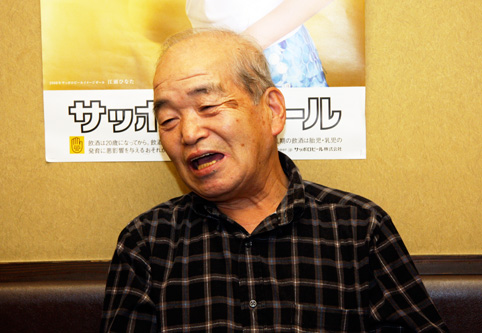 History "decoy-like store society" of 48 years
Pride of our town!
 The Cock Fair that has been got close to is opened in the Edo era in the name of "the Cock Fair" grandly this year in Arabian bird Shinto shrine of Nerima. The name to be directly across from Shinto shrine watched from thought to the Cock Fair and this of store to Seiichi Ogawa who ran greengrocery in chairpersons of "decoy-like store society" right out.
 Decoy-like store society is near, and "they are next to Arabian bird Shinto shrine and two Shinto shrines called Toshin Corporation from station. Such a specific store society is rare. Because it is in step of the Cock Fair, predecessors in the family line named, may sound of "decoy state" be easy to get close? It starts in 1960, and it is the 48th year in this year"
 Does the Cock Fair become how many people appearance in usual?
"It is around 20,000-30,000 people every year. Five stores society of the Nerima Station south exit unites including our decoy-like store society, and it is annual job that we gather in about 300 lights, everybody, and display lantern for the Cock Fair. There is part enjoying, but, as for the dead work while we do main profession called business, honesty is serious. But we believe that it leads to store and activation of town to have you go to visit Shinto shrine and try hard proudly. This is because it is not the times that only already own business should proper"
---

We served as local contribution
We aim at activation of town!
 By and the Cock Fair of person with a disability doing tsusho to "mental patient area life support center mica" from thought in "ground of comeback to normal life to people having obstacle" in decoy-like store society of oshiruko shop seem to open a store.
 "We raise money in volunteers, and it is the fifth year as community business the beginning. By the Cock Fair, crying parents come on seeing figure that impaired person sells oshiruko hard. We think that we see such a scene that it was good to carry out such an activity"
 In addition, we have you divide bamboo into the Star Festival from a certain kindness Jinushi and distribute bamboo and strip of paper to local elementary schools and set about 50 Star Festival decorations at mall.
 "It is fun while dreaming of child if we walk mall"
We seem to have mica help then. When person who can do it does what he/she can do and heaps up area, it is fantastic.
 It is pushed forward currently the underground of telephone pole around Shinto shrine becoming, and telephone pole of downtown is going to disappear from ground two years later. When the appearance of town greatly changes, we invite turning point of 50 years to decoy-like store party.
---

Store and Shinto shrine catch hand,
Holding including 8th fair!
 As for the stone Buddha of Healing dedicated to by Arabian bird Shinto shrine, many people come for worship saying "it works for all sorts of disease". In fact, as is blessed with pulling in customers relatively as this store society, location are good, "must let activate in unison"; though give toiutokoromade, motivation of all the members, seem to have a hard time. Plan that beat the brains for for regional activation through the dilemma together "fair on 8th." It is full of stable popularity every month on 8 days (8th, 18th, 28th) to arrive although being irregular.…However, is it with here these days that event in Shinto shrine became able to promote to here?
 "It was hard to borrow the precincts, but as a result of spending time, and having built relationship of mutual trust, there came to be various events first. It is the best that Shinto shrine has store cooperates, and visitor come. Originally the only play at night that child is not scolded as for the festivals such as cities. If children gather in the precincts, it is suitable amusement place. Why don't you do "picture-story show" now in the precincts of the Cock Fair in store society? What plan is given, too. We have you read if you buy cheap candy of picture-story show person in the old days…Though it was tacit rule that says this, today's mothers do not know that. Even if picture-story show comes, we wait to begin forever without buying cake. Uncle who ran out of numbness "does not begin if he does not buy!" We say how (laugh). As neither that nor this did shopping in meeting, we do not know way of buying, how to play. We dig there up and want to connect traditional good custom to the next generation"
 There is the Cock Fair of this year until the third Cock Fair Day in November of November 5, 17 and 29. The Cock Fair made up by hand of people, please go to visit!
(November 4, 2008 update)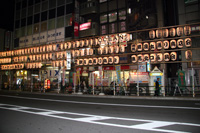 When November begins; in Senkawa-dori St.
Lantern is displayed,
Feeling to "be the Cock Fair soon!"
It swells at a stretch.
Of the day of the Cock Fair
Entrance of Nerima Arabian bird Shinto shrine.
A person's comings and goings are great.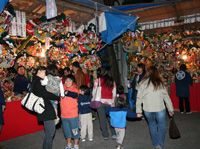 Colorful rake.
"Busy" "bolts" fortune
It is lucky charm made this.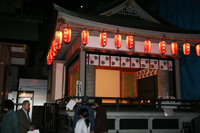 On day of the Cock Fair,
Kagura is open him
Enlarged rooms on the second floor are dedicated.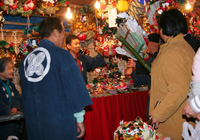 Large and small rakes
It is sold.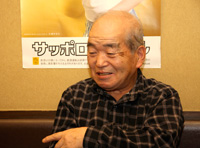 Decoy-like store society,
With Chairperson Ogawa who is gentle with carefulness
Energetic vice-chairpersons
We work together and advance!
Profile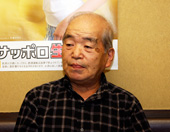 Seiichi Ogawa
Decoy-like store society's chairperson. Representative of brook store. Only for man of influence who looked around the postwar Cock Fair golden age, grief is much more in consumers trend without recent conversation, too. Place to be full of store society and people and love to town, and to like "yo" and around Nerima Station called out to (laugh).