#027 bookends temple 40th chief priests


Chikafumi Kitami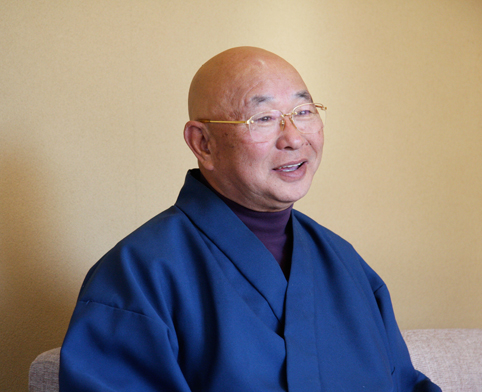 History made "rag city of Seki"
"Handmade city!"
 For two days of December 9 and 10, annual "rag city of Seki" is held in bookends temple of Sekicho. This rag City known as one of the best cities in Tokyo remembered anniversary of the death of Nichiren saint originally in Nichiren sect "law Kakayama bookends temple", and city came to stand for Buddhist memorial service of Buddhist memorial service (we finish and spread) in total now. Surprisingly, the first city spreads out for more than about 270 years in the age of an emperor year (the 1730s) when is in the middle of the Edo era! It was enrolled in Nerima-ku intangible folk cultural properties in 1990.
 We heard story from Chikafumi Kitami of the bookends temple 40th chief priest.
 On "the night of 9th for the first day, many lamps line parades around about 1km from Musashiseki Station south exit mall to the precincts of bookends temple. People dressed in happi coat with bell and drum please eyes of visitors mainly on about 30 flower many lamps with swag and illumination and fireman's standard (fireman's standard) to long umbrella. It was dark because we turned on candle of flower many lamps in the old days, but is beautiful in illumination now. Past 7:00 at night comes to have a lot of mountains by sound and light" 
 How are the chief priest looking at rag city for 60 years, old state one?
 "We distributed lunch and distribution of boiled rice to people of many lamps line after the end of the war. We make rice cake for various places and one week of platform believer and fill pipe of bamboo of half of the length and do in kamaboko type and we paint red and yellow and provide votive offering and. Though there was not thing, and it was the great time that we obtained rice, it was not revealed how father made shift, but continued. It is the times when we had feeling "that you must have" very much. As liquor is served abundantly at store of mall person of many lamps line got drunk and does not seem to have had possibilities to walk till the last" (laugh)
 People knew importance that they shared simply because it was after the war and was the times that I ran out of of supplies.
As "children do not go to study dokorojanai, all school before the war when city stands (laugh). So it was closed naturally only for two days"
 Rag city where downtown swelled was filled with sense of fun and warmth, and both adult and child meandered.
---
Kick, religion go around Buddhism?
 It seems to be "work of art which several women hold in their arm alternately without laying aside when you must not do this brain in father and mother reason, zeppeki which wanted to do me to Buddhist priest and built up" while patting perfectly round head easily so as to be wonderful.
 While mountain is full of the Flower Festival on April 8 same as Buddha on chief priest who caught life to Buddhist priest if possible, what birthday. It seems to have been hard to be often different from general family for the child era even if funny now saying it was saying "it is fate".
 "We sat down on the main hall of a Buddhist temple which it was dark, and was cold from 5 years old and were reading sutra. State that beautiful voice like bush warbler was destroyed by result that we read too much and tells in (laugh) and husky voice is like comic storyteller at all brightly. Sense of fun…The heart seems to be valued, and it is solemn, and will the chief priest dispel "image of priest" to be quiet boldly, too?
 While friend has fun of Bon festival dance in summer vacation of primary schoolchild, it is studied sutra-chanting while thinking that it is enviable…. As for the funny episode that baptism was recommended to in the eagerness though went to Sunday school of church nearby in no ichishin which "never wanted to become Buddhist priest!" (laugh). We entered the Self-Defense Forces, and, after the graduation from high school, experience of parttimer who became university student, and began seemed to become big turning point of the life after two years.
 "We continued pickup and drop-off of inconvenient child of hands and feet for one and a half years. Body is inconvenience, but there is child saying impertinence towards driver in in brain being steady. Therefore all the working students left, but it has been told me, "we cannot get money without sweating" since childhood
 After all, major in Shinto for one feeling not to want to become Buddhist priest (laugh), and, at university where entered, evade way to Buddhist priest as requested; and to office worker. We made use of lesson by part-time job and, for faith called "job that current I was given that we repeated efforts while we were sleeping, that we broke a sweat and were open hard and walked of people", carried out speed success in life. Build home, all is the wind….
 However, we suffered from disease in 1980 and followed after older brother passed away and seemed to be ready to take the chief priest.
---
There is no discrimination in religion!
Role of my town, bookends temple
 "Of course it was objected to wife in those days in company because we became officer"
 But this life "is not worth continuing turning the back on temple which parents protected desperately after the end of the war? We thought carefully, and oneself seemed to make up the mind to protect if we entrusted you to real another person. And it is ten years ago that we spend enormous money after becoming the chief priest and rebuilt in all-cypress bath.
 We say that the chief priest hangs life in "having heart to forgive people" "living to oneself honestly" "regarding life as important" this and wants to tell.
 "We are originally caught with religion when people demanded the help from something. It is temple that takes down heavy thing which person who came for prayer held in heart. In that way we are thankful if he/she thinks, "we cheer up again from tomorrow, and let's do our best". Rag city is so, too. Father giving pocket money to child seems to be father most. Child is full of life to buy what. Local PTA cooperates and makes shop. Even if even adult becomes stupid in city which we made up for around two days, it is not good that people gather in this way"
 Rag city of this year is what 727th Buddhist memorial service! Stall of nearly 330 is anticipated city, and whole family should be able to share pleasant thought!
(December 1, 2008 update)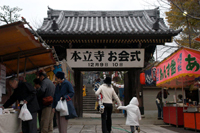 Entrance of the precincts
Sumi drawing nohokkorishita
Notice poster. Pretty!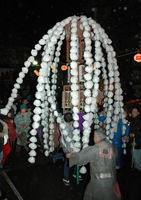 Flower many lamps shake elegantly,
We heap up city.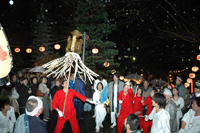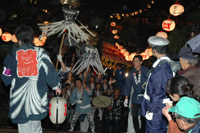 Older brother dressed in happi coat turns fireman's standard,
inasedane!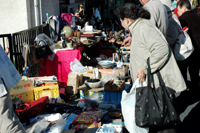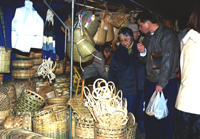 Cities from the Edo era to prewar days,
Such as clothing and agricultural machinery, colander or pail
Life article, New Year holidays article
It was place that had selling buying.

In the rag city of this year
There are many stalls.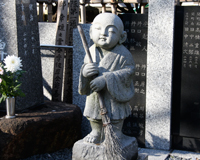 We stand still on the main hall of a Buddhist temple this side
Cleaning boy priest.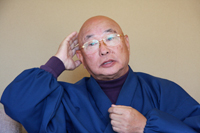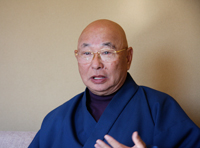 Earnest face,
As for the faces which clowned a little bit,
You were able to show many expressions.
It is the very human chief priest!
Profile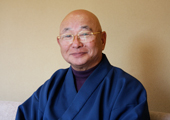 Chikafumi Kitami
In 1937, we are born as inheritor of bookends temple. After experiencing office worker, we become the bookends temple 40th chief priest carving with history of 350 years from 1980. We show inborn challenge mind and acquire steering first class ship qualification at tractor-trailer, 68 years old at 66 years old. Musashiseki Park where dream of the child era was jam-packed in the favorite place.