#029 "La Mori" owner chef


Akinobu Mori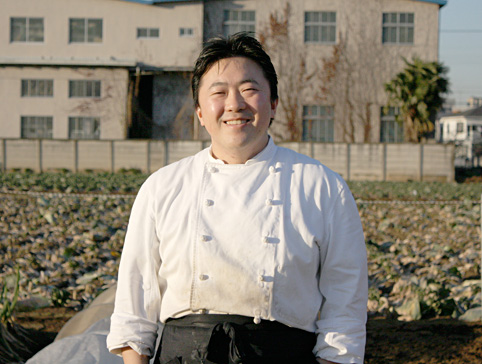 On relationship and possibility,
We move to urban oasis!
 Local vegetables are reviewed now. We asked chef owner Akinobu Mori of European restaurant "La Mori" of Oizumi-machi that attracted many fans with dishes which we used local vegetables for abundantly. 
 Reason that Hoya seemed to have shop before, moved to Oizumi?
 It "is opportunity that it had Shiraishi farm with acquaintance call out from shop of Hoya, but it is, after all, this location that became clincher. There is not very often opportunity when shop is built only in this with 23 wards near field when farmland decreases more and more. There was the distance or commercial worry from station, but hung head in change, relationship and possibility when "there is again if it was the station square"
 That hit the mark wonderfully (laugh). Please tell charm of local vegetables.
 "It is taste in the freshness and inexpensiveness, front of it. If acquaintance with hometown becomes dense, that can grasp these vegetables to place that who made. We feel safe that it is big charm for side to provide that sees face of builder for customer. We do not use special thing expressly and get near, fresh material…. This is big. We are glad if customer can understand that vegetables which we usually use commonly are so delicious"
---

We "always" eat "now" more
We want to convey the seasonal richness
 Nerima is famous for daikon, but seems to lay emphasis on cultivation of strawberry recently.
 "Yes. But we attach a word as there are many customers who do not know unexpectedly when we provide if it is when "this is strawberry of Minamioizumi". Then inquiry comes when we return "where can we buy?". If customer goes to visit the farmhouse, it leads to worth doing for farmer and us. We think that our store becomes dispatch source in this way, and it should be possible for one economic cycle"
 Do you serve all vegetables in the ground ground?
 "No, (laugh). Conversely vegetables which we can eat anytime not being in season. We buy necessary thing like tomato by all means, but that using seasonal vegetables which are "just" produced is policy of shop basically. But I am not particular only about vegetables. We think that we want you to taste vegetables original taste, but meat and fish are necessary to draw the taste. Including flavor of soup stock flowing from them, we finish as one cooking"
---
"We do not play with" is Mori style!
The professional skill shines for straight pitch game
 Characteristic of material is made use of in the good volume and dynamic arrangement as obedient taste of dishes well.
 "This is my style. For how to eat vegetables, we sew spinach and broccoli to mousse, and "this green will be what" for customer We hark back to this and think that there are various kinds of technique that we remind of only after being able to enter entrance. But I chose method to show material itself. Seemingly we can say that we are not elaborately prepared (laugh), but want you to taste vegetables original texture and sweetness than we change form of vegetables and play with originality. yonishitemasu which we devise, but "do not play with as much as possible" if we say daringly unlike family including how to cut and way of boiling. Is that not meaning that moved expressly near the farm?"
 Front plays in material without making a show of eccentricity! Natural posture, the professional skill therefore not to cut corners in will shine.
 Mori who is busy so as not to have time to catch cold for busy season. The secret of health? To ask of this,
 "We do not hang stress. We do not overdo it. We do that we want to do it (laugh). One is made with homemade ham in studio of Akita.
"Product performs this time period, rest from December through February for the training every year. We say, and it is refreshed to go out daringly and is connected in new inspiration in this way. But I was usually often in kitchen of shop on holiday and seemed to provide one's own shelf the other day when easy to work more.
 Mori who records new breath on shop and dishes today to have you enjoy without getting tired of customer. We look forward to the completion of ham which we fitted!
(February 2, 2009 update)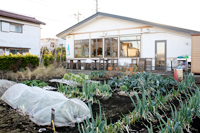 Restaurant La Mori of location watched in field.
The current time, fresh and juicy Chinese cabbage
Of green onion sweet thickly let be; Saga
We can enjoy!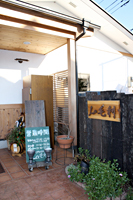 Entrance of shop.
In floor and back of signboard,
Of railroad tie of railroad which we ordered from foreign country
We use scrap woods. In shop which is new with old thing
Sense to make use of is characteristic.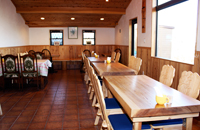 We regained stillness
The shop after lunchtime.
Here is always full!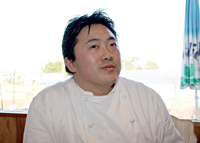 Like dishes,
Mori of style of reciting loving with simplicity.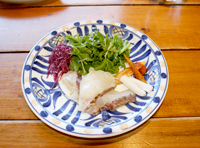 Lunch appetizer, pasta main
We are available from 3-5 kinds each.
This is smoked appetizer, red sea bream.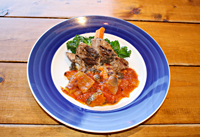 Sauteed main pork.
Of meat and tomato juicy well
Taste crowded sauce fits!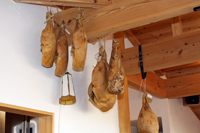 Homemade ham learned in Akita,
It is delicious to fat.
Profile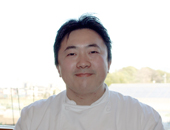 Akinobu Mori
We are from Nakano-ku, Tokyo. As owner chef of the Tokyo's first farm restaurant, we open "La Mori" in front of Hoya Station in May, 2000. We move to Oizumi-machi with Shiraishi farm in August, 2007. We have a good reputation for dishes utilized material and are going to serve lecturer of TOKYO GAS kitchen land Hikarigaoka sponsorship "healthy dishes which body is pleased" with classroom on Sunday, March 8.
[La Mori homepage]