#031 Hikawa Shrine parishioner


Shigeru Kazamatsuri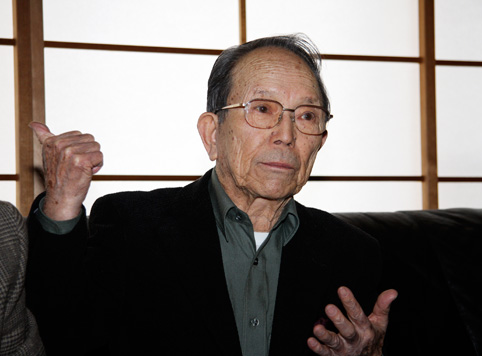 "Dance of crane" once in three years
Art career of dance more than 70 years!
 In Hikawa Shrine where spring festival is held in April, "dance of crane" and "shinyotogo" to pray for descendant prosperity, rich harvest are performed every year once in three years. Both are appointed in intangible folk cultural properties of Nerima-ku. We just asked the friend with Shigeru Kazamatsuri who had been engaged as parishioner for many years prior to festival this year on the year.
 Kazamatsuri is hale and hearty this year that the eighty-eighth birthday seems to be reached in December, but that the back grows straight and does not think of to be the most elder! We participate in festival as parishioner from 16 years old, and it is art career of dance more than 70 years. 
 At first, please tell about "shinyotogo".
 "shinyotogo" "is "homecoming" event to do to "Hamai door" that mikoshi with object of worship is considered to be the Hikawa Shrine birthplace. Led by more than ten Kazamatsuri and others Miyajuku (miyajiku) who wore crested kimono formal Japanese wear, we parade around song of journey by line nearly 80 in all from young people to elder along the Shakujii River while singing. "sakakibanya…Though it is song beginning in ", it is fixed by place that five lyrics pass. Therefore return sings in order of reverse"
 How and where does "dance of crane" dance?
 When "we arrived in Hamai door, we perform. Kobayashi dances dance of crane at position of male crane, crane female Toyoshima on behalf of me now. It is heavy, and step feels dizzy because we put on crown of crane made of Japanese paper as footwear is clog. We lift hem of haori with both hands, and shine pitter-patter and do gesture of mating finally. Prosperity is descendant"
---
Any material is not left…?
Opportunity of the "dance of crane" succession
 Journey song was the difficult lyric, but it was said, "eyes are destroyed" when we left for letter and seemed to have been told by oral tradition until now. Indeed then you are cut off, and do you change?…We made up our mind, and Shino who felt uneasy about this seemed to start writing saying "eei, eyes may be destroyed!".
 Any material is not left…It is one brochure that showed while we say this. In 1992, dance of crane is introduced by thing at the time of event called "folk entertainment in and island".
 "This event came to be interviewed from various places in opportunity. We arranged little by little and came to record until now as we did not leave materials. As I retire, we must leave such a thing"
 Kazamatsuri who showed jar of journey song. When is surprised in novino good point according to the voice, "hobby is karaoke. We always strengthen throat (laugh). We like singing new song in one of enka ballad quickly"
Favorite shop?
 "Shop which can sing or shop where girl is is good (laugh). If ward is inner, Ikebukuro often goes to "the 19th hole" of Ekoda in something like garden, for younger days, beautiful dokoroohaberasete seemed to develop gorgeous banquet, but the spirit seem to be in good health still more! We asked friend about hobby.
Toyoshima "like hot water of garden. Open-air bath while we enjoy flower is good. Of course we like karaoke, too. We just went with Kazamatsuri the other day" (laugh)
Shino is "Shimizuyama Ikoinomori" which "is famous for dogtooth violet which went with old man in the old days. We may go with child now"
Aeolus Festival (Kikuo) "Johoku-Chuo Park which goes for walking 1 times in two days. We walk while feeling sense of the seasons"
 We had clean comment that set off each other well (laugh). These the good and the evil? Good teamwork to have both will be a local support to have let festival succeed for long term.
 Even if "this member does not say that I do that, and I do this anymore, we are left in peace because it is revealed and moves. In thought that we want to leave old thing which wants to contribute to Hikawa Shrine as parishioner for in history, we still protect dance of crane"
 As for the festival of April 12, solid mikoshi made of oaks is sight. As dance of crane is short dance to be carried out calmly, without passing over!
(April 1, 2009 update)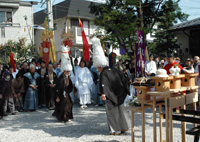 State (with Hamai door) of "dance of crane"
Crown of crane having red obi
It is mark of female crane.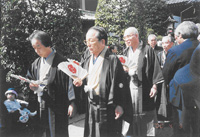 It looks like we sing journey song of shinyotogo.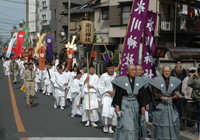 White clothing leading to Miyajuku,
It is called "swan".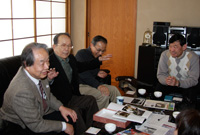 If reliable friends gather,
The place is surrounded immediately to laugh.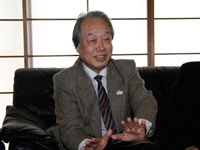 Brightly dance secret story of crane
Riki Toyoshima whom we tell.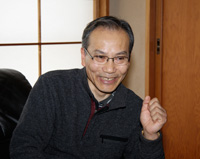 We raised the lyrics of journey song
There is courage? Shino Minoru.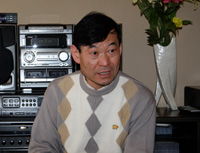 Soft style of reciting-like Kikuo Kazamatsuri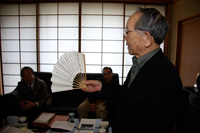 Shigeru Kazamatsuri who sings journey song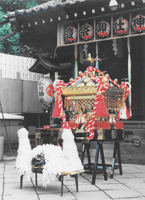 We were made with oak,
Mikoshi which is solid with bloom.
Crown of this side male and female cranes
We are placed.
Profile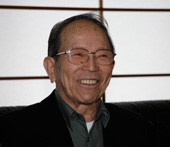 Shigeru Kazamatsuri
87 years old from December 12, 1923, Hikawadai, Nerima-ku. Is engaged in dance dedication of crane from 16 years old as parishioner of local Hikawa Shrine, of festival play a central role. Hobby is karaoke. Owner of challenge mind to stock new song with enka ballad by all means.