#032 art land representative directors


Noboru Ishiguro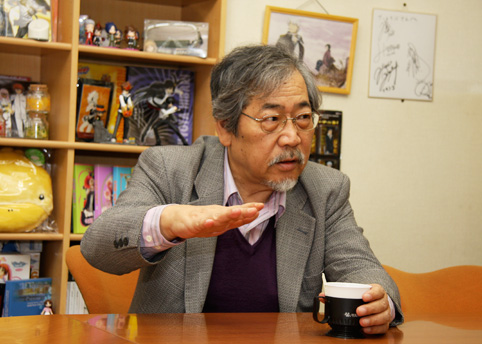 Japan and Taiwan interchange that dam construction joins together
"It is Patten rye movie!" First run
 From
insect production
(the following, insect pro) setting up the head office in Fujimidai, Nerima-ku on Friday, May 8, "it is
Patten rye
long piece animation movie!" But, we are released. Masterpiece which was based on true story which accomplished construction of dam with faith that this movie was Taiwan of the Japanese territory times, and one Japanese engineer called Yoichi Hatta (hattayoichi) was strong!
 Prior to the screening, we asked Noboru Ishiguro of supervision about thought to movie.
 "Patten rye!" What do you mean with this?
 "Write "Rai Hatta" by Taiwanese; and "Patten rye!" We read this. Point at Yoichi Hatta of main character; and "Hatta came!" Meaning called this. At first, (laugh) that serious title was attached, but we wanted to make one with impact more, and I had you turn into this title"
 Please tell the highlight of this movie right out.
 "There was Japanese whom we accomplished with pure passion to mend dam for "people" in the early days of the Showa era! At first, we want to convey this fact. We said that human being was simple or likes and dislikes became clear and were obedient in old days. Actually, Taiwanese people were cautious of Hatta first, but we were moved by his serious enthusiasm and good faith, and "Patten rye" and name changed to gradually warm thing from aversive sound, too. In addition, we feel that wise decision of Japanese Government which provided budget for magnificent plan not to know whether you succeed either is fantastic!"
---
In "all night entertainment area of Nerima"
We learned the basics of animation
 "Patten rye!" Hot thing was handed down so that some said that we sobbed by preview from venue. You think that work to inspire long piece animation with soul is not easy at all, but please tell opportunity when Director Ishiguro entered the world of animation and movie.
 "I love comics and movie and that grows on and goes to film school of Nihon Univ. art department for seven years (laugh). As it was fan of Mr. Osamu Tezuka, 1-2 times went out to insect professional to play from all over the attendance at school in week. Fujimidai at the time is kaleyard of one side! There was no rotation and was able to look around far. As animator of 300 worked for 24 hours for hit product "Astro Boy" production in insect pros, only there was bright even at night, and "all night entertainment area of Nerima" was called
 The movie world reached the depressed times and was job shortage, but only animation world seemed to be exception in those days. Director Ishiguro selected employment as subcontract company of "Astro Boy" production after the graduation.
 "We were just endowed very much in timing if we thought. Wisdom to cut corners in worked at that time without dropping quality how there was early because we handled work at a high pace called one TV animation in week (laugh). As that is connected directly with security of sleeping hours, it is earnest. For example, it was serious work load, but it was said with "wave glass", and we moved glass which waved in front of lens of camera and provided feel of a material that air shook when we just made the situation that smoke of cigarette shook cel
 This technique seems to be inherited as basic technique of Japanese TV animation now.
---
Animation discussion that was overheated,
We sublimate in work!
 "We hold own studio to Nukui and, several years later, came to produce, but we have no around as well as Fujimidai and are pitch-black at night. We are hungry in those days as there is not convenience store when we work until midnight. So what happened, to kaleyard (laugh). To farmhouse where the staff bands together when we say that it is, "we want to eat beef steak today", and cow is…"
 Is it incredible true story? Is it true joke? It seems to be true until descent of cabbage somehow (laugh).
 "Have a spree with friend every night. Somebody almost always begins quarrel of fight soon, but can forgive and forget in that if it is possible for good work. It is not managed with calculation with "manufacturing", and there is after all if tears, hot thought match sweat. We may feel that some temperature is not enough to today's young animators"
 Words to overflow without stopping prospect from Director Ishiguro of this way ray 45 years. In the end-to-end "Patten rye!" It is many feelings and atsu loaded this with! But, it was handed down.
 In May 8,
Sine mart Shinjuku
of special first-run showing "Patten rye!" This is work that beauty of picture which made full use of reality based on historical fact and animation technology, warmth including interchange of mind of human faith and people drifting to the root again are felt.
(April 28, 2009 update)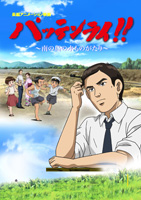 © Patten rye! Production Committee
Northern country newspaper publisher, insect production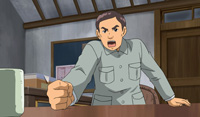 © Patten rye! Production Committee
Northern country newspaper publisher, insect production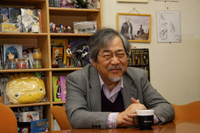 Director Ishiguro when we speak old heroic episode
In slightly mischievous expression.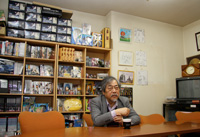 Meeting room of art land.
As is expected! Comics, DVD of work
To ceiling including figure skating
It is accumulated.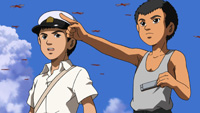 Of January, 2007
© Patten rye! Production Committee
Northern country newspaper publisher, insect production
Boy, ei* to civil engineer,
When Susumu wants to become pilot
We talk about dream.
Of opening up the life single-mindedly
For movie this as for the splendor
It is included.
Profile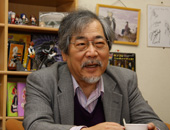 Noboru Ishiguro
It was born in Tokyo for 1,938 years. Nihon University art department film school graduation. Representative director of plan, production company art land of animation. Restaurant of Senkawa-dori St. where place of memory knew taste of pizza for the first time in Nerima-ku for the animator era.