#033 Mt.Fuji-shaped mound tour guides, artist


Yoko Arisaka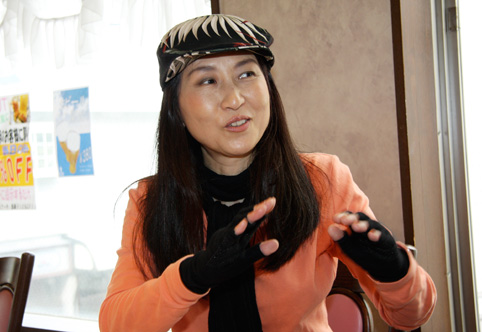 We stand still quietly in hometown
Core way of enjoying Mt.Fuji-shaped mound


 July 1 is opening of the mountaineering season of Mount Fuji. We asked Yoko Arisaka who sent the charm visiting "Mt.Fuji-shaped mound" of various places throughout Kanto in imitation of Mount Fuji the climax of faith.
 Fun which overflowed that it looks Arisaka who put on hunting cap hat in dapperness for long hair likes Mount Fuji, and unbearable. It is "lower Nerima Fuji" where mall that is close from the Tobu-Nerima Station south exit is along that asked for guide this time.
 We climb indeed agile Arisaka, sassa and hill of Fuji.
 "Various scales and types are in Mt.Fuji-shaped mound, and care is good at all on middle scale here. Mt.Fuji-shaped mound was prepared into each place after the Edo era, but descendant of faith group called "Fuji scheme" is staying and it still continues and takes care of Mt.Fuji-shaped mound. When we are dissolved, parishioner and Miyaji of the Shinto shrine will care for"
 Mt.Fuji-shaped mound of each place is introduced by "mystery of neighborhood Mount Fuji" that we published in December, 2008 from unique viewpoint. "We think that you may know even if you look at Mt.Fuji-shaped mound at point of view unlike story of scholar. The person is fun; and to, Arisaka. Actually, we say that there is new discovery each time no matter how much we go to visit.
 In "lower Nerima Fuji, we like stone statue of this monkey. Do you look very human? Though it has not gone, it is interesting to be able to image stone statue of Bali. But we found rock shaped like a noble's headgear here recently really it is like treasure hunt it is interesting shin -♪"
 "There is what's called fabric in Mt.Fuji-shaped mound, and, at first, conically-shaped slope where we piled soil is necessary. It is mountain. Not to be good, but to bring close to genuine article more now, in top with soil of Mount Fuji is so. We acquire mountain trail and moderation next, and base of Mount Fuji is completed"
 "It becomes official Mt.Fuji-shaped mound only after four parts being prepared elsewhere. At first, in top "deepest-placed shrine." And around the seventh stage "rock shaped like a noble's headgear" on the right side of the fifth stage "small shrine of small Ontake Shrine or monument." Furthermore, it is perfect if there are any caves as "the interior of the womb" on the right side of foot of a mountain! Kakugyo Hasegawa considered to be initiator is said to be hole where we stayed for ascetic practices here"
 In lower Nerima Fuji…There was stone statue of bishop in substitution for the interior of the womb, and it was unique, but all parts were prepared! When there is slight back ground, way of enjoying fushitsukatohai spreads remarkably!
---

Art is Fuji only now, too
Be called together in power of Fuji
 Arisaka who is known as Mt.Fuji-shaped mound tour guide has face as artist. After the graduation from university, we go to the United States for art activity. We seemed to deal with bold performance including body painting.
 "It was called earth work such as picture of Nazca above the ground, or there was thinking to want to make awfully big thing all the time. We had you please "to have been able to visit a shrine for a new year in this!" once when there was party in the United States staying in in the Japanese-descent New Year and made torii for people who could not go there back to Japan. We noticed, "we can reproduce true feeling through form" then. You may say that it is concept. This discovery matched idea of Mt.Fuji-shaped mound among me suddenly. Thereafter (laugh) only in Mount Fuji in making"
 Twice past in what climbed true Mount Fuji. At midnight, we seemed to have an impressive experience twice. Star of the sky getting off suddenly to eye-level, and having begun to twinkle. In addition, feeling, "there is not the world" when we were able to see the pitch-black crater over window from mountain hut of top, and having got goose bumps. After all, Arisaka says that we cannot but feel that there is spiritual power in Mount Fuji.
 "We want to do that there is only to oneself even if we do for visiting Mt.Fuji-shaped mound even if we make art. It is pleased with discovery for oneself and expressing…How. Oh, possibly is it moved by power of Fuji? " (laugh)
(June 1, 2009 update)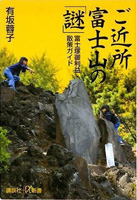 We can enjoy Mt.Fuji-shaped mound in unique viewpoint
"Mystery of neighborhood Mount Fuji"
Kodansha +α new book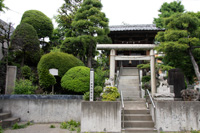 Lower Nerima Fuji
(Asama Shrine: 2-41-2, Kitamachi)
The left side of torii was thick
The back of shrubbery is Mt.Fuji-shaped mound.
We can receive climb anytime.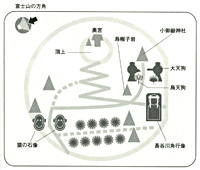 Layout of lower Nerima Fuji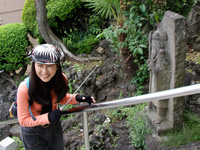 In the old days, carry lava of Mount Fuji
We made Mt.Fuji-shaped mound.
Stick to play when we lecture
As the tip becomes magnet,
Only in lava including iron content
Close together!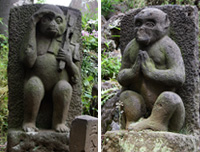 Stone statue of twin monkey.
Both are slightly humorous like human being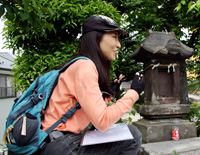 Well-kept
In Mt.Fuji-shaped mound
When refreshing wind blows
We are said.
In deepest-placed shrine of top saa ... and such a wind
It blew.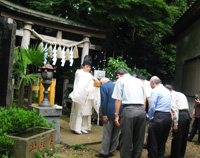 Ekoda Fuji
(field of cogon grass Asama Shrine: 1-59-2, Kotakecho)
tohai three times a year. It is the weekend of the second week in first three days of a new year, July 1 of opening of the mountaineering season, September with annual festival for New Year holidays.
(shooting: Yoko Arisaka)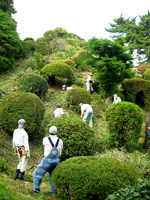 Fuji Oizumi
(Yasaka-jinja Shrine: 1-44-1, Oizumimachi)
We can receive climb anytime.
(shooting: Yoko Arisaka)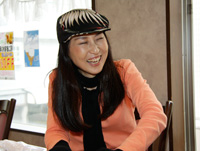 If we talk about Mt.Fuji-shaped mound,
Just just smile spills♪
Profile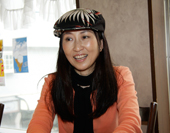 Yoko Arisaka
Artist. Sakuradai, Nerima-ku native place, the Oizumi breeding. Tokyo art University art department picture department oil painting specialty graduation. During stay of 12 years in the United States, we perform much art performances including private exhibition and group exhibition. We start visiting Mt.Fuji-shaped mound in 1998 and start production of work which assumed Mount Fuji motif. We study Mt.Fuji-shaped mound in original viewpoint, and visiting Mt.Fuji-shaped mound tour plans energetically, too. We arise sympathy from enthusiast. Fuji Oizumi that favorite place got close from the child era.
●Blog "[Mt.Fuji-shaped mound diary] of cotton rose hermitage" of Yoko Arisaka
●Mt.Fuji-shaped mound tour now being held (PDF)