#034 dentists


Masao Takamura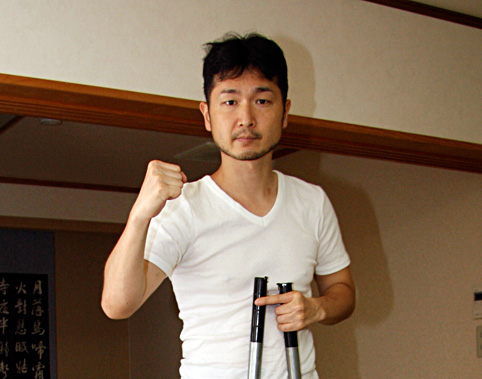 The best bamboo stilts speed in Japan!
The real face was dentist
 Fast! By TV show which we watched accidentally, man runs through on bamboo stilts like a brick…It was picture which wanted to suspect whether you forwarded for a moment. If the Japanese record holder of 30m5.1 second hears that it is dentist living in what Nerima-ku, we cannot but go to meet?
 When would bamboo stilts be begun at?
"It was recommended to father at the age of around 5 years old and began. We got on between primary schoolchild all the time. But it was far with bamboo stilts all the time as we did trombone in basketball department, high school at junior high school"
I see, it is common pattern to here.
 It would be what with opportunity that came to be carried on bamboo stilts again.
In "programs of "muscle ranking" of TBS, there is plan to conquer obstacle course with bamboo stilts called Bamboo Derby at the age of 24. We felt quite good myself and applied"
 Well, the full-scale bamboo stilts life of Mr. Takamura begins to change from here.
 Afterwards, request for appearance came to come from program of other stations while it was reflected on muscle ranking several times. While we meet demand, bamboo stilts waza increases more and more and says that this and that 13 years pass.
 All the meetings that we participated in although it originates in Kyoto, and the second was absent are championships "they are good at horse national convention" from 2002! Now with self-record of 30m5.1 second fight.
---
We see original exercise of wonder!
Bamboo stilts waza is born in this way
 Bamboo stilts population can never say that there is many, but will practice what kind of but to hold Nihonichi.
"Twice a week as for the training. Muscle should let you take a rest to some extent, too"
 Surprisingly, because training room for exclusive use of Takamura was in home, we showed. 20 kg of original grip machines or bamboo stilts, barbell or sandbag for training of one 10 kg are prepared.
 Even if adult male grasps this grip machine with both hands as hard as possible, do you move twitchily? We hide bottomless power because we move with one hand lightly though we cannot imagine that from figure of Mr. Takamura.  Furthermore, big rope is hung from the fourth floor in colonnade to the second floor and seems to climb here only by arm.
Not only "we acquire grip, but also this can strengthen various muscles"
 Thanks to such a training, we cross the high jump and balance beam with bamboo stilts in response to demand of asking the impossible from TV show and handle even anything to hula-hoop. It is power of toes to be indispensable to handle the skill with bamboo stilts. We mix with thumb and forefinger of foot across walnut, and many great episodes to talk about with easygoing expression cannot but already laugh (laugh).
---
We want to spread bamboo stilts in children
Dream is association of bamboo stilts establishment!
 Class V6's experience of bamboo stilts including Junichi Okada and world nabeatsu is abundant until now. Speaking of bamboo stilts, it is Mr. Takamura in television! It seems to considerably penetrate to say this.
As "we are quite lowbrow we look forward to being able to meet (laugh) toward the entertainer through bamboo stilts"
 One which it was martial artist fan, and was the gladdest having been able to encounter Nobuhiko Takada of professional wrestling. As we aim when we really like and want to work as the eldest son on the same birthday (laugh), and it is said that it was just like it, is this heroic episode, too?
 That go to elementary school to tell bamboo stilts; seem to be worked.
 "Bamboo stilts have pleasure that parent makes for child and pleasure to tell. There are joy to have you make child and pleasure to be carried. But we think that enjoying spreads more if we have you do not finish going astray if you can get on and are interested in acrobatics that I do and challenge"
 Bamboo stilts population should increase from now on.
 "Yes, we want to establish association sometime soon as bamboo stilts do not have association yet. Competition is held only in Kyoto, but wants to open now if we unify even rules as it is problem of record whether it is with Kanto meeting, or it is Tohoku meeting"
(July 1, 2009 update)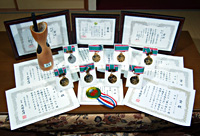 Many great medal and testimonials
(Takamura offer)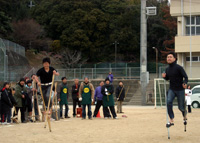 It is held every year in Kyoto
"We are good at horse national convention"
(Takamura offer)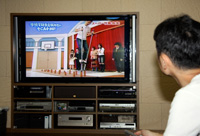 A large number of living-room gigs!
Mr. Takamura is treasure house of bamboo stilts waza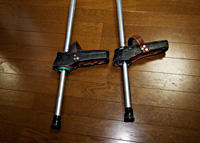 Do not move foot topping stand with bolt
We can run fast when we fix.
Ready-made bamboo stilts
We remodel by yourself and use.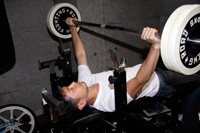 In home training room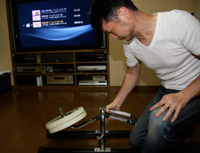 Grip of wonder!
We grasp weight of 20 kg and lift.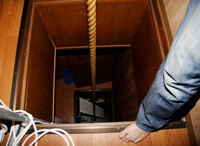 From the fourth floor to the second floor
Rope which was able to hang in colonnade.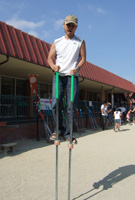 Bamboo stilts Japanese record maintenance of step 4m!
Height like this is thing of hand.
(Takamura offer)
With one hand bamboo stilts,
It is hug & peace with one hand.
Place favorite in Nerima-ku,
Shakujii Park.
Green is rich, in education environment of child
It is with the best. (Takamura offer)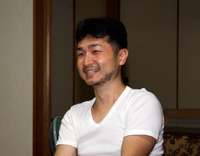 Of Mr. Takamura aloof from worldly matters
Rare smile shot!
Profile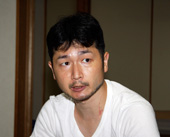 Masao Takamura
It was born in Kodaira-shi for 1,971 years. After graduating from dental college, we acquire ascetic practices of dentist in Kumagaya-shi, Saitama. We open "Komura dental clinic" at the age of 30 in the present location. We appear on TV show in stilter from 24 years old a lot. 3.4.5.6.7 time of championship (the second is absent) first for bamboo stilts career in national convention. A 30m race Japanese record maintenance. A 50m bridge race world record maintenance. Step 4m bamboo stilts Japanese record maintenance. In takeumagi, we cross 2m jumping down, 2.5t truck traction, 10cm balance beam for jump rope, hula-hoop, trombone, ukulele, 4cm diameter stepping-stone holidays, and there are 10 kg of bamboo stilts hopping, 110cm high jump, ramen cooking & meal.