#035 musicians


Keisuke Kojima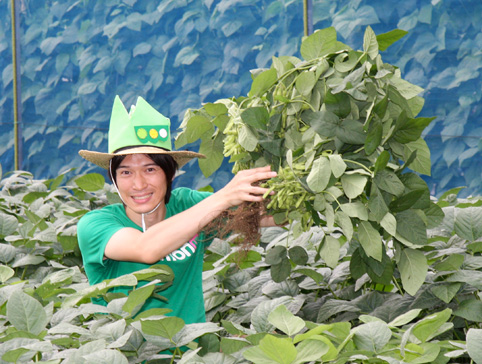 For mind that "does not keep on losing"
One's own music in album of SMAP!
 Summer is edamame! Man who puts on the edamame crown in edamame field which grew up lively, and smiles? Call people; "edamame prince." Well, we have a happy feeling though we do not somewhat know, we will hear story.
 Keisuke Kojima, also known as edamame prince is musician of Nerima-ku residence. Musician edamame? It is like combination unexpected at a glance, but understands while we hear story of Kojima. It was natural flow for him whom all led to on one way.
 At first, we will hear from opportunity that advanced on way of music.
 "It was dropout in high school days. It was said to teacher, "you do not need to come to school" and it was provoked in such a case by friend and came to do band activity. We think that we look down on teacher sometime and decide that we advance to way of music. My mind that "does not keep on losing even if we lose" arises in these days and is sputum
 Band is hard rock. It is opportunity to have cut hair and is fired in band! Then days when even guitar case could not open although even one had begun to go to Harajuku to do road live seemed to continue.
 "One day aunty army corps requested music of Tsuyoshi Nagabuchi to me. We said that we could do it and showed own original piece of music (laugh). This became able to sing on street in opportunity"
 Furthermore, turning point came to Kojima when we continued for several years!
 "The director of recordmaker which heard road live offered when "interesting if music, SMAP sang". It will be lie? Hey, we were not able to believe first"
 Kojima who started as professional musician provided musical piece in CM of major company and performed autocrat live in live house and opened width of activity in this way.
---
"We love!" But, go
Book which we were able to make music into appeared!
 Story of edamame dates back to the times without money before giving musical piece to SMAP.
 "One day when we were hungry to limit state, image of pan that gutsugutsu was boiled was heated, and music, "oyukagenyudekagen was perfect" dropped from the sky. When tell it to friend; "that is not song of edamame? It was said to be "and noticed. When there was always edamame at the time of family pleasure of home life in the days of child"
 The whole family likes great edamame. Green soybean was served on table to snacks of beer of father well and seemed to always battle against brother at the last one (laugh).
 "This music came to want to know edamame more in opportunity. We cultivated by oneself and came to study way of boiling to eat deliciously"
 Kojima carries out trip to visit edamame farmhouses of the whole country steadily. We spell the state in blog. We succeeded in sale to publishing company and were able to publish the world's first edamame book last year!
 As it "is least only charm of edamame that wants to tell, and farmers told with the back in this, "we are absorbed thoroughly without giving up if we come to like anything!" and It means"
 Kojima calls "farmers" anytime. Thought and gentleness overflow to one word.
---
We are developing food education to children
We want to send o "having!"
 Kojima who noticed that there was not opportunity when "delicious!" no voice arrived while we visited edamame farmers. That it is only not more than objection to arrive….
 In such "an occasion, we were asked to want children to give a lecture as we planted green soybean by nursery staff. To be frank, child was weak point. But call out from children more and more if you go to iza. One or "edamame prince!" who was hard to learn the name We became able to call this. Preschoolers are godparents" (laugh)
 Kojima who was presented song to last by children of class, "what's this! We were overwhelmed saying we cannot stand singing voice of children. There says that we came to make activity of food education lifework.
 In "class, "we have!" We perform project to send letter of thanks to farmers on singing voice of Sho Oai of children of this"
 Heart of Kojima that food education to children is kind to thought to farmhouse brings up both music and edamame. It was connected by point, each "loved life" well.
●It is
this
about "business trip class of food education"
●Fresh edamame from Nerima is purchased
her
e
(August 1, 2009 update)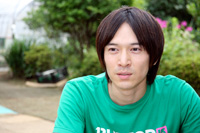 Body which is delicate to long eyelashes.
From the soft appearance
We cannot imagine,
Kojima with gut.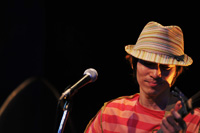 We started from zero
Way to musician.
What sent music to the world
Simply because there was strong faith!
(Kojima photo courtesy)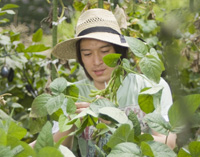 In edamame field bringing up by yourself.
(Kojima photo courtesy)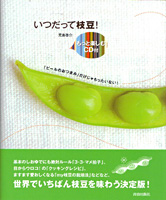 "Even when edamame"
/youth publishing company with CD with five pieces
1,500 yen (tax-included)
We were able to experience through edamame
"Meal" and "life" are books of theme.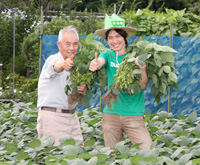 We cooperated with coverage
Edamame field of Kotaro Ozaki
(Nerima-ku) .
Edamame prince especially looks glad!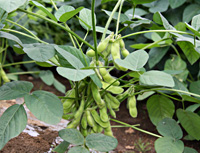 Edamame of field of Ozaki.
"We get, and length is the best!
As for the edamame of Nerima, sweetness is moderate,
To thing of famous production center
Saying we do not take close,
Edamame prince is guaranty, too!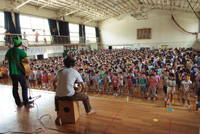 In gymnasium of elementary school
We seem to do food education live
(Kojima photo courtesy)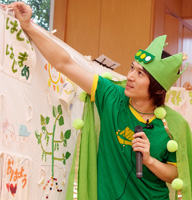 It begins and is ashamed and we are diligent and "take petit ri"
We are good at nado, wordplay, too!
(Kojima photo courtesy)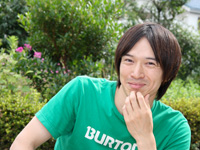 Edamame-colored clothes are trademarks!
Profile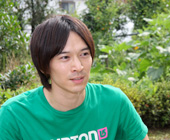 Keisuke Kojima
We are living in Nerima-ku. Musician who loves edamame. While we give musical piece to CM of album and canon digital camera of SMAP and work on autocratic live in Minamiaoyama mandala. In addition, we are developing food education activity that brought music into kindergartens, nursery schools, elementary schools of the whole country as the teaching materials for "life of edamame". "Oh, we appear on television in market becoming dull" "Tamori club". Hikarigaoka Park which favorite place of Nerima is good and jogs.
http://www.kojiman.com/
E-mail keisuke@kojiman.com