#036 noh players


Takeo Tosaka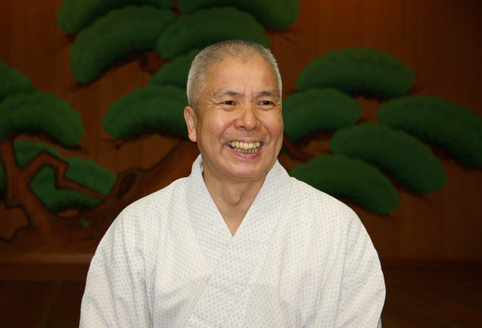 By extension of sword fight to the world of ability
Days of ascetic practices began
 One, Noh of classical art on behalf of Japan. There may be few people who have gone to see ability in Noh theater while being Japanese. Lines seem to be difficult, and plane (the face) is scary? If we leave such an image once and mention personality and the life of noh player who took off mask, kind of interest may be born. We were fascinated by charm of ability and watched story to important intangible cultural properties-designated Takeo Noborisaka who made single-minded dedication since childhood.
 When it is the third grader that Noborisaka entered the world of ability. We were by father who liked ability, and learned ability in Tokyo Univ. of the Arts, and what we performed to often watch the stage was opportunity.
 "Were you naughty? It was program with Kirikomi using sword. We looked very cool. As we were playing sword fight well, it was feeling such as the extension"
 Although we became a disciple of Fusao Hoshou head master of a school immediately, it was a series of severe ascetic practices. As for lesson being left off if there is not even if it is done in hard paper-covered folded fan with a slam without mercy by low ranking Shinto priest Takumi even if it is half sleeve, shorts and does how many times….
 "We considerably had a pain when swatted as it was child. But we thought that we were annoyed, but did not intend to stop"
 We had you show photograph of the stage of "the pommel horse Tengu" at the time. It seems to be played an active part in the stage of all ability even in now when friends of child's play (child's part) coming out here stood for 50 years.
 "At last ability is the world of the rookie of the year title at 60 years old. We train ourselves until we die"
 The world of ability is profound although being strict and seems to be full of mysterious charm.
 One program becomes stage of ability near two hours from one and a half hours. Following seems to sit straight all the time, too, is it not hot?
 "We gradually had foot numb and had a pain. But oneself wanted to act on seeing art of seniors of adult in that way sometime, too"
 Ability is hereditary system system like Kabuki, too? There may be person who thought of this in question, but is the world of the merit system. We open up way and can play an active part in one heart of "we want to become better" as protagonist who is the leading role of noh stage even if we enter at the outside like Noborisaka.
---
Ability is the world of once-in-a-lifetime chance
We play the stage whole-heartedly
 A pace of job of Noborisaka adds lesson to Teshi at home with noh stage in the stage 2 or 3 times in month, the interval. In addition, activity to tell ability in elementary school in Nerima-ku is continued for years.
 We observed the first class when we would tell children who had not touched Noh how. As for the student, 15 men and women of fifth grader are looks of strain a little bit. Noborisaka is smart pulls children commencing with the chanting of a Noh text steadily when we finish commentary lightly about history and the field of Noh saying, "yes, we follow later!".
 Voice clear manfully of Noborisaka echoed in classroom, and children who shrank were gradually prepared for it at the beginning, and big voice came to appear. Using abdominal respiration, it looks very good to body.
 "We hear that there is many at opportunity said "please to show Japanese thing what it is" when we go to foreign country. We are glad if we think that it is surely useful in international community in the future and become adult and it is after and is going to do ability"
 The stage of real ability is gerateikunodeshoka in making how.
 When "program is decided, we practice own position on an individual basis. On the day before stage, all the performers gather for the first time and just do agreement (rehearsal) and are only the stage on the day afterward. It is not revealed whether it is played again when program that there is number is played in life. It is thing which director plays the overall sum in spite of being thought for sensitivity that performer cultivated from everyday ascetic practices in the world that there is not, and builds up the stage" 
 Ability is right composite art of once-in-a-lifetime chance. State that we played was handed down with water caltrop water caltrop whole-heartedly. It is Keiko of wife that supports to snuggle up naturally at the side. He/she occasionally adds commentary of ability and softens place with smile and…. The state was good to breath for feeling such as "the first fan of Noborisaka".
(September 1, 2009 update)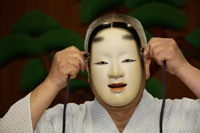 When we put mask
Feeling is tightened.
Ability puts on mask and acts
A kind of masque.
By angle and gesture of neck
We express various feelings.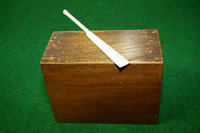 In the days of child to low ranking Shinto priest Takumi
In paper-covered folded fan which set up leather of deer
Bad place was knocked on
There could be thing.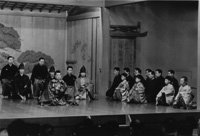 The stage "pommel horse Tengu" of March, 1960
(Noborisaka photo courtesy)
To cut off child in Toyotama Elementary School
Noborisaka who tells the end.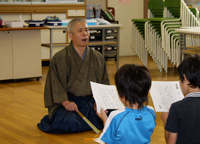 The chanting of a Noh text using abdominal respiration
Greatly became clear; speak.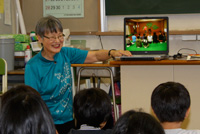 Using slide of wife handicraft
We are commenting on Noh to primary schoolchild.
Noh stage of home.
We were engaged in construction of Hosho Noh theater
We had design architect make
It is the vaunted stage.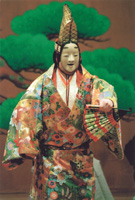 Noborisaka who plays protagonist in "ship formidable men."
(Noborisaka photo courtesy)
Profile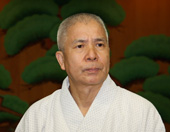 Takeo Tosaka
1945 Nerima-ku birth. Noh player protagonist. We begin ascetic practices of ability from 9 years old and study under Kuro Hoshou, Fusao Hoshou. We add lesson to Teshi at home in Nerima-ku while we stand on stage of Hosho Noh theater. Favorite place of Nerima Indian restaurant "kerarabawan" close to Nerima Station. We cherish performance in India and seem to often go. In addition, the 20th floor of ward office which sees Mount Fuji in the distance, and can look around the whole ward is with favorite.

Takeo Tosaka