#037 yoyo shop "spin gears" manager


Takahiko Hasegawa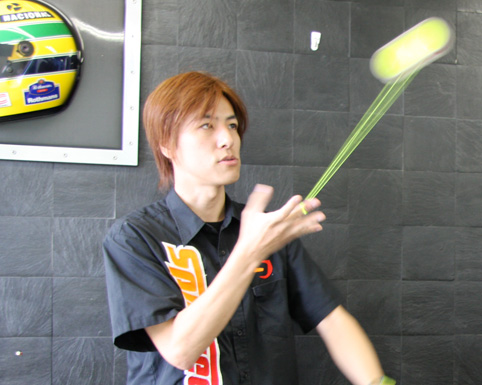 From solitaire to performance
World champion birth of yoyo!
 Yoyo and yoyo with logos such as Coca-Cola that it sparked big boom in the 1970s we heard, and to remember. If one skill such as "dog walking" "swing" is possible; to rather famous popular person. Hyper yoyo came up in the 1990s, too. In fact, we evolve far more than the world of this yoyo, our expectation more and more!
 We fully ask Takahiko Hasegawa who reached seat of world champion by the skill of yoyo about the charm. At first, when is it that we won the championship?
 "It is twice of 2002 and 2005. There was world meeting in Florida in August, but has lost this year in the final. It is AP (artistic performance) section by free-style competition to compete for the skill to music soon that I appeared"
 Characteristic big AP section watching artistry not technical overemphasis. We did performance to choose by taking advantage of two people, yoyo, and to fight against friend under the theme of "yoyo ninja" at meeting of 2005 and seemed to be appreciated.
 "In the first place play that yoyos were popular abroad. Therefore we attract attention as foreigner if Japanese advance abroad. We feel merit of being Japanese and want to make use enough"
 "They were stuck" in yoyo, and when is one from?
 "We were stuck in yoyo since primary schoolchild, but there was not much information, too and was only repetition of the simple skill in those days"
 We worked hard for study besides yoyo and were Hasegawa who advanced to the law department of university, but seemed to be 1997, encounter with Mr. Dale Oliver of yoyo world champion at turning point.
 "We visited Japan at event of Toshimaen. It was regrettable on seeing "the skill" that I just liked yoyo for ten years and came over as play, but he charmed. We did his aura which was valid only in yoyo in one of eyes"
 Hasegawa who "knew fun to look up from solitaire to turn to bottom, and to do performance, and to spread to people" from Dale Oliver began part-time job in the current company which ran the event until we graduated from university. The life is interesting once as it is said that we came back to the present company like yoyo after all although we found a job in another company.
 After employment, we seemed to get goose bumps with chance when we were able to do it too much when Shakujii Park right by company was location when we reviewed DVD of "sukeban detective". Hasegawa dealt with instruction of yoyo to Aya Matsuura starring on filmization of "sukeban detective 4" in 2006.
 "It is moment when we thought yoyo to have been good utterly successively" (laugh)
---
It spreads from small yoyo
Big communication!
 It was counterattack charmed by that was smooth to drift, and was beautiful when we had you show the skill of yoyo a little. Unexpected answer came back when we asked Hasegawa place of exercise.
 "It is local Wada moat park. There was fountain, but it is just right that water here dies. That is because we fall down around when we lose exercises of the skill to be separated from string. But (laugh) which we avoided running after forever because we hit frame of fountain and stopped"
 Days to deal with every thing about yoyo including event appearance and sales promotion of yoyo now. At store of toy store "completion temple" of Shakujii Park, yoyo classroom seems to open at half past 3 p.m. for about two hours, too.
 "The body which I was given toy from parent in completion temple, and played Shakujii Park in old days. As far as we are glad that that works from one person to another here. As there is not very often now, should opportunity when child is taught something by older older brother become place of exchange between generations a little?.
 Finally please teach art of yoyo progress.
 "It tells with friend than it does it alone, and it is important to compete each other. Person whom the first person worked as in old days can enjoy yoyo in the same way. There are many boys, but girl wants you to enter more, too. Ring of communication should spread through yoyo more and more"
 Event of Shakujii Park bandstand becomes lively every time 2 times a year, too. The next time October 24, 2009 (rain out). Do you not go out to see the skill of yoyo which evolved for performance from play and world champ?
(October 1, 2009 update)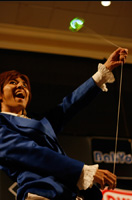 State (August, 2009) of world meeting
(Hasegawa photo courtesy)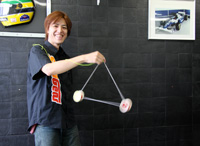 In 1999 two yoyos
One world's best relative difficulty to handle by hand
We completed "solo ham"!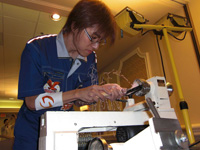 Maintenance of yoyo.
We do minute adjustment in oneself specifications.
(Hasegawa photo courtesy)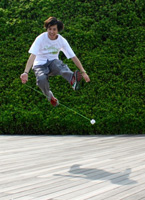 See, this jump!
Yoyo is like skateboard?
(Hasegawa photo courtesy)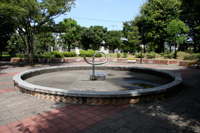 World champ of yoyo
We brought up "TAKA" (?)
Fountain of Wada moat park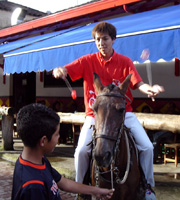 In Colombia
(Hasegawa photo courtesy)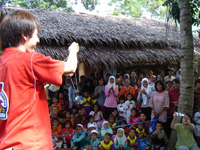 In Indonesia
(Hasegawa photo courtesy)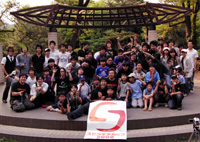 SG cup 2008 early summer
Shakujii Park bandstand
(spin gear photo courtesy)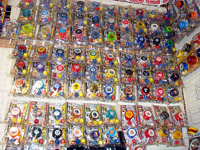 In all over the wall of bedroom
World yoyo collection….
Dream found yoyo Museum!
(Hasegawa photo courtesy)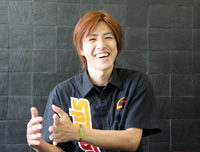 Of time to talk about yoyo,
This joyful expression (laugh).
Time to think about other than yoyo
We asserted that it was a waste!
Profile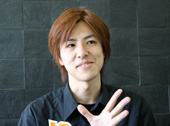 Takahiko Hasegawa
It was born in 1975. Began yoyo with primary schoolchild, but only as for the repetition of the simple skill. We meet Dale Oliver in 1997 and we make "reencounter" and are absorbed in yoyo at a stretch. Graduation thesis of university (the law department) is entering a company in company dip in Nerima-ku which leaves the office in one month though we find a job in general company, and handles F1 and yoyo after yoyo (laugh), the graduation. We start up online shop "spin gear" of yoyo as manager. It is world champion in AP section in 2002 and 2005. "Completion temple" of Shakujii Park and toy that relation is close in the favorite place from the child era!

Dip
Yoyo shop "spin gear" /TD>