#038 animators


Kazushige Yusa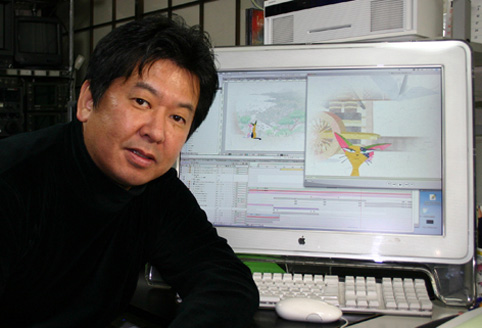 Close "Nerima animation carnival"
Of Nerima and animation do depend?
 Nerima-ku is the Japanese animation birthplace. It is the origin that TOEI produced color animation for first Japanese theater for "Oriental Disney" in studio of Oizumi. Osamu Tezuka set up production in this ground, too and produced first Japanese consecutively TV animation "Astro Boy". Animation-related company more than 90 is in ward, and it is now in the Japan's biggest accumulation place.
 In Toshimaen, "
Nerima animation carnival 2009
" is held this year for from 21 to 23 on November. Prior to event, we heard story from Kazushige Yusa of animator who was member of Nerima animation meeting.
 "It was the time of the elementary school lower grades, the next older brother described painting of Nyanko-sensei of the very front desarasaratto "country jay general". As it was program which we always watched on TV, it was really shocking!"
 What person was animator of child production and directed dragon. Yusa enters child production of dragon later…It was connected by thread of, relationship.
 We most loved to describe painting and described painting in the backs of flyer earnestly, and Yusa in the days of boy was selected by art exhibition of school by all means.
 In the days of "student, we described realistic paintings such as temple and tower, scenery in self-education. I was not so-called animation fan" (laugh)
---

We jumped out of major production!
We exert power, and luck rotates with patience
 "We were going to advance to work about design at first, but animation came to mind and came to study under professional player child of dragon. It would remain in corner of heart all the time to have had you write picture of Nyanko-sensei"
 Afterwards, "comics Nihon Mukashi Banashi" was engaged in famous work including "toppojijo" "Peter Pan" "star guy and others who sold" "touch" "Mumin" while changing production as free-lance animator several times.
 Behind such a brilliant work, there seemed to be a lot of trouble when it acted on complicated home environment of boyhood, substitute of debt of other companies. However, humor is plentiful, and talk of tears thing begins to blow unintentionally when Yusa costs. It is assent without thinking that the exceptional brightness produces works with dream.
 We go to the United States alone for late 20s. We gave up though we came to study under a certain studio, and there seemed to be the time when we were about to lose sight of directionality of work.
 "We challenged supervision of live-action film and papetto picture, various things including design of printed matter in these days and learned 3D animation by self-education"
 When we became independent in company, work to make children's story called "pleasant masterpiece children's story building" video series came and seemed to build up story and storyboard, all the pictures as supervision by yourself. This work was evaluated, and title animation and short story animation, work of TV CM came to increase.
---
We like face which child is pleased with!
If notice; this way 30 years
  "Memory with Mr. Kiyono Sachiko who is author of "non-tongue" is treasure which is important for me. By "tom-tom ☆ boo" that we joined in, we learned many things through work. We had died, but were really warmhearted wonderful person last year…"
 We are sorry for too early parting, but "tom-tom ☆ boo" becomes the collected studies of Kiyono and Yusa and continues growing as work.
 "It is 30 years if we notice. Saying is surprised myself; as for saying is; Yusa. That we are producing short story animation called "coming cat" in Moebius tone now. We sent many works off in the life, but we pour power into developing upbringing recently and seem to often give a lecture innumerably at technical school and university.
 By "Nerima animation carnival 2009", Yusa is in charge of how to make animations and experience-based booth. We are going to go on stage, and performance to children is planned, too. I'd love to! Please go out.
(November 1, 2009 update)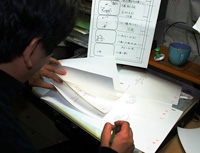 In making animation of several seconds
Work to be steady, and to need perseverance….
(Yusa photo courtesy)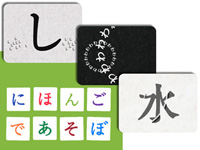 NHK educational television
Letter animation of "nihongodeasobo."
By Yusa on letter
Life is recorded,
We begin to move well.
(Yusa photo courtesy)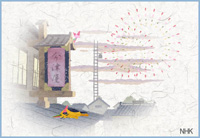 The historical drama "crossroads of heat waves" of NHK
Of series
As for the animation of cat of ending
It is work of Yusa.
January 1, 2010 New Year holidays historical drama
"Even as for the crossroads special of heat waves"
You can see.
(Yusa photo courtesy)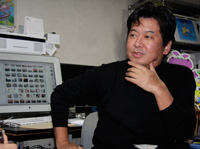 Speech skill is good, too
Energetic Yusa.
Passion on animation
We are defeated by nobody!
In studio of NHK of "the crossroads of heat waves"
Ending animation
Under editing!
 (Yusa photo courtesy)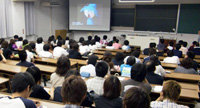 Yusa to lecture at university.
(Yusa photo courtesy)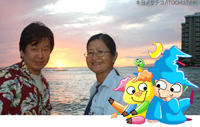 Of the "tom-tom ☆ boo" author
In Mr. Kiyono Sachiko and Hawaii.
Yusa from Mr. Kiyono
Be trusted
This work clay animation
CG, animation including crayon
We finished in musical of full loading.
As for the words of script and music
It was in charge of several pieces.
(Yusa photo courtesy)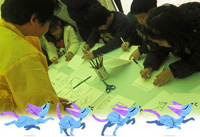 Of last year work out; sputum animation
In carnival,
For animation sparse children
We challenged!
(Yusa photo courtesy)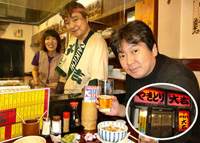 Of Yusa favorite
"Yakitori great good luck Toshimaen store."
Let alone Yakitori "chicken shimeji"
Delicious! (Yusa photo courtesy)
Profile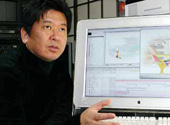 Kazushige Yusa
It was born in 1960. 2D & 3D animation writer, director. We take out this world in child production of dragon and, via some productions, make private office Moebius tone (the Nerima-ku location). There are many works for children, and "peekaboo", "nihongodeasobo" of NHK educational television, "tom-tom ☆ boo" deals with "the ojaru-maru" "PythagoraSwitch". Short story animation, work of TV CM are the center recently. We lay emphasis on young person upbringing and lecture as special lecturer in technical school and participate in activity of JAniCA (Japan Animation Creators Association).