#039 "marushieroro" owner


Loran paquet, Rimiko Paquet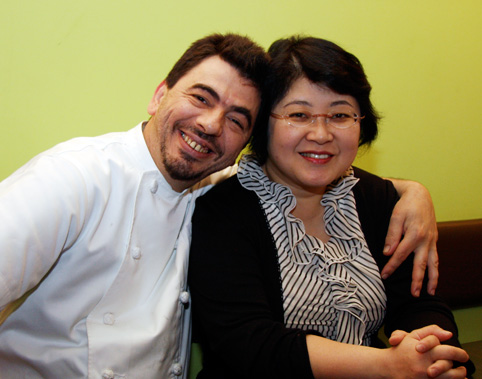 We try for the first time in "Nerikore"
"Taste" of foreign chef joins
 It is owner chef of French restaurant "marushieroro", Loran package and Mr. and Mrs. Rimiko Tono that give happy aura from photograph. We apply for "Nerikore" of this year, and "daikon soup of menu from nerima" is authorized, and foreign chef is more naive! We meet in this and attract attention from media.

 Awning which "marushieroro" is near Shakujii-Koen Station, and is red is mark. It is space to be able to enjoy meal slowly while doing snugly. At first, including background of menu device of "daikon soup from nerima" let's ask.

 On "menu by all means French in being with one box, or receiving daikon from and friend of neighborhood a lot in this…It is one article that we think about this, and there was. Fine adjustment of taste is difficult in being bitter, and varying according to kind and parts which is sweet where Japanese radish is hot. ReMiko interpreted English of roro saying it is opportunity that we had you offer when you applied for "Nerikore" from customer and acquaintance.

 As for the taste, onion, potato mainly become base in daikon, taste lighter than potage froid vichyssoise. Small pearl which we kneaded wasabi into accentuates and it is healthy and is and is hearty one dish. When "daikon soup which came out of local interchange from nerima" wants you to taste by all means toward the hometown, we prepare two voice.


---
We meet during studying in Canada,
From restaurant without experience to mom!
 You have carrier very difficult to deal with until reMiko becomes mom of marushieroro and are interesting episode heaping up (laugh). We give youth in its twenties after Kamigyo, the graduation from university from Kanazawa at heavy publishing company of Chiyoda-ku when we introduce in a word considerably forcibly. In this situation, when do not go, to receive graduate school, and to pass, and to study drama in 30 generations with being registered; Canadian torontohe. Therefore we meet 5-years-younger roro and fall in love. In pursuit of reMiko who went back to Japan, and half a year later roro, ♪ We wind up to expose and are visited Japan ... one kitchen knife. Fate that we achieve champagne wedding in Shinto shrine, and chef wife is happy? We leave company manfully while doing this, and carrying +10 kg of fat on the back and are warrior who let you open through many difficulties from search for article of restaurant!
 For more details, "darling, please read the French and chef" written by reMiko. It is even no longer that or less and lets you also do literary talent to describe you without displaying!
As "even parttimer was me that there was not experience of restaurant, I hated already first and was full of anxiety. ReMiko to feel, and to have days of study who came over while customer and neighboring people told. It is modest and is, and, in honesty, freedom, boldness, individual women that personality of working woman peeps out when we think whether you laughed around, roro loves (laugh).
---
We love Shakujii Park
We drop in at bar in the middle of walk?
It "was to be mall and the petit suburbs to have been particular when we opened shop. He is from prefecture on station wagon day in France, and I am from Kanazawa. As all two of them were brought up in the country, atmosphere of Shakujii Park went with skin very much than the downtown area"
 marushieroro which completely melts into hometown from opening for just two years. Even if roro cannot speak Japanese very much so that reMiko is surprised; person and customer and good friend of mall (laugh). We have you provide fish, vegetables, coffee, thing of good material including rice from local shop and roro lets chef soul flare up more and more and seems to try hard. It is good circulation of mall development!
 When ask roro favorite place, kankaminyu rezuni answer (laugh), "is marushieroro." And "nature is full, and want to see Shakujii Park on station wagon day of hometown. We continued while taking a walk in two people, and drinking one cup in bar (in tea house) saying it is happy to play with cat.
 A time of lunchtime. Too 80 years old hale and hearty gentleman orders with "thing anytime", and is French slowly; eating a food with great relish. When return; to roro "was delicious today. It was said, thank you and did handshake & hug. Such small one scene greatly showed marushieroro.
(December 1, 2009 update)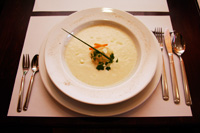 It was said that it was no good
"Daikon soup from nerima."
As France does not have daikon,
roro is original!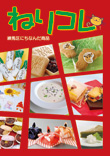 "Daikon soup from nerima"
In
2009 Nerikore
It was authorized.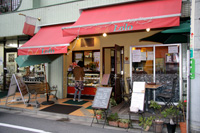 The front of marushieroro.
Of quiche and tart
There is takeout corner, too.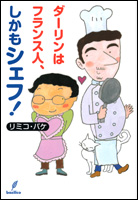 It was spelled in good sentence of tempo
Writing of reMiko.
Love overflows from space between the lines!
As for the recipe of roro
We are published.
Publishing office: Basil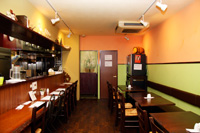 Pistachio green, orange,
Interior of yellow
We are spirited and are casual.
We cook dishes happily in kitchen
roro.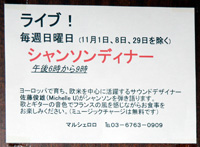 Basically Sunday
We hold chanson dinner
(there is no charge).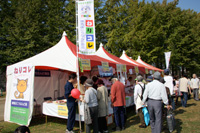 Nerima festival of 2009
We open a store in "Nerikore" booth and,
At event of the Shakujiimachi welfare garden
Participate, and connection with area
We value.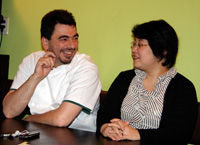 Feeling trusting from this expression is handed down.
Profile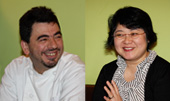 Loran paquet, Rimiko Paquet


Loran paquet
Laurent Paquet. We are from prefecture on station wagon day in western France. Is awakened to cooking than mother nitotomoni 6 years old of cook, from 14 years old to professional way. Study in all the countries of the world, and is "buran de myuge" of Tokyo, Ogikubo after head chef, the visit to Japan in Toronto in Canada; to head chef. In November, 2007, open French restaurant & delicatessen "marushieroro" near Shakujii-Koen Station, to owner chef.

Rimiko Paquet
(the Japanese name: Rimiko Tono)
We are from Kanazawa-shi, Ishikawa. After experiencing salesman, editor, writer, consultant, we meet roro of French chef in Canada and we fall and get married in love. We are struggling as mom of "marushieroro" every day. "Darling publishes French and chef" book, and blog is popular, too.

marushieroro
2-13-5-102, Shakujiimachi, Nerima-ku
TEL&FAX 03-6763-0909
http://www.marchelolo.com