#040-free reporter caster


Kanae Kikuta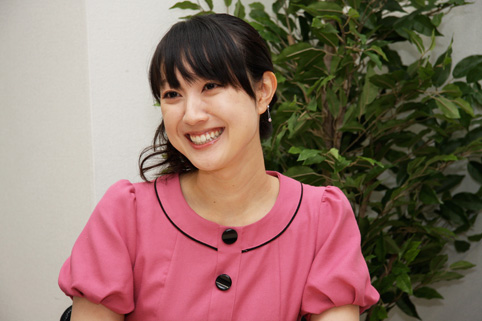 ♪nerima chao
nerimano charm on music
 In promotion video (PV) of "nerinerinerima", did * become yet? J: As it is broadcasted in COM Tokyo, and Kanae Kikuta dances song with paste paste, it should be surely branded on both ear and eyes if we see once? …By saying this, report Kikuta of reporter adversely!
 "We do in the neighborhood where we always hold out microphone to people and hear, but when iza oneself is interviewed, we are slightly tense, and place softens for" (laugh) and bright smile to say instantly.
 "J is in charge of reporter caster & by program of "Hometown nerima, niiza, wakou" COM Tokyo for one and a half years. Days that runs around for coverage such as event, introduction of restaurant, local topic. There is new discovery one after another and is fun"
 In ending of the program, music of "nerinerinerima" plays, details of birth?
 "We planned in thought to want you to get close that wanted to tell nerimano charm to outside in ward and small child. The making of music, shooting, recording took approximately 3 months"
 It is completed in October, 2009. Enthusiasm of supervision and the staff is felt, and music and cheerful character of Kikuta match wonderfully above all! We were finished in PV with impact. Popularity gradually increases, and inquiries occur successively and seem to gain popularity as local song.
 ♪Nerine hybrida reNerine hybrida renerima chao ♪ The lyrics called this are particularly impressive.
 Of "have a meaning Italian as for the chaono part such as walking relaxedly with kneading on fire meaning of greetings enters, and sounding is good, and" (laugh) is word that seems to be usable in the nerimanoarayuru scene.
---
The thorough spot principles!
Report hurls itself for curiosity

 It was Kikuta who had subarashii title called Miss Japan "Marine Day" of physical science native place, but, in autumn of senior, it wanted to become reporter and we went to Tokyo after the graduation from Sendai and realized dream.
 When "we just started work, I whom we interviewed was considerably tense. He/she might have done not talk. You should hear that I was interested more and more whenever you repeat times, it may be that audience wants to hear that! We came to think of this"
 When "it is work that may appear on television, we may be seen gorgeously, but, in fact, are unrefined work (laugh). Of the inside that is cold in part which is not broadcasted on TV wait, and have time, and is sweatiness and…. But there is never the unpleasant spot so far. We can enjoy as much as we do not take our ease, and there is worth doing, too!"
 It was really good that we chose this work! No cloudy weather a piece of for Kikuta of brilliant eyes which finish saying this.
 By Nerima radish pulling out tournament held in December, we participate as player as reporter again. Although we advanced just one step to the final to winners' platform in 2009 in 2008, we are defeated without enough physical strength. It burns when we revenge in this year. Can take consideration into until feeling of player and feeling of the stagehand staff thoroughly simply because is Kikuta of the spot principles; is warm; may interview.
 Places favorite in Nerima-ku?
 "We were impressed to be able to see when cherry blossoms of the Shakujii River were just in full bloom last year. And it is Hikarigaoka Park which often goes as there are many events. There is a lot of greenery, and wind is refreshing. We enshrine terihime at event. We think that what inhabitants of a ward cooperate and build up is wonderful. Ekoda leisurely in the night bazaar of road. As children can play in peace from the evening, surely we should be impatient for wakuwaku? "
 As is expected, deep ninerimao was select only by Kikuta to know. We will look forward to nerima chau program from now on!
(January 14, 2010 update)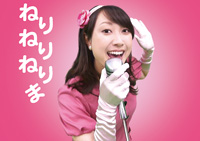 If "nerinerinerima" flows
We are glued to TV!
(photo courtesy J: COM Tokyo)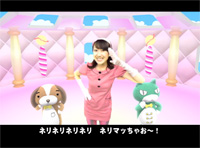 We work out and work out bowl & and are mew quite popular.
Short figure dancing by hand is very cute!
(photo courtesy J: COM Tokyo)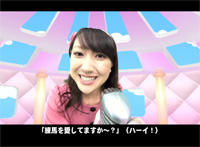 With "when or children
Saying if can dance, is glad; as for saying is; Kikuta.
(photo courtesy J: COM Tokyo)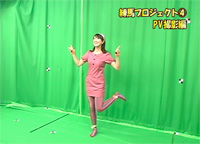 State of taking picture of PV.
We are composed with CG later.
(photo courtesy J: COM Tokyo)
J: In studio of COM Tokyo.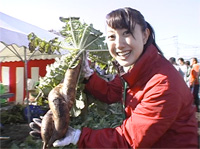 We are reporting the third Nerima radish pulling out tournament.
We broadcast program of "Hometown nerima, niiza, wakou" three times a day,
We are updated once a week.
(photo courtesy J: COM Tokyo)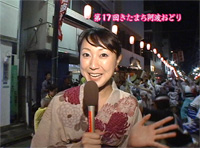 Came; wait, and is reporting Awa dance.
Yukata look is wonderful, too.
(photo courtesy J: COM Tokyo)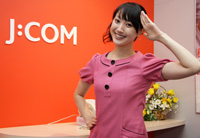 Finally, of "nerima chao -!"
We decide at pause!
Profile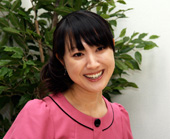 Kanae Kikuta
We are from Sendai-shi, Miyagi. Free-lance reporter caster belonging to the limelight. We have regular in J:COM Tokyo, J:COM Shonan, Tama CATV, Gunma TV, TV Saitama. There is few that we are at home on off day and catches cycling, and martial art (watching games), admiration of landmark architecture, original dishes, home yoga and hobby are wide, too. It is Miss Japan (2004 Miss Japan "Marine Day") of physical science native place and has the second class authorized architect, qualification such as the world heritage studies official approval second grade.

Official blog "sunshine filtering through foliage sum" http://ameblo.jp/uncle-twinkle/
J: COM Tokyo http://www.jcom.co.jp/