#041 NPO corporation "meeting bringing up real becoming tree" representatives.


Yoshinobu Degawa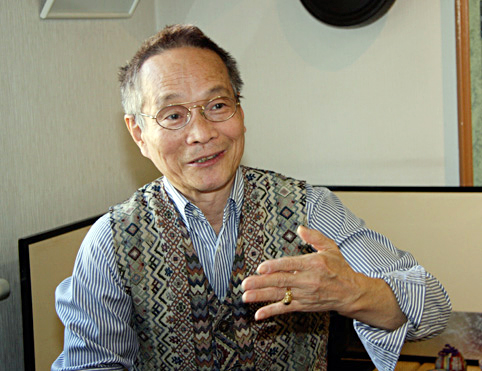 Characteristic, the town of town from idea of protecting
To volunteer activity…
 Umebayashi Park in Tagara, Nerima-ku. When it is February, sweet smell of plum begins to drift in the area and is park letting you feel spring. It is everybody of "fair to bring up real becoming tree" that manages the orchard in one angle. It starts in 2000, and two times a month of volunteer activity is done in approximately ten people and bring up tree and seem to share crop in various places that came to park to play. We visited hair salon which Yoshinobu Degawa of representative ran at this time when bud of plum was about to swell out.
 The classic flowing calm shop. What "thought when we should be able to fill town of this Tagara with tree that it was of fruit began", and to, Degawa said back in tea service set comprised at one corner in opportunity of start.
 "On earth there will be what, or what should we who live in Tagara do to do a certain characteristic town planning to usually take communication to concentrate in the case of emergency, and to be able to protect local people? While we are thinking about nadoto, we have you plant "real becoming tree" in garden as for by one, and let's do in town with characteristic. It was idea to have possibilities to become the good town of ventilation with neighborhood if we did so"
 In front of Degawa's house, tree of artubus is planted. With type called auspicious light, we seem to follow a lot of delicious fruits in summer.
 It is very wonderful when we imagine town where is full of real becoming trees! However, we slipped on fruit which fell because of residential area and seem to have possibilities to be actually difficult when it comprises in what-if….
 "We will plant a tree while managing corner of Tagara Umebayashi Park from such a reason. We are volunteer groups of first who concluded agreement with Nerima-ku"
---
We learned all from nature
Dream become "park uncle"!
 In Tagara Umebayashi Park at the time, the ground was hard like ground in cedar forests and seemed to be hardly soil that plant was brought up. Degawa and others raised 120 bags of fallen leaves which we filled garbage bag of 120 liters with once a year and made humus and built up live soil so that earthworms inhabited a lot for ten years.
 The leveling of ground work, maintenance check of tree. Non-chemical natural cultivation not to use chemical fertilizer for at all. For the generous effort, thought to protect nature of people who continue working is put.
 Not only "human being enjoys, but also animal, plant are big are air, the earth, water if they say. There is human happiness only after making these happy"
 There seems to be part that it is difficult to demand understanding of activity because it is place called park. That tree has been broken at heartless behavior and time!
 Having been glad that it had been worked?
 "Smile when we handed small child fruit which we harvested. Want to become "park uncle" someday; (laugh)
 Wanting to tell small child in wisdom of elderly person with saying park uncle of Degawa as place of communication in park. The thought is in the root of current activity.
 "This Tagara Umebayashi Park says to model case that it should become in big meaning together to develop in the future in such a park"
 Come to live in Nerima-ku; and 41 years. Favorite place of Degawa? "Well, kana of the sky" awfully big answer (laugh).
 "It talks with starlit sky, and it is the best to take morning positive light!" Degawa to hear soil and green voice. We seemed to be able to see figure which greatly stretched itself towards the sky.
(February 12, 2010 update)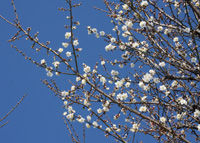 Plum of entrance of Tagara Umebayashi Park.
It shines in Kyn and blue sky which we did!
(January 30, 2010)
Signboard in corner of Tagara Umebayashi Park.
It is activity place of Degawa and others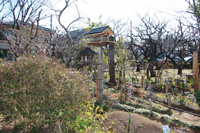 Scenery of activity place,
... which spring is impatient for!
Bait stand of chicken is wonderful made, too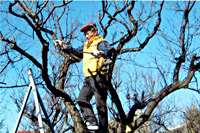 It is time of the pruning in winter!
(fair ・ to bring up real becoming tree
Murata photo courtesy)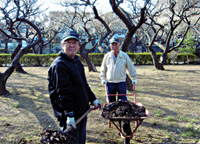 We laid more than three years and had full ripeness
We spray humus
(fair ・ to bring up real becoming tree
Murata photo courtesy)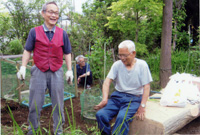 State of the leveling of ground work
(fair ・ to bring up real becoming tree
Murata photo courtesy)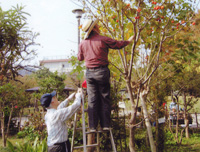 In November, you conserve, and check
We take measures in winter.
A lot of red fruits arrive
(fair ・ to bring up real becoming tree
Murata photo courtesy)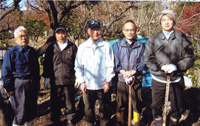 In December, winter sunlight,
Of everybody making humus
Enthusiasm is felt
(fair ・ to bring up real becoming tree
Murata photo courtesy)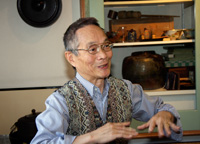 Saying "we want to write child care book"
Degawa.
In you, motherless family of three
Child seemed to be brought up!
Profile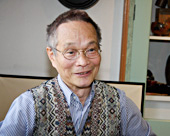 Yoshinobu Degawa
We are from Nagano. We are living in Tagara, Nerima-ku. NPO corporation "meeting bringing up real becoming tree" representative. Hair salon of Tagara, Nerima-ku runs "room of rose". Beautician career is great veteran of 41 years. We work on environmental problem about nature and human being forward and provide cosmetology that is kind to body using permanent liquid to be able to drink in hair salon which Degawa runs. Theme of the life "research of truth." It is master of tea ceremony enjoying tea ceremony of Urasenke.

「Meeting which brings up real becoming tree」
Catch phrase "flower blooms, and bear fruit, and harvest…Sharing. Meeting which lends green healthy growth hand by volunteer.
Under recruitment of members! (regardless of any people regardless of age or sex/annual fee 2,000 yen)