#042 "Shakujiimachi musical accompaniment ream" representative


Watanabe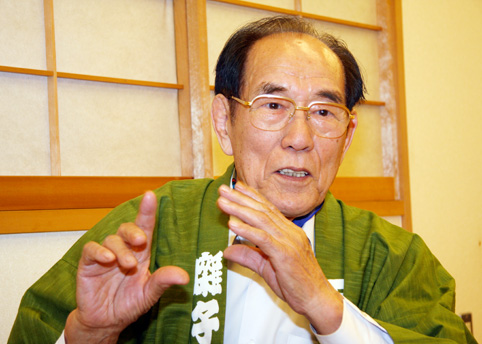 Oldness and culture building opening!
Meeting musical accompaniment resounds gorgeously
 On March 28, 2010, Nerima Ward Shakujiikoen Furusato Museum opens! We can learn happily while experiencing about history and traditional culture, nature of Nerima-ku and are new museum to invite to sightseeing.
 It is of folk art "Shakujii musical accompaniment ream" that plays meeting musical accompaniment in opening ceremony held the day before on 27th. Oldness and culture building construction preparations committee member heard enthusiasm of appearance from Watanabe of representative who served, too!
 "We were concerned by plan from place to examine oldness and concept of culture building for five years, it is empty, that is already a pleasure. We are to attach color by meeting musical accompaniment on day of opening ceremony. We plan lion dances at the end of the ceremony"
 As for Shakujii musical accompaniment ream, what kind of activity will it be carried out?
 It "is important to be invited to festival and events such as Inari Shrine of Nerima-ku, Shakujii Shrine, Hikawa Shrine. It was the result that was good in "the tenth folk art nerima seat performance" hosted by Nerima-ku Board of Education performed in Nerima Cultural Center in February
 Watanabe takes care of position commencing with Shakujii musical accompaniment in many Shinto shrines; while you're busy! We can hear disposition that cannot help loving hometown from posture to work on everything by activity coherent to area. Passion to musical accompaniment seems to become energy.
---
We enjoy, and it is had by customer
We enjoy, too…
 Place that usually repeats exercises public facilities "relief building" in Kowa Elementary School of Shakujii. Member who finished work on that day rushes cheerfully and lets matching happi coat pass sleeve. Is it deluxe with anything while we hear performance of everybody? It became na coverage.
 "We encounter musical accompaniment with Oma (oma), the middle (Chuma), early interval (mountain), and melody of we Shakujii musical accompaniment is "early interval". We feel rhythm by good tempo of feeling slightly early. As for the drum, how to beat produces i large drum (we do not put), drum with its heads attached to the cylinder with cords (check) each, and duster hand learns both"
 We gather suddenly, but score has no everybody. We learn from senior like the word of mouth and seem to but learn. Watanabe who listens attentively slowly and carefully while occasionally closing the eyes by sound of everybody working hard at exercise. The expression taking in sound and condition is exactly earnest.
 "Stand" as for "the present program. Does it take around 17 minutes to play one program? Will which, I have of one piece, too?"
 By the gong exquisite strength and weakness which Watanabe sounds, we resound lively. Gong is called "yosuke" and seems to have a meaning that we help four people of flute and drum.
 What began musical accompaniment at the age of 17 years old. That although it learned with friend, it is Watanabe one now to be continued. Of this way 60 years to begin with flute, and to handle to gong, drum is right person of tradition!
 What kind of place will charm of musical accompaniment be?
 "We do it by hobby it is empty, finishes enjoying (laugh). We are glad above all if where we came to can enjoy performance that they like and do for festival"
 Shakujii musical accompaniment to tie sound and person with unique rhythm. We are playing an active part in not only sacred rites of Shinto shrine but also various events. Please thoroughly enjoy tone to be in high spirits if there is opportunity!
(March 10, 2010 update)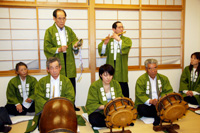 It is earnest and is and is harmonious
Lesson of five musical accompaniments advances.
Woman of the front row center is the third generation of grandchild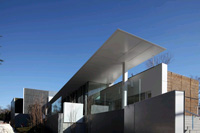 Kanoi, Tateishi, Nerima-ku Park
Oldness and culture building
We open on March 28 and are a pleasure.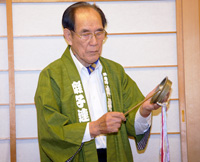 We beat gong called yosuke
Watanabe.
Smart rhythm is comfortable!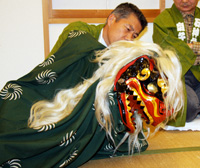 We take condition by lion dance of attached art,
Instructing musical accompaniment
The second generation of son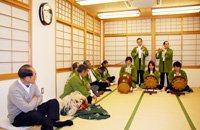 "Relief building" Japanese-style room.
Musical instrument transportation or problem of sound
Without hesitation
It is said that it is hard to be able to practice
Place of Watanabe favorite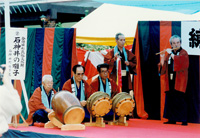 Stage of Nerima-ku folk entertainment meet
(Watanabe photo courtesy)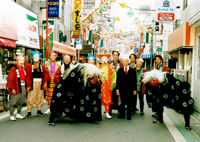 New Year holidays of 1988,
Mall of Shakujii Park
We prayed for business prosperity by lion dance
(Watanabe photo courtesy)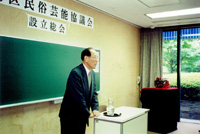 Nerima-ku folk entertainment meeting
At establishment general meeting
(Watanabe photo courtesy)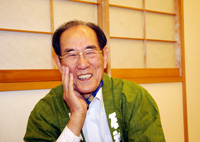 Even if we see parade of Disneyland,
There is hint to please people! This
It is said that we always think about musical accompaniment.
It is invisible youthfulness to 80 years old!
Profile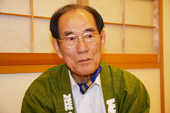 Watanabe
It was born in 1929 (Showa 4). Shakujiimachi native place, residence. Nerima-ku registration intangible folk cultural properties, Shakujiimachi musical accompaniment consecutive (interval quick in library of Buddhist sutras style) representative. Nerima-ku folk entertainment meeting chairperson. The Hikawa Shrine representative. Shakujiikoen Furusato Museum construction preparations committee member. We learn musical accompaniment than 17 years old after the war and hand down from son couple to grandchild for parent and child three generations. Shakujiimachi musical accompaniments are active in 13 people now. Past main appearance is celebration of adult, terihime Festival, Nerima festival, Shakujii Steller's sea-eagle Shinto shrine Cock Fair, folk entertainment in and island (Toshima public hall), Meiji Memorial, Tokyo statistics meeting, other a lot of. Exercise with every Monday, from 19:00 to 21:00, Shakujii, Kowa elementary school campus "relief building." Membership fee for free. Person who is interested, please come for visit.