#043 "braid studio Sasaki" representative


Yoshiko Sasaki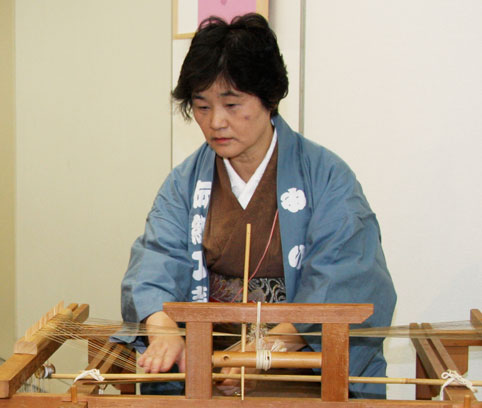 There is never the same color
Fun of color of nature
 Azalea that wind is flower of Nerima-ku in fragrant May is season of full bloom. "Heisei azalea park" where about 600 kinds, azalea of 16,000 were planted reaches the best time to see. When flower is over before long, time of the pruning. It was cut and, using branch of azalea which became unnecessary, visited braid (cross string) studio of Yoshiko Sasaki to announce work.
 "Heisei azalea park is very beautiful place. We use pruned branch to dye silk thread. After having dried branch, we boil to bring out the flavor and we add roast liquid and dye, but variation of color appears what you would like for iron, lead, roast liquid including alum. In fact, this work is job of the master (laugh). The trees and plants of nature become hue that is very delicate, and is interesting. Besides, we can never make the same color"
 We process braid which we made with thread which we dyed into bookmark, book jacket. "Braid azalea, fist dyeing with vegetable dyes series" that that is chosen as "Nerikore". It is characteristic of Sasaki mainly that creates various accessories in braid used as obi cord of kimono. Work diverges into many branches, necklace, key ring, strap, glasses string, moreover, until lead of pet dog!
 However, we say that braid suffers from making for one week when we put together until processing for 4-5 days to make 3 meters of threads by time-consuming work. Still we make use of handmade good point and accept various orders.
 "We were asked for the reconstruction of braid of old armor put away in storehouse and have worked for several months. We checked one structure one and raised pattern in drawing. Cross again again while considering where is different when pattern cannot reappear…It is repeated of this. As there is not producer anymore we listen to nobody" (laugh)
---
We pushed way to craftsman from behind
A certain understanding word of husband
 It had a certain opportunity that Sasaki began the making of such time-consuming braid.
 "Overnight" as for "the encounter with braid. Originally we did sewing of clothes, but we damaged our health and were hospitalized and have been not able to go to workshop. It was reading book, and it was braid then that jumped into eyes. So think incidentally when "we will begin". It was pushed from behind then that the master said, "please do it till the last if you did it". If there are not understanding of the master and this word, we think that it was not continued. Well, as for "the last", do not find anywhere; (laugh)
 In this way of the end cannot see…Sasaki who jumped into way of ascetic practices of few craftsman including the end more called this. It was late 30s when child graduated from elementary school.
 "We went to classroom where authority and teacher were in once a week. We did it freely and were not strict. Lesson, what I took good care of then "do what ordinary person does one two." This was what we followed by teaching of my mother from the tailor era. We go home and try to already do what we learned once by oneself. Anyway, we handle number. When by doing so, went next, we can hear part not to understand"
 We have 1 place of 2…Not only braid, it is lesson that we want to follow in the daily life. We say that experience of the tailor era was useful more there.
 Using "handstitch and sewing machine, we can finish by oneself because we have experience served. "How about this even if we see anything now if we rank bag" We look at nadoto, braid with eyes to make. In that way it is pleasant to be able to consider in various ways. I measured up from the old days if I thought. We think, "we may apply to something" carelessly when we learn what it is. Have been said that was, "do not do from teacher obediently for the ascetic practices era even if you told anything"; (laugh)
 We do not just just accept that we learned and we make use in what how or think. The idea power supports "craftsmanship" of Sasaki.
(April 1, 2010 update)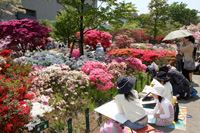 Of the "Nerima azalea Festival" day
Heisei azalea park
。
(April 29, 2009)
Sasaki branch to throw away after the pruning
We get and use for dyeing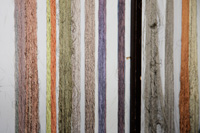 Four bundles on the right side
Silk thread which we dyed in branch of azalea.
The master is in charge of dyeing.
"Surprising color appears and,
When ideal color appears,
Very glad"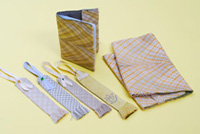 It is authorized in
Nerikore
"
Braid azalea, fist
Dyeing with vegetable dyes series
.
Bookmark, card case, book jacket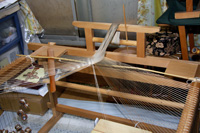 Stand called "hill."
Of well-known store, tiger of Japanese sweets
When we received orders,
To be easy to use oneself; to carpenter
We had you remake.
On this big hill,
Width of postcard rank is limit!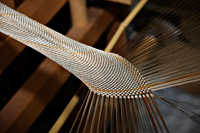 Bundle up several silk thread,
To one spool.
With the number of silk thread and the number of spools,
Thickness (fuku) of braid changes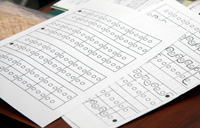 Exclusive drawing called Class ground ancient court secretary.
What kind of pattern do you make?
We wake up in drawing beforehand.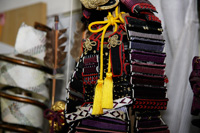 With ancient times, Buddhism
Braid which was transmitted from China.
As for the strings linking helmet,
It has been used for a long time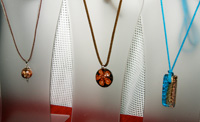 Difference with machine frame
To have you know,
It is person trouble or kicks in work by all means.
In addition and subtraction being added to hardness of string
Simply because it is homemade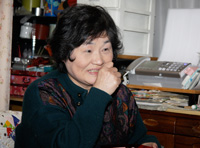 Than "we make the same thing endlessly,
We make various things
It matches the nature"
Sasaki who talks about this.
In posture that we want to concentrate on one one,
We feel craftsman spirit
Profile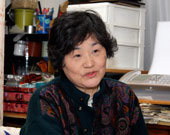 Yoshiko Sasaki
Miyagi birth. After the marriage, we move to Nerima-ku with the parents' house of husband. In 1988, we start ascetic practices under Hieda apprenticeship. We become independent in 1999 and set up "braid studio Sasaki" near Fujimidai Station. In 2000, we belong to Nerima-ku folkcraft society. There is not school particularly, and it is said that it is "me style, Sasaki style" if we spread and say. Depending on order from customer, we are exhibiting at exhibition now. Place favorite in Nerima-ku is Shakujii Park. When "it is season of cherry blossoms, we want to open furoshiki. Become going what kind of color appears if we dye with petal gone than cherry blossom viewing…"Place saying that I am in studio than we go out and want to work is craftsman spirit of truth!

Braid studio
3-11-6, Nukui, Nerima-ku Kotobuki-so 101
TEL&FAX 03-5936-9616
http://www.kumihimo.net/