#045 "mandala Museum" director


Kazuko Komine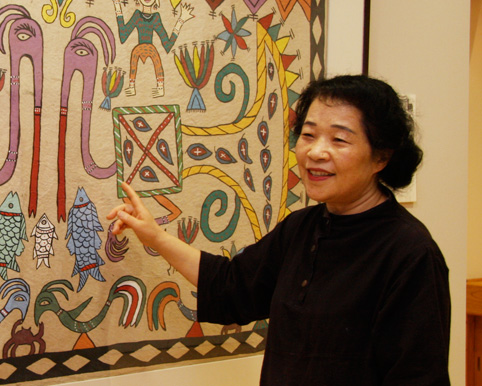 Honor does not need money too, too…
Personality that we learned from artist Somekawa


 This season when wet weather continues. But worry to get wet in the rain makes art museum! Therefore we had Director Kazuko Komine of "mandala art museum" opened in the precincts of Kanzo-in Temple in 2002 come up.
 Two pieces of mandalas of 230cm *210cm drawn by artist leading person, Eisuke Somekawa of modern Buddhist painting. Mandala Museum was made to store this grand mandala.

 "The Shingon Buddhism had rule to put mandala on making the main hall of a Buddhist temple of Kanzo-in Temple and was looking for tidy thing. Therefore one piece of calendar which great painter was drawn became edge and knew Somekawa great painter, and the chief priest asked. It was going to be completed in three years, but four scholars have suffered from the truth including the chief priest for 18 years as string untied the sacred book written, and great painter described naked Buddha state in graph paper in conformity with that and described kimono and belt or thing in a Buddhist image's hand, sigillomancy in classic Chinese exactly"

 It was fantastic work in this way so that person who completed MANDARA felt aura, and wept bitterly appeared. Encounter with artist such Somekawa seemed to turn the life of director.

 "He/she knows, and great painter who sells picture to feed family, and lived hold trouble, and there is and is which does not think about fame and money at all in one's youth (junior high school, high school days). Is still Buddhist painting classroom; when "do not receive money from student and the elderly." We learned view of life of great painter through such a personality"

 Director who was unrelated to picture studied under great painter and participated in a part of the mandala production as one of the pupils till then.

 When "we began Buddhist painting, we did not feel like too much as children (three) were still small. With opportunity, it was student of Kanzo-in Temple Buddhist painting classroom. Mother who lost young child while "draw Buddhist painting though did not feel relaxed even if is doing anything, calm down. Say, we feel like meeting child. There was so saying a lot, and meaning to make Buddhist painting was found. When we could not hold for oneself to do something and had few please with somebody, we noticed that that said to joy of several times that we changed. And appreciation to a large number of people who always supported Kanzo-in Temple all the time came to increase before. It is really grace"

---

Encounter produces encounter
Relationship of mysterious person

 Thereafter director to be completely stuck in way of picture, and to be interested in paysage now. The thought caused another edge again.

 "We went to Nepal about ten years ago for the purpose of visiting sketching of paysage and footprint of kawakuchi*kai (*). Therefore we got to know photographer of guidebook "how to walk earth" accidentally, and Roch sano which curled lah a little had you introduce. Lah sanha which curled was famous Nepalese illustrator worldwide a little, but it was book of Kanzo-in Temple mandala of Eisuke Somekawa great painter product that referred to though we described mandala for the first time. That is relationship and is stored lah sanno picture to curl a lot a little now in this art museum. Someone's edge is really mysterious"

 Director with deep edge seems to go to farm village deep in the mountain as volunteer activity of NGO now in Nepal. "mitira folk image" which Nepalese woman draws for festival is displayed in art museum.

 When "we went to Nepal for the first time, view of life changed. The world where has neither extremely poor people, hospital nor medicine. However, we seem to be very happy that eyes of children shine shiningly. Death is always adjoining and adapts ourselves to with nature. Therefore person who committed suicide knew that we said that there was few and felt like having been told ji chiyonitsuite of people's minds"

 When "I move at support school, we follow in a stream (laugh). There is place not to bring when we do not climb more rapid mountain after having gone by car for five hours, but we think that you must forge every day to go there and climb Mount Takao well in Tokyo"

 It "is one of my dreams that spreads MANDARA in the world. As we were able to get to know movie director in business of EU, filmmaking is aim now, too! As there was dream that we wanted to make, we were able to grant this art museum, too. Dream does not begin if we do not have. It is pride I, that exaggerate" (laugh)

 You watch mandala which you crossed in the world in mandala Museum that dream of director was jam-packed, and do you not feel what is?

*kawakuchi*kai
It is explorer in monk practicing asceticisms who entered Tibet in Japanese for the first time about 100 years ago.
(June 1, 2010 update)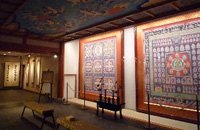 Kanzo-in Temple Ryobu sect mandala.
We go, and the right says "mandala of the womb-store world" "graphic representation of the Buddhist diamond-world" the left, and thing to each express is different
(director photo courtesy)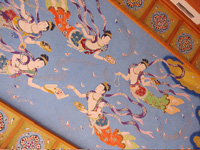 Ceiling picture which expressed mandala Museum gadekirumadeo
(director photo courtesy)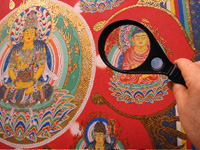 Expressions are all different, and it is revealed that it is described to small place by magnifying glass placed in hall when we increase
(director photo courtesy)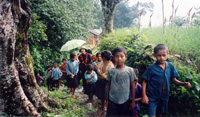 It is still got close to "mother" to foreign student, and "children" are in all parts of the world
(director photo courtesy)
The first visit Japanese to September, 2008, the Indian territory tawan country as state guest
In orphan home (director photo courtesy)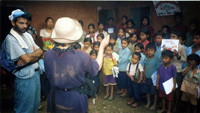 It is state of NGO activity in Nepalese Laden county, rye Cal village.
We support elementary school of this village
(director photo courtesy)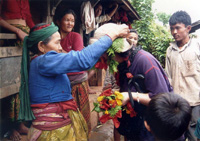 There is building named outcome of thanks to director or "Kazuko community house" in rye Cal village
(director photo courtesy)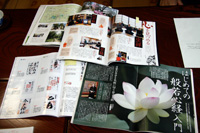 Including mandala, it is taken up with magazine including kind "Sanskrit characters" of Sanskrit characters a lot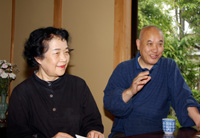 The right is Yahiko Komine of the master.
While we heard story, statement (carry strange) echoed in hall and was solemn atmosphere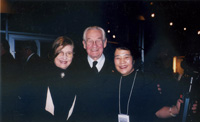 We went around Europe by commemorative project (Ministry of Foreign Affairs, Agency for Cultural Affairs support) with piezograph of Kanzo-in Temple mandala in Japan, EU citizen interchange year of> 2005
(director photo courtesy)
Profile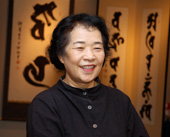 Kazuko Komine
It was born in Saitama for 1,943 years. The parents' house is temple and marries Yahiko Komine (Kanzo-in Temple chief priest/front Taisho University's president) and moves to Nerima. In 1981, we learn apprenticeship, Buddhist painting from artist Eisuke Somekawa. We work as lecturer of Buddhist painting in open colleges while acting as director. Sleeping hours are what an average of four hours! Still when "can work, is happy. We always keep smile in mind saying it does not become stress if we think that it is fun. Place favorite in Nerima-ku is Shakujii Park three treasures Teraike.
Mandala Museum homepage