#046 "Nakata-ya" vice-president, manager


Wataru Nakata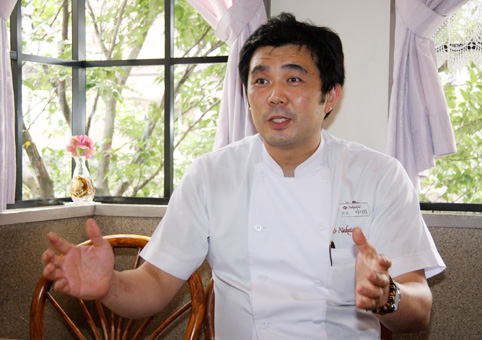 It spreads from blueberry
Ring of Nerima of "local production for local consumption"
 In July, it is finally blue at "blueberry sightseeing farm"
Berry picking begins. One fruit which is fresh in hot season…Though this is good, blueberry used for dessert is bittersweet and is delicious. Therefore we visited Nakata-ya who adopted blueberry from Nerima in confectionery.
 "About one year ago, farmhouse of Oizumi, Japanese-Western style confectionery, liquor shops gathered and formed "Bury, Nerima exchange meeting". Production center sells strawberry and blueberry directly and challenges new menu development. At first, please go to visit farm earlier from Nakata-ya (laugh), everybody! For example, site is large, and small bee flies about Sekiguchi farm from birdhouse like baseball field. The figure is too strenuous and is pretty so as to laugh. We make cake with local fruit in that way. Therefore we are glad that person who ate cake visits farm with interest if ring spreads"
 We are selling blueberry tart or jelly now in Nakata-ya while repeating studies every day. Besides, we are studying various cakes.
 "It is stage when we still consider the possibility of blueberry now. But new thing comes out of encounter. There was wonderful encounter with farmers through blueberry in exchange meeting. It is relationship that was possible simply because it is Nerima with many fields. There is way of thinking called "local production for local consumption", but there are words from the old days, "there is no illness in four village every direction". It seems to be said that we eat thing within the range of four villages (16km) in health. 16km just contains Nerima-ku. We think that ring of blueberry should spread through the whole Nerima-ku sometime soon"
---

The best learning method
Experience while playing
 From Nerima-ku to Tokyo and the world…. Association of blueberry in each places of the whole country becomes one and should reach the world. Nakata who has such an ambition seems to have dream one more.
 "Nakata shop is 2 stores of Oizumi and Hikarigaoka currently, but it is dream to open a store sometime soon in France. Then, studying abroad for exchange between the staff is possible. It is the best to be able to learn culture of each other's countries in shop of the same system"
 It seems to be policy of father, Nakata-ya's president of Nakata that focuses on "play". When it is holiday, we say that we take the staff to orchard of Shinshu with the parents' house of president by way of hot spring.
 "We have you help with crop and mud play for play feeling. Then we come to understand how fruit grows with body. When we display fruit to cake in kitchen, we come to value "expression" of one one nature and fruit. By experiencing, consciousness will dwell in deep place"
 You enjoy everything, and learn while playing. There was relation that was deep ever of Nakata in environmental policy that I thought that it was the best workshop for employee.
 It "is 50 years ago that father began this shop. I was playing in shop since there was discretion. Help of Christmas was like festival and was fun. As we did only mischief, we think that we might have been hated from the staff (laugh), but. That's why it was natural sense to inherit patisserie for me"
 Nakata who became manager in Oizumi who was born and raised after having studied in Europe for several years. We seem to be studying "Edo gesture" now.
 "At first, make feeling of partner better of oneself to become comfortable. It is the origin of "Edo gesture" that that needs mind of mutual concessions. The same thing can say to management, but producer cooks ingredients, and we turn that into cake, and it is in a part of life of customer. While anyone has you present, we present. Few should be able to do help that it is assumed that such an interchange is natural in a certain town, true considerate society through cake making"
 Nakata who always minded coverage staff whether it was heart of "Edo gesture". Soft calm personality is like chiffon cake if we compare. It may be the result to be space where the shop settles leisurely.
(July 1, 2010 update)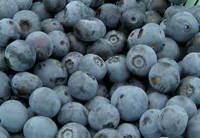 Blueberry from Nerima! In each farm
Thus, both volume of drop and sweetness are different.
It is interesting to compare by eating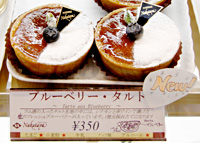 Blueberry of nature has high sugar content.
How does it enhance this sweetness?
Nakata who says that it is pleasant to investigate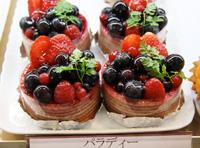 Strawberry, blueberry
It is displayed proudly!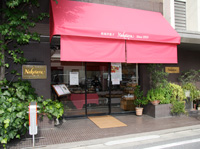 The middle country house appearance.
Store is near TOEI studio,
Of cake used by program
Order enters, too.
By way of delivery in studio
Neighboring children
We may take to visit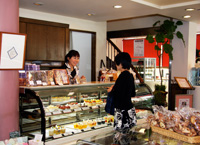 It looks delicious in shop
Cake in a row….
We make undecisiveness which we shall be going to have!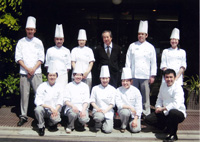 The staff of Nakata-ya Main Store.
It is smile that is good, everybody
(Nakata photo courtesy)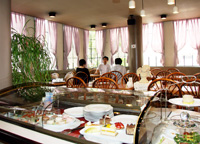 The second floor becomes cafe,
Once a month, salon concert
It is held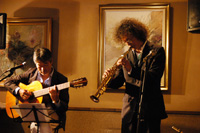 State of salon concert
(Nakata photo courtesy)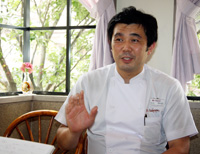 Nakata with children
We value interchange
It is wonderful father!
Profile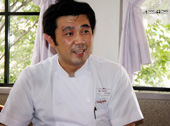 Wataru Nakata
1972, Oizumigakuen birth. As the eldest son of European style confectionery Nakata-ya in business for 1959 years, we are brought up on seeing confectionery making of shop since it was small. After having studied in four years, France in the U.K. for one year, we come back to Nakata-ya. We are studying confectionery using blueberry as member of "Bury, Nerima exchange meeting" now while we serve vice-president and manager. "Tonkatsumarutoshi" to go to eat favorite shop in families many times in Nerima-ku in month (Kitamachi).

European confectionery Nakata-ya homepage