#047 santsu Nakamurabashi mall promotion associations's director


Kenji Emura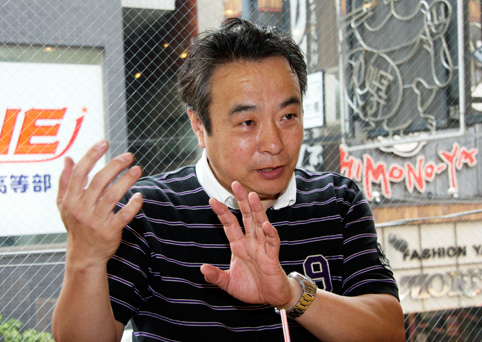 Nakamurabashi Awa dance
It is the 35th in this year
 It is mall of Nakamurabashi that Koenji is famous in the home, Tokushima and neighborhood, but we learn from Koenji, and hold full-scale Awa dance festival speaking of Awa dance! Annual event of early fall to be performed on public performance Sunday, September 5 on eve Saturday, September 4 counts what 35th in this year.
 "The first holding is 1976. We held the Star Festival before that, but connections were to set of boasters who played an active part in Koenji and please, as for Awa Folk Dance, seemed to be told. Ream of Nakamurabashi is made after the second, too, and we make now, and there are local reams such as ream, Japanese radish ream five, and Odoriko of the total number 14 700 parade around mall. It was from the thirteenth that I participated and, taking the opportunity of marriage with wife, would enter mall in 1989"
 It is young leader, Emura of Nakamurabashi mall that talk in this way. There was "change of generation" in the board of directors several years ago and just succeeded director. We devise mew goods of P in everybody young, and mascot character of Nakamurabashi is energizing powerful father.
 For "20 several years, "Nakamurabashi ream" which is ream of mall that instructed led by local primary schoolchild becomes independent three years ago and works as "Nakamurabashi new ream" now. Nerima third Elementary School has class for the disabled called "oak class", and we formed in that children and protector, teachers for two years, and "oak ream participates, too". Awa Folk Dance was difficult just to advance, but, on seeing children who danced hard, parents looked glad at all, too"
---

The next generation can have dream
A certain rest town planning
 Originally Emura is from Shinshu. We married wife and inherited 11 shop liquor shop in Nakamurabashi mall. In 11 shop liquor shop including "Nakamurabashi P shochu of Nerikore mew", other than alcoholic beverage, product which variety is rich in is prepared to tofu and soybean milk, sweets.
 "Founding of 11 shop liquor shop is 1932. It begins the future charges when we took service of liquor brewing divide noren in Iruma-shi, and to have held shop in Nakamurabashi and does. It was 1938 that sale of liquor became license system, and around 400 liquor shops were in Nerima in 1989. But we were just depressed to half degree by relaxation of license system. There was such situation, too and came to be particular as well as liquor.  It is delicious and selects carefully with thing of relief, security and can explain that to customer directly…Is that strength of personal store? But we sold other food including tofu and natto in founding those days when we thought. Therefore do you say atavism now?…. Business may return to the origin"
 11 shop liquor shop which values traditional neighboring acquaintance. In delivery occasion, we seem to have possibilities to be asked for shopping in another shop. Still as it wants to value friendship from the old days to undertake casually. We were laughing when said that it was good-natured person well.
 "Relief, security of products is so, but wants to do in place that can do shopping in peace as town. We push forward mall activated plan while receiving consultant, but what we want to aim at "makes mall" now. The word mall is meaning called "promenade", but we establish bench on the roadside and can take a rest and want to do in shopping mall which it is easy to be absent from comfortable to walk in. Overflowing mall of communication with rest is ideal"
 "Mall of any place is so, but, after all, the issue of successor is serious. When our child became adult, may be other business even if do not just inherit shop, anyway, can challenge anything…We think that we can make such a mall"
 Emura who talked about ideal in this hot. Now that came out to Tokyo at 18 years old, and time that spent in Nerima became much longer, Nakamurabashi is hometown itself for him anymore. Love to hometown blurred on end-to-end of words.
(August 2, 2010 update)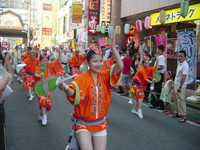 State (2009) of Awa dance.
We parade around mall in high spirits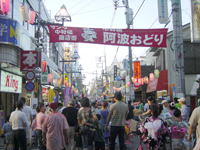 State (2009) of Awa dance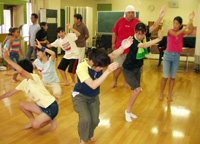 Exercise scenery of Awa dance.
As basic posture is in a half sitting,
We must forge by everyday exercise?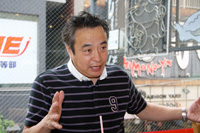 Ten comes back if we hear one
Emura of good talker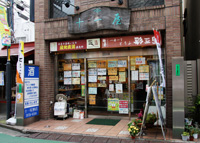 In front of 11 shop liquor shop.
Atmosphere that reputation takes a turn, and there is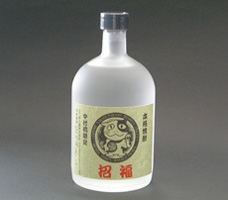 "P shochu mew"
For Nerikore
11 shop liquor shop developed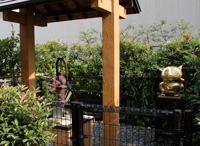 With person local in the station square and the flower bed
We care for in members of mall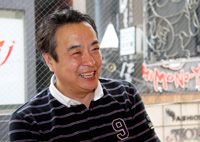 Unintentionally with "uncle!"
We want to call,
Personality that overflowed for friendly feeling
Profile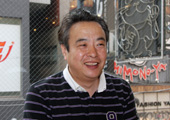 Kenji Emura
1959, Nagano birth. We go to Tokyo at 18 years old and work at post office. We get married at 28 years old and begin to work in parents' house, 11 shop liquor shop of wife in the next year. The director of santsu Nakamurabashi mall promotion association is entrusted with one year ago. We plan various events with more than ten officers in sequence while gathering up the board of directors. Place favorite in Nerima-ku is Shakujii Park. Curious shop "seems to want to support individual shop!" with chicken bar "west chicken" now in hometown.
santsu Nakamurabashi mall promotion association
http://www.nerimaku-town.com/sp/60/
http://www.nerima-kushoren.jp/04_01