#048 Asama Shrine representative


Kazuhiko Sudo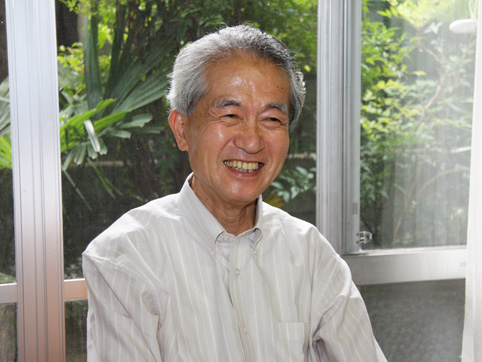 Think about old person
It is tohai in Mt.Fuji-shaped mound of Ekoda!
 Asama Shrine before immediate eyes of the Ekoda Station north exit. Slightly elevated part that was covered with trees thickly by the back "Mt.Fuji-shaped mound of Ekoda." Did you know? We cannot usually enter freely as it is locked fence. Chance 3 times a year. We climb on second Saturday and Sunday in September when opening of the mountaineering season (July 1) of Mount Fuji and annual festival are held on New Year's Day and are freed.
 Then! Though it is good to climb this by pleasure trip, we knew history of Mt.Fuji-shaped mound and Asama Shrine and may enjoy more deeply…. We visited Kazuhiko Sudo who by saying this, acted as the Asama Shrine representative.
 "Asama Shrine supports in 1, Asahigaoka town assembly, 2, Asahigaoka town assembly, three town assemblies of Asahigaoka Azumacho meeting. Organizer is dispatched by each town assembly, the present is 20 people. 19 representatives. The vice-representative head, Manager of representative are on the top. We clean in us before climbing a mountain of Mt.Fuji-shaped mound"
 Miyaji was not resident, and Asama Shrine was supported in town assembly.
 "The foundation of main hall is unknown, but it is supposed that it was the 800s (the Heian era). As for the enshrined deity, God who sinks princess life, eruption of Mount Fuji as soon as this flower blooms is worshiped"
 About 1,300 companies are enshrined in various parts of Japan, and Asama Shrine is concentrated in Shizuoka, Yamanashi above all. We cannot help feeling depth of Fuji faith, threat of Mount Fuji eruption from the number.
 It "is said around the end of the Edo era that Mt.Fuji-shaped mound of Ekoda was made. Group which believed in Mount Fuji called Fuji scheme saved money and received climb by turns in Mount Fuji. It was said that there was benefit same as what by receiving climb, real Fuji went to Mt.Fuji-shaped mound, and member of scheme that was not chosen did"
 Constructing is performed restoration in the next year though collapse by the Great Kanto Earthquake; in current form. Faith that being all makes by thick outcome.
 We can climb even about 8m in height, about 30m in diameter, child easily. It is the first stage, the second stage in mountain trail of jiguzaku…Atmosphere that this is set, and stone statues such as great Tengu, legendary crow-billed tengu, God monkey are somewhat lovely.
 "The whole surface of mound served with soil is covered in lava of genuine Mount Fuji. Big thing which people of Fuji scheme took to go, but is good, and does not come…We admire in this. It would be tough"
---
It passes with the times
We do not change
 Sudo who has a talk that intertwined history in gentle tone quickly. And it is very slim as it is said that, because of the profession, we walk well! After all, we seem to like walking by hobby with history.
 "We become the representative and are still around two years, but history is with favorite thing. We act as the chairperson of history hiking society of Nerima Tomonkai. We carry out with hiking in connection with history 2 times a year in the Seven Deities of Good Luck circulation, autumn in Tokyo for New Year holidays. It becomes drinking party with participant of 30 to 40 persons on foot in the morning from noon. It becomes old and I am (laugh), but still am gradually enough for person on train on the way"
 We walk in spite of being group and talk with common hobby…It is like, health. We are surprised to ask with age man becoming 72 years old this year! Youthful.
 Speaking of "advanced age, aging advanced to town assembly. When dai is replaced to young person, contemplation for festival is different, too. As we are days of festival, it is feeling when we will cooperate together even at a stretch. It was autumn annual festival and child mikoshi and festival car paraded around mall, but were not able to carry out this year every year on account of the shop where he/she installed sacred sake place" in
 Mikoshi waits impatiently for autumn annual festival in warehouse of Asama Shrine, but displays this year in front of main shrine. We are slightly lonely despite the change of the times. Sudo who mutters in the way that I am sorry that it is saying "grandchild was looking forward to participating in mikoshi". Still there are eating and drinking and game of stall in the precincts, too…Both, adult and child go out, and "yaayaa, spirit" and local interchange continue all the time after this!
Mt.Fuji-shaped mound of Ekoda
Country-designated important existence form folk cultural assets
Nerima-ku registration tangible folk cultural assets
(September 1, 2010 update)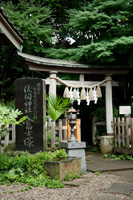 Popular name of Asama Shrine
"Field of cogon grass Asama Shrine."
To "field of cogon grass of Musashino where does not have end
We can see and kick Mt. Fuji bakarikoso"
This is carved in monument.
There is starting point of a mountain climb in the main shrine rear.
There is fence on this side of torii,
Key is usually turned on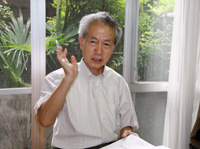 "Leaf or branch
As it is in a mess
Before climbing a mountain we representative
In organizers
We clean"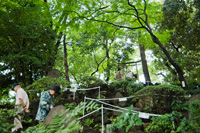 Mt.Fuji-shaped mound of Ekoda,
For each scheme of lower Nerima village, Nakaarai-mura, Nakamura
Was constructed more; "shotakeganharaiko
By (kotakemaruharaikou),
In 1839 (Tenpo 10)
It is said that it was built.
Popular name "Ekoda Fuji"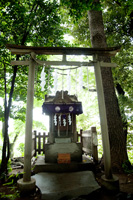 There are torii and deepest-placed shrine in top.
Enjoy scenery from top,
We take return by the other route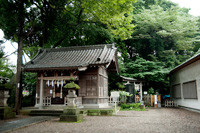 The precincts of Asama Shrine.
It is full of stalls by annual festival,
A large number of people gather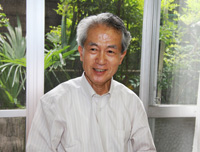 As for Sudo, work is active, too.
By history and walking of hobby
We interchange with many people,
It is contributed to area as the representative
Profile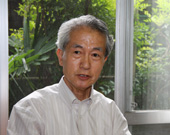 Kazuhiko Sudo
We are from 1938, Nakano-ku. We are living in Nerima-ku than 1953. The Asama Shrine representative. By working relations of insurance, it is said that we walk every day on 30,000 steps on an average of 15,000 steps, many days! In the middle of work, it is Shakujii Park that goes to visit well. History and walking are hobbies. Nerima Tomonkai's vice-chairperson of person from Waseda University, the chairperson of history hiking society serve, too. We like camera, too, but do not seem to be able to readily photograph when we concentrate on walking person (laugh). In Ekoda course of "nerimanoneri walk" carried out in 2009, we were in charge of commentary of Asama Shrine.