#049 ceramists


Tomomi Kamoshita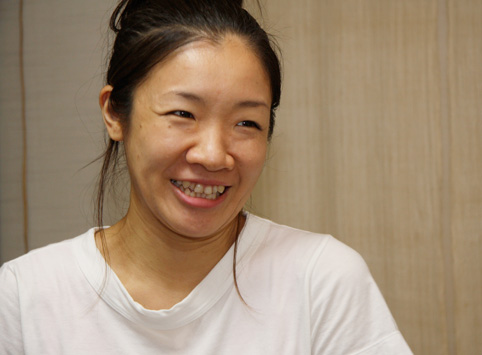 We can meet because it is kerosene kiln
Taste of surprising color
 It is in autumn of reading, autumn of appetite and autumn of art that we finally drop figure in summer of severe Nerima and came over! For autumn of art, we had ceramic art writer, Kamoshita who set up studio in Miharadai appear.
 Spirited young writer that Kamoshita holds private exhibition at 1-2 times of pace in year while acting as lecturer of ceramic art classroom. We perform advice along hope while telling foundations against wide student from primary schoolchild to veteran in classroom.
 "Color to be finished changes by how to hang glazes, but color becomes thin if there are few glazes. There is student who calls that failure, but thinks that I am color interesting in its own right. It is studied that we see work of student. We do not know how color turns out until getting out kiln. "It became such a color!" In this, there is unexpected impression. That is the powerful charm of getting out kiln"
 While serve lecturer, Kamoshita who is busy with preparations to private exhibition. Before form, and drying is unglazed, and finish all processes including coloring, what one and a half months! Steady work continues for loneliness called need before exhibition for half a year. It may be quality of artist that that does not bother.
 When "we entered this world, we were told by senior, "roast is important". Roast has most difficult that. I use kerosene kiln, but this is kiln of type not to become stable (laugh). Therefore different thing is completed once once. But that is interesting. We generally use electric kiln which we are easy to temperature-control in ceramic art classroom. When it is electricity, color just as wanted surely appears, but I like kerosene kiln with unlikelihood"
---
In the exchanges with customer
Unexpected idea that is told
 I want unlikelihood than we demand safety and stability. Such an adventurer (! It was time of university student that Kamoshita of) met ceramic art.
 What "began oil painting at the age of high school student advanced to university of arts in opportunity. It is class of university that we came across ceramic art. Originally we were interested in solid and felt intuitionally if ceramic art was good to thing which we wanted to express. We come to be asked "to make such a tableware" by neighborhood soon, and the making of utsuwa plays a key role now. I may receive order from customer who came to private exhibition, but a lot of ideas that there is not are made to be startled in me"
 Many tableware full of individuality strange in one side of the story & small sake cup, general merchandising store including Takatsuki (compote) where works which we made in that way do not collect to regular drinker. We seemed to have made block-shaped strange sushi plate with order from sushi bar.
 "You make prototype, and have me see that…We make this while communicating with customer. It is one which it is tolerant, and there is more which we accept when "this is interesting", and that would be helpful even if not finished in order street (laugh). We may have you show work which you delivered after time passed, but, as for the tableware which has been used every day, it is in a feeling of luster different again. It is interesting to be doing way of being used unlike my having been thinking. There is discovery only in utsuwa used for daily life"
 We do not conclude, "this should be like this" and can discover charm in another angle saying "this is interesting". People gathering around may become generously simply because it is such her.
 "We deliver finished work by delivery by hand as much as possible. Because we want you to confirm on the spot and want to see reaction of customer above all. In Nerima, we have you put work in general shop, kunurupu of Shakujii by local connection. Originally it was shop which mother of tableware enthusiast went along, but it was beginning of acquaintance to have come to go to me"
 Illustration of Kamoshita is published in "bicycle mappu" of issuance with place of kunurupu in autumn, too. We serve as autumn of art and autumn of sports and go out to Shakujii Park to bicycle mappuo one hand by bicycle and look at ceramic art work. How is such autumn how to spend?
(October 1, 2010 update)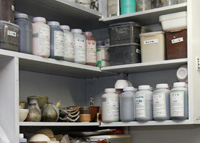 Shelf where various glazes are displayed at.
We use glaze depending on color that we want to give
utsuwa of one side of the story,
Beak is point.
From customer of liking to drink
It is said that there is much order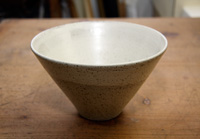 Bowl that sharp shape is rare.
Even ramen is soba, but
We are stylish even if we put anything!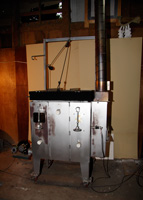 Because there is chimney, in setting place
Kerosene kiln with limit.
Temperature does not rise at a stretch,
An hour by about 100 degrees.
Work of waiting continues earnestly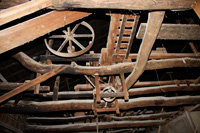 It is a little less than 100 years old that there is kiln
Former rice cleaning place.
Atmosphere that we feel nostalgic for old beam and gear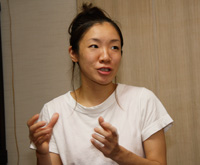 In the parents' house of tableware enthusiast
Mother gathered
There is various tableware.
Under the influence of other writers
When we go for exhibition,
New rim seems to be created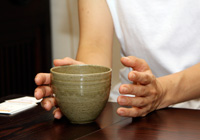 There are crack and distortion
Thing which we cannot deliver
We use in house without throwing away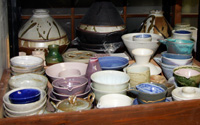 Work for private exhibition.
Think about messenger every day,
We focus on usability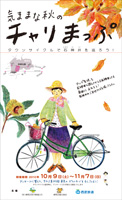 "Willful autumn bicycle mappu" cover
Profile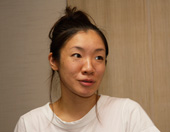 Tomomi Kamoshita
We are born and raised in Nerima-ku. We graduate from Joshibi University of Art and Design crafts department ceramic art specialty. Besides lecturer, we hold private exhibition. Well-established rice shop that the parents' house follows for more than 100 years. Days to put kiln in former rice cleaning place, and to work hard at production. Shop favorite in Nerima "genkyomugiyachu" close to the House of south storehouse. Let alone soba, Japanese-style rolled omelette and side sweets are exquisite, too! We serve soba in Western porcelain, and sense of utsuwa errand seems to serve as a reference, too.