#051 "Denmark blow" and president


Keisuke Ido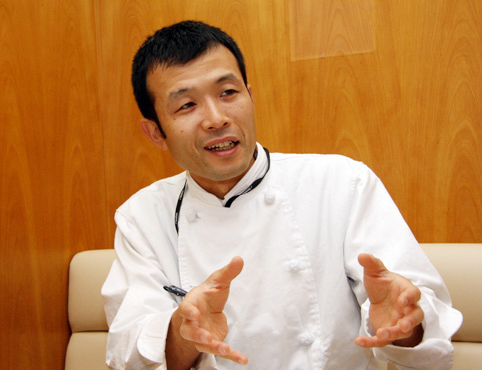 Interest to science in body
In feelings to materials of security, relief


 It is winter. It is season when Nerima radish is delicious! Therefore it is close-up in Danish President Ido who developed authorized "yeast bread that we work out, and red snapper does not come" in
Nerikore
!
 "Opportunity of yeast bread development that we work out, and red snapper does not come is several years ago. Father who was late president "wants to make bread from Nerima radish!" at place of inhabitant of a ward meeting We talked about ambition in this. So it becomes when we must make since we said (laugh). At first, at fermented food-related research institute, we isolated surface yeast and had you extract pure yeast. You add wheat and water to the yeast and lay at normal temperature overnight, and you can enter, and lay wheat and water again in the next evening…We repeated this and completed seed. We use seed a little and increase the remainder and continue saving in form using a little again"
 We hear story of restaurant which continues adding secret sauce well, but yeast of bread is the same, too!
 If "even yeast is solid, as for the good natural yeast, taste become stable. And it will be good for the health than we add additive. There is not habit as they work out, and red snapper yeast Bakery which does not come uses only pure yeast and is pure and features neat taste"
 After trying the real writer…It is soft, and we are in that, and there is depth softly, too, and pakupaku and hand do not stop without butter either! Besides, in Denmark, even wheat flour and fresh cream, each material including shortening seem to be particular about thing good for the health.
 It "wrestled as slogan of shop security all the time to be reliable materials. As I was always interested in science in body, we study the area in earnest after having become manager. In fact, we researched and developed with medical equipment maker by totally different work before becoming baker"
---

We love bread from the old days!
Boyhood when we went to bakery by oneself

 Why would you enter way of bread at medical equipment maker?

 "It was family of bakery from charges of grandfather, but there was that house and factory were far and was not life to be full of bread every day. But we love bread for some reason from the old days. We went to neighboring bakery by oneself and waited for baking of bean jam doughnut (laugh). But we did not mean to inherit shop even if interested. One day "does that not learn bread from this teacher from father?" Study be recommended in this. When after being at a loss, and talking with wife, it "was dream, in fact, to become baker in I mone, childhood!" So we make up our mind and will go for one-year probation study with wife"

 It is somewhat dramatic development! In the training period, what did you learn?

 "We were taken care of by two teachers for the study era for making bread. Tell one from the making of bread to thing of management, and is human; president of attractive study. Office was the strange president called ruins of batting center (laugh). And another one was teacher who was craze for study feeling not to let you feel age of 80 years old. We are particular about materials, and how do composition gadono of gluten, magnesium of salting lightly influence?…The study was very interesting and we became nature and baker made up our mind"

 Ido who came back to Denmark, and went around each department such as production or sale after the study, and took office as president.

 "no word that, after all, it "is delicious" to be glad that we are said from customer. It is joy that which "we always buy" has you say, "it is entirely different that we made by machine". Want to play in future in shop which it is possible for to be basic properly to "be more delicious even if eat any bread even if come whenever";

 By the way, it is Ido who is father of three children, after all, does boy like bread, too?

 "Dream of the eldest son in the third grade is professional baseball player. "It becomes professional and retires at 30 years old. Then we become baker!" We say this…That it goes well is the other problem (laugh). Still, I that research and development were dreams was engaged in development in a childhood in medical equipment company if I thought. And, in now that became bakery, we are doing development called new product. Dream may come true even when making a detour"

 Ido who has been drawn to favorite way called "research and development, bread" even if the distance was not honest. We can be concerned with favorite thing with nature…We cannot help feeling destined mysterious power when we hear story of Ido.
(December 1, 2010 update)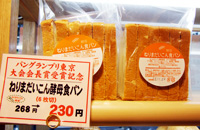 Bread of Nerima radish yeast.
As well as bread melonpan
Yeast that we work out, and red snapper does not come is used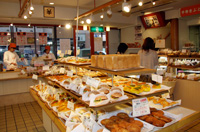 The shop of Denmark, Nerima store.
Bread hot from the oven lines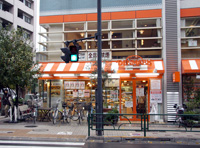 The second floor of eat-in
In restaurant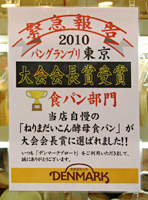 Bread of Nerima radish yeast
Of "bread Grand Prix Tokyo"
We win meeting chairperson Prize!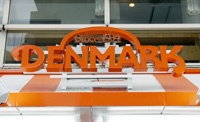 As it is to signboard,
Denmark
Long-established store called founding 1934!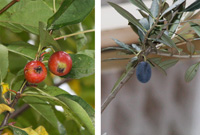 Tree of store of Nerima store,
As for one, princess apple, one are olives.
We feel season from small fruit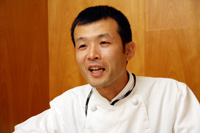 "1st was over when we came to tea room
There is customer who says this that I think
Ido who smiles in mildness saying we are glad
Profile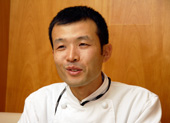 Keisuke Ido
1970, Nerima-ku birth. Danish founder, father are environment called the fourth generation president, and grandfather is brought up. We are a graduate from Waseda University Graduate School. After having worked for medical equipment manufacturer for about four years, by the advice of father, we learn the basics for making bread with two teachers. One year later, we find a job in Denmark. In 2005, we took office as president for the sixth generation. Place favorite in Nerima is Oizumi-Chuo Park. Favorite shop is chicken wisteria of Nerima. It is daddy of gentle three children, it "is annual to be luxurious in boiled dish in a teapot every year on birthday of child".

demmakuburoto
http://www.denmark.co.jp/