#053 "House of truth mind introduction manipulative treatment" representative


Shinki Ryu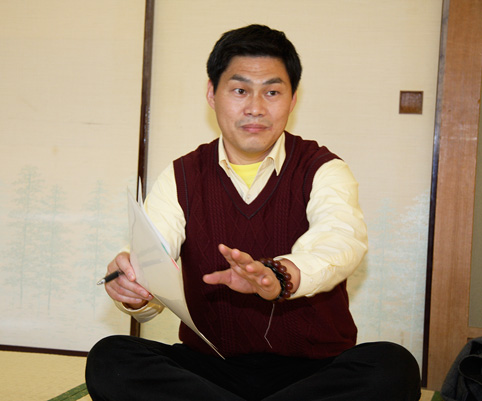 From movement of Tai chi chuan
We learn heart of consideration
 Our site "likes nerima!" Publication of
tourist attraction of five languages
came to be done from February and spotlighted this toward the foreigner played an active part in Nerima-ku. Liu from China where it runs the House of truth mind introduction manipulative treatment in Higashioizumi to have heard story. We lay emphasis on international exchange through Tai chi chuan or qigong.
 "Burnt, and, in "around 1980, Japanese volleyball drama called attack" (the Chinese name: volleyball proprietress) was broadcasted in China, and, as for the opportunity when we were interested in in Japan, it was for boom very much. As Toshihiko Seko of marathon played an active part for that and the same period, and originally I did land long distance, it was dream at the time that ran a marathon near Mount Fuji"
 surasuratto words come out, Japanese is very good! It is gentle and is made feel peaceful to this talking with gentle smile.
 "We did work of evaluation in Beijing physical education University in China in class. Our university had University of Tsukuba and Waseda University and interchange of Japan, and there was friend who performed to Japan at that time. We wanted to study education, and I came to Japan, too. Originally we were interested in education of Japan"
 The beginning learns words at Japanese school and enters Tokyo Gakugei University afterwards. Even difference and human relations of culture will be that there was difficulty in various ways. We think that it is human nature of Liu you to have cultivated strong will and unyielding mind, are there relations in Tai chi chuan?
 "The sidewalk of Japan is small. Still everybody goes well without bumping into each other. It is heart of "mutual concessions" if we need. There are movement of Tai chi chuan and common part. We step forward after Tai chi chuan backed away behind and we use space well and move. We have priority over people and lead to interpretation of I individual to have consideration"
 Present, student around ten of Tai chi chuan classroom. 60 generations or more people are main. We do not raise daringly and call patient having you come to the House of truth mind introduction manipulative treatment that Liu runs as part of the making of health and seem to spread by word-of-mouth communication.
---
As for the international exchange as for the local action
It is important to move by oneself
 It "is activity and international exchange in area that want to study other than own work. As school was Kokubunji, we participate in Japanese classroom which association of international exchange of Kokubunji-shi does first, and what should oneself do while foreigner is a lot? We thought about this. Originally we founded Tai chi chuan circle in association of international exchange when we could make place of komyukeshon through Tai chi chuan as it was human being who did sports"
 You became Nerima-ku international exchange business promotion Network committee member, and it seemed to be the third year, what kind of thing did you feel in that?
 "We thought that you should be active by oneself. So we borrowed caboose of work welfare hall and did gyoza party at the end of last year. Patients who went to manipulative hospital made place that could have interchange. Everybody was pleased very much"
 That we talk with about to send culture of Nerima-ku including animation to others at meeting of "meeting toward treasure shop of Oizumi". Beloved feeling is transmitted through hometown. It was Liu who energized, but seemed to be going to return to China until several years or before.
 "We brought that we learned in Japan to China and wanted to be able to help. But we intend to send information for China while being in Japan now in the times of the Internet. We are not satisfied that we learn still more"
 We get visa of permanent residence in Japan, too, and power enters bridge-like activity of culture and international exchange more and more!
(February 1, 2011 update)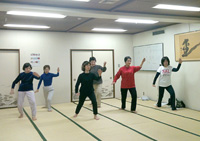 In Tai chi chuan classroom
We cure oneself by own power.
Therefore Liu draws power
We help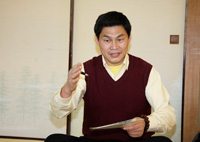 We learn "the chastity body method" in Japan
Liu who was impressed deeply.
"We understand idea of the chastity body method well,
Make use of experience and knowledge for me
We make new system,
Saying we want to make widely available to China
We talk hot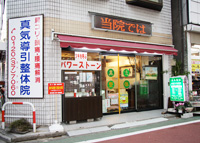 The House of truth mind introduction manipulative treatment
It is a 1-minute walk from the Oizumi-Gakuen Station north exit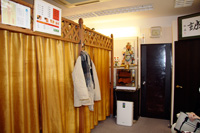 The shop divided by private room.
You can relax to patient
We keep yona service in mind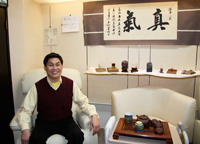 What is displayed on wall
Wonderful book which was sent by friend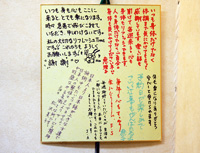 Message of thanks from patient.
Manipulative treatment of Liu is not only health
Heart seems to heal, too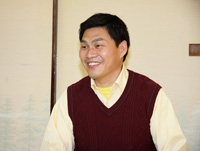 Place favorite in Nerima-ku
"TOEI ANIMATION gallery."
From China of animation enthusiast
When friend comes,
We seem to guide
Profile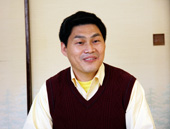 Shinki Ryu
It was born in 1967. We are from China, capital. We are living in Higashioizumi now. Beijing physical education University (Beijing City Sea Yodo ward) graduation in China. We visit Japan at the age of 26. Masters degree course in Tokyo Gakugei University health and physical education specialty completion. We open the House of truth mind introduction manipulative treatment in August, 2000, and representative of the truth mind large pole fist qigong classroom (Higashioizumi) serves, too. Even gym and local Tai chi chuan lesson instruct and continue carrying out an activity coherent to area energetically. In the past, NHK Tai chi chuan course lecturer served, too. We play an active part in Nerima-ku international exchange business promotion Network committee as bridge-like existence to bind Beijing City Sea Yodo ward that is sister city of Nerima-ku together. Get married in Japan, father of 7-year-old son and daughter who is 1 year old and a half.

The House of truth mind introduction manipulative treatment
http://www.e-workangency.com/index.html