#054 "Makino memory garden" counselor


Katsumi Usui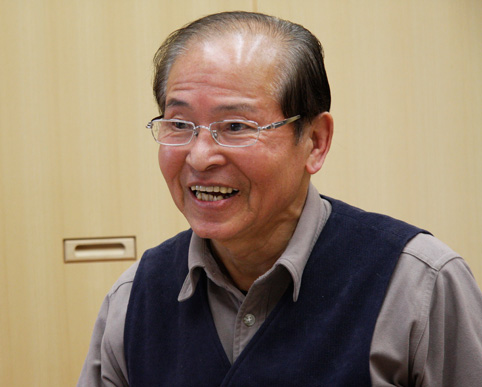 Sendai shop cherry blossoms of Makino garden
Precious cherry blossoms which have only several in Japan!
  Season when penetrating cold wanted to take a walk leisurely under person step last joke, the sun approached. We visit "Makino memory garden" which can realize such a coming of spring with skin. We had Usui of counselor appear!
 Home trace of great man, Dr. Tomitarou Makino that Makino memory garden built Japanese botanical foundations. As municipal garden, grass blossoms of about 340 kinds are in full glory now. There seem to be a lot of precious kinds to be never seen when we live in city.

 "Plant which Dr. Makino named is said 1,500 kinds or more. In famous place, zelkova, fragrant olive, chinaberry are naming of doctor, too. It is Sendai shop cherry blossom where it begins to bloom from the end of March that is above all rare. In 1926, doctor brought young tree from hometown, Kochi, but Japan is oldest, and probably this is greatest as parent tree died. It is precious cherry blossoms having only several in Japan now. (wry smile) that can have I am sorry to Yoshino cherry tree, but shadow of Sendai shop cherry blossoms run out of branch of part that it is as Yoshino cherry tree planted in the neighbor gradually approaches to Sendai shop cherry blossoms"

 It makes use of limited light how, and it is job of counselor that thinks about where you put on how. Besides, there are 13 kinds of rare cherry blossoms in garden.

 "Cherry blossoms bloom for Daikan of dark pink from the end of February, and other cherry blossoms gradually flower and the beginning, too and can enjoy until around April. While cherry blossoms demanded sunlight, they lay sideways with nature for Daikan in this entrance"

 Daikan cherry blossoms which bend like arch which totally surely meets visitor. Oneself intends to expect both cherry blossoms and person and falls down…. After all, we wished we were concerned with plant, and would Usui start this work, too?

 "We were interested in plant since childhood. We planted bulb of gold-banded lily in garden and we sowed seeds in various ways and brought up. Though it has nothing to do with plant in photo studio, the parents' house will be why. We major in landscape gardening subject at university and find a job in park green tract of land part of Tokyo. We did work about public landscape gardening facility including tree including children's park"

---
We can reproduce scenery that we described in heart
Charm of landscape gardening that 1+1 does not have
  After all, we liked plant since childhood. What kind of place will it be in with charm of plant and landscape gardening for Usui?
 "Colored leaves dance in flow of river and are scattered…We can reproduce scenery that scenery and oneself beautiful of such nature described in heart artificially. That is fun of landscape gardening. Of course placement of three trees makes scalene triangle not equilateral triangle, and there is basic form to show beautifully. Still, like flower arrangement, form totally different is completed by person making. It is attractive one that 1+1 = 2 does not have"
 Usui who is with shining eyes when it comes to landscape gardening, and begins to talk hot. Encounter of such Usui and Dr. Makino seemed to be the time of university student.
 As "it was world-famous doctor, classmate enrolled in "Makino plant club" and went for collection. As I learned from another professor, we did not enter…If we think now after entering" (laugh)
 "Dr. Makino whom I think of is said to be genius, but is "person of effort". We took to doctorate of the Univ. of Tokyo by self-education while quitting elementary school. There should have been was painful, thinking a lot to reach there in the Univ. of Tokyo which was the palace of study. Still doctor who continued studying without depending on another person is true hard worker"
 According to the writer, Usui who talks so is hard worker very much! Wide question including insect and chicken comes without being contained only within plant from visitor. We usually put antenna and check, and what we do not understand does not seem to miss effort to check. After the interview, we had you show around the garden, but the explanation is very earnest, too. Everyday diligence of Usui and love to plant were handed down pressingly. This gentle consideration is the secret to let plant in garden be active!
(March 1, 2011 update)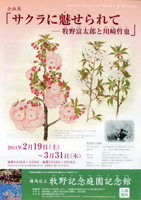 Plan exhibition flyer
(in image click PDF file
We open)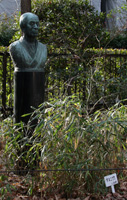 Surrounding statue of Dr. Makino
We do. Doctor loved
It is bamboo grass which named the name of wife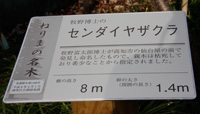 Sendai shop cherry blossoms,
To nerimano fragrant wood of high quality
Is appointed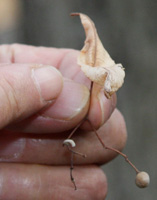 Bract and round fruit which formed a circle in form of spatula.
From form this as for Dr. Makino
"We came of spatula", and to seemed to name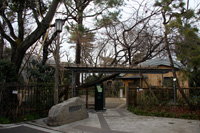 It hangs over entrance
Arch of Daikan cherry blossoms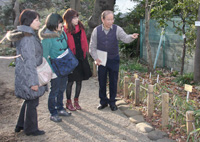 If we propose beforehand in group
Commentary of counselor is with
We can go round the gardens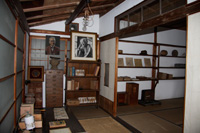 The Tomitarou Makino's house study.
Breathing of doctor
We hear, and let's be suitable!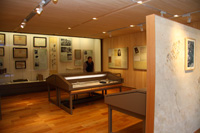 In memorial hall in garden
A lot of articles related to Dr. Makino display.
We just renewed in the summer of last year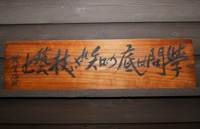 "Art that bottom cannot know study"
We are made to think unintentionally
It is motto of doctor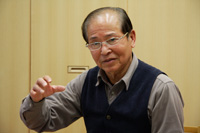 Passion to plant is handed down
It was faithful way of talking
Profile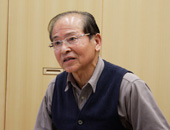 Katsumi Usui
1934, Kichijoji birth, the parents' house are photo studios. We are interested in plant and are brought up since childhood. We leave attached high school of Tokyo Univ. of Agriculture and enter a school of higher grade in landscape gardening subject of agricultural college. After having served out until retirement age in park green tract of land part of Tokyo, we become counselor of Hibiya Park "green counselor's office". When Makino memory garden is done, we receive invitation and act as counselor from 2003. Shop favorite in Nerima-ku jihikyuryo (that, by the way, Dr. Tomitarou Makino liked Japanese sweets!) of Japanese sweets shop "Daigo" of Oizumigakuen .