#056 "dowafu" representative


Tateo Aida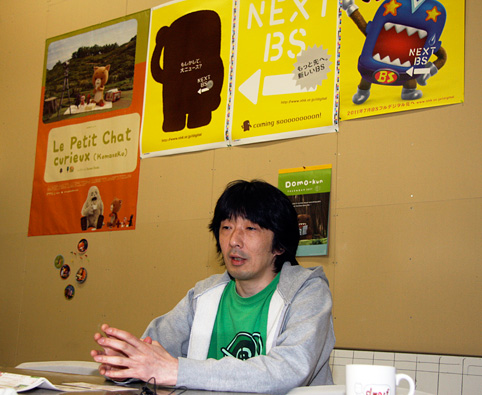 Character just ties hand
There is message handed down


 Doraemon, Snoopy, Pikachu, miffi, Thomas…. "
teotsunagodaisakusen
" where character who is quite popular with children takes hand across fence of work. Aida that it produced NHK deonajiminodomokuno to have made this impressive plan form. On earthquake disaster, we considered that it was not possible for some children and seemed to take action.
 It "is job of character that has you have you see and feel calm. Possibly may all the creators producing characters in the life think so? At first, we referred to author, Kondo Aki of rirakkuma for this. Then approve of immediately…. Product sent proposal to company of limit to hit on just after that. We have you participate in 40 characters with the fifth now because we understand everybody purpose and moved hard"
 Image was exhibited, and we were enclosed in support supplies to children by formal HP until now, and it was used by ceremony of Natori-shi, Miyagi.
 "Is there simplicity that "these children" just tie hand and reach even if we do not talk about most by words? We are the gladdest if children to see this are pleased"
 So that love from expression called "child" to character oozes out in characters. What is when we see works group such as "domokun" simply because there are hokkorisurunomo, this gentleness!
 At the time when "you made domokuno, I was in CM company, but will apply for NHK-BS10 anniversary memory image character in a hurry. Though the next day was competition in the company, we did not occur at all and were troubled until around 3:00 at midnight and moved only hand in already unconscious state. It was domokunno model then that there was carelessly. We do not know law made with character myself so far (wry smile). Which "we seem to be able to make friends" is feeling, "we like oneself" and arranges other character
---
It is five seconds that we come out for one day.
Work is fun simply because it is hard!
 One of "child" whom Aida produced, sightseeing sign of top cat are installed in Shin-Egota Station. Opportunity that it was Aida to "be glad that we had you recognize doll animation as friend of animation", in the first place entered the world of doll animation?
 "We love to create comics since it was small. As father was print company duty, we take a lot of paper home. We drew on the back with hard lump. What took, and came across movie top at the age of high school. From senior "eyesight" (laugh) which we have been able to decide when we were asked about this and replied, "it is 1.2" when, "then, it is photographer as you had good eyesight"
 Shooting is hard so as not to be able to imagine from pretty doll and picture full of handmade feelings. It is five seconds that we take for 13 hours a day, and there is! We can do it only for 30 seconds even if we take one week. Still what is the charm that continues shooting doll animation?
 To "own view of the world that we thought about, each charge staff makes doll, background, small tools. So the world peculiar to the children exist in studio where there was nothing when we look in finder…That was fun, and zubuzubuto fitted in"
 It is "to enjoy the work" "to be careful by shooting most. As it is not one work, on seeing the complexion of the staff staying together, we call out if tired and say gag (laugh) and. We think that picture shows pleasure simply because we make with human hand. These children are glad like picture book if loved for a long time more than generation" 
 This was healed unintentionally naturally by Aida of gentle atmosphere. Posture to make with love happily was combined with personality of Aida and was convinced when warm character was brought about!
(June 1, 2011 update)
We gathered by appeal of Aida
Characters.
「
teotsunagodaisakusen
」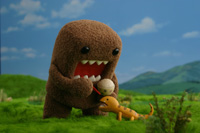 As "expression is simple,
What person who watched interprets
domokun and Aida who talks
(C) NHK, TYO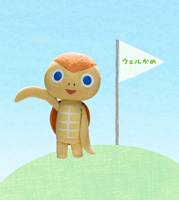 A series of NHK telenovel
Mascot of "well tortoise"
kame Futoshi
(C) NHK, dwarf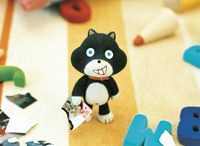 Picture book "impertinence voruku"
It is main character, voruku of this
(C) dwarf/SCP/MCA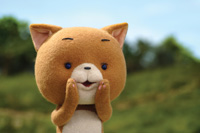 Theater long piece animation
"Top knob rieigakomaneko."
Shooting seemed to take 9 months
(C) TYO/dwarf ・
Top cat film partners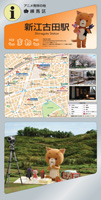 At Oedo Line "Shin-Egota Station"
Of installed "top cat"
Sightseeing sign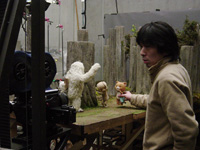 We move by hand little by little and photograph.
Literally trouble time
Work scenery to run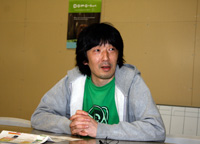 In the days of primary schoolchild, we lived
From Higashikurume-shi of Oizumigakuen
Come by bicycle to TOEI studio,
Experience that looked in the inside in secret….
"We were excited at child feeling
Saying was adventure; Aida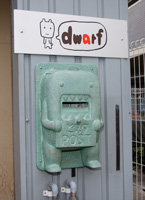 The entrance post of company
Specially made domokun!
Profile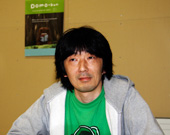 Tateo Aida
We are from 1967, Kamishakujii, Nerima-ku. Animation writer. After Japan Academy of Moving Images graduation, we find a job in CM company. Triggered by production of NHK image character "domokun", it is independent for 2,003 years. We establish dowafu and hold studio to Nukui. We take top and, mainly on work, are playing an active part in illustration, various quarters including picture book! Masterpiece "domokun" "top cat", "well, bear" "kame large", is nado. From Nakamurabashi Station to company, it seems to be fun to change route of just a little over ten minutes to feeling. We seem to go to bar, Fukusuke Echigo of a 20-second walk, grilled butcher shop, keinao well from studio.

dowafu