#059 petit bunka villages's chief editor


Naoko Miyazaki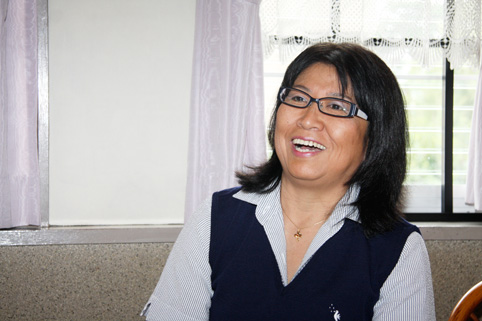 We dyed with cherry blossoms of memory of late mother
We are surprised at woolen beautiful color!

 Nerikore which increases new item every year in October. Ahead of announcement of 2011, we had producer, Miyazaki of "Gakuen sakurazome series" chosen as Nerikore of 2008 appear!

 Crafts such as scarf or handkerchief which we dyed in fallen leaves of cherry blossoms of Oizumigakuen-dori St. according to the name called "gakuensakurasen." Natural texture that there is never in the same dye is attractive.

 "The parents' house was Iwaki-shi of Fukushima, and there was wonderful cherry tree in backyard. Mother mixed with baggage every year after I went to Tokyo and sent branch of cherry blossoms. But mother dies, and will demolish house…. We wanted to leave cherry blossoms for some kind of forms and dyed woolen yarn with leaf. Then surprisingly beautiful color appear though we did it for the first time! Then we came to study how to dye in various ways"

 Miyazaki reason, how to dye are very easy! We pick up beautiful fallen leaves and we wash and boil to bring out the flavor and put woolen yarn and cloth. This seems to surely come with all.

 "Point is heart than technique. "Neatly when put love, and boil while calling out with sen mattene ...", is dyed neatly strangely. On the contrary, after all, only suitable color appears when we do it properly. Dyeing shows people's minds. As it wants many people to try sakurasen to have made this application in "Nerikore." Please try because you are really simple, everybody!"

 We make dyed goods with own favorite cherry blossoms…This is Japanese romance!


---

Fusion of culture only in the capital prefectural border!
It is not divisible by administrative division

 According to Miyazaki pouring extraordinary love into cherry blossoms, what is charm of cherry blossoms of Oizumigakuen?

 For "one and a half years, there was time when we went back and forth in Gakuen-dori St. by car every day. Of course notice that expressions are different seasonally then as well as that at time of cherry blossoms. For example, at time not finished becoming cherry tree with early leaves, red of center of a flower and green gradation of leaf are beautiful. When flowering approaches, tree is pink. That is circle; cherry blossoms oneself "bloom!" We seem to send message in this…. Row of cherry blossom trees of Oizumigakuen is the favorite place in Nerima-ku"

 House of Miyazaki is immediate Niiza-shi from Oizumi. It is opportunity to live in ward boundary of Saitama and Tokyo and continues issuing information paper called "petit bunka village" from 2000 once in two months.

 In "Iwaki-shi of country of birth, it is drawn a boundary with Kanto and Tohoku. If soon after having gone to Tokyo, live in boundary of the Tama River, and point where moved opens lattice door; another ward…We spent "the border life" by chance (laugh). We have ward boundary dakarakosono fun that we are apt to be put off by all means from the center, but culture crosses at the capital prefectural border. "Petit bunka village" is place introducing local culture across the administration world

 We were engaged in local coverage from previous job that edited trip book more than laying upon, quarter of century. According to such Miyazaki, what is charm of Oizumigakuen that is "the capital prefectural border?"

 "At first, there is dignity in the place name called "school". After all, Oizumi whom I met so far had dignity. It is good that there are many people liking this town. When adult enjoys, child enjoys with nature, too and follows. We believe that good environment is connected in the future"

 By the way, we seem to handle all "petit bunka village" to plan, editing, coverage, writing and print all alone! Even if have already done anything by = coverage every day, connect with plan; that can think. What is source of this vitality?

 "We think whether you are similar to mountain climbing. When we have finished going up to top, there is sense of accomplishment. We suffer until the last moment until I issue. At moment that became demoiza issuance, conventional pressure clears straight, and a sense of fulfilment remains…The moment is the best" (laugh)

 We are ashamed because it is side to usually collect data on…Miyazaki whom interesting story talked about this to a lot while being bashful. Cherry blossoms and love to area came out in end-to-end of story that did not have that we ran out.
(September 1, 2011 update)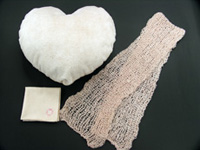 Nerikore work of Miyazaki
「
Gakuen sakurazome series
」。
As it is light and is warm
We are popular toward the age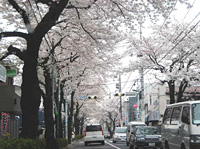 Row of cherry blossom trees of Oizumigakuen.
For every year from October to November,
We pick up leaf which fell
(photo courtesy: petit bunka village)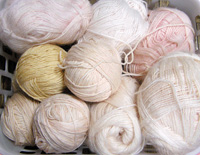 Woolen yarn ball which we dyed in fallen leaves of cherry blossoms.
Difference in delicate color is fun again
(photo courtesy: petit bunka village)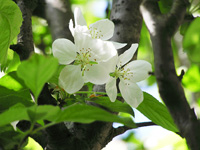 Cherry blossoms of the parents' house whom there is not now.
"We were not able to finish being woolen color and photograph
Can hold; ten minutes and Miyazaki
(photo courtesy: petit bunka village)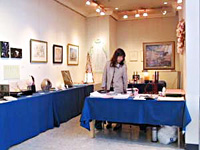 Every year, "my cherry tree exhibition"
At the beginning, we host various cherry blossoms events.
Photograph is J.CITY gallery
(photographer: Tatsuo Matsumoto)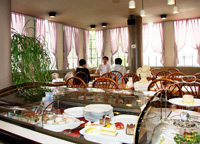 Coverage place is in Oizumigakuencho
Nakata-ya of confectionery.
Of "petit bunka village"
There is one of the cooperators
(
We introduce even Nerima's person before
)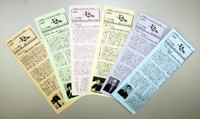 For one year of petit bunka village.
2.3 month issue is cherry blossoms feature every year.
Color of paper in pinkness
We seem to decide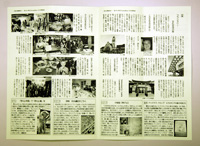 Aspect out of one of petit bunka village.
Thought and atsu saga of Miyazaki
It comes from space between the lines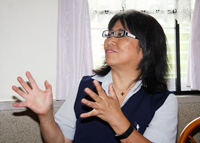 "One after another as for the coverage theme
Overflow,
Can you finish doing it in life?…"
Miyazaki who talks about this.
We are very youthful and are passionate!
Profile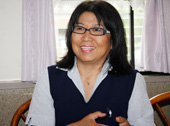 Naoko Miyazaki
It was born in Fukushima flat city (existing Iwaki-shi) for 1,950 years. We enter Kamigyo, Japan Travel Bureau (existing JTB) with university admission and are engaged in editing of trip book. After leaving the office, we establish line publication after experiencing "OZ tile version" "Oh! kawaraban" chief editors. We launch culture information paper "petit bunka village" of Saitama ⇔ Tokyo in 2000. We continue publication once in two months. We produce and are working on editing, publication as town coordinator. "rurubu Nerima-ku" participated as production cooperation. Besides the pressure, we continue production of Nerikore "Gakuen sakurazome series" by oneself. nichihon*gakukaikaiin.
Petit bunka village