#The manager of tree at 060 natural sweets acorns


Kazuhiro Sato, Ayako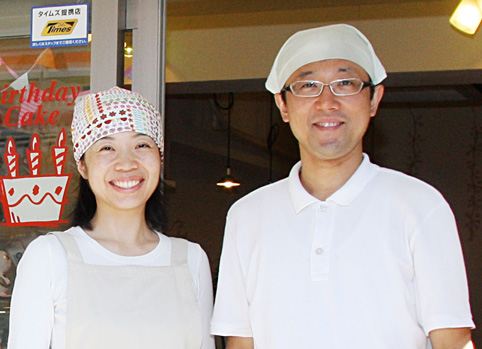 Sweet smell and taste people in happiness…
The life is changed to cake!

  Autumn of appetite that the lingering summer heat finally passed and did! Various taste came up in Nerikore this year. "Six kinds of nooyasai cream puffs" linking the name in new product, it is Mr. and Mrs. Sato of tree of acorn that developed. We heard story from close couple of warm atmosphere.

 "Opportunity of oyasai cream puff development was encounter with "dish simmered in stack". Dish simmered in stack is simple recipe that we put vegetables in turn and just stew. Sweetness good for your health appears, and there is effect to raise immunity. Even hospice is adopted (Kazuhiro)

 "Several months completed development of oyasai Shoo while talking with friend, door kneading on fire Mina of stack stewed dishes researcher. We cannot put in the custard even if we put in the dough…. Finally it is good if we put in the fresh cream without sugar! dattandesu (Ayako)

 Afterwards, oyasai Shoo who applied for Nerikore in susume of store party companion. honokanaoyasaino sweetness spreads kindly when we have, and, well, a mouthful is delicious ♪ We are happy that we eat sweets to be used to health!

 It "was opportunity confectionery called "Taroan" that I was going to do shop of sweets. I lived in Fukushima and entered Taroan in Aizu Wakamatsu accidentally in those days when work was hard. Hospitality is too warm…Cry, unintentionally (wry smile). So we thought when we wanted to do confectionery dissolved cool heart in indulgently. The life is changed to cake! It is creed that says this (Kazuhiro)


---

We have an influence that it is good for the whole town,
It wants to be connected shop

 Afterwards, encounter, wife who got married were accidental, but it "seemed to be dream to run patisserie". It was about eight years ago that we let tree of acorn open when it was the heart's desire.

 "Concept is "shop where both customer and employee are used to smile". We can take out thing which we understood and want to further do in shop which we can help of the life of everybody…Hey, do you say too much slightly cool (laugh)? But "it is not business talk, and the staff recommends just carelessly because it is really delicious!" What say this is really glad (Kazuhiro)

 By the way, as origin of store's name called "tree of acorn" had a lot of trees of acorn to Nukui whom Kazuhiro was born and raised in those days. In end-to-end of story, love to hometown, Nukui mingles.

 "We say and want to affect not only oneself but also the whole mall and town and want to be connected each other. It wants to be shop which took root in area. Only strawberry contracts with Sekiguchi farm of Oizumi, but other vegetables want to use thing from Nerima as much as possible now, too. We look for and are walking, but, on holiday, farm map one hand should be able to name oyasai Shoo "Nerima vegetables cream puff" sometime, too (Kazuhiro)

 We appreciate the happiness while making an effort for wanting to do it every day. Therefore there can be even the pressure with smile, and the smile is further doing shop warmly…We are made to feel such an "equilateral chain" when we hear story.

 With "squid and others which was what we did elsewhere, we opened shop while being worried about just after earthquake disaster whether we might do shop at such time. A few days later, customer comes in dribs and drabs, and "sweet smell, arrival at omission kuwa" say, "we want to take to parents of Fukushima"…When it was really good that we did, shop, we became glad (Ayako)

 Cake makes people happy! In the thought, Mr. and Mrs. Sato have Nakamurabashi niama - i smell today.

(October 3, 2011 update)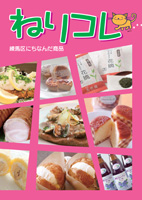 Cover of Nerikore brochure
(October, 2011 issuance)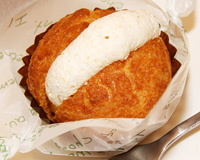 It was chosen as Nerikore
"Six kinds of nooyasai cream puffs"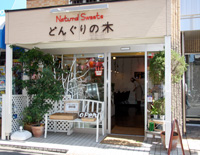 In natural taste
The appearance that was unified.
We do the decoration by oneself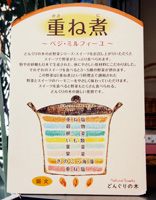 In the cooking class of dish simmered in stack
It is irregular and is held.
As for the person to see from distant place
Popularity as we need.
It is recommended to baby food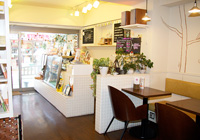 In shop in the cafe space.
As there is chair for child, too,
Please in family!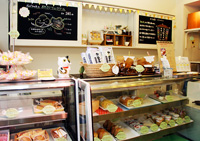 While talking with staff
In choosing cake
Way of enjoying only in hometown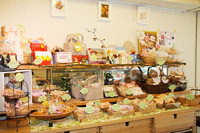 The shop where pretty cake is displayed at.
We are excited just to enter♪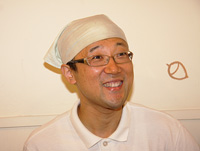 Kazuhiro,
In spite of being soft demeanor,
When it comes to sweets
It is person of passion that we begin to talk about hot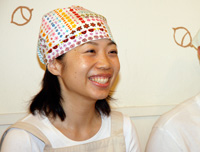 Ayako,
Where smile is impressive with a smile
Profile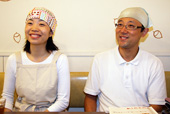 Kazuhiro Sato, Ayako
Couple who runs "tree of natural restaurant acorn" "tree of natural sweets acorn" at SUN-LIFE Nerima 2F at mall of Nakamurabashi. We provide sweets and meal which were particular about the organic subject matter. Kazuhiro of the master was born in 1966 and is born and raised in Nukui, Nerima-ku. 9-years-younger wife, Ayako is raised in Ueno. As for two people who got to know through qigong of hobby, it is said that we like what do qigong relaxedly while seeing scenery to watch from tree of restaurant acorn. After all, in parents of two children, the name of child seems to be associated with plant.

Tree of Natural Sweets acorn

Tree of Natural Restaurant acorn komerusantsu