#062 Nerima radish farmhouses


Akira Watado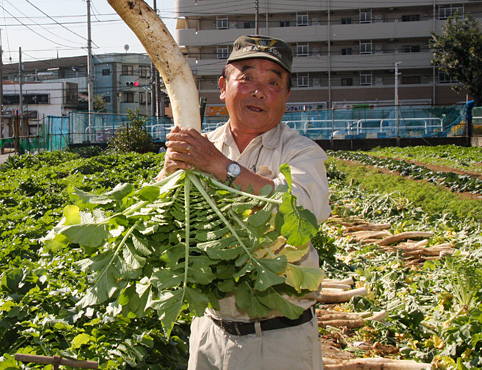 It is river shijimio in the Shakujii River
Boyhood when we adopted

 "Nerima radish" which is pronoun of Nerima. For the sixth generation of farmhouse where it continues from generation to generation in Heiwadai to work on cultivation of Nerima radish which has been cut off for 1:00 period positively, it is Watado.

 "Nerima radish gives up without even man readily falling out in 1 meter being as above with long thing (laugh). Taste is strong in sharp taste with fiber and is good to pickled daikon as the body is firm"

 Watado who is even pulling daikon with traditional human power, and hanging, and drying, and processing into pickled daikon. With robust body to hardly think of to be 78 years old, we watched now and the bygone days of Nerima this year. That as whole Nerima was not suitable for cultivation even if we said Nerima radish and could not make in low land, we made with here Heiwadai and Kasugacho, Takamatsu, a part of Toyotama.

 From "Heiwadai, we were able to see Mount Fuji and Tobunerima station and heard even sound that train of Seibu Line went along in old days…It was quiet as much as that. It is good old memory we adopt river shijimio in the Shakujii River, and to have eaten. As school did not have pool, did you go to the Shakujii River to swim in class? We dammed up for agriculture, and boatman appeared to around Masahisa Tamotsu Bridge as the width of a river became wide. Was it around 10 sen? It was the quiet times"

 It is about postwar period that Watado talking so with nostalgia inherited farmhouse. Japanese society turned into free economy, was right the times of turbulence.

 "Controlled economy of vegetables came off in 1951, and farmhouse became the "freedom" work. Limitation, "this quantity made this item" disappeared, and stopped, and all the farmhouses of Nerima changed rice which they made partly to vegetables at a stretch

 Vegetables pay than rice. It was always operation that Watado style survived to consider economy "does it pay?".

 "Old farmhouse depended on work force, but cannot live in capitalism when we do not do investment that foresaw point. The thought inherited agriculture; there was from the first. Therefore not only we make Nerima radish, but also acquire added value called pickled daikon. As that which may be just open if we do it is free-lance profession. It is not only production and must fix our eyes on there.


---

In Nerima radish
We want to convey the Japanese origin!

 Field of Nerima where the farmhouse area of 3300 choho, 3,000 farmhouses were in old days is about a one-tenth now. To the Japanese eating habits, we say that vegetables to cook changed.

 "Grandmother born in 1886 said that she made tomato (tomato) and lychee (bitter gourd). That lychee was called blue tubular fish meat and just ate part which turned red of the inside adversely. We came to just make parsley and lettuce in conformity to bread. It is big to have turned into living on bread in policy of GHQ after the war"

 "One way or the other, "it is easy to get a rash", one is Japanese. But race must have pride toward both doing it and meal. Even if say any affected thing, all the human origins are nakedness. As the first drink is the breast (laugh). That's why I want to sell myself saying, "we did such a thing in old days" in Nerima radish at least

 Hot thought that is handed down in openhearted way of talking pressingly! By the way, we put carrot long in old days together in needs of shopper if we said in story of "now and reverse", and it seemed to be in short root more.

 But customers who said, "long one is cool!" seemed to increase on seeing long ... i Nerima radish recently. Watado realizing, "the times changed again" watches destination of Nerima through agriculture today.

(December 1, 2011 update)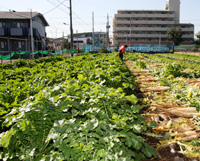 Field of Watado.
It is in residential area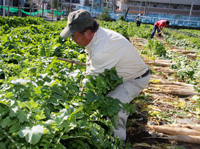 We use eco-pesticides,
We pay scrupulous attention to pesticides.
Saying "no pesticides are good" simply
When do not want to say; Watado
"Nerima radish pulling out tournament."
It is the fifth this year
Sunday, December 4 holding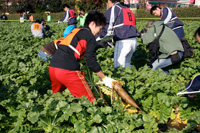 By "Nerima radish pulling out tournament"
Daikon which was pulled of the next day
It is used for school lunch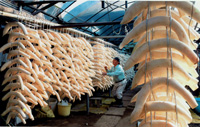 "We stand and are called knitting"
Dried way of daikon peculiar to Nerima.
zuratto was able to hang
Curtain of daikon is the best part!
It is all manual labor
(photo courtesy)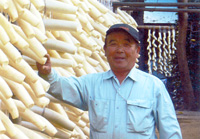 "Dry the making of pickled daikon in the sun,
Moisture of daikon well
Saying it is important to pull; Watado
(photo courtesy)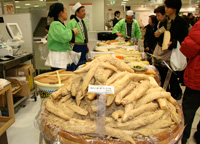 It is annual in Seibu Ikebukuro Main Store
"nerima pickle product exhibition."
2012 is ... on January 25
We are going to hold on February 1
(state of January, 2011)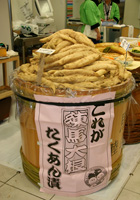 By "nerima pickle product exhibition,"
Nerima radish pickled radish pickles are the most popular!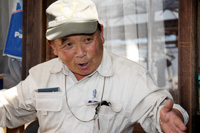 Old story comes out smoothly,
We are drawn into nature and story
Profile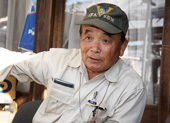 Akira Watado
In 1934, we are born in Watado house of Heiwadai, Nerima-ku as the eldest son of seven brothers and, in postwar period, inherit agriculture as the sixth generation. We cooperate with ward from 1990 and are engaged in cultivation of Nerima radish. The cause of creed, "doing cannot do thing same as all", days to appear in field energetically. We know Nerima of the time when it overflowed naturally well. The first batch of 6.3 system of elementary and junior high school. By the way, excursion is Toshimaen, the second grader Shakujii Park, the third grader His Majesty's inspection mountain (Hanno), the the fourth grader navy, army Memorial, Tokorozawa airport in the fifth grade for elementary school one year. School excursion for the third year of junior high school returns on Atami day (!) . The second son whom we turned into from office worker is training himself as inheritor.

Nerima radish