#064 Nerima Art Museum directors


Satoru Wakabayashi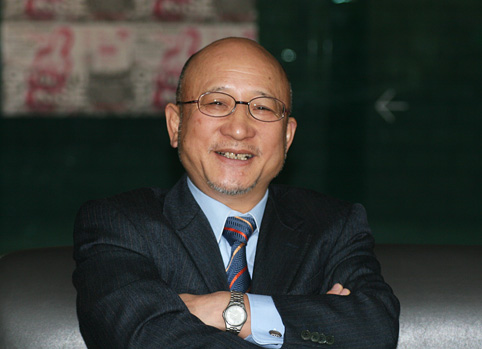 Basics of acquaintances trust people,
Come to like people

 Art appreciation in art museum where what we want to recommend to just family in season when we are apt to stay indoors is warm. We interviewed Wakabayashi of Mayor of Nerima Art Museum of a 3-minute walk from Nakamurabashi Station. Have careers such as advertising division director, the division director of culture at Suntory Ltd., Suntory Museum of Art vice-director, is right "able man".

 "Voice entered opportunity of the 25th anniversary of private enterprise Nerima Art Museum in 2,010 years that we wanted to add pressure. Originally even artist is not art historiographer, and I am from advertising, culture field of company. Simply because director with such a carrier is rare, utilized that thought that wanted to run. It is the management, marketing, three viewpoints of advertising that take good care"

 Wakabayashi acted as director, and full two years passed in March, 2012, what kind of change would there be during this period?
 In "culture facility, words and visual to appeal outside what kind of person oneself are are necessary in company. Therefore we invite public participation for the cause, logo of catch phrase from "beautiful now Nerima of the palpitation". We made goods using decided LOGO"

 It "is big that each member of hall has begun to have point of view of the income and expenditure. The next job becomes fun if we think about what kind of reason it was when it is failure if we succeed what the factor was"

 So that person of = a lot of whom incomes increase by sees; the next lever art museum. Abilities of advertising supported by longtime experience are shown in each place.

 "We make joint sponsorship with media and ask each foreign embassy for support and raise the support of company and…. We utilize acquaintances whom we cultivated to the maximum until now. We had you often take up in TV program "giants of the beauty", but that is the production side and grace with personal connection, too. It is point that brings up a certain thing into measure even a little"

 Thing which should last is acquaintances! Simple answer came back when we heard about skill in Wakabayashi exile pulse.
 "You trust people, and come to like people. Then it is power to persuade forward"


---

Future image…
The art museum whole area in art space!

 Director Wakabayashi who makes "new thing, rare thing, interesting thing" motto after the fashion of words of Zeami. We seem to challenge unprecedented thing daringly while applying to these three, or talking to itself.

 Even if "large-scale exhibition is not possible, we open exhibition which we expose light to writer to the people in the know and provide in the world, and edge worked for which there is not elsewhere and want to let you think, "do not readily do Nerima Art Museum". As PR of art exhibition is spread out in the whole country, we want to further make recognition to be advertising tower of Nerima strong. It leads to brand image up of Nerima to hold good exhibition"

 Director Wakabayashi who thinks in always large field of vision. "Future image" of Nerima Art Museum which he draws…?

 "Charm of this hotel being near from both the downtown area and station. Art museum which can come from station in several minutes is rare in Tokyo. We make use of the location and want to maintain the art museum whole area in art space from Nakamurabashi Station. For example, we put sculpture of animal, and child describes painting and plops ourselves down with lawn and…. "Area most favorite in Nerima!" We imagine without permission that we want to have space having this say"

 "There is wonderful art museum in the town called Bilbao of Basque Provinces in northern Spain, and 1 million a year tourists come. Appearance itself of art museum is art. We can do it in Nerima of a population of 710,000 people because we can do it in border city of a population of 300,000 people. You should submit time and energy to more creation and innovation. It is a waste when we do not concentrate wisdom"

 It is mysterious when we hear powerful words of director because we feel like coming true by all means sometime. The whole town is art space…We look forward to day becoming, such wonderful Nerima!

(February 1, 2012 update)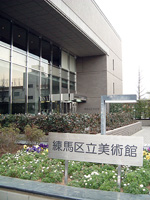 Of beautiful flower bed there is
Nerima Art Museum entrance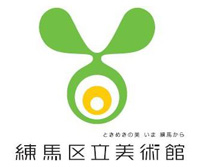 Nihon University art department
It depends on graduate student, Haruka Wakui
Logo mark that work became base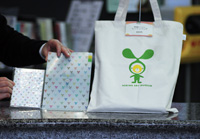 We used logo mark
Parts holder, notebook,
Each goods of cotton back,
It is now on sale at reception desk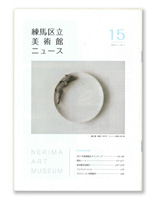 Nerima Art Museum news
Display schedule of one year
It is published nadoga.
It is issued every year on April 1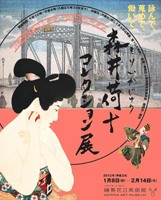 Until February 14, 2012
Special feature display of no charge for admission.
Of "Morii load ten collection exhibition"
Poster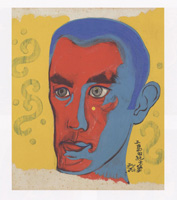 Statue of Masayoshi Nakamura << Yukio Mishima≫
1968
From February 19, 2012 to April 1
Temporary exhibition "Masayoshi Nakamura
―Lucky adventurer of Japanese painting circles,
New full picture"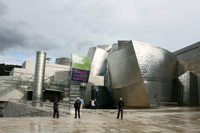 We came out in story
Guggenheim Museum Bilbao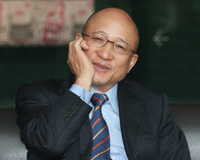 During story, we pull steadily
We felt the leadership
Profile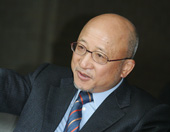 Satoru Wakabayashi
It was born in 1949. We enter Suntory Ltd. in 1971 and are engaged in advertising of various fields in Advertising Department. We suggested Suntory hall which was one of the world's best music halls and realized great plan including the foundation of Suntory mystery award. In 2006, we take office as Suntory Museum of Art vice-director (we act as kenshihaijin, advisor later). We acquire qualification of curator in 2009. It was taken office as Nerima Art Museum director from April, 2010. From memory that ran through Yamano for the child era, hobby still climbs a mountain. Furthermore, it is active on off day including listening to jogging, golf, visiting art museums and music! It is said that we watch 50 a year movies.

Nerima Art Museum

Official blog of Nerima Art Museum
We are publishing "my art ramble" serially