#065 Musashi school memory room honor advisor


Taiji Fukuda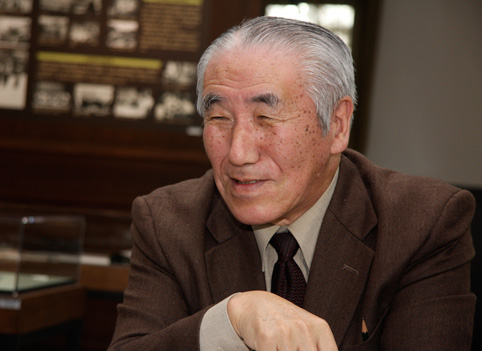 It is got close to area
It wants to be school

 Musashi school where there are many famous spots for its cherry blossoms in Nerima, but one adds junior high school, high school, university to. We hold "meeting watching cherry blossoms of Musashi school" and open the yard as well as graduate at the end of March every year toward the area.

 Fukuda reason, meeting of Musashi school memory room honor advisor having begun from 1995. There is row of trees of Yoshino cherry tree along the Hikaru River drifting to the school (we do), and weeping cherry tree and Prunus buergeriana and Prunus donarium of various kinds appointed to "nerimano fragrant wood of high quality" are in full glory. This Hikaru River was pump type now, but was ever arm of a river from Senkawa.

 "The surface of the water of Hikaru River froze of seventh grader me in winter. Then if teacher of chief is when "you must not make you, skating play". "It seems to be interesting!" as soon as we heard that though we did not hit Can break this if you get on together…. Education is difficult" (laugh)

 Fukuda who laughed so smilingly learned in Musashi school for six years of junior high school, high school. There was little number of students, and everybody seemed to make friends necessarily.

 "We began rare soccer with primary schoolchild and did in those days until it became dark in school grounds. It is still a pleasure to meet friend at the time in annual synchronization society and alumnus society"

 After the graduation, we acted as part-time teacher for four years for the graduate student era and, after experiencing Chiba University's professors, came back as the principal of the high inside in old school in 1997. What began in the same year "meeting of old school cherry blossom viewing." It is cherry blossom viewing held for graduate.

 "We thought that it should be old school which let graduate feel friendly feeling. As it is poor school, we cannot give feast" (laugh)

 Fukuda whom love to old school blurs on in some points of words. As it was the principal of such old school thought, students would be happy, too.


---

With environment where we were born and raised,
Encounter with good teacher becomes axis…

  When we ask about memory of Shakujii living in Fukuda boasting, "age of Nerima-ku is younger than me!" for 74 years…?

 "House which parent built in Shakujii is 2,000 yen! We did in this. shibarakuno train sometimes heard story after the war that ribs were broken with the crowdedness that was greater than now. When when is small, there is wheat field all over that place, and sail across when is shortcut, "heeey!" This was got angry at (laugh). Therefore it was the good times to have you forgive laughingly when you said, "we helped with treading barley plants"
Old tale of Nerima jumps out of this one after another.

 "We went to Togakushi, Nagano by relationship evacuation during war. Boss of neighborhood association is kind, and tell from mushrooms which you can eat to collecting of wild plants. Interest to wild plant was thing coherent to life"

 Even if come back to Shakujii, called if "leave the entrance field" at the time is as environment was a chance to have advanced to biology. And school camping trip when Musashi is in the first year of junior high school with another opportunity. 80-year-old authority of natural history that was able to come for instruction seemed to be very attractive.

 "For example, in front of "entrance at 5:00 a.m. as for the person wanting to listen to voice of chicken say with meeting", and tell from cry to the name, habit of chicken. He/she told various things while walking hills and fields to insect, the trees and plants, cloud in the day. When it was interesting, and "set" was played, we participated in all and were dark three days so as to still remember. This experience would influence the later life, too"

 Environment brings up people…Nerima should be such a rich place forever, too. Finally place favorite in Nerima?

 "It is open field before Shakujii apartment house is built if it is the old days, but is Shakujiikoen Furusato Museum and Makino memory garden now. We played ogre in the days of primary schoolchild and have escaped into Makino's house. It was Mr. Makino that thought that it was, "there is grandfather like hermit" in child feeling. To teacher, we might seem to be "one of the naughty boys who sometimes came"

 To mind of Fukuda laughing so teasingly, Nerima of those days still breathes wealthily.

(March 1, 2012)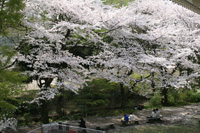 Cherry blossoms in Musashi school,
We are so beautiful if in full blossom!
(photo courtesy: Musashi school Public Relations Department)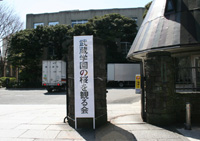 We call the public
We hold "meeting watching cherry blossoms of Musashi school"
This year is from 27 to 29 on March
(photo courtesy: Musashi school Public Relations Department)

Of "meeting watching cherry blossoms of Musashi school"
Information in "cherry blossom viewing walk mappu"
We are published.
We distribute from March 19 and start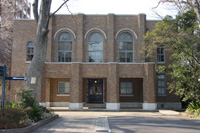 We renewed in the autumn of 2011
Musashi school memory room enters
The appearance of grand hall.
We can enter other than the student free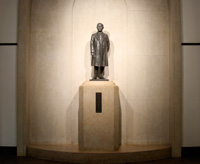 Founder ・ of Musashi school
Bronze statue of Kaichiro Nezu.
TOBU RAILWAY in big company
Develop,
Great man who was engaged in various business!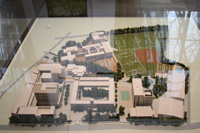 Model of Musashi school whole view.
Although form of land includes the change
Area itself of 90 years ago
As foundation those days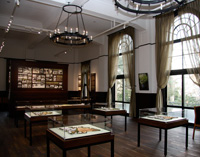 In Musashi school memory room.
Having been continued since high school under the old system of education history
We can have a glimpse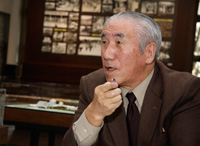 We are apt to decline at the side of the gate of school
When we see neighborhood picking up gingko nut,
"More that place
It is easy to pick up"
Fukuda whom we call out to in this.
We can ask about good personality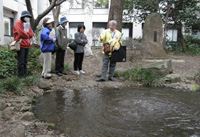 "Even as for
nerimanoneri walk
"
The yard of Musashi school in course
We enter.
Photograph in March, 2009,
We seem to observe Hikaru River
Profile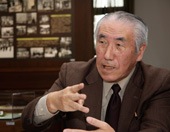 Taiji Fukuda
Musashi school memory room honor advisor
It was born in 1937 and lives in Shakujiimachi (at first Shimoshakujii, Itabashi-ku) until ... present in half a year after birth. For from April, 1945 to November, we lived on relationship evacuation in Togakushi, Nagano and did experience to get close to naturally. We advance from Musashi Junior High School, high school to the University of Tokyo department of science, graduate school and we major in botany and acquire doctor of science. After experiencing Chiba University college of general education, Faculty of Horticulture professor, we take office as Musashi High School, the junior high school principal in 1997. We are going along 1-2 times as Musashi school memory room honor advisor now in week. Shop which often goes in Musashi school neighborhood "dyes" noodle shop "Flowers bloom beautifully and the moon shines bright hermitage" of the Ekoda Station north exit and pork cutlet.

Musashi school